The oceans of our amazing planet remain home to countless species both familiar and undiscovered. Their awe-inspiring beauty has captivated people around the world since the dawn of time. However, while it's easy to fantasize about the wonders of the ocean, it can be difficult to access and observe them firsthand. Fortunately, aquariums provide us with the unique ability to enjoy and appreciate deep sea creatures from a safe, dry vantage point.
The majestic creatures of the deep sea can grow to impressive sizes, so it's no surprise that the aquariums that house them can get massive as well. Let's take a look at 14 of the largest aquariums in the world and learn about some of their highlight exhibits.
Istanbul Sea Life Aquarium
Size: 1.8 million gallons
Location: Istanbul, Turkey
Year Opened: 2009
Featured Exhibit: Marinescape SeaTube and Shark Encounters


Source: wikimedia.org
Formerly known as the TurkuaZoo, this two-story underground aquarium is the first public aquarium in Turkey and thought to be the largest aquarium in Europe. It also features one of the world's longest underwater tunnels, the Marinescape SeaTube, where visitors can immerse themselves in the wondrous waterscape of diverse aquatic life. The Ocean Tank also provides ample opportunities to observe underwater predators such as sharks–and even swim with them, if you're brave enough. This exhibit has been put in place in hopes of helping people learn to appreciate the grace and importance of sharks, which have been threatened by fin harvesting.
Did You Know?
The Istanbul Sea Life Aquarium is home to more than 10,000 fish of 1,000 different species, as well as the largest collection of sharks in Europe.
Burgers' Ocean
Size: 2.1 million gallons
Location: Arnhem, Netherlands
Year Opened: 2000
Featured Exhibit: Largest non-Australian coral reef


Source: wikimedia.org
A famous part of the Burgers' Zoo, Burgers' Ocean is home to countless colorful fish, as well as to the largest coral reef outside of Australia. Large fish, such as grouper, inhabit these carefully constructed and maintained coral reefs, as do smaller creatures like sea urchins, sea cucumbers, and sea anemones. This exhibit allows visitors a rare glimpse at the intricacy of life within the ocean's reefs and show them the value of the underwater ecosystem. The various groups in the aquarium are divided into different basins to ensure optimal health. The basin that houses the beautiful reefs is considered to be the second largest aquarium in the world that features coral.
Did You Know?
The Burgers' Ocean Aquarium is recognized as the largest grower of spotted eagle rays in the world. The good health of the thriving rays and coral reefs in this aquarium is likely the result of highly specialized filtering processes that keep the water quality at its best.
National Aquarium
Size: 2.2 million gallons
Location: Maryland, United States
Year Opened: 1981
Featured Exhibit: Living Seashore and Australia: Wild Extremes


Source: flickr.com
The National Aquarium of Baltimore, Maryland is home to 750 different species of animals and features several stunning exhibits. One of the more well known is the Australia: Wild Extremes exhibit, which won the "Best Exhibit" award from the Association of Zoos and Aquariums in 2008. Similarly popular is the Living Seashore exhibit, which provides curious visitors with touchpools where they can carefully feel the backs of stingrays and jellyfish. The Living Seashore houses over 150 animals and supplements the live exhibits with plenty of engaging information on aquatic and seashore ecosystems.
Did You Know?
The National Aquarium of Baltimore includes exhibits related to diverse ecosystems around the world as a way of demonstrating how all life around the globe depends on water.
Okinawa Churaumi Aquarium
Size: 2.64 million gallons
Location: Okinawa, Japan
Year Opened: 2002
Featured Exhibit: Captive-raised Whale Sharks and the Kuroshio Tank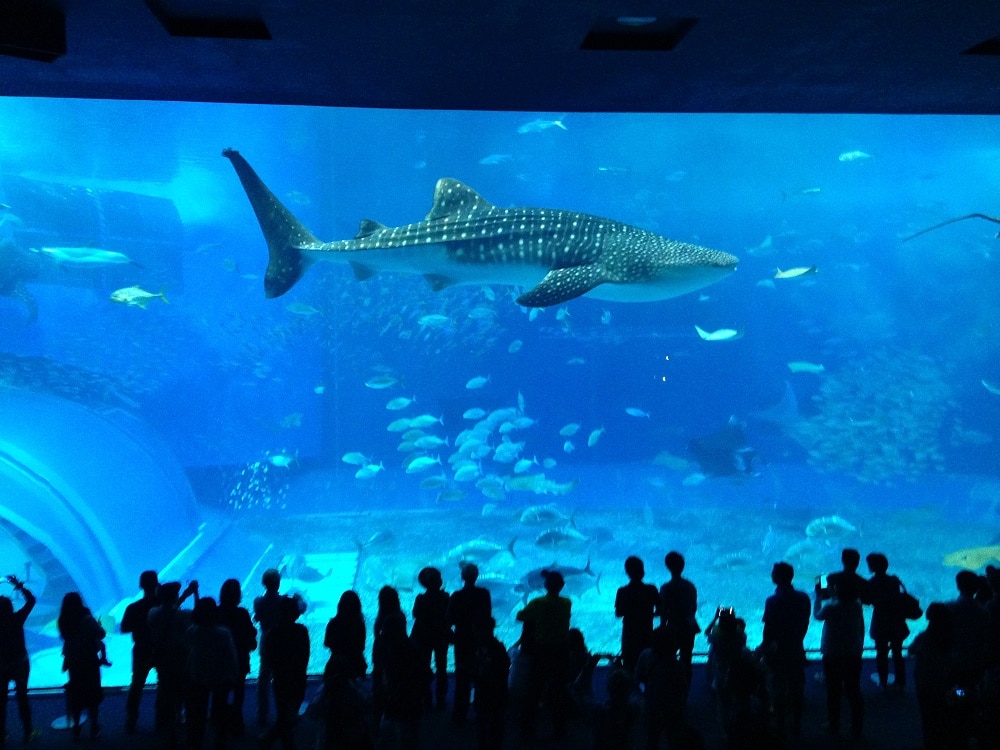 Source: wikimedia.org
This impressive aquarium has four floors and many different aquarium tanks that contain everything from tropical fish to coral reefs to deep sea creatures and sharks. The Okinawa Churaumi Aquarium has also paved the way as the first aquarium in the world to successfully breed Whale Sharks in captivity. The goal is to be able to mate the breeding pair and uphold a small population of Whale Sharks within the environment of the aquarium, and they're off to a good start! This aquarium is the main attraction of the Ocean Expo Park, and features the Kuroshio Tank, which holds 1,981,000 gallons of water.
Did You Know?
The Okinawa Churaumi Aquarium was originally opened in 1976, and was the biggest in the world at the time. It was later rebuilt and reopened in 2002, and reached the milestone of its 20 millionth visitor in 2010.
Dubai Aquarium & Underwater Zoo
Size: 2.64 million gallons
Location: Dubai, United Arab Emirates
Year Opened: 2008
Featured Exhibit: VRZOO, shark dive, and the King Croc


Source: flickr.com
Located in the Dubai Mall, the Dubai Aquarium & Underwater Zoo is home to 33,000 aquatic creatures, including the massive saltwater crocodile known as "King Croc" and the largest known collection of Sand Tiger Sharks in the world. Glass-bottom boat tours are available, allowing visitors to get an especially good view into the water. Cage snorkeling gives people the opportunity to get up close and personal with some of the beautiful fish on display from the security of a protective cage. For tourists who are feeling particularly bold, shark diving opportunities are provided so that people can get a closer look at the famous Sand Tiger Sharks.
Did You Know?
The Dubai Aquarium & Underwater Zoo provides guests with access to their "VRZOO" which they can use to experience what it's like to closely encounter a variety of endangered species through virtual reality.
Atlantic Sea Park (Atlanterhavsparken Ålesund)
Size: 4 million gallons
Location: Alesund, Norway
Year Opened: 1998
Featured Exhibit: Animal feeding shows and cold water fish tank


Source: wikimedia.org
Built into the western coastal landscape of Alesund, Norway, the Atlantic Sea Park provides an unparalleled opportunity to appreciate Atlantic Ocean life. The aquarium itself can be found in the outdoor scenic recreational area that includes a view of the coastal islands and the expansive sea.
Guests can get a front row seat as staff members feed various engaging sea creatures such as seals, penguins, and fish on a daily schedule. An even more popular attraction, however, is the cold water fish tank that's home to a number of species such as salmon, cod, and halibut. The tanks at the Atlantic Sea Park are pumped with unfiltered seawater, ensuring that the live creatures are living in as natural an environment as possible.
Did You Know?
The Atlantic Sea Park provides activity pools, where people can enjoy the opportunity to touch some of the more harmless sea creatures.
uShaka Marine World
Size: 4.6 million gallons
Location: Durban, KwaZulu-Natal, South Africa
Year Opened: 2004
Featured Exhibit: Shipwreck architecture and the Village Walk


Source: wikimedia.org
Standing tall as Africa's largest marine theme park, uShaka Marine World rests right on a prime stretch of beach front at the end of Durban's Golden Mile. This unique park is built to look like a giant, wrecked 1940's cargo ship on the beach, and features such themed attractions as the "Cargo Hold" restaurant. This beautifully designed restaurant provides an excellent view into a large shark tank for those who enjoy live scenery during their meals. The amusement park also provides direct access to uShaka Beach and a pier that leads directly into the ocean.
Did You Know?
For visitors who want to spend some time appreciating African culture, the Village Walk area of the theme park provides a number of shops and eateries styled after traditional African villages.
Shedd Aquarium
Size: 5 million gallons
Location: Illinois, United States
Year Opened: 1930
Featured Exhibit: Caribbean Reef


Source: flickr.com
The first inland aquarium with a permanent saltwater fish collection, Shedd Aquarium originally opened with 32,000 animals and spent some time as the largest indoor aquarium in the world. It didn't take long to earn its place as the most popular attraction in Chicago, and it was recognized as a National Historic Landmark in 1987.
Shedd Aquarium is still home to 20,000 specimens of 1,500 species of marine life. One of the more breathtaking exhibits at this aquarium is the Caribbean Reef display–a 90,000 gallon tank that carefully replicates the underwater ecosystem of coral reefs.
Did You Know?
The Shedd Aquarium is located on Lake Michigan, and includes plenty of information on the Great Lakes in its 77-habitat "Waters of the World" exhibit. This intriguing display offers everything from kelp forests to river and island creatures such as alligators and pufferfish.
The Seas with Nemo & Friends
Size: 5.7 million gallons
Location: Florida, United States
Year Opened: 2007
Featured Exhibit: Turtle Talk with Crush


Source: flickr.com
This jaw-dropping aquarium is part of the Epcot theme park in Walt Disney World in Orlando, Florida. The Seas with Nemo & Friends was the first Epcot Pavilion to be based on a Disney animated movie. The main ride deposits guests at the middle of The Seas, an aquarium viewing platform where they can take their pick of themed exhibits such as "Turtle Talk with Crush." This cutting-edge, engaging exhibit uses real-time computer graphics and voice acting to enable the movie character to maintain live interactions with the audience, and is a massive hit with children.
Did You Know?
The Seas displays 200 different species of sea life, including sea turtles, sharks, and a gigantic grouper. Guests can also get an amazing view of living coral reefs, and learn fascinating facts about these complex underwater organisms.
Moscow Oceanarium
Size: 6.6 million gallons
Location: Moscow, Russia
Year Opened: 2011
Featured Exhibit: Glass floor to view marine life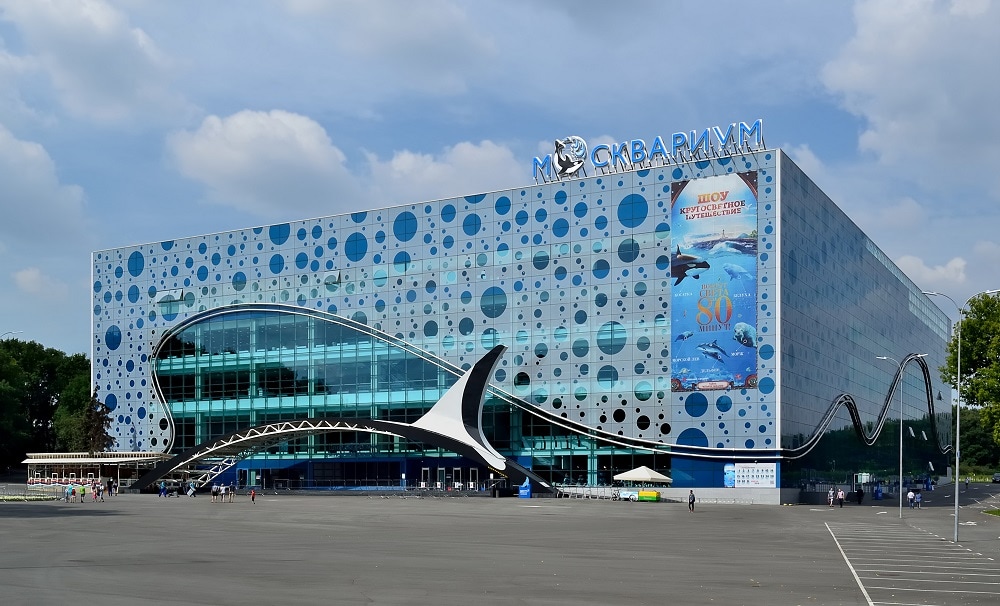 Source: wikimedia.org
The only aquarium in Moscow and the only of its kind in all of Russia, the Oceanarium allows visitors to view nearly 250 different species of animals. One of the novelties available at this aquarium is a glass floor, where guests can walk on water and get an excellent view of the aquatic creatures that swim below. The designers of the aquarium put a lot of effort into accurately replicating the underwater landscapes and seabeds, providing a beautiful hands-on opportunity to learn about underwater ecosystems.
Did You Know?
Visitors to the Oceanarium can walk under the "sky full of stars" for a relaxing atmosphere within which to view various animal displays.
Georgia Aquarium
Size: 10 million gallons
Location: Georgia, United States
Year Opened: 2005
Featured Exhibit: Ocean Voyager


Source: wikimedia.org
With a generous $250 million donation from businessman Bernard Marcus and his foundation, the Georgia Aquarium was opened in order to expand both the local economy and education. With a beautiful exterior crafted from blue metal and glass that hearkens to the majesty of ocean waves and 60 different animal habitats available for viewing, the Georgia Aquarium drew a larger crowd than was even expected. Its attendance continues to soar as people travel far and wide to see the various exhibits, including the largest indoor aquatic habitat in the world: the Ocean Voyager. This impressive exhibit was built by the Home Depot and includes an acrylic tunnel that visitors can walk through to view the marine life–including 4 whale sharks!
Did You Know?
The Georgia Aquarium is undergoing "Expansion 2020," which promises a new shark gallery. This gallery will aim to educate people on largely misunderstood sharks, hopefully furthering the park's conservation efforts.
The Oceanografic (L'Oceanogràfic)
Size: 11 million gallons
Location: Valencia, Spain
Year Opened: 2003
Featured Exhibit: Underwater Restaurant


Source: wikimedia.org
The Oceanografic is the largest aquatic complex in Europe, proudly displaying 45,000 animals of 500 different species. The unique architecture of the many buildings in this complex makes an exciting first impression all on its own, and the building's contents do not disappoint! This complex is located right by the sea, and features a massive window through which to view the ocean.
The park provides a delightful variety of both indoor and outdoor areas where guests can enjoy themselves and learn about aquatic life. There are also several subdivided areas within the park that represent the different major ecosystems on the planet and provide visitors with a wealth of scientific information.
Did You Know?
The Oceanografic showcases its iconic Underwater Restaurant at the center of the complex, where guests can dine beneath a custom lily-shaped ceiling and all-around aquarium walls that provide an astounding view of diverse marine life.
S.E.A. Aquarium (Marine Life Park)
Size: 12 million gallons
Location: Singapore, China
Year Opened: 2012
Featured Exhibit: Rainbow Reef


Source: wikimedia.org
This amazing 20-acre park features two main exhibits: the S.E.A. Aquarium and the Adventure Cove Waterpark. The S.E.A. Aquarium (South East Asia Aquarium) was the biggest aquarium in the world for some time, and still boasts enough water volume for over 100,000 specimens and 800 different species of aquatic animals. The Marine Life Park has also placed emphasis upon the educational aspects of their exhibits, providing guests with plenty of opportunities to learn all about the fascinating creatures they've come to see.
Did You Know?
One of the features exhibits of the park is Rainbow Reef, where visitors can don some snorkel gear and swim among thousands of eye-catching fish for an immersive aquatic experience.
Chimelong Ocean Kingdom
Size: 12.9 million gallons
Location: Hengqin, Zhuhai, China
Year Opened: 2014
Featured Exhibit: Whale Shark Aquarium and 5D Castle Theater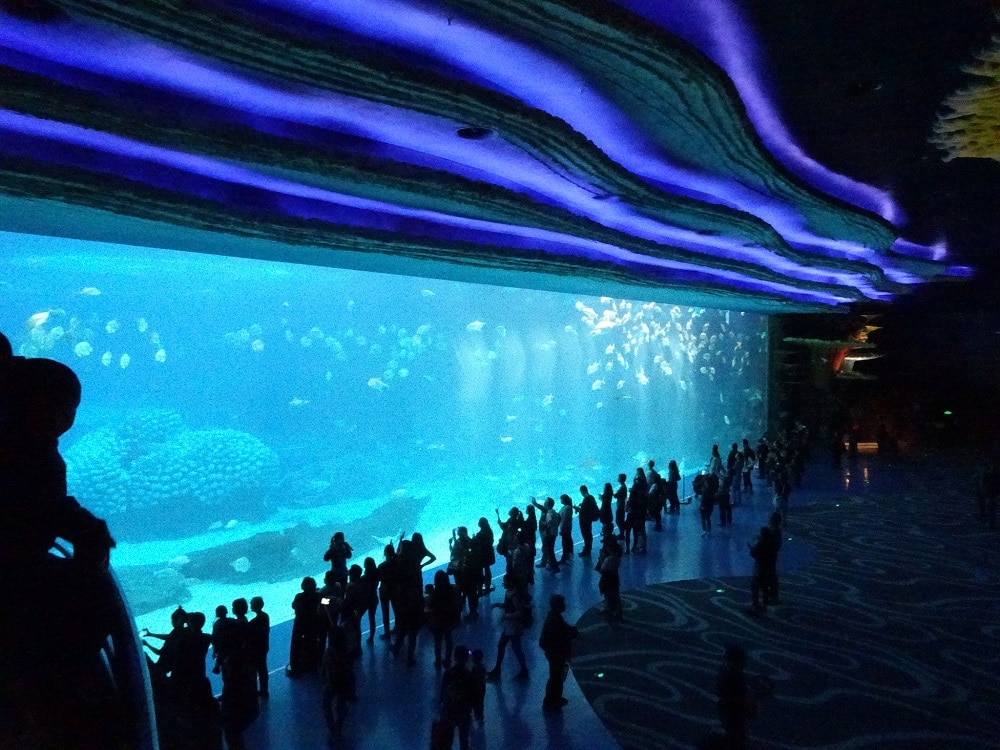 Source: flickr.com
The Chimelong Ocean Kingdom is the biggest aquarium in the world. It holds five different Guinness World Records, such as "largest aquarium window," and provides guests with a glorious aquarium and amusement park experience. It features one of the world's longest roller coaster tracks that reaches 20 stories high, and displays around 20,000 rare fish and sea creatures. This massive and beautiful park is divided into eight themed areas, each of which represent a specific area of the ocean.
Did You Know?
Alongside various opportunities to view aquarium exhibits directly, the Chimelong Ocean Kingdom also proves a 5D Castle Theater with advanced motion seats and sound systems that tell the story of "Kaka's Great Adventure," which features the park's mascot Kaka Tiger.