Tons of people around the world enjoy watching football and look forward to tuning in for the latest game in the National Football League (NFL). On top of the excitement that automatically accompanies any professional football match, a lot of the best NFL players rack up a nice selection of records as well–such as kicking some truly impressive field goals!
So, just how far can the best players kick? Today, we'll be looking at the 10 longest field goals ever made in NFL history and ranking them by how many yards long they were. We'll also learn some fun facts about each player!
Greg Zuerlein
Length: 61 yards
First Year Played: 2012
Date: Nov. 8, 2015
Match: St. Louis Rams at Minnesota Vikings

  Source: wikimedia.org
This field goal was the longest that Greg Zuerlein ever made, as well as the longest in the history of the St. Louis Rams franchise. Zuerlein graduated from Lincoln Pius X, the largest Catholic high school in Nebraska, with Nebraska All-State and All-Class honors during his junior and senior years. He began playing for the Rams in 2012, making an impressive 56-yard field goal during his third week!
Did you know? 
Greg Zuerlein and Sebastian Janikowski were the only players in well over a decade to have kicked more than one field goal over 60 yards as of 2015!
Justin Tucker
Length: 61 yards
First Year Played: 2012
Date: Dec. 16, 2013
Match: Baltimore Ravens at Detroit Lions

  Source: wikimedia.org
Justin Tucker has an impressive array of accomplishments under his belt, including the record for most points scored in a season. When he made this field goal in 2013, it pushed the record for the longest field goal to be scored in-game and certainly beat his own personal record. However, Tucker likes to push himself during practice sessions by attempting outrageous field goals that stretch even longer–even up to 69 yards!
Did you know? 
Justin Tucker is said to be the most accurate kicker by percentage in NFL history.
Jay Feely
Length: 61 yards
First Year Played: 1999
Date: Oct. 14, 2012
Match: Arizona Cardinals vs. Buffalo Bills

  Source: wikimedia.org
James "Jay" Feely was born in Odessa, Florida, and began his career with the Florida Bobcats. He first signed on with the Arizona Cardinals in 2010, scoring his record field goal two years later. Unfortunately, his record-setting game was lost when he missed a 33-yard field goal very close to the end of the game. Feely signed on and played for another season with the Cardinals in 2014 shortly before concluding his NFL career.
Did you know? 
The longest field goal during Jay Feely's college career was 51 yards.
Sebastian Janikowski
Length: 61 yards
First Year Played: 2000
Date: Dec. 27, 2009
Match: Oakland at Cleveland

  Source: wikimedia.org
Sebastian Janikowski played in the NFL for 19 seasons with the Oakland Raiders as his primary team. He was born in Poland and stayed there during his teenage years when his parents divorced. Later he emigrated to the United States since his father, who was hoping to revitalize his professional soccer career, remarried to an American woman. Janikowski joined the Orlando Lions and played both soccer and football.
Did you know? 
Janikowski's impressive field goal just barely cleared the cross bar and wound up bouncing back onto the field after hitting the support structure.
Matt Bryant
Length: 62 yards
First Year Played: 2000
Date: Oct. 22, 2006
Match: Tampa Bay vs. Philadelphia

  Source: wikimedia.org
Matt Bryant started out playing for the Baylor Bears in college, later moving on to play for teams such as the New York Giants, Miami Dolphins, and Florida Tuskers. Before he made this exciting 62-yard field goal, Bryant's longest goal had been from only 50 yards. When discussing his accomplishments later, he admitted that he wasn't sure whether or not his team would make it!
Did you know? 
Bryant is nicknamed "Money Matt," and is the thirteenth most accurate kicker in NFL history.
David Akers
Length: 63 yards
First Year Played: 1997
Date: Sept. 9, 2012
Match: San Francisco at Green Bay

  Source: wikimedia.org
David Roy Akers signed on as an undrafted free agent with the Atlanta Falcons in 1997 after playing for the Louisville Cardinals through college. Akers signed a three-year contract with the San Francisco 49ers, scoring a great deal of points and gaining popularity. Many people attribute this impressive field goal to the ball bouncing off the cross bar, but a record is a record!
Did you know? 
Akers didn't seem to expect himself to actually make this astounding field goal, and his excitement when he did was something that many fans found memorable.
Sebastian Janikowski
Length: 63 yards
First Year Played: 2000
Date: Sept. 12, 2011
Match: Oakland at Denver

  Source: wikimedia.org
Sebastian Janikowski already impressed players and fans alike with his 61-yard field goal, but he outdid himself two years later. When he made this goal in 2011, he became the first player in NFL history to make two field goals of more than 60 yards. Janikowski was also given a five-year contract extension following the 2004 season which was reported to be worth $10.5 million, making him the highest-paid NFL kicker ever!
Did you know? 
Janikowski has a reputation for having "one of the strongest legs" in the NFL.
Jason Elam
Length: 63 yards
First Year Played: 1993
Date: Oct. 25, 1998
Match: Denver vs. Jacksonville

  Source: wikimedia.org
Jason Elam has played for both the Denver Broncos and the Atlanta Falcons, and plenty of fans would argue that he was the greatest Broncos player of all! Elam scored this field goal at the end of the first half against the Jacksonville Jaguars, tying the records that had already been set by previous legends. On top of his accomplishments in terms of gameplay, people called Elam an excellent teammate.
Did you know? 
When asked if he was disappointed by later having his record beaten, Elam said that he was a huge football fan and was eager for others to succeed.
Tom Dempsey
Length: 63 yards
First Year Played: 1969
Date: Nov. 8, 1970
Match: New Orleans vs. Detroit

  Source: wikimedia.org
Thomas John Dempsey is known not only for his experience in playing for big teams like the Houston Oilers and the Philadelphia Eagles, but for his old-school kicking style as well. While many of his contemporaries took a liking to "soccer style" kicking, Dempsey preferred to stick with the classic straight-toe style instead. He was also born with no right toes or fingers, which required him to use a special shoe to be able to kick.
Did you know? 
Some people questioned whether Dempsey's special shoe gave him an unfair kicking advantage.
Matt Prater
Length: 64 yards
First Year Played: 2006
Date: Dec. 8, 2013
Match: Denver vs. Tennessee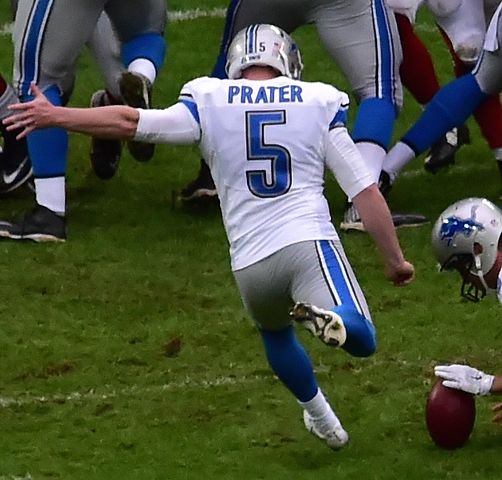 Source: wikimedia.org
Matt Prater made the longest field goal in NFL history in 2013. Matt Prater began his NFL career with the Detroit Lions from 2006-2007, and played for a series of other teams before returning to the Lions in 2014. He made his record-breaking field goal at the conclusion of the first half, and he also struck the record for the most extra points in a single season! Prater also earned AFC Special Teams Player of the Week honors.
Did you know? 
Some of the more cynical fans insist that Denver's higher altitude was what allowed Prater to make this impressive field goal.