Soccer (or Football, depending on where you're from) is an addictive sport that's gained worldwide popularity. People from every corner of the globe love to come together to watch live games at the nearest stadium, and enjoy the thrill of the sport up close.
Just how big can soccer stadiums get? Today we'll be looking at 10 of the largest soccer stadiums in the world and learning what makes each one unique. The ability to seat huge numbers of fans is what makes these stadiums truly stand out, so we'll be comparing the sizes of these massive structures according to their seating capacity.
Borg El Arab Stadium
Fan Capacity: 86,000
Location: Alexandria, Egypt
Home Team: Egyptian national team
Unique Feature: Internal road network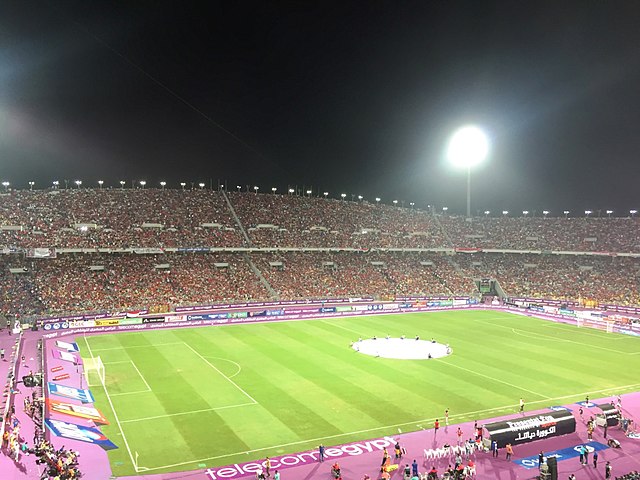 Source: wikimedia.org
The Borg El Arab Stadium is highly regarded for its lighting and clear view, as well as its internal roads and ample parking. This venue is also known as the Egyptian Army Stadium, as it was constructed by the Egyptian Armed Forces Corps of Engineers. It was originally part of a building project with the goal of hosting the 2010 FIFA World Cup in Egypt.
Did You Know?
This stadium saw record attendance for the 2018 FIFA World Cup match between Egypt and the Congo in October 2017.
Bukit Jalil National Stadium
Fan Capacity: 87,411
Location: Kuala Lumpur, Malaysia
Home Team: Malaysian national team
Unique Feature: Parametric lighting technology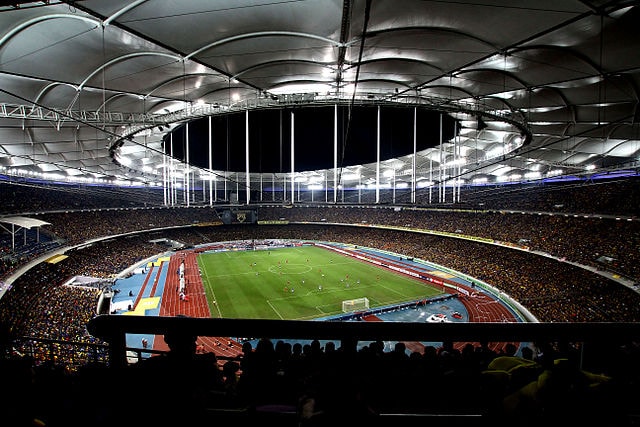 Source: wikimedia.org
The Bukit Jalil National Stadium was awarded the "Stadium of the Year" award in 2018 in recognition for not only being the largest stadium in Southeast Asia, but for its prestige as a high-quality venue. When all renovations are complete, the capacity of the Bukit Jalil National Stadium is projected to increase to 110,000 seats.
Did You Know?
The Bukit Jalil National Stadium became the home stadium for the Malaysia national football team following the 1998 Commonwealth Games.
Gelora Bung Karno Stadium
Fan Capacity: 88,083
Location: Jakarta, Indonesia
Home Team: Indonesian national team
Unique Feature: Lighting system of 3500 lux


Source: wikimedia.org
Named after Sukarno, Indonesia's first president, the Gelora Bung Karno Stadium has hosted a number of prestigious events, including the 2007 AFC Asian Cup Final. This stadium has recently undergone renovations in preparation for the 2018 Asian Games.
Did You Know?
In an eco-friendly and energy efficient move, the Gelora Bung Karno Stadium installed 610 LED flood lights. The stadium has been said to feature one of the best lighting systems in the world.
Wembley Stadium
Fan Capacity: 90,000
Location: London, UK
Home Team: English national team
Unique Feature: Huge, iconic arch


Source: wikimedia.org
Graced by a 440-foot tall arch that crowns the stadium arena, the Wembley Stadium is one of the most famous venues in the UK, and is owned by the Football Association. Shahid Khan extended an offer to purchase the stadium from the FA, but reconsidered and withdrew his offer.
Did You Know?
The Wembley Stadium's beautiful, iconic archway is thought to be the longest single span roof structure in the world.
The Rose Bowl
Fan Capacity: 92,542
Location: Pasadena, USA
Home Team: Various qualifiers and exhibition matches
Unique Feature: No dedicated parking lot for visitors


Source: flickr.com
The iconic Rose Bowl Stadium, also known as the Spieker Field at the Rose Bowl, has hosted five Super Bowls and is recognized as a National Historic Landmark. The Rose Bowl has also showcased 17 Heisman Trophy Winners and produced 29 national champions. In fact, this stadium holds so much historical significance that it's nicknamed "Granddaddy of Them All"
Did You Know?
The Rose Bowl Stadium was designed by architect Myron Hunt, and is recognized as a California Historic Civil Engineering landmark.
FNB Stadium
Fan Capacity: 94,736
Location: Johannesburg, South Africa
Home Team: South African national team and the Kaizer Chiefs
Unique Feature: Rounded "Calabash" design


Source: wikimedia.org
The First National Bank Stadium is easily the largest in Africa, as well as the site of Nelson Mandela's first speech in Johannesburg after his release from prison. This same stadium served as the venue for his memorial service years later in 2013. The FNB Stadium's sunken bowl design was preserved through renovations, and is nicknamed the "Calabash" or "African Pot".
Did You Know?
The FNB Stadium was the first international football stadium in the country.
Azadi Stadium
Fan Capacity: 95,225
Location: Tehran, Iran
Home Team: Iranian national team, Esteghlal FC, and Persepolis FC
Unique Feature: Part of the Azadi Sport Complex


Source: wikimedia.org
Formerly known as Aryamehr Stadium, this impressive all-seater stadium was originally constructed for the purpose of providing a centerpiece venue for the 1974 Asian Games. Even as large as it is, the Azadi Stadium has run into concerning problems with overcrowding in the past.
Did You Know?
Since 1980, Iranian women were forbidden from watching men's sporting games. However, on June 20th of 2018, female soccer fans were allowed into the Azadi Stadium.
Estadio Azteca
Fan Capacity: 95,500
Location: Mexico City, Mexico
Home Team: Mexican national team, and Club América
Unique Feature: Distinct pillars and outer concrete rings


Source: flickr.com
By far the largest stadium in Mexico, the Estadio Azteca has hosted the World Cup and witnessed some of the most brilliant moments of famous players such as Diego Maradona and Pele. However, the condition of the turf has taken a dramatic turn for the worse during 2018. A series of renovations, heavy rains, and unsuccessful hybrid turf have left the stadium looking rather shabby and have even forced matches to relocate.
Did You Know?
The Estadio Azteca stadium has hosted a variety of popular concerts, which have also contributed to the frustrating turf issues.
Camp Nou
Fan Capacity: 99,354
Location: Barcelona, Spain
Home Team: FC Barcelona
Unique Feature: Hosted U2 concert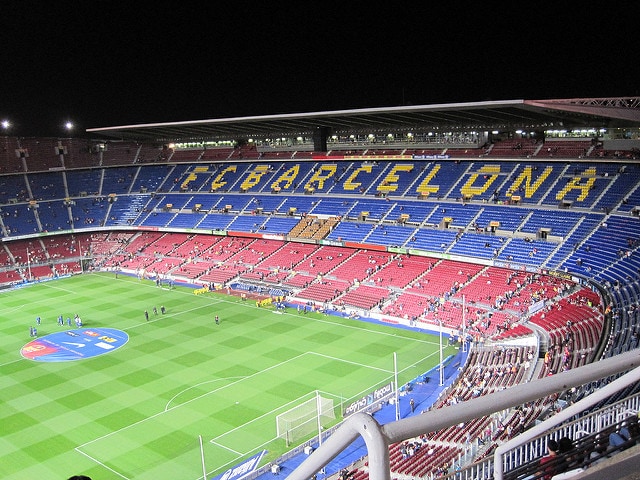 Source: flickr.com
After interest in sports skyrocketed after the influence of a team led by Hungarian star Ladislao Kubala, the old stadium, Les Corts, was deemed insufficient. The replacement stadium was first called "Estadi del FC Barcelona," but was renamed Camp Nou, which translates to "New Ground". While this stadium is already massive, plans are set in place to expand it even further starting in 2019.
Did You Know?
This stadium is open on a daily basis to offer tours.
Rungrado May Day Stadium
Fan Capacity: 150,000
Location: Pyongyang, North Korea
Home Team: North Korean national team
Unique Feature: Parachute shape


Source: flickr.com
The Rungrado May Day Stadium is the largest soccer stadium in the world. While some people have confused it with the Kim Il-sung Stadium due to its close proximity, the Rungrado May Day Stadium's capacity is much larger. This colossal stadium hosts not only general athletic competitions, but annual Mass Games that feature gymnastics and dance in honor of Korean culture.
Did You Know?
The Rungrado May Day Stadium is located on an island. Only two roads provide entry and exit points.