In today's fast-paced world, private transportation has evolved to a point where there's a different car model to fit every personality. Whether you value fuel efficiency or style and luxury, one of the world's biggest car companies is sure to have you covered.
The private vehicle industry is incredibly lucrative, with car companies' average annual revenues reaching staggering heights. Today we'll be ranking these truly impressive car companies based on the amount of revenue they make from car sales rather than on their production numbers.
Tesla Inc.
Annual Revenue: $12 billion
Headquarters Location: Palo Alto, California, USA
Year Founded: 2003
Popular Car: Tesla Model X


Source: wikimedia.org
This groundbreaking electric automobile manufacturer was named in honor of the inventor Nikola Tesla, and originally aimed to create an electric sports car. In addition to entirely electricity-dependent cars, Tesla also creates technology for clean energy generation and storage in an effort to make humanity less-dependent on fossil fuels.
Did You Know?
While most people today see CEO Elon Musk as the face of the Tesla company, it was actually founded by the entrepreneurs Martin Eberhard and Marc Tarpenning.
Nissan
Annual Revenue: $41 billion
Headquarters Location: Yokohama, Japan
Year Founded: 1933
Popular Car: Nissan Altima


Source: wikimedia.org
Formerly known as "Datsun," the Nissan car company does not hesitate to form partnerships and alliances in order to better its manufacturing and business practices. Nissan formed a partnership with Austin, a British automaker, in 1952, and maintains a successful partnership today with the French manufacturer Renault.
Did You Know?
Nissan has a history as more than just a car company: In 1970, Nissan began building the rocket engines for Japanese space exploration missions, and did so for the next three decades.
General Motors
Annual Revenue: $52 billion
Headquarters Location: Detroit, Michigan, USA
Year Founded: 1908
Popular Car: Chevrolet Impala


Source: wikimedia.org
One of the "Big Three" automakers in the United States, General Motors has provided the world with reputable brands such as Buick, Chevrolet, and GMC. Beginning with the production of the first full-sized hybrid electric pickup trucks in 2004, General Motors has made efforts to go greener and lessen its negative impact on the environment.
Did You Know?
Mary Barra was appointed CEO of General Motors in 2014, making her the first woman to be in charge of a major car maker.
Honda
Annual Revenue: $60 billion
Headquarters Location: Minato, Tokyo, Japan
Year Founded: 1946
Popular Car: Honda Civic


Source: wikimedia.org
The creator of the Honda Prelude, the world's very first four-wheel drive car, this car company operates around a strong mission statement of innovation and progressive design. Honda was originally focused more on motorbike production than on cars, and had become the largest motorcycle manufacturer in the world by 1964.
Did You Know?
Soichiro Honda, the company's founder, opened the first location in Los Angeles, California with only six employees.
BMW
Annual Revenue: $72 billion
Headquarters Location: Munich, Germany
Year Founded: 1916
Popular Car: BMW 3 Series


Source: wikimedia.org
This company, whose name stands for Bavarian Motor Works, is the top auto exporter in all of Europe. While BMW is undoubtedly famous as a car company, it actually started out manufacturing aircraft engines during the first World War. BMW phased out of aircraft engine production after the war, but wound up getting back into the production of extremely efficient engines for Luftwaffe during WWII.
Did You Know?
BMW maintains 30 production locations in 14 different countries, and employs 129,932 people.
Daimler AG
Annual Revenue: $80 billion
Headquarters Location: Mercedesstraße, Stuttgart, Germany
Year Founded: 1926
Popular Car: Mercedes-Benz Sprinter


Source: wikimedia.org
Formerly called Daimler-Benz and DaimlerChrysler, this German multinational company is the largest truck manufacturer in the world. This company provides the majority of Germany's information technology services, as well as a number of financial services in Europe and North America. Daimler AG is divided into a number of segments including Mercedes-Benz Cars and Daimler Trucks.
Did You Know?
Mercedes-Benz has made plans to expand its compact-car production network and increase its compact-car family from five models to eight.
Volkswagen Group
Annual Revenue: $117 billion
Headquarters Location: Wolfsburg, Germany
Year Founded: 1937
Popular Car: Volkswagen Jetta


Source: wikimedia.org
Originally founded by the German government for the purpose of creating an affordable "people's car," the Volkswagen company was first operated by the German Labour Front. This Nazi-run organization manufactured military equipment alongside vehicles, making the Volkswagen factory a target for destruction in WWII. The company was later revitalized by the British during the aftermath of the war, and became much more successful.
Did You Know?
The Volkswagen Group has ambitious plans to launch a high number of entirely electric vehicles during the next decade or so, and is cooperating with China to manufacture lithium batteries.
Fiat Chrysler Automobiles
Annual Revenue: $130 billion
Headquarters Location: Amsterdam, Netherlands and London, United Kingdom
Year Founded: 2014
Popular Car: Jeep Cherokee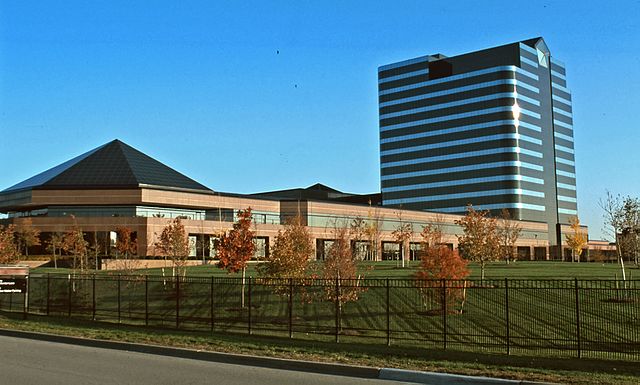 Source: wikimedia.org
This Italian-American multinational car company was formed by the merging of the Fiat and Chrysler companies in 2014, and still maintains subsidiaries in both countries. Fiat-Chrysler also keeps two headquarters locations and operates four different global markets. This company's portfolio includes famous brands such as Jeep, Dodge, and Lancia.
Did You Know?
During both of the World Wars, the Fiat car company branched out and started manufacturing aircraft to support the armed forces.
Ford Motor Company
Annual Revenue: $150 billion
Headquarters Location: Dearborn, Michigan, USA
Year Founded: 1903
Popular Car: Ford Mustang


Source: wikimedia.org
Ford Motor Company has become an American household name, and even coined its own nickname for its business practices and methods: "Fordism". This family-owned business originally produced only a few cars each day, but later revolutionized large-scale car production across the globe with the invention of the automaking assembly line.
Did You Know?
The Batmobile in the "Batman TV Series" was directly based off of a hand-built Ford concept car: The Lincoln Future.
Toyota Motor Corporation
Annual Revenue: $240 billion
Headquarters Location: Toyota City, Aichi, Japan
Year Founded: 1937
Popular Car: Toyota Corolla


Source: wikimedia.org
Toyota Motor Corporation is the largest car company in the world by annual revenue. The company's first production car, the Model AA sedan, was presented in 1936, and jump-started Toyota's competitive presence in the automobile industry. The Toyota Motor Corporation became the largest car company in Japan by the year 2000.
Did You Know?
Toyota Motor Corporation is a company that values its family heritage–every Toyota CEO to date has been a descendant of the original founder, Sakichi Toyoda.