Electronic Dance Music, or EDM, is known for its intense beats which are often accompanied by vibrant lights and visuals during live performances. It's rising popularity has led to the development of all sorts of EDM festivals where people can enjoy music and light shows, food, drinks, and sometimes interactive exhibits as well.
So, just how high can attendance numbers for such hyped-up festivals get? Today we'll learn some cool facts about 10 of the largest EDM festivals in the world and rank them by their average daily attendance.
ZoukOut Festival
Attendance: 45,000
Location: Singapore
First Year: 2005
Featured Artists: Marshmello, DJ Snake, and Yellowclaw

  Source: wikimedia.org
EDM enthusiasts who attend Zoukout mean business: for example, a 2015 crowd rode out hours of rain to enjoy the beats. Zoukout is usually hosted on Sentosa island at Siloso Beach by "The Zouk," one of the most popular nightclubs in Singapore. The festival strives to maintain an easygoing, hassle-free atmosphere and even introduced its own payment system: the EZ-Link smart card.
Did You Know?
Zoukout is meant to reflect the Zouk musical style's motto: "One World, One Music, One Tribe, One Dance."
Creamfields
Attendance: 70,000
Location: England
First Year: 1998
Featured Artists: Wilkinson, Swedish House Mafia, and Daft Punk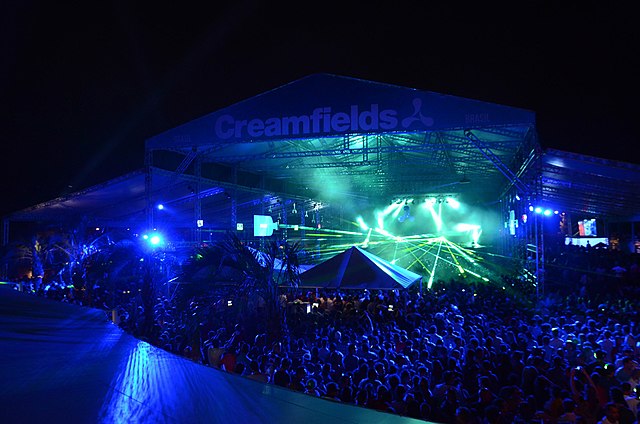 Source: wikimedia.org
Usually taking place on the UK's August Bank Holiday weekend, the Creamfields EDM festival began as a small one-day festival with only around 25,000 attendees. Since then, it's become the largest EDM festival in the UK and now holds sister events in other countries around the world. Creamfields makes an effort to reduce its carbon footprint by providing recycling bins and a cup exchange.
Did You Know?
Select attendees at Creamfields can use the VIP area with improved plumbing, warm showers, and luxury tents or cabins.
Ultra Miami
Attendance: 70,000+
Location: Florida, USA
First Year: 1999
Featured Artists: Above and Beyond, Afrojack, and Steve Angello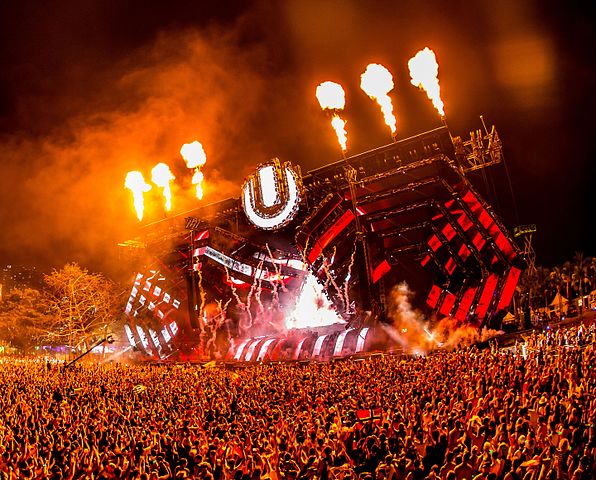 Source: wikimedia.org
The Ultra EDM festival hosts events all around the world, but the festival in Miami usually has one of the biggest turnouts. This festival is touted as a joyous melting pot where people from all cultures come together to celebrate their mutual love of EDM. During the past couple of years, Ultra has made efforts to keep their festival clean by launching waste reduction and traffic mitigation initiatives.
Did You Know?
The Ultra Music Festival is actually named after the 1997 Depeche Mode album with the same title.
Djakarta Warehouse Project (DWP)
Attendance: 90,000+
Location: Jakarta
First Year: 2008
Featured Artists: Jax Jones, Lost Frequencies, and Major Lazer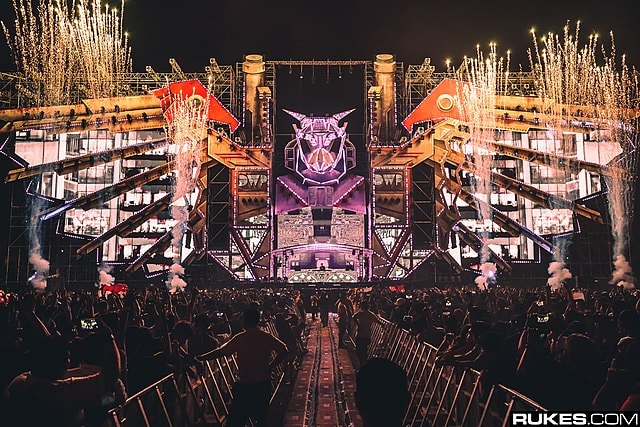 Source: wikimedia.org
This EDM festival had rather humble origins as the "Blowfish Warehouse Project," an event at a local night club, later relocating and changing the name after a fight damaged the venue. While other festivals might top it today, the Djakarta Warehouse Project has previously been named the largest and most eclectic dance music festival in Asia.
Did You Know?
DWP has been a source of concern for Islamic youth groups, who worry that EDM culture's acceptance of alcohol and drug use is a bad influence on Indonesian youth.
Mysteryland
Attendance: 100,000
Location: Haarlemmermeer, Netherlands
First Year: 1993
Featured Artists: Headhunterz, Loco Dice, and Alesso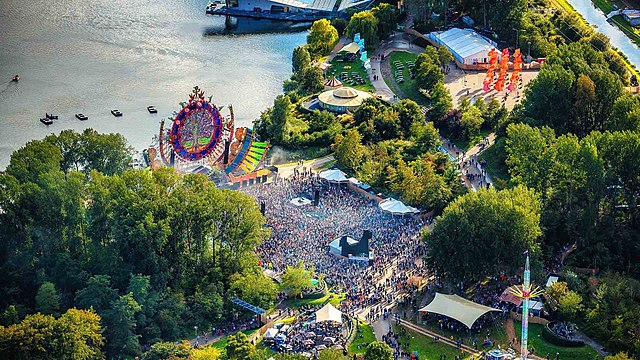 Source: wikimedia.org
Regularly hosting festivals in both Chile and the Netherlands, Mysteryland boasts well-maintained facilities and welcomes attendees to camp out in tents and trailers alike for the duration of the festival. This festival also offers a variety of other art exhibits featuring everything from spoken word to a miniature cinema.
Did You Know?
Mysteryland USA, the American offshoot of the EDM festival, takes place at the Bethel Woods Center for the Arts, the site of the original Woodstock festival.
Ultra Japan
Attendance: 120,000
Location: Tokyo
First Year: 2014
Featured Artists: Galantis, Armin Van Buuren, and Afrojack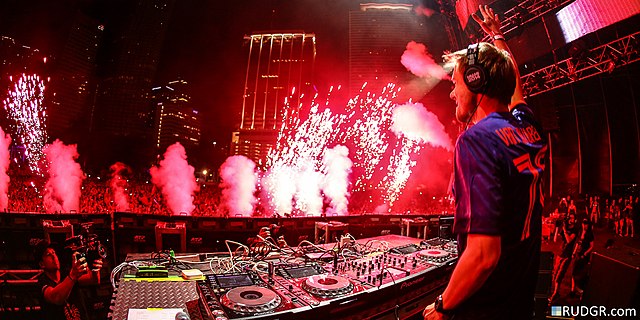 Source: wikimedia.org
The Ultra global circuit makes an appearance on our list once again with staggering attendance numbers, this time with its festival held in Tokyo, Japan. Lots of hype surrounds the Ultra Japan festival, including high-definition aftermovies of previous festivals that get everyone in gear for next year.
Did You Know?
Ultra Japan is so popular that counterfeit tickets have become a problem, with official ticket sites warning would-be concert attendees against purchasing from less reputable sources.
Electric Daisy Carnival
Attendance: 134,000
Location: Las Vegas, Nevada, USA
First Year: 1997
Featured Artists: Alan Walker, deadmau5, and Dimitri Vegas & Like Mike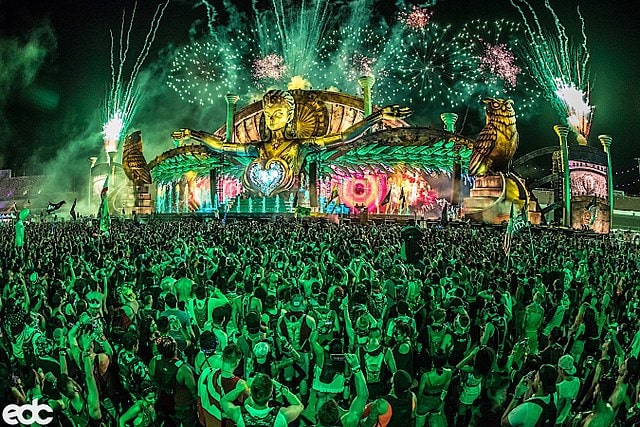 Source: wikimedia.org
This all-encompassing music festival supplements excellent EDM music from world-famous DJs with interactive art exhibits and a futuristic, glowing environment that even includes carnival rides. The Electric Daisy Carnival is held at venues around the world, but its flagship festival in Las Vegas remains the most well-known. The Vegas event is scheduled in between two other festivals during the month of May.
Did You Know?
Attendees are encouraged to secure their tickets and book hotel rooms well in advance since commodities go very quickly as the Electric Daisy Carnival draws near.
Untold
Attendance: 300,000
Location: Romania
First Year: 2015
Featured Artists: Martin Garrix, Hardwell, and Tiesto

  Source: wikimedia.org
The largest electronic music festival in Romania and one of the largest in Europe, Untold was named "Best Major Festival" during the European Festival Awards in 2015. Untold offers over 100 hours of music every summer, often from highly prestigious and world-famous DJ's. The festival setup has been described as "ritzy" and features lots of visual effects.
Did You Know?
The Untold EDM festival is ranked by international DJ's to be the eighth-best festival in the world to perform at.
Sunburn Festival
Attendance: 350,000
Location: India
First Year: 2007
Featured Artists: Alan Walker, DJ Snake, and Axwell & Ingrosso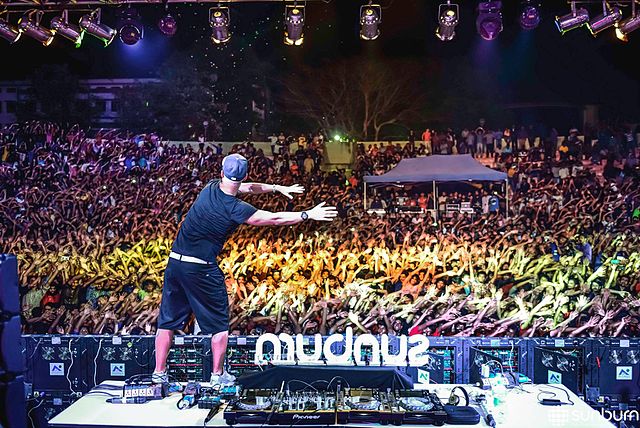 Source: wikimedia.org
The largest EDM festival in India, the Sunburn festival is traditionally hosted on the beach of Goa and presents multiple different stages so that people can enjoy different genres of electronic music. There are also a number of music-related and art project workshops available during the daytime hours leading up to each musical evening.
Did You Know?
The Sunburn festival became so popular that its 2018 location was moved to Delhi.
Tomorrowland
Attendance: 400,000
Location: Boom, Belgium
First Year: 2005
Featured Artists: Yves Deruyter, Technoboy, and Push

  Source: wikimedia.org
Tomorrowland is the largest EDM festival in the world by the daily number of attendees. The first Tomorrowland festival drew in fewer than 10,000 attendees, many of which were given free passes in order to spread more excitement about the event. Tomorrowland now spans two weekends, and the tickets sell out at blinding speeds.
Did You Know?
Tomorrowland is known not only as the biggest and best EDM festival worldwide, but as an "adult playground" as well, with fireworks, laser shows, and intricate interactive sets that demonstrate the yearly theme.