Fireworks have been used to brighten up events and celebrate holidays since the days of medieval China. During the Tang Dynasty's rule, pyrotechnics became a signature element of nearly all Chinese festivals. Before long, these explosive party favors began to spread throughout the world as a symbol of happiness and good luck. As fireworks caught on around the globe, they became increasingly colorful and intricate.
Just how large and impressive can fireworks get in the modern era? Today we'll be taking a look at 6 of the largest fireworks in the world and learning what sets each dazzling explosion apart.
Largest Catherine Wheel
Size: 105 feet 1.56 inches in diameter
Year Launched: 2011
Located: Mqabba, Malta
Event: Village Feast


Source: Victor Caruana, timesofmalta.com
Built by the Lily Fireworks Factory, the largest Catherine Wheel in the world astounded the crowd by successfully completing 4 revolutions under its own propulsion. The framework of this Catherine Wheel was carefully designed to only spin from the propulsion of the pyrotechnics attached to it, which required meticulous engineering to pull off.
Did You Know?
Catherine Wheel fireworks are named after Catherine of Alexandria. She was rumored to have been sentenced to death by "breaking on the wheel," only to break the wheel with a single touch.
Largest Chocolate Firework
Size: 9.8 feet long, 4.9 feet in diameter
Year Launched: 2002
Located: The Hechtplatz, Zürich, Switzerland
Event: New Year's Celebration


Source: flickr.com
Just when you thought that fireworks couldn't get any more exciting, Switzerland delighted crowds with an astounding fireworks rocket that rained chocolates after detonation! This work of art proudly earned its place in the Guinness Book of World Records as the largest chocolate firework ever launched.
Did You Know?
This chocolate firework was made by Nestlé, and released 132 pounds of Swiss Cailler chocolates. As it stands, no one really knows the secret of how the chocolate was prevented from melting. No photos of the record-breaking launch have been publicized, making the event even more mysterious.
Largest Sparkler Candle
Size: 110 pounds and 6.5 feet in diameter when detonated
Year Launched: 2015
Located: Kiev, Ukraine
Event: New Year's Eve


Source: mirror.co.uk
28-year-old Yuriy Yaniv decided to celebrate the turning of the year with with his own "crazy idea", and crafted a variety of handy items to create the largest "sparkler" candle in the world. Yuriy took 10,000 sparklers and packed them together in a large, sturdy pot, bracing them with cardboard and kitchen foil.
Did You Know?
The process of building, lighting, and recording his prize giant sparkler was considerably dangerous, so Yuriy made sure to have fire extinguishers on hand in case the massive, sparking flame spread to the surrounding grass.
Longest Firework Waterfall
Size: 11,539 feet 5 inches in length
Year Launched: 2008
Located: Fukuoka, Japan
Event: Ariake Sea Fireworks Festival


Source: flickr.com
Named the "Niagara Falls" as a way of hearkening to its unusual length, this impressive cascading firework waterfall dwarfed the smaller waterfall displays commonly seen at concerts and sporting events. The Niagara Falls firework waterfall is still included in the festival's pyrotechnics show each August.
Did You Know?
For local food lovers, the Ariake Sea Fireworks Festival offers tickets to seats where audience members can enjoy barbecue while watching the fireworks show.
Former Largest Aerial Firework Shell
Size: 2,454 feet in explosion diameter, 4 feet in shell diameter, and 1,014 pounds
Year Launched: 2014
Located: Konosu, Honshu, Japan
Event: 13th Annual Konosu Fireworks Festival


Source: guinnessworldrecords.com
While this behemoth pyrotechnic has since been outdone as the largest aerial firework shell in the world, it still holds the record for the heaviest firework in Japan. This impressive specimen was large enough that it required a cannon to be launched!
Did You Know?
More than 600,000 people attended the festival at Konosu in order to see the launch of the record-breaking fireworks rocket. Over 15,000 explosions went off before the record-breaking grand finale.
Largest Aerial Firework Shell
Size: 2,397 pounds
Year Launched: 2018
Located: Al Marjan Island
Event: Light Up 2018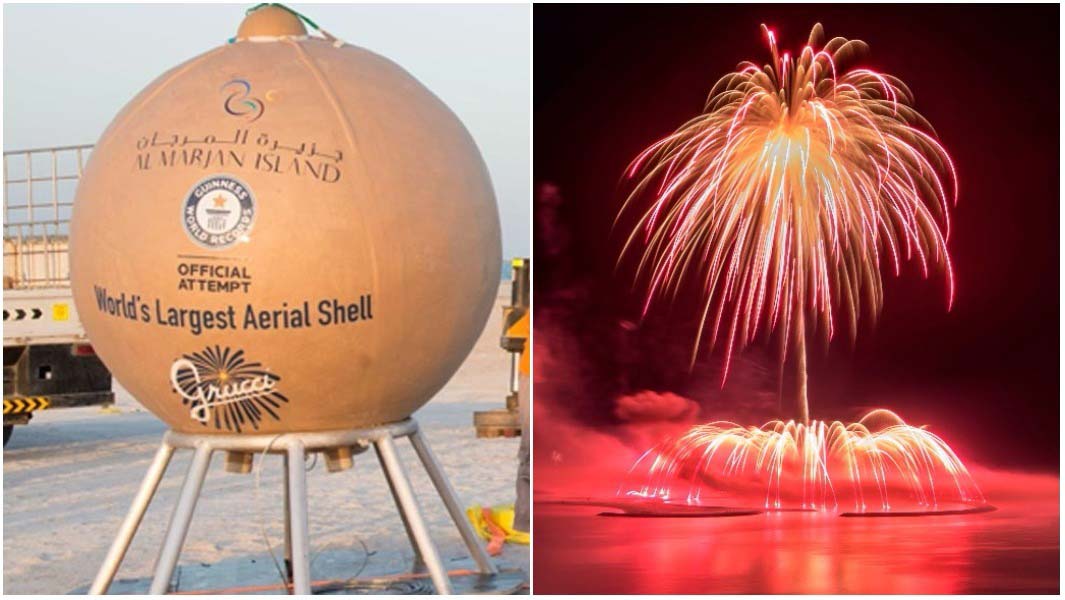 Source: guinnessworldrecords.com
The firework shell launched in Al Marjan Island was the largest firework shell in the world. This massive firework shell was launched for the United Arab Emirates' 2018 New Year's Celebration, and dazzled millions of tourists with its beautiful display.
Did You Know?
The "Light Up 2018" party saw more than one Guinness World Record set that night–the record for "largest light and sound show on a single building" was documented as well.