No matter how far human civilization has advanced, there are certain natural processes that mankind can never tame. A prime example is the powerful volcano, a mountain that spews molten lava and searing ash over the surface of the earth.
Smaller volcanoes are already intimidating and can cause enough damage on their own, easily reminding us of how uncontrollable nature is. However, these especially large volcanoes serve as even more humbling examples of nature's raw power. Let's take some time to learn about 10 of the largest volcanoes in the world, and look at what makes each one unique.
Haleakalā
Elevation: 10,023 feet
Location: Hawaii, USA
Last Eruption: 1790
Status: Dormant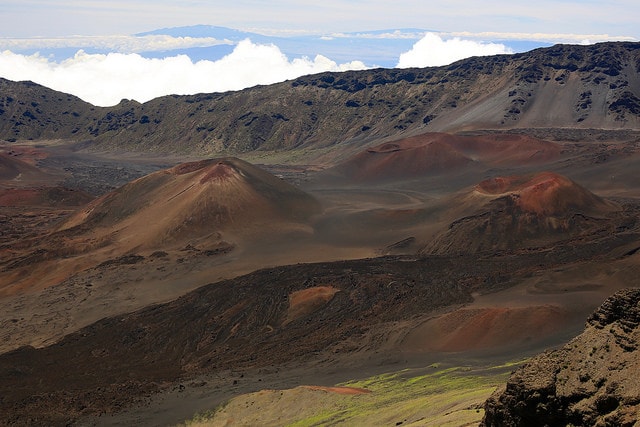 Source: flickr.com
The larger of the two volcanoes that form the island of Maui, the dormant volcano of Haleakalā serves as an important Hawaiian landmark. Haleakalā is estimated to be around 1 million years old, and has always been an important part of Polynesian culture. According to their mythology, the god Maui trapped the Sun there in order to increase the length of the daytime. This myth carries over into the name Haleakalā itself, which means "House of the Sun."
Did You Know?
The rim of this beautiful volcano rests above the clouds, giving lucky hikers the opportunity to experience the Brocken Spectre phenomenon.
Cerro Azul
Elevation: 12,428 feet
Location: Chile
Last Eruption: 1967
Status: Active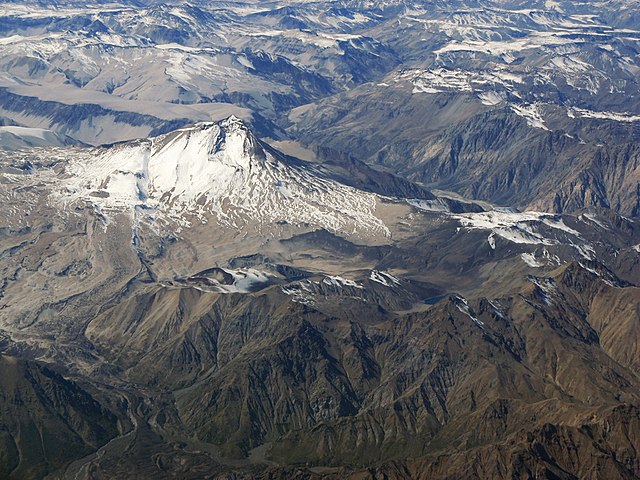 Source: wikimedia.org
The impressive Cerro Azul lies at the southern end of the Descabezado Grande-Cerro Azul eruptive system of the Andes. This distinctive volcano is famous for being the site of one of the largest eruptions in the 20th century. This eruption took place in 1932 at Quizapu, a major fissure in the northern part of the mountain. Quizapu is believed to have been formed as a result of Cerro Azul's first historic eruption.
Did You Know?
On the west flank of Cerro Azul lie the three scoria vents known as La Resoloma Craters.
Volcán Tajumulco
Elevation: 13,845 feet
Location: Guatemala
Last Eruption: 1863
Status: Dormant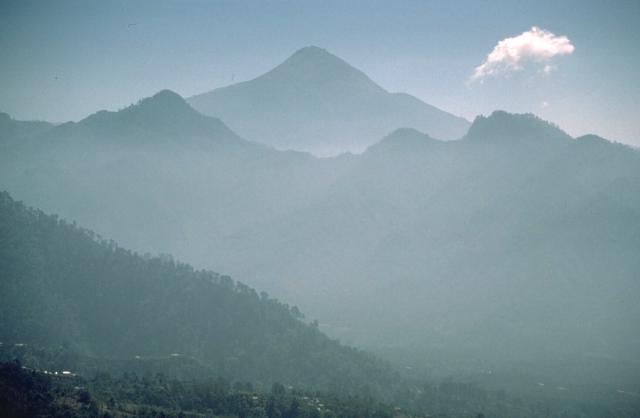 Source: wikipedia.org
The highest peak in Guatemala and the highest volcano in Central America, Volcán Tajumulco is thought to rest atop the remains of an older volcano. This impressive landmark has two peaks and serves as a fairly accessible climbing site for hikers and tourists, with the main hike estimated to take around five hours. While tours are sometimes given, travelers are urged to get acclimated to the high altitudes before attempting the climb.
Did You Know?
The area surrounding is rather sparsely populated, with the nearest town being the city of San Marcos.
Mount Shasta
Elevation: 14,180 feet
Location: California, USA
Last Eruption: 1786
Status: Active


Source: pixabay.com
One of the most well-known peaks in the Cascade Mountain Range and the Cascade Volcanic Arc, Mount Shasta has served as a key landmark throughout history. This volcanic complex consists of four overlapping volcanic cones, and is a part of the notorious "Ring of Fire".
Did You Know?
This astounding, beautiful volcano has long been considered sacred by Native American people, and has become the center of other spiritual beliefs as well.
Klyuchevskaya Sopka
Elevation: 15,584 feet
Location: Russia
Last Eruption: 2007
Status: Active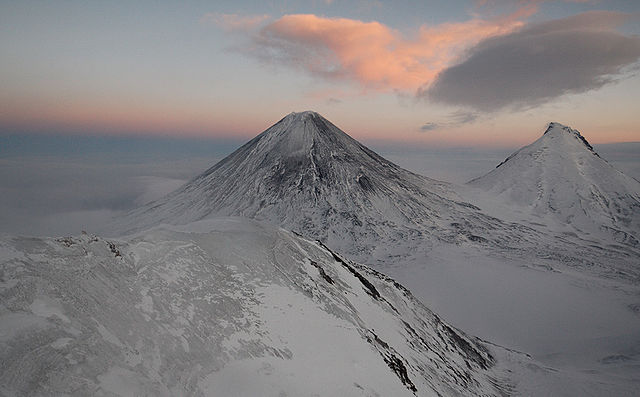 Source: wikimedia.org
This exceptionally active volcano, which has erupted over 50 times since the year 1700, is characterized by the appearance of the smoke that consistently drifts up from its crater. Klyuchevskaya Sopka is also recognized as the highest point in Russia's Kamchatka Peninsula and one of the most active volcanoes in the world.
Did You Know?
People used to be more willing to climb and investigate Klyuchevskaya Sopka, but the frequent activity of the volcano has caused expeditionists to be more cautious during recent decades. People have not ventured up the mountainside since the 1930's.
Guagua Pichincha Volcano
Elevation: 15,696 feet
Location: Ecuador
Last Eruption: 2008
Status: Active


Source: wikimedia.org
This active stratovolcano has erupted several times during recent years, coating the nearby landscapes and towns with ash. This volcano complex is considered to be one of Ecuador's most active volcanoes. Its summit crater is horseshoe-shaped, and many tourists and nature enthusiasts like to hike up to the summit for an astounding view.
Did You Know?
The Guagua Pichincha volcano is located close to Quito, the capital of Ecuador, and is a popular attraction for locals and visitors alike.
El Misti
Elevation: 19,101 feet
Location: Peru
Last Eruption: 1985
Status: Dormant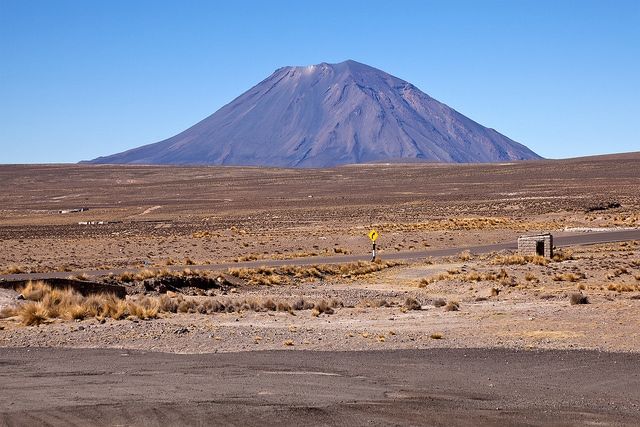 Source: flickr.com
A long history of mineral deposits from El Misti has made the surrounding area into some of the most agriculturally fertile land in Peru. It has 2 concentric summit craters and a symmetrical shape, making it an unusually beautiful landmark. Past eruptions appear to have mostly only affected the top of the volcano.
Did You Know?
El Misti makes an appearance in the art and poetry of the Incas, leading people to believe that it held spiritual significance in their culture.
Chimborazo
Elevation: 20,702 feet
Location: Ecuador
Last Eruption: 640
Status: Active


Source: wikimedia.org
Chimborazo is Ecuador's highest peak and active volcano, and is part of the Cordillera Occidental range of the Northern Andean Volcanic Zone. This volcano is actually formed from two volcanic edifices stacked on top of one another, with its main crater reaching 820 feet in depth.
Did You Know?
Chimborazo is estimated to have collapsed around 35,000 years ago, based on the estimated age of pyroclastic flow found directly above the avalanche of the debris caused by the cave-in.
Nevado Coropuna
Elevation: 21,079 feet
Location: Peru
Last Eruption: Pleistocene Epoch (The Ice Age)
Status: Dormant, Potentially Active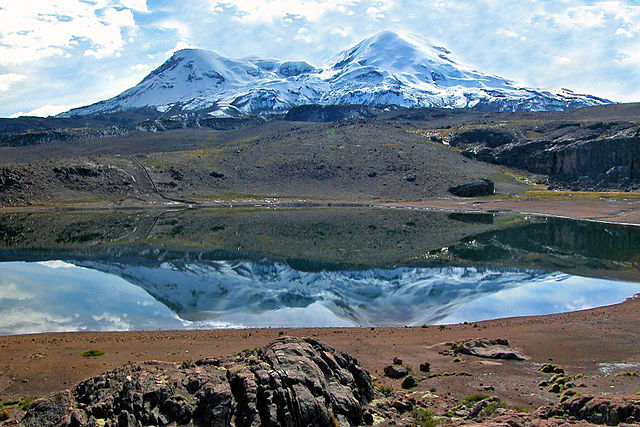 Source: wikipedia.org
The astounding volcano Nevado Coropuna is shrouded in a bit of mystery, as no one is certain exactly when its last eruption was. No notable activity has been recorded during recent history and Nevado Coropuna is currently considered dormant, but some data has been collected to suggest that Nevado Coropuna might still be active beneath the surface. This impressive volcanic formation boasts six summit cones with icy tops.
Did You Know?
The exceptionally old layers of rock and mineral deposits around Nevado Coropuna provide scientists with important information regarding the Pleistocene Epoch.
Ojos del Salado
Elevation: 22,615 feet
Location: Chile
Last Eruption: 700
Status: Active


Source: flickr.com
Ojos del Salado is the largest volcano in the world by Elevation, as well as the highest mountain in Chile. This majestic volcano actually has two summit peaks that reach the same Elevation, and maintains a very dry climate. Ojos del Salado translated to "Eyes of Salt," a nickname that references the salt pools that dot the sides of the volcano.
Did You Know?
Ojos del Salado is located right near the Atacama Desert, which contributes to its dryness. However, despite its proximity to the desert, this volcano can still gather snow at its peaks during all seasons.