Flea markets are the best place to go for bargain hunters and those who love unique finds. There is an endless supply of vintage items on offer here, as well as a friendly environment where you can haggle over prices with other shoppers or vendors at your leisure. If you're looking for some new clothes, furniture pieces, collectibles – anything really – then this marketplace offers everything!
There are a number of both seasonal and permanent flea markets in the United States, and all of them have plenty to offer.Unlike most stores, they're usually set up inside huge warehouses where you can find some truly unique items and experiences that many other retailers simply don't have access to locally. You have not experienced the ultimate shopping experience until you have visited three or more of these beautiful markets.
Alameda Point Antiques Faire
Location: Runway 7/25 Alameda Point, 2900 Navy Way
Operation Hours: 1st Sunday of Every Month; 06:00-15:00
Shoppers Capacity: 800 booth dealers
Year Opened: 1998

photo source: Flickr
Commonly known as the Alameda Flea Market, this is the largest flea market in Northern California. As the name goes, Alameda Point Antiques Faire is your go-to place for all the antiques you may need. Here, you will find art, jewelry, books, furniture, and even home decorations.
If you are into collectibles, you will find this to be a little heaven of some sort. However, you should know that admissions are only free for children under the age of 16 (and even they have to be accompanied by parents for them to gain free entry. Ticket prices vary based on various factors, such as the time of admission. On the upside, you will not have to pay for your parking once admitted!
Did You Know?
Alameda Flea Market only sells antiques that are 20 years old and above. It is the best place to get amazing deals on antiques and vintage products. The flea market also restricts anyone from getting in with pets. So when planning to visit, make sure you leave your furry friends behind!
127 Corridor Sale
Location: Highway 127, TN, United States
Operation Hours: 1st Thursday of August to Sunday
Size: 690 miles
Shoppers Capacity: 1500 vendors
Year Opened: 1987

photo source: 127yardsale.com
Occupying 690 miles along the highway, 127 Corridor Sale is hands down one of the largest flea markets you will ever attend. It spans multiple states and often hosts more than 1,500 vendors. If you are a collector, shopaholic, or just a lover of old and beautiful merchandise, then make this your ultimate destination each summer. If you are a vendor or antique dealer, you may want to take advantage of the 127 Corridor Sale to reach out to potential customers in Kentucky and Tennessee.
Did You Know?
Although the sale booths are along the highway, the market is not continuous due to the irregularity on the roadside and the terrain. However, you will not drive for a long distance without getting to the different booths.
Mile High Flea Market
Location: 7007 E 88th Ave, Henderson, CO 80640
Operation Hours: Friday to Sunday: 7:00 – 17:00
Size: 80 acres
Shoppers Capacity: 2,000 vendors
Year Opened: 1976

photo source: milehighfleamarket.com
Colorado's most popular flea market is the Mile High Flea Market, which draws in thousands of shoppers every weekend. The purpose of this place isn't just to sell merchandise – it also provides a space for cultural gatherings and community events that celebrate Colorado culture.
The annual High Flea market in Colorado brings together all types of merchants under its vast roof with an enormous inventory encompassing over 1 million square feet and even including livestock auctions.
It offers everything from used books to retro clothing while also providing updated information on local events going on around town; there's no better way to do some shopping after exploring Denver than at the Miles High flea market.
Did You Know?
Mile High Flea Market is the oldest flea market in Denver. It offers vending spaces and various amenities that you may need while shopping, such as food and live music! Speak about enjoying your shopping!
Texas Antique Weekend
Location: Fayette County, TX, 78940
Operation Hours: Thrice annually; January, March/April and September/October: 09:00 – 19:00
Size: 60 shows
Shoppers Capacity: 100,000 people
Year Opened: 1968

photo source: Chron.com
If you haven't been to a Texan flea market, then the Texas Antique Weekend should top your list. You should, however, have it in mind that this flea market only takes place twice a year. That may be one of the reasons it gets a very high turn up from both vendors and buyers.
Luckily, the Texas Antique Weekend normally runs through two and a half weeks. So with proper planning, you can not miss a chance to shop there if you are a lover of antiques and pretty little trinkets. If you are in luck, you may seal a few deals on some of the most expensive vintage pieces in town.
Did You Know?
Unlike your traditional flea markets, the Texas Antique Weekend consists of various show sites distributed across Round Top and Warrenton. Depending on what you need, you will find show sites in Burton, Fayetteville, Shelby, and even Carmine.
Rose Bowl Flea Market
Location: 1001 Rose Bowl Dr Pasadena, CA
Operation Hours: Second Sunday of each month: 09:00 – 16:30
Size: n/a
Shoppers Capacity: 2,500 merchants
Year Opened: 1968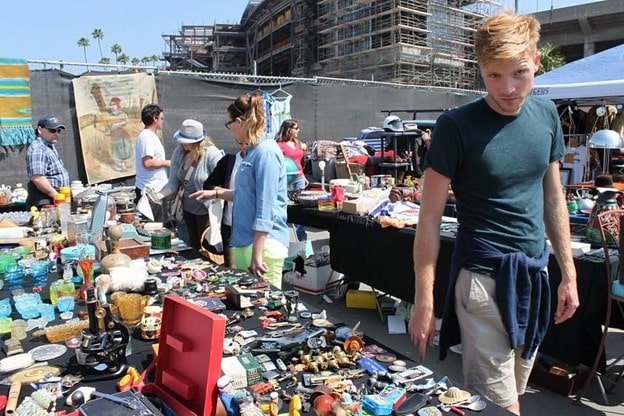 photo source: Flickr
Hosted at the Rose Bowl Stadium, The Rose Bowl Flea Market is the best place to be on a Saturday for shoppers with anything from vintage clothes, antiques and collectables. The market has more than 25,000 vending stations that are all filled with beautiful items! You can find something for everyone at this flea market whether you're looking for old records or antique jewelry; there's always an item in the mix of treasures just waiting to be found.
Although most parts of the market are often set aside for vintage and antiques, there is something for everyone in this flea market. So whatever your taste, be sure to visit Rose Bowl Flea Market and experience it yourself.
Did You Know?
Rose Bowl Flea Market is partitioned into sections based on the merchandise that vendors sell. For instance, you will find all art and craft in the same section, while vintage and antiques will be in a different area of the market. This way, you will have a much easier time finding what you need.
Springfield Antique Show & Flea Market
Location: 4401 S Charleston Pike Springfield, OH
Operation Hours: 3rd Saturday & Sunday of the month (with exceptions for January, February & July): Saturdays 08:00 – 17:00, Sundays 09:00 – 16:00
Size: n/a
Shoppers Capacity: 2,000 vendors and 20,000 customers
Year Opened: n/a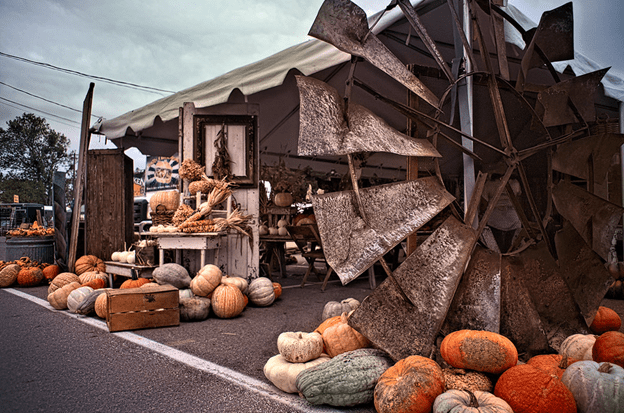 photo source: Flickr
One of the most unique flea markets in the United States, Springfield Antique Show and Flea Market is as old as it is large. With nine events each year to choose from–including their famous Black Friday sale!—visitors can buy one-of-kind antiques for bargain prices while browsing through booths with a wide variety of items on offer.
Did You Know?
Apart from the regular flea market days, you can shop on Fridays to Sundays on special market days known as Extravaganzas. These extra days will prove pretty helpful, and you can find a wide range of affordable yet valuable pieces.
Brimfield Antique Show and Flea Market
Location: Main Street 23, Brimfield, MA, United States
Operation Hours: May, July & September
Size: n/a
Shoppers Capacity: 5,000 vendors and 1 million shoppers
Year Opened: 1959

photo source: Flickr
The Brimfield Antique Show and Flea Market is a crossroads of time, where the new meets old. Brimfield Antique Show and Flea Market, the largest outdoor flea market in America, also happens to be one of the oldest markets around. For six days every May, July, and September at this eclectic marketplace you can find everything from antiques to items that are brand-spanking new! You'll never leave without finding something worth your while — or someone else's for sale.
Did You Know?
Although you may visit this flea market for free on some days, you may have to pay some admission fees on others depending on the terms put in place. In most cases, you will have to pay to get it on the first day of the show.
Scott Antique Market Atlanta
Location: 3650 Jonesboro Rd SE Atlanta, GA
Operation Hours: 2nd weekend of every month
Size: n/a
Shoppers Capacity: 3,300 booths
Year Opened: n/a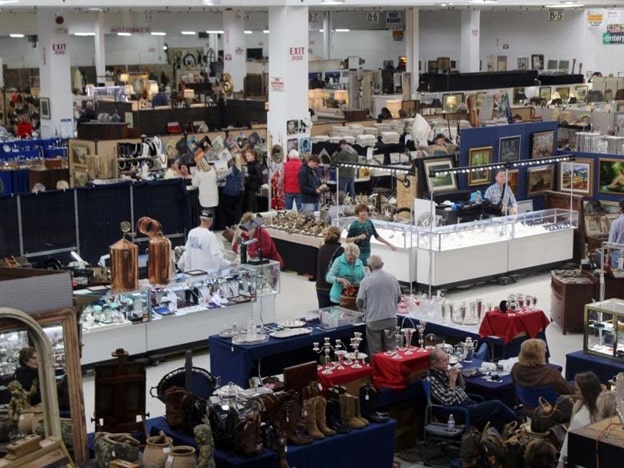 photo source: Exploregeorgia
Every second Saturday of the month, Scott Antique Market Atlantahosts a beautiful antique market day. Here you can find both dealers and collectors selling their pieces in unison to create an eclectic environment for buyers looking for something new or old. Classes are also offered so that enthusiasts might learn more about their interests as well – whether it be by building furniture from scratch or learning how to restore vintage cars!
Every other weekend at Scott Antiques, you'll experience one-of-a-kind pieces with prices ranging anywhere between $1-$1000+. You will easily spot either collections being sold off piecemeal amongst dealer's tables filled with various goods like collectible toys and pretty art prints; on the other hand there is plenty of space designated just for people
Did You Know?
The merchandise here is categorized depending on the style you are after. The North Building, for instance, avails you of a vast array of antique products, while the South Building is for farmhouse decor.
Rogers Flea Market
Location: 45625 Old State Rte 154, Rogers, OH 44455, United States
Operation Hours: Friday: 07:30 – 19:00 (may vary based on individual vendors)
Size: 250 acres and more than 1600 vendor spaces
Shoppers Capacity: 50,000
Year Opened: 1955

photo source: inspirock.com
Located in Rogers, Ohio is among the largest flea markets in America. The market was started as a small operation and has since grown to be one of the most famous places for finding deep discounts on just about anything you might need or want! Open every Friday and select Saturdays throughout the year, this place is worth checking it out if you're looking to buy something new at an affordable price that may not have been sold yet.
The best thing about Roger's Flea Market is that it brings together various vendors, making it much easier to get all you need within one place. What's more, admission into the market is free.
Did You Know?
You could get more fantastic and unique goods at Rogers Flea Market every second Tuesday of the month? The market has auctions these days. The most impressive thing about these auctions is that you can bid for items on their online auction platform!