People all around the world love baseball and will make it a priority to tune in and watch Major League games on TV. It's always especially thrilling when a favorite team gets on a winning streak: Fans everywhere feel the tension build with every game while they wonder how long it will sustain. Winning streaks carry over from one season to the next, and some can get quite long!
So, just how many games have the longest MLB winning streaks lasted? Today we'll look at 10 of the longest winning streaks in MLB history and learn some fun facts about the baseball franchises behind them!
Phillies 
Number of Winning Games: 3500
Date: Sept. 15-Oct. 8, 1887
Opposing Team: Cincinnati Reds
Team's Hometown: Philadelphia, Pennsylvania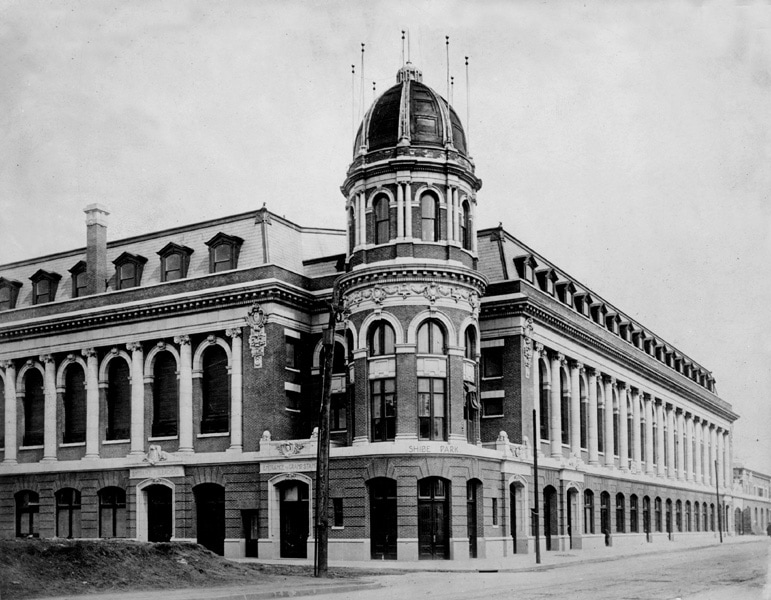 Source: wikimedia.org
The Philadelphia Phillies are the oldest franchise in American professional sports to continuously stick with the same city! The franchise has played at several different stadiums throughout Philadelphia, including Connie Mack Stadium, Recreation Park, and Veterans Stadium. While competitions are still based in the same city, the Phillies have training facilities in other locations such as Clearwater, Florida.
Did you know? 
The Phillies were actually known as the Philadelphia Quakers at the time of their 16-win streak. 
Pirates 
Number of Winning Games: 16
Date: Sept. 9-27, 1909
Opposing Team: Cincinnati Reds
Team's Hometown: Pittsburgh, Pennsylvania

 
Source: wikimedia.org
Originally founded under the name Allegheny, the Pittsburgh Pirates franchise has seen its fair share of success, winning five World Series championships. The Pirates also won their first World Series in 1909 on top of their winning streak, making it a big year for the franchise! In 2018, the Pirates made an 11-game winning streak, which was their longest streak in more than 20 years.
Did you know? 
The Pittsburgh Pirates are also nicknamed the "Bucs" or "Buccos" since "Buccaneer" is another term for Pirate.
St. Louis Browns (Cardinals)
Number of Winning Games: 17
Date: May 5-June 1, 1885
Opposing Team: Louisville Colonels
Team's Hometown: St. Louis, Missouri

  Source: wikimedia.org
The famous St. Louis Cardinals of Busch Stadium used to play under the name of St. Louis Brown Stockings or St. Louis Browns. Over the course of MLB history, this franchise has earned an impressive 19 National League pennants! They changed their name from the St. Louis Browns to the Baltimore Orioles after a few unfortunate years spent struggling with Bill Veeck in the early 1950s before later becoming the St. Louis Cardinals.
Did you know? 
Players Dave Foutz and Bob Caruthers are especially well-remembered for their high scores.
Boston Beaneaters (Braves) 
Number of Winning Games: 18
Date: Sept. 16-Oct. 2, 1891
Opposing Team: Chicago Colts
Team's Hometown: Boston, Massachusetts

  Source: wikimedia.org
This baseball franchise has cycled through a whole series of names: Red Stockings, Beaneaters, Doves, and Braves. Back when it was known as the Boston Beaneaters after first being given the name in 1883, it rose to become one of the National League's primary teams in the 19th century and won eight pennants.
Did you know? 
Frank Selee worked through a 16-year career as a MLB manager that encompassed the Beaneaters' winning streak, and he was the first manager that didn't pull double-duty as a player as well.
White Sox 
Number of Winning Games: 19
Date: Aug. 2-23, 1906
Opposing Team: Boston Americans
Team's Hometown: Chicago, Illinois

  Source: wikimedia.org
Formerly known by the more formal name of the Chicago White Stockings, this franchise has seen an incredible level of fame throughout its history! The White Sox have pulled out a few unconventional approaches on the field, winning the 1906 World Series championship with a defense-focused team that was affectionately nicknamed "the Hitless Wonders".
Did you know? 
The 1906 World Series championship in which the White Sox beat the Chicago Cubs was the only World Series game that ever pitted the two Chicago teams against one another.
Yankees
Number of Winning Games: 19
Date: June 29-July 17, 1947
Opposing Team: Washington Senators
Team's Hometown: Bronx, New York City, New York

 
Source: wikimedia.org
You'd be hard-pressed to find someone who hasn't head of the New York Yankees, even among people who aren't sports fans! This famous MLB team played its first game in 1903 under the name of New York "Highlanders" which it kept for a decade. A jaw-dropping 99,200 fans showed up to see the first game that the team played on the opening day of the new Yankees Stadium.
Did you know? 
Alongside having one of the longest winning streaks ever, the Yankees can also brag on Joltin' Joe DiMaggio, who earned a 56-game hitting streak that's still yet to be outdone!
Athletics 
Number of Winning Games: 20
Date: Aug. 13 – Sept. 4, 2002
Opposing Team: Toronto Blue Jays
Team's Hometown: Oakland, California

  Source: wikimedia.org
The Oakland Athletics are also known as the Oakland A's and originally came together in Philadelphia in 1901. The Athletics were also one of the eight founding baseball franchises of the American League. Connie Mack served as the manager of the Athletics for the first several decades of the franchise's existence, and actually remains the longest-serving manager in the history of Major League Baseball.
Did you know? 
The Oakland Athletics are known for their bold uniform colors, which Charles O. Finley did a fair bit of experimenting with.
Cubs 
Number of Winning Games: 21
Date: June 2-July 8, 1880
Opposing Team: Philadelphia Phillies
Team's Hometown: Chicago, Illinois

  Source: wikimedia.org
The Chicago Cubs were originally founded in 1870 as the Chicago White Stockings and were the first-ever winners of the National League pennant. As you might expect, there was a good bit of rivalry between the original Cubs and White Sox franchises, with both wanting to be the primary team of Chicago. The White Sox franchise formerly adopted the Chicago White Stockings name out of spite.
Did you know? 
This franchise didn't adopt the Chicago Cubs title until the 1907 season.
Indians 
Number of Winning Games: 22
Date: Aug. 24-Sept. 14, 2017
Opposing Team: Boston Red Sox
Team's Hometown: Cleveland, Ohio

 
Source: wikimedia.org
The Cleveland Indians reached another milestone on September 28 right after their winning streak: They won their 100th game that season, making it only the third season in history to reach 100 wins. By the time they finished the season, the Indians had racked up an astonishing 102 wins, which was the second most wins per season in their entire game history!
Did you know? 
The combined score of the games in this amazing winning streak was 140–36.
Giants 
Number of Winning Games: 26
Date: Sept. 7-30, 1916
Opposing Team: Brooklyn Robins
Team's Hometown: New York City, New York

  Source: wikimedia.org
The Giants held the longest MLB winning streak ever in 1916. They were originally founded in 1883 as the New York Gothams and promptly entered the National League. Their record-setting winning streak has been a source of controversy, since one of the games was interrupted by a rainstorm that lasted until nightfall. However, many people agree that, since the game was replayed, the score stands and there's no real controversy at all.
Did you know? 
The Giants won five pennants in 28 seasons from 1930-1957.