To be a good quarterback in the NFL, it takes a rare blend of physical ability, intellect, and unwavering discipline. For any Kobe Bryant fans, you could describe the level of discipline needed to succeed in the NFL as "Mamba" caliber. With that said, all those things don't always translate into success in the league. Sometimes, the slowest guy on the bench can turn into a Hall of Fame player based on discipline and smarts; and, vice versa, the fastest but the least disciplined can succeed on sheer willpower and athleticism.
You could argue that the most important attribute is one I haven't even listed yet, and that is height. It's the one thing we can't control but so important in terms of a game like football as a QB. It's a luxury not every QB affords, and there are still some that are successful without it, but the ability to look over the opponent's defense and see the shifts and discrete nuances of their schemes makes all the difference. Whether those players end up immortalized in the Hall of Fame depends on if they possess those other things we talked about.
Today, we're here to find out the quantifiable. Not the best, but the tallest quarterback to ever play in the NFL? Let's take a look!
Marc Wilson
Age: 64
Primary Team: Oakland Raiders
Height: 6'6
Seasons: 11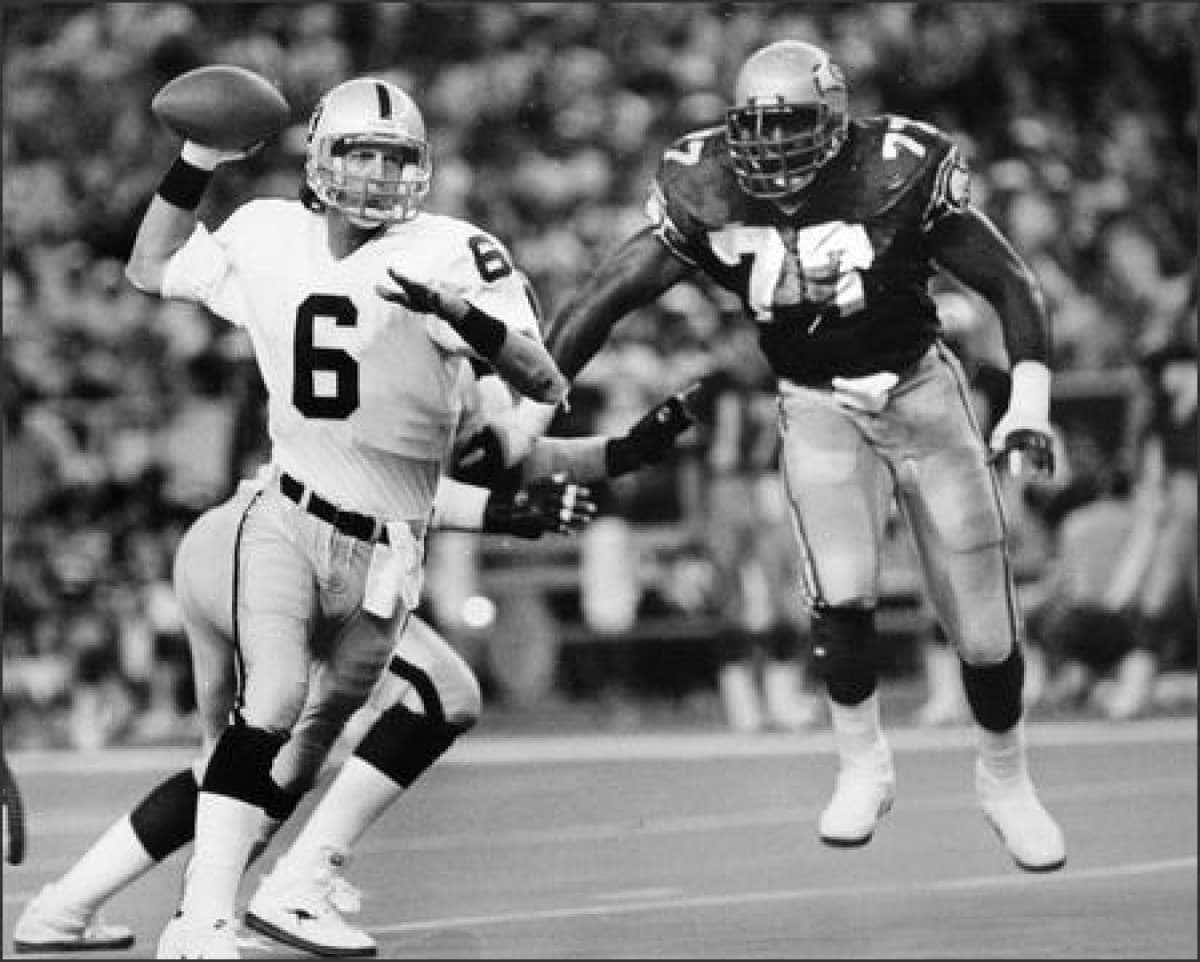 Source: seattlepi.com
Marc Wilson was an NFL quarterback for 11 seasons split between the Oakland Raiders and the New England Patriots. The 6'6 Wilson was drafted in the first round of the 1980 NFL draft by the Raiders.
Three years later, Oakland won the Super Bowl but in bittersweet fashion as Marc, who had earned the starting job, suffered a shoulder injury that took him out just a few games before the championship.
Did you know?
You could make a case that Wilson's most successful venture wasn't football but was real estate instead. After learning the ropes from a dear friend who was profitable in the real estate arena, he went solo and founded Wilson Pacific Partners. WPP is responsible for developing over 30 properties in Seattle and three neighborhood grocery shopping centers.
Scott Mitchell
Age: 53
Primary Team: Detroit Lions
Height: 6'6
Seasons: 12

Source: Utahvalley360.com
Scott Mitchell spent 12 seasons in the NFL. He was selected in the fourth round as a 93rd overall pick by the Miami Dolphins in the 1990 NFL Draft and stood above the rest at 6'6 ½. He had some pretty big shoes to fill right out of the gate as a backup for Marino who had to assume the starting role after Marino went down with an injury in 1993. Unfortunately, he couldn't live up to Marino standards but in fairness, not many can.
Mitchell was signed by the Detroit Lions in 1994 and in 1995 set a single-season record in Lions history for most touchdown passes at 32.
Did you know?
Post-career life hit Mitchell hard. In 2014, his weight peaked at 366 lbs. Heavy for even a man of his height, he decided to make an appearance on the popular reality show, The Biggest Loser. He managed to reach Week 15 before ultimately losing a weigh-in to a competitor.
Sonny Gibbs
Age: 82
Primary Team: Dallas Cowboys
Height: 6'7
Seasons: 2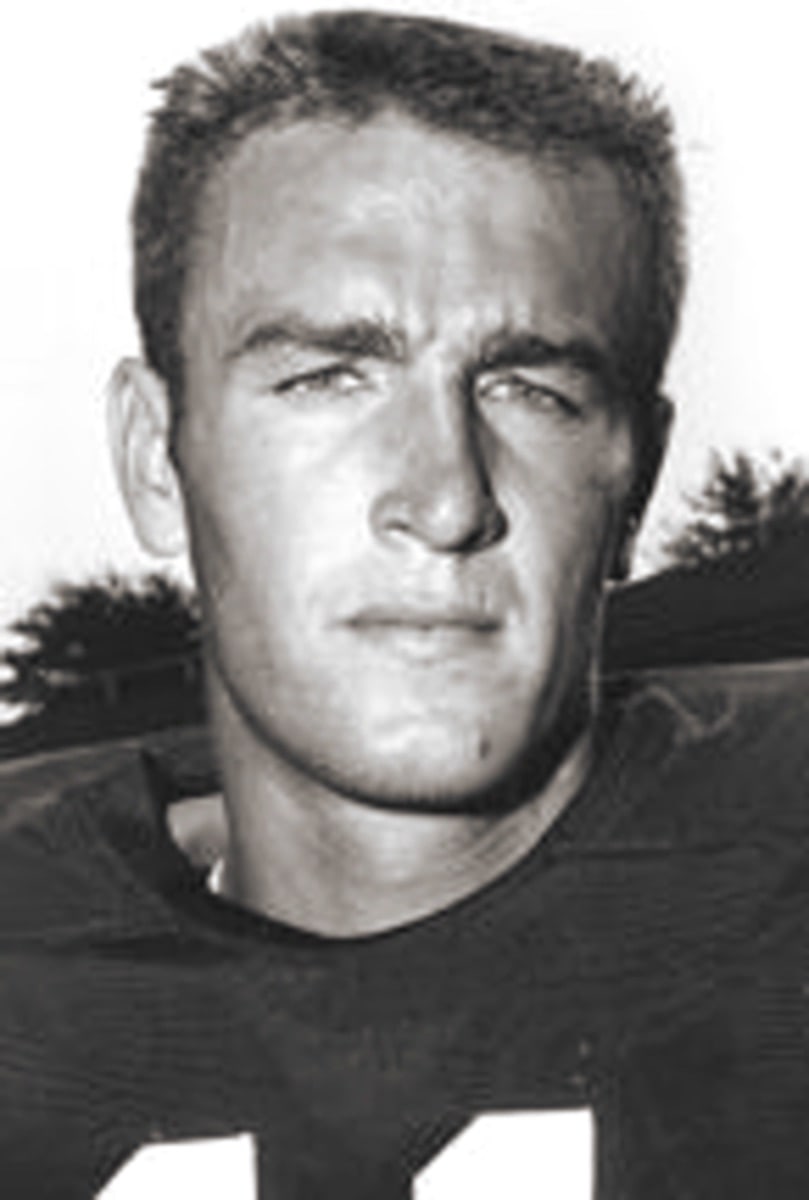 Source: howtheyplay.com
Sonny Gibbs was a 6'7 quarterback who had a very short stint in the NFL. In this case, his height was a non-factor, which again drives home that it takes more than just genetic makeup to succeed in the big leagues.
Gibbs was drafted in the second round as an 18th overall pick even before his college eligibility was over! In 1963, he entered the league as the tallest QB until Dan McGwire, who we'll pay a visit to later, entered the league and broke the record.
Did you know?
Gibbs had a successful collegiate career and was the second leading passer in his conference with 89 out of 169 throws completed. He received the Rogers Trophy as team MVP in his junior season for the University of Texas.
Mike Glennon
Age: 31
Primary Team: New York Giants
Height: 6'7
Seasons: 8 (active)

Source: commons.wikimedia.org
Mike Glennon is the current quarterback for the New York Giants. This 6'7 athlete went in the third round of the 2013 NFL Draft as the 73rd pick.
Glennon has been a journeyman, playing for the Buccaneers, Chicago Bears, Arizona Cardinals, Jacksonville Jaguars, and now the Giants. He signed just a one-year, $1.35 million contract which likely means by this time next year, he'll be off to a new destination. Hopefully in a climate a little more tropical.
Did you know?
Glennon has set himself up well for retirement with a bachelor's degree in Business Management and a Master of Arts in Liberal Studies. His GPA was a 3.8 out of 4.0. He also has a brother, Sean, who was a quarterback for Virginia Tech from 2004 to 2008.
Paxton Lynch
Age: 27
Primary Team: Denver Broncos
Height: 6'7
Seasons: 2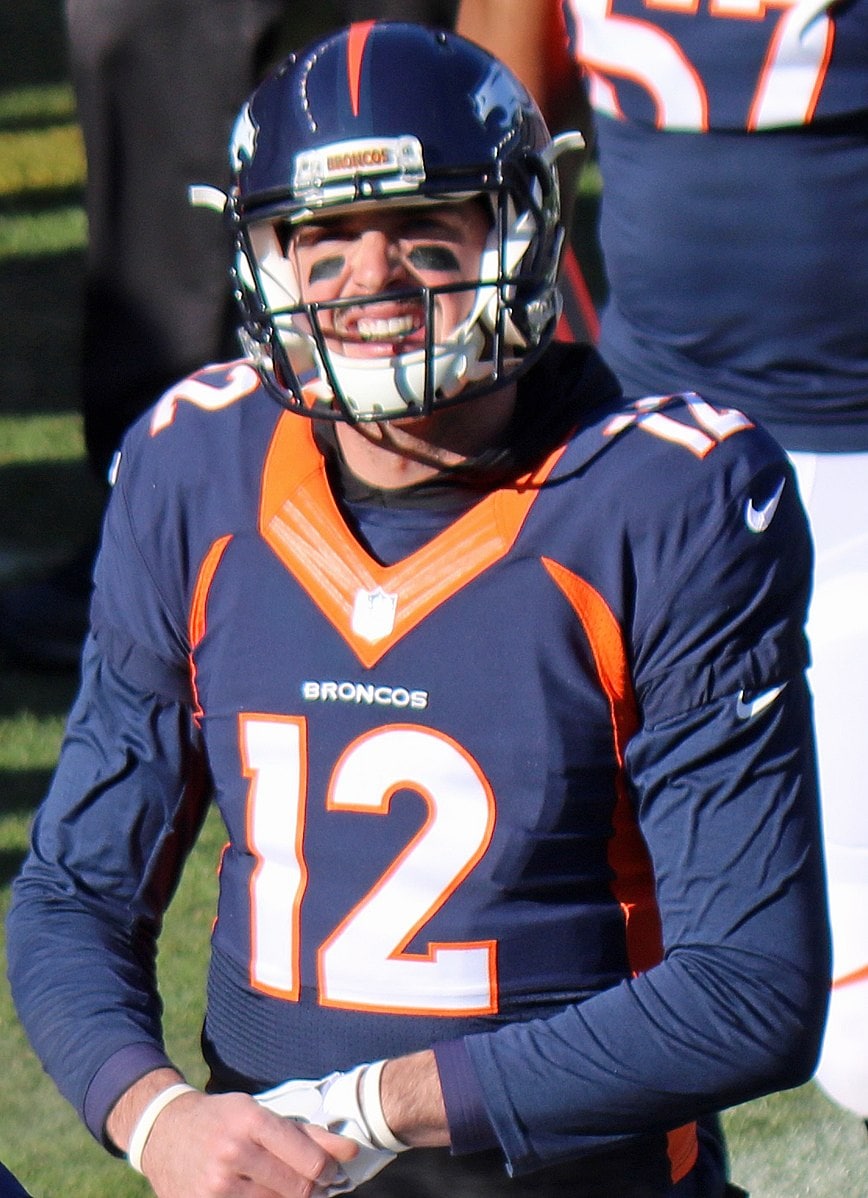 Source: commons.wikimedia.org
Paxton Lynch was a 6'7 quarterback for the Denver Broncos from 2016 to 2018. His tenure at the NFL level was unremarkable. He only made four starts until his release before the 2018 season after tryouts for the Seattle Seahawks and Pittsburgh Steelers.
He's the current quarterback (2021) of the Saskatchewan Roughriders in the Canadian Football League.
Did you know?
During his high school career at Trinity Christian Academy in Florida, he passed for 2,099 yards and was rated as a three-star recruit. In his college career, he ranks second all-time in completions, attempts, completion percentage, passing yards, and passing touchdowns for the Memphis Tigers.
Brock Osweiler
Age: 30
Primary Team: Denver Broncos
Height: 6'7
Seasons: 6

Source: commons.wikimedia.org
The 6'7, 240 lb Osweiler played six seasons in the NFL. Though his career wasn't that of an All-Star's, he is an NFL champion as a backup for the Peyton Manning-led Broncos in a defeat over the Carolina Panthers in Super Bowl 50.
In October 2019, Osweiler announced his retirement after bouncing from team to team.
Did you know?
After his title victory with the Broncos, he netted himself a four-year, 72 million dollar contract with the Houston Texans based on his mid-season performance while Manning was hurt. He struggled and threw a franchise-record 16 interceptions. He was traded to the Cleveland Browns.
Frank Patrick
Age: 74
Primary Team: Green Bay Packers
Height: 6'7
Seasons: 2

Source: archive.jsonline.com
Frank Patrick was a 6'7 QB drafted in 1970 as the 251st pick in the 10th round of the NFL Draft. His total career stat line consists of no touchdowns and two interceptions, 107 yards, and a QB rating of 14.2
Despite the lackluster career numbers, Patrick played all-state basketball and football for the University of Nebraska. He only played QB for one year in college and was repurposed as a safety and tight End during his senior year.
Did you know?
Frank Patrick wasn't even drafted as a quarterback! He was brought on as a tight end but the Packers decided to use him as the quarterback in the midst of a strike.
Dan McGwire
Age: 53
Primary Team: Seattle Seahawks
Height: 6'8
Seasons: 5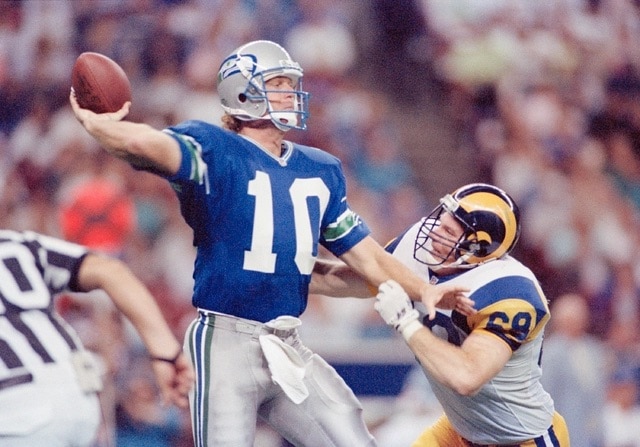 Source: reviewjournal.com
Dan McGwire is the tallest NFL QB to ever enter the league with a 6'8 and 240 lb stature. He was drafted as the 16th pick in round 1 of the 1991 NFL Draft to the Seattle Seahawks. He never lived up to the expectations that come with such a high draft pick and was considered a bust. Especially considering that in that same draft, Brett Favre went in the second round.
In his only extended playing time in the league, he started three games that culminated in a 1-2 record and threw 105 passes while completing 51 of them for one touchdown.
Did you know?
Dan's brother is the Hall of Fame baseball all-star, Mark McGwire, best known for his awe-inspiring home run power. The athletic gifts run in the family!