Open world video games offer players the unique opportunity to roam freely and explore without limits. Sometimes, a social aspect is offered through multiplayer as well. The size of the map plays a major role in how engaging an open world game feels to its players.
Whether you prefer battling with machinery or magic, if a large open world is your thing, then you're probably wondering what some of the most spacious games on the market are. Today we'll be ranking 10 of the largest open world games in terms of in-game square mileage, and learning a few fun facts about each one.
Operation Flashpoint Dragon
World Size: 135 square miles
Setting: Fictional island Skira
Release Year: 2009
Developer: Codemasters

  Source: wikimedia.org
Operation Flashpoint Dragon Rising is known for its efforts to authenticity display the atrocities of war with realistic weapons and combat mechanics. This tactical shooter game was described as "ambitious," and some people thought that it was trying to be too much for one game.
Did You Know?
The fictional island "Skira" that the game is set in is actually based off a real island in the Aleutian Island chain–however, the real island's name is Kiska.
Xenoblade Chronicles X
World Size: 154 square miles
Setting: Fictional planet Mira
Release Year: 2015
Developer: Monolith Soft

  Source: wikimedia.org
This open world action role-playing video game was first released by Nintendo for the Wii U home video game console, allowing players to scout the vast, mostly-hostile alien planet of Mira. Players investigate Mira as members of the peacekeeping group BLADE, going on the hunt for resources and new opportunities for humanity on its new, alien home.
Did You Know?
Xenoblade Chronicles X is said to offer a far more fluid and smoothly-integrated narrative and gameplay experience than other similar Japanese games do, thoroughly surpassing its predecessors.
Ghost Recon Wildlands
World Size: 170 square miles
Setting: Modern-day Bolivia
Release Year: 2017
Developer: Ubisoft Paris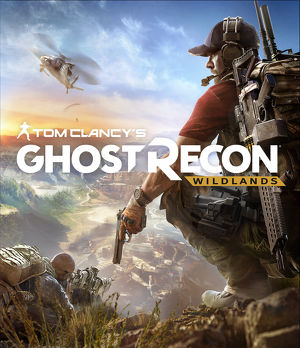 Source: wikimedia.org
More formally known as "Tom Clancy's Ghost Recon Wildlands," this game was the tenth installment in its series and took a chance by giving players a more present-day setting than its signature futuristic one. Ghost Recon Wildlands was vastly popular following its worldwide release, with its launch coming in second only to an earlier game in the series: The Division.
Did You Know?
The plotline of Ghost Recon Wildlands is centered around conflict with the Santa Blanca drug cartel and the resulting target eliminations.
Burnout Paradise
World Size: 200 square miles
Setting: The fictional Paradise City
Release Year: 2008
Developer: Criterion Games

  Source: wikimedia.org
This open world car racing game allows players to race against one another and compete online, alongside enjoying their pick of alternative game modes. Burnout Paradise earned an average score of 88% on GameRankings after its release and won several awards in 2008. Plenty of loyal fans of this game were delighted when a remastered version was released in 2018.
Did You Know?
The soundtrack of Burnout Paradise features a lot of songs from the 2000's, which many players see as a comical, endearing quirk.
True Crime: Streets of LA
World Size: 240 square miles
Setting: Modern Los Angeles, California
Release Year: 2003
Developer: Luxoflux, LTI Gray Matter, and Aspyr

  Source: wikimedia.org
This action-adventure game immerses players in a mysterious plotline through the eyes of Nicholas Kang, a previously suspended, brutal police officer investigating bombings in LA's Chinatown. While published across all platforms by Activision and Aspyr, this game was developed by numerous different companies as demand rose for the game to be playable on various platforms.
Did You Know?
Although True Crime: Streets of LA was undeniably popular, it also received a hefty share of mixed reviews–while people were generally fans of the game's action scenes, they complained of graphical errors and saw the protagonist as unlikeable.
Just Cause 3
World Size: 400 square miles
Setting: Fictional Mediterranean island of Medici
Release Year: 2015
Developer: Avalanche Studios

  Source: wikimedia.org
Published by Square Enix, this action-adventure was originally released for Microsoft Windows, PlayStation 4, and Xbox One users worldwide. Some people considered this game's predecessor, Just Cause 2, to have been underrated and welcomed the release of Just Cause 3 as another chance for the franchise to shine. True to its promises, this game offers far more opportunities to encounter more varied characters and challenges throughout a longer storyline.
Did You Know?
In Just Cause 3 Rico Rodriguez, the protagonist of the series, leaves for his homeland of Medici in order to fight an oppressive government.
Test Drive Unlimited 2
World Size: 618 square miles
Setting: Modern Oahu and Ibiza
Release Year: 2011
Developer: Eden Games

  Source: wikimedia.org
Published for Microsoft Windows, PlayStation 3, and Xbox 360, this open world racing game returns players to the previous game's setting of Oahu, as well as offering them plenty of new scenery in Ibiza. Test Drive Unlimited 2 also offers a variety of vehicles including sports cars, bikes, and four wheel drive SUV's based on real models.
Did You Know?
Critics stated that the geography in the new Ibiza map was meticulously created to be accurate and true to life–in contrast with other idealized elements in the environment.
Final Fantasy XV
World Size: 700 square miles
Setting: Fantasy world Eos
Release Year: 2016
Developer: Square Enix Business Division 2

  Source: wikimedia.org
Including new features such as the ability to level after each battle and later DLC offering multiplayer capabilities, Final Fantasy XV was originally planned to be somewhat of a companion piece to Final Fantasy XIII. Square Enix decided to address the weak spot that its franchise had been going through recently and rebrand the game into what we know today.
Did You Know?
Back to the Future Part II and its themes of time travel are cited as one of the big inspirations for the game's lead designer, Wan Hazmer.
The Crew
World Size: 1,900 square miles
Setting: Modern USA
Release Year: 2016
Developer: Asobo Studio

  Source: wikimedia.org
The Crew is an online-only racing game, which led to some mixed reviews. While many players spoke highly of both the size and the design of the game world itself, many were dismayed by the restrictiveness of the online-only aspect of the gameplay. Plenty of critics also stated that they found the in-game activities themselves less enjoyable than the act of crossing the map.
Did You Know?
It takes 40 minutes to make the in-game drive from one coast to another!
Fuel
World Size: 5,560 square miles
Setting: Post-Apocalyptic USA
Release Year: 2009
Developer: Asobo Studio

  Source: wikimedia.org
Fuel is the largest open world video game in terms of map area. This impressive game features a Mad-Max inspired theme set in a post-apocalyptic world brought about by climate change and the resulting alterations to the sun-scorched Earth. This game's massive, no-boundaries world earned it a title with Guinness World Records for the largest console game ever.
Did You Know?
Some of the unique weather changes in Fuel's game world include an accelerated day and night cycle and disruptive sandstorms.