Pumpkins are known for their hardiness in the garden, as well as for their versatility in the kitchen–and they'll grow as large as you'll let them if the conditions are right. While the idea of a pumpkin large enough to accommodate a full-grown person might seem like the stuff of fairy tales, the sizes that pumpkins can actually grow to might surprise you!
So, just how big have the largest record-breaking pumpkins gotten? Today we'll look at 10 of the largest pumpkins in the world, ranking them by weight and learning some fun facts about how these garden giants came to be.
Christy Harp
Weight: 1,725 pounds
Location: Ohio, USA
Year Grown: 2009
Competition: Ohio Valley Giant Pumpkin Growers GPC weigh-off

  Source: bigpumpkins.com
High school math teacher Christy Harp set herself up for success with farming giant pumpkins by having a friendly, private pumpkin-growing competition with her husband each year. She said that her secret was a combination of extremely diligent weeding and hours of other gardening tasks each day. She also pointed out that she and her husband Nick never set foot in one another's garden plots or interfered with each other's processes.
Did You Know?
Christy Harp stated that, at one point, her record-breaking pumpkin was growing at a rate of 33 pounds a day!
Chris Stevens
Weight: 1,810.5 pounds
Location: Minnesota, USA
Year Grown: 2010
Competition: Stillwater Harvestfest and Giant Pumpkin Weigh-off

  Source: bigpumpkins.com
Chris Stevens drove from New Richmond, Wisconsin to deliver this huge pumpkin, and enjoyed a big cheer from the crowd when its record-breaking weight was announced. Stevens grew three pumpkins that summer whose total combined weight broke the threshold of 4,800 pounds or more. He and only one other pumpkin grower in the history of the hobby shared that achievement!
Did You Know?
Chris Stevens nourished his massive pumpkin with a precise, secret blend of seaweed, manure, and fish emulsion.
Jim and Kelsey Bryson
Weight: 1,818.5 pounds
Location: Ontario, Canada
Year Grown: 2011
Competition: Prince Edward County Pumpkinfest

  Source: bigpumpkins.com
Growers and onlookers waited on pins and needles to hear the record-setting weight of Jim and Kelsey's giant pumpkin announced at the County Pumpkinfest in Wellington, Ontario. After delays in the announcements due to difficult weather, the weight turned out to be approximately 100 pounds greater than expected considering the tape measurement.
Did You Know?
Jim Bryson says that his trick for growing such a large pumpkin was that he fed it a diet of maple syrup.
Cindy Tobeck
Weight: 1,910 pounds
Location: Olympia, Washington
Year Grown: 2009
Competition: Safeway World Championship Pumpkin Weigh-Off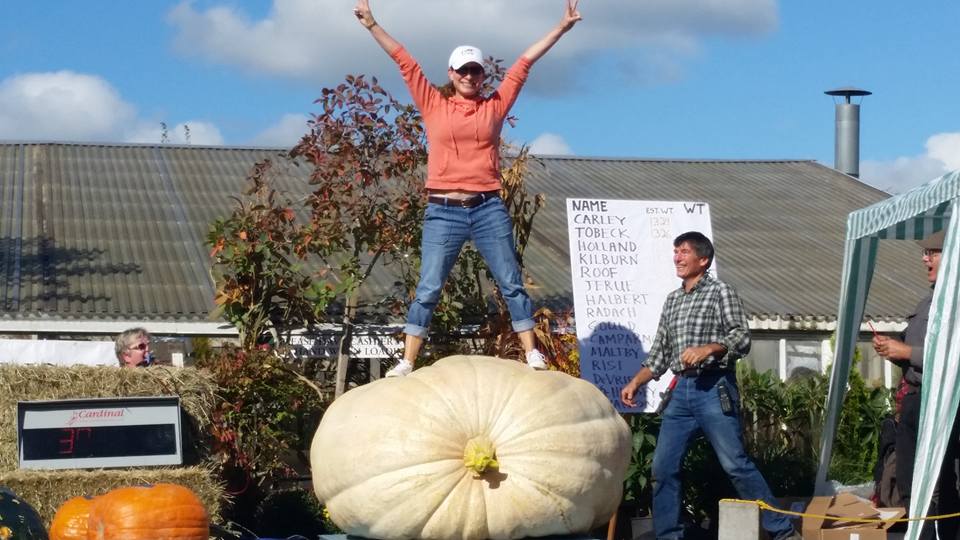 Source: facebook.com
Third-grade teacher Cindy Tobeck says that the secret to growing a huge pumpkin is starting with the right seed–and the fact that she managed to grow a pumpkin heavier than a U-Haul gives her plenty of credibility! For further comparison, her pumpkin weighed nearly as much as the average Clydesdale horse, and could provide enough pumpkin for more than 600 pies.
Did You Know?
Tobeck said that winning the world championship was a dream come true, since she'd been "enchanted with giant pumpkins" ever since childhood.
Russ Pugh
Weight: 1,944.5 pounds
Location: Olympia, Washington
Year Grown: 2009
Competition: Elk Grove Giant Pumpkin Festival

  Source: twitter.com
Russ Pugh began his foray into pumpkin-growing contests with a 129-pound entry over a decade before growing California's largest pumpkin. He took his low placement in the results as motivation to do better, and went on to enter the Elk Grove Giant Pumpkin Festival for 12 years. During the same year as his record-breaking pumpkin win, Pugh also won the squash category with an impressive 995-pound specimen.
Did You Know?
Alongside bragging rights, Pugh got $7 for each pound of winning pumpkin, which added up to a hefty sum of $13,611.50.
Ron Wallace
Weight: 2,009 pounds
Location: Massachusetts
Year Grown: 2012
Competition: Topsfield Fair

  Source: bigpumpkins.com
Ron Wallace made history when his giant pumpkin successfully broke the one-ton threshold–a feat that had previously been considered completely unfeasible. Wallace was thrilled when the weight was announced, but showed no signs of slowing down. He's said that his next goal was to grow a 2,500-pound pumpkin from the seeds of his first record-breaker.
Did You Know?
Wallace believes that the openness of the internet was a huge factor in his ability to reach the one-ton threshold, and encourages other aspiring pumpkin growers to do lots of research as well.
Tim Mathison
Weight: 2,032 pounds
Location: California, USA
Year Grown: 2013
Competition: Uesugi Farms Pumpkin Park Weigh-off

  Source: bigpumpkins.com
Tim Mathison was dubbed the Great Pumpkin Commonwealth's Grower of the Year alongside setting a new world record with his most massive pumpkin. The three entries that earned him the Grower of the Year award added up to an astounding total of 5,800 in weight.
Did You Know?
Mathison started growing his award-winning pumpkin with the "2009 Wallace," a seed harvested from Ron Wallace's pumpkin that broke the one-ton threshold.
Beni Meier
Weight: 2,323.7 pounds
Location: Ludwigsburg, Germany
Year Grown: 2014
Competition: Giant Pumpkin European Championship

  Source: bigpumpkins.com
Swiss accountant Beni Meier accomplished an astounding feat by growing three record-breaking giant pumpkins in as many months! Most headlines skip right to his final record-breaker, but Meier built up to his 2,323.7-pound behemoth with two pumpkins weighing 2096.6 pounds and 2102 pounds. Meier's biggest pumpkin was 84 days old when it won the championship.
Did You Know?
Beni Meier's largest pumpkin is comparable in weight to a small car.
Steve Geddes
Weight: 2,528 pounds
Location: New Hampshire, USA
Year Grown: 2018
Competition: The Deerfield Fair

  Source: bigpumpkins.com
Steve Geddes scoffed when he first heard about growing giant pumpkins, saying that he preferred to stick to crops that he could eat. However, curiosity got the best of him and he found himself hooked on the idea of farming huge pumpkins, wondering how large he could get them to grow. Geddes' curiosity and willingness to experiment paid off when he grew the largest pumpkin ever recorded in United States history!
Did You Know?
Geddes' massive pumpkin topped the previous record-holder by 165 pounds.
Mathias Willemijns
Weight: 2,624.6 pounds
Location: Ludwigsburg, Germany
Year Grown: 2016
Competition: Giant Pumpkin European Championship

  Source: giantpumpkins.co.nz
Mathias Willemijns' pumpkin is the largest pumpkin in the world by weight. While a 2,500-pound pumpkin was once considered unreasonable to expect, this jaw-dropping giant topped previous records easily when it was authenticated by the Great Pumpkin Commonwealth. This pumpkin towered over the competition, weighing significantly more than a Volkswagen Beetle.
Did You Know?
Willemijns won $11,460 for breaking the world record with his pumpkin, at a rate of $6 per pound.