Seeing cargo drones flying overhead is sure to be a regular occurrence in the coming years. Already, aerospace engineering firms are showing off their prototypes, and the major aircraft companies are demonstrating the capabilities.
These drones come in two types: the model based on airplanes, currently in use for military purposes, and helicopter style drones featuring several propellers for vertical ascension and descent into small areas like your neighborhood. We sure to see more of the later type; however, the military and large package carriers still find use for the big airplanes.
Largest Cargo Drones
Griff Aviation 350
Cargo capacity: 440 lbs
Weight: unknown
Length: 265 cm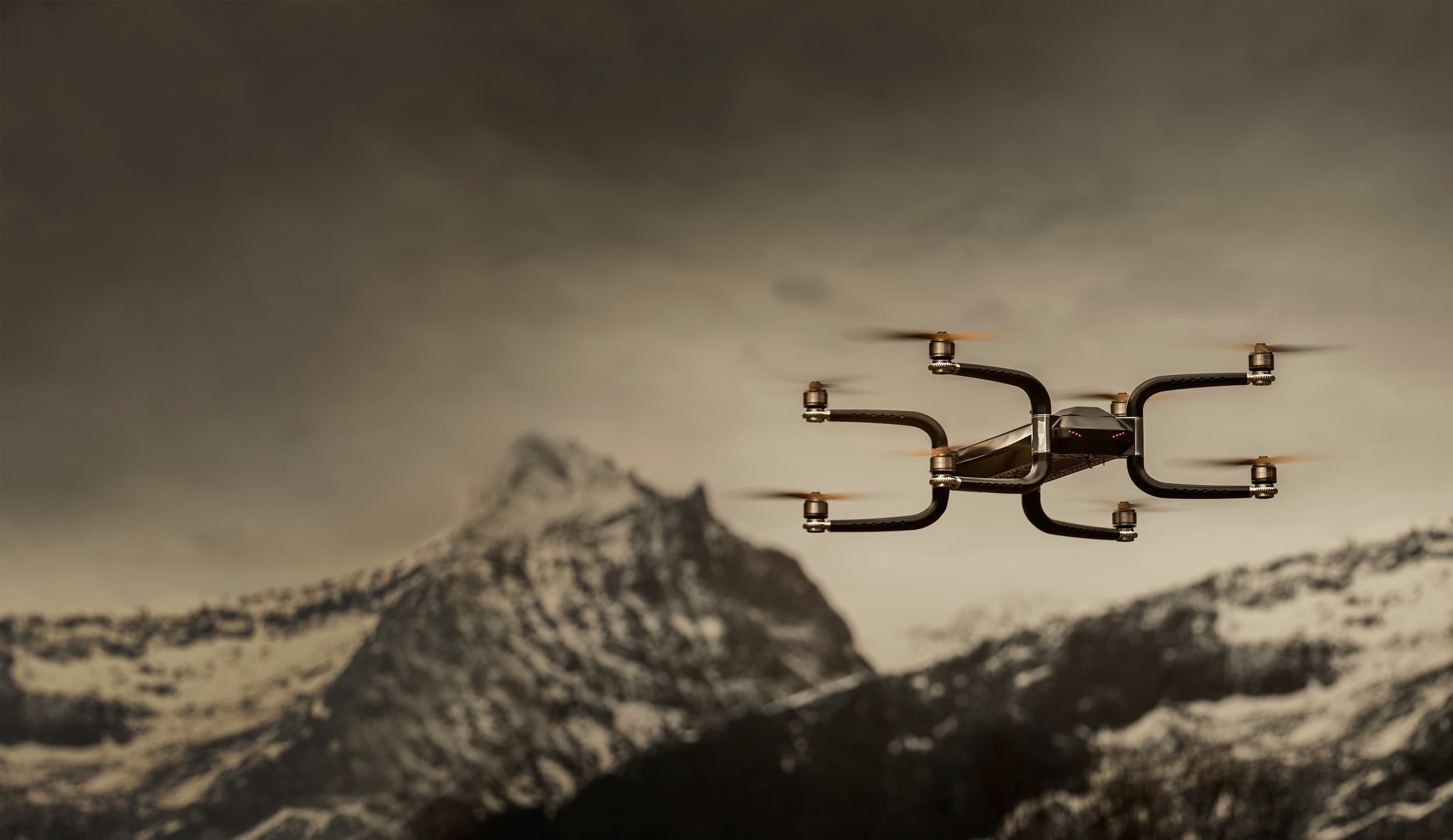 Source: Griff Aviation
Griff Aviation specializes in cargo drones. The company's heavy cargo drone has eight propeller blades and a customizable cargo area. Its main feature is the ability to modify the chassis by the end user and that it is foldable and compact. The electric powered drone can fly for up to 45 minutes. However, with a powered cable attached, it can fly as long as necessary.
Did You Know?
The 350 has multiple uses besides cargo, as one can tell in the video of the UAV picking up a stretcher with a person in a test.
Boeing Experimental Cargo Drone
Cargo capacity: 250 – 500 lbs
Weight: 17 ft.
Length: 747 lbs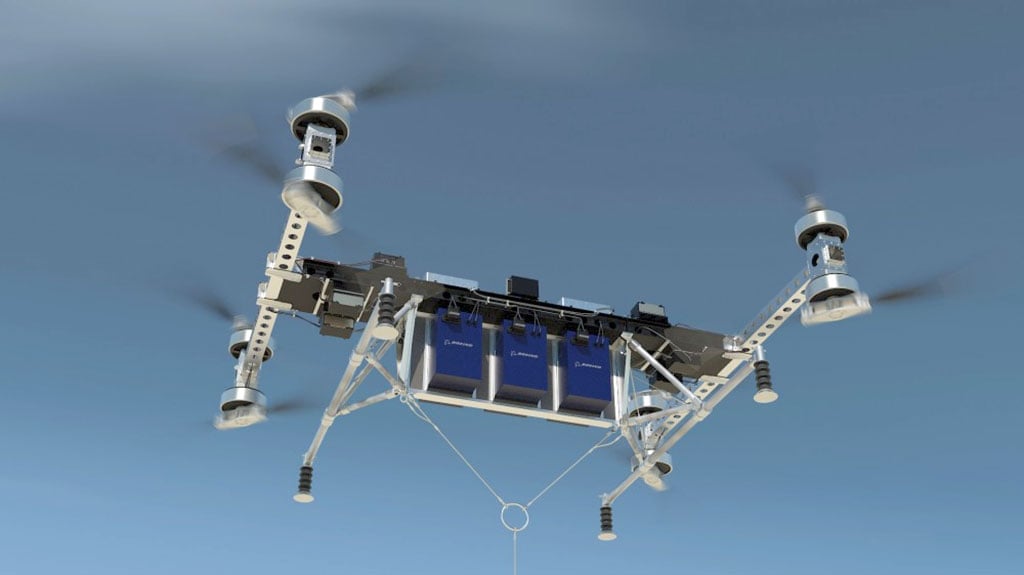 Source: Boeing
Many of the larger cargo drones meant for commercial use are still in the experimental stage. The as-yet unammed drone is in the testing phase. For now, it can only fly for several feet and carry 250 lbs. However, Boeing expects that the drone will be able to haul 500 lbs for several hundred miles. It has 6 dual rotors with 12 propellers total.
Did You Know?
There won't be a remote pilot controlling this drone. It will use software to fly itself.
AT200
Cargo capacity: 1.5 tons
Weight: 1.5 tons
Length: 38 ft.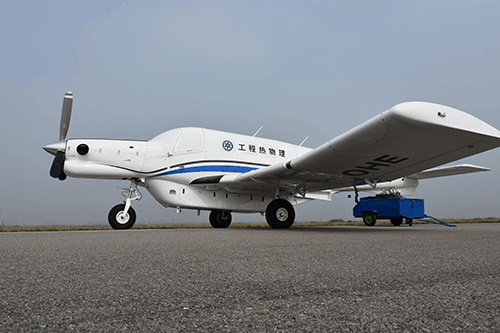 Source: Chinese Academy of Sciences
This long-range drone is built to operate in the large, rural areas in China. It is capable of flying over 2,000 km fully loaded for several hours. It only requires a short runway to take off, and can handle landing or taking off from rough terrain.
Did You Know?
The UAV is remotely piloted usually. However, if the operator loses communication with the UAV, it is programmed to return to its point of origin and land by itself.
K-Max
Cargo capacity: 7,000 lbs.
Weight: 5,000 lbs.
Length: 51 ft.

  Source: Kaman
The Kaman K-Max is a multipurpose helicopter that has been retrofitted with unmanned operational capabilities. The unmanned version has been put to work in war situations like Afghanistan; however, it is also used by civilians. The United States Navy used it to deliver supplies to troops during combat. The unmanned version is suited for situations where pilots may be exposed to unnecessary risk, such as when chemical weapons have been deployed.
Did You Know?
The K-Max is a synchrocopter, with intermeshing rotor blades that spin in opposite directions.
Feihong 98
Cargo capacity: 1.5 tons
Weight: 7,000 lbs.
Length: 41 ft.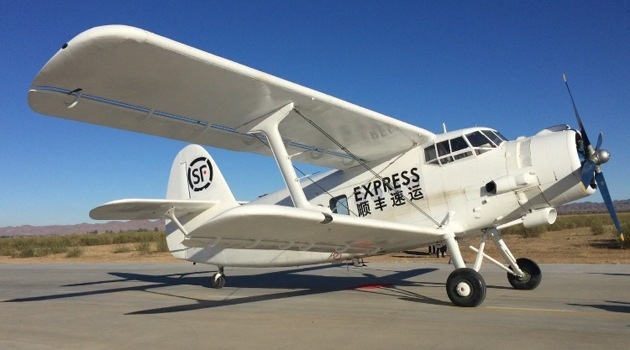 Source: Zhao Wenqi
The FH 98 is currently the world's largest commercial cargo drone. It is essentially a small cargo plane retrofitted to operate like a drone. It may be helpful in transporting goods across China's massive land area to those hard to reach rural zones. It will have a maximum range of 1,200 km, far exceeding the vertical lift style of cargo drones.
Did You Know?
The Feihong 98 is based on an old Soviet Union-made biplane.
Largest Military Drones
Hermes 1500
Length: 31 ft.
Weight: 4,000 lbs
Wingspan: 59 ft.

  Source: Israeli-weapons.com
The Hermes 1500 is the latest long-range surveillance drone from the Israeli manufacturer Elbit. It is used to find military targets on the battlefield and monitor potential threats. There is also a version built specifically for missions over water. This version weights more than the original due to the two external fuel tanks.
Did You Know?
The craft was developed in conjunction with the Israeli military.
General Atomics Avenger
Length: 44 ft.
Weight: 60,000 lbs
Wingspan: 76 ft

  Source: USAF [Public Domain] via Wikipedia
The Avenger is a military strike drone with stealth capabilities. It is currently deployed in the Middle East; however, it is not clear whether the USAF is going to purchase more of the aircraft to replace a drone with similar capabilities. There are other variants of the craft in use by other branches of the US armed forces. The drone has a top speed of 460 mph.
Did You Know?
One of the Avenger's first military missions was for propaganda. It conducted a leaflet drop in Syria.
Northrop Grumman RQ-4/MQ-4C
Length: 48 ft.
Weight: 33,000 lbs
Wingspan: 131 ft

  Source: USAF [Public Domain] via Wikipedia
The RQ-4 has been in use by several branches of the US military since the late 1990s. The MQ-4C is a potential replacement, with similar specifications but updated technology. The UAV is also used by the Japanese and South Korean military and the NATO peacekeeping force.
The drone is for surveillance. There are variants for maritime use. It can reach speeds of nearly 400 mph and can perform its work from a height of 50,000 ft.
Did You Know?
The Global Hawk variant of this UAV was the first drone to make a transpacific flight.
Northrop Grumman RQ-180
Length: unknown
Weight: 30,000 lbs.
Wingspan: 130 ft.

  Source: Truthdowser [CC BY-SA 3.0] via Wikimedia Commons
This drone is a stealth surveillance drone built for operating in contested airspace. Only recently has the US military confirmed its existence and deployment in the field.
Few details exist publically on the craft. Observers speculate that the aircraft is part of an interlocking system of planes designed to launch airstrikes within a short period. It finds targets for planned assaults.
Did You Know?
The entire program on the RQ-180 is classified, even the budget used to fund it. The craft is believed to be housed at the infamous Area 51 facility in New Mexico.
Divine Eagle
Length: 59 ft
Weight: estimated 50,000 lbs
Wingspan: 164 ft.

  Source: Public Domain via Wikipedia
The Divine Eagle is China's highly secret long-range surveillance drone. It is believed to be the largest military drone in operation in the world. It has a unique "double boom" construction, meaning it has two fuselages as well as dual tails. It can reach near the speed of sound.
Did You Know?
As with most spy drones, the details are kept secret from the public. If not for amateur photographers grabbing secret photos, we wouldn't know what the UAV looks like.