Few machines are as impressive as locomotives, with their sleek appearance and staggering hauling power. Steam-powered locomotives were the first type of locomotives built, ushering in a new industrialized era with promises of more efficient cargo hauling and passenger travel. These locomotives were often extremely durable, with some of them even running to this day.
So just how large can steam locomotives get? There are plenty of different factors that can be taken into account while determining a locomotive's overall "size," including everything from length to traction effort and horsepower. Today, however, we'll be ranking the 10 largest steam locomotives ever built according to their weights in order to see how they compare.
Norfolk & Western Y-Class
Weight: 495 short tons
Manufacturer: Roanoke Shops
Horsepower: 5,600
Year Built: 1940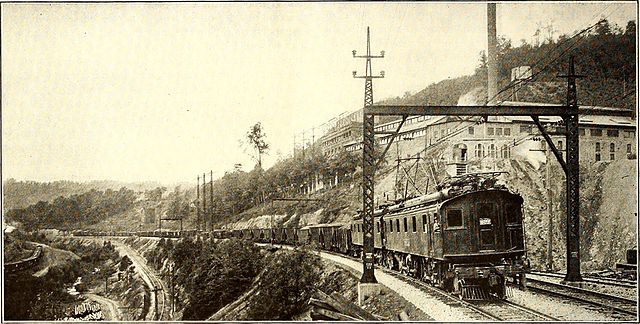 Source: wikimedia.org
Although the Norfolk & Western Y-Class isn't the largest steam locomotive, it was the strongest in the world while it was up and running. It retired from regular rail service back in 1959, but Norfolk & Western kept its steam locomotives highly active until the 1960's. They traveled in a network radiating outwards from Roanoke, despite competition from the rising popularity of diesel engines trains.
Did You Know?
The final surviving Norfolk & Western Y-Class locomotive is now on display at the Virginia Museum of Transportation.
PRR Q2
Weight: 503 short tons
Manufacturer: Altoona Works
Horsepower: 7,987
Year Built: 1941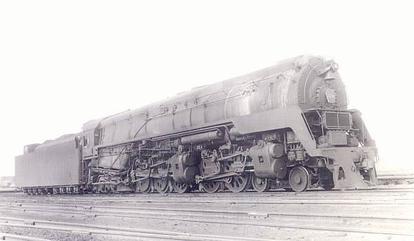 Source: wikimedia.org
While the PRR's static test plant verified 7,987 horsepower after testing, some people argue that the impressive PRR Q2 actually reached a full 8,000 horsepower and was the most powerful locomotive to ever have been static tested. This astounding machine was so powerful that it could reach speeds of 50 MPH with a full 125 freight cars in tow!
Did You Know?
The PRR Q2 weighed over a million pounds and boasted no major performance or design flaws.
PRR S2
Weight: 518 short tons
Manufacturer: Baldwin Locomotive Works
Horsepower: 6,900
Year Built: 1944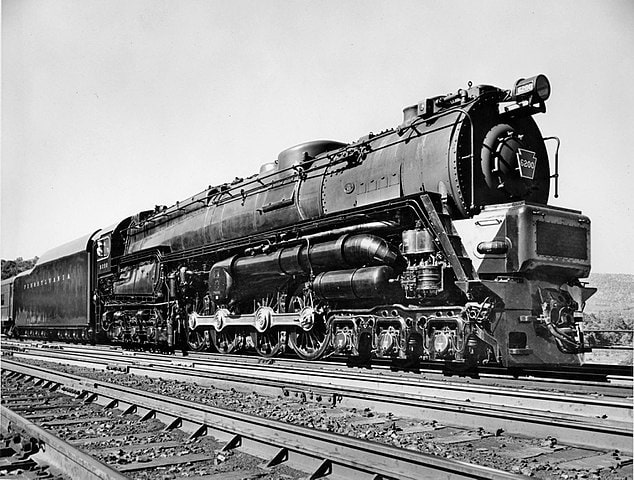 Source: wikimedia.org
Another of the PRR's experimental steam locomotives, the PRR S2 utilized two direct-drive steam turbines–one each for forward and reverse motion. This locomotive was originally intended to be much lighter, but World War II resulted in light steel alloy restrictions alongside delaying the PRR S2's construction schedule. The added weight resulted in the need for six-wheel leading and trailing trucks to provide extra pushing power.
Did You Know?
The PRR S2 was able to successfully reach 97% mechanical efficiency, meaning that only 3% of the steam power was lost during propulsion.
Challenger
Weight: 535 short tons
Manufacturer: ALCO
Horsepower: 5,000
Year Built: 1936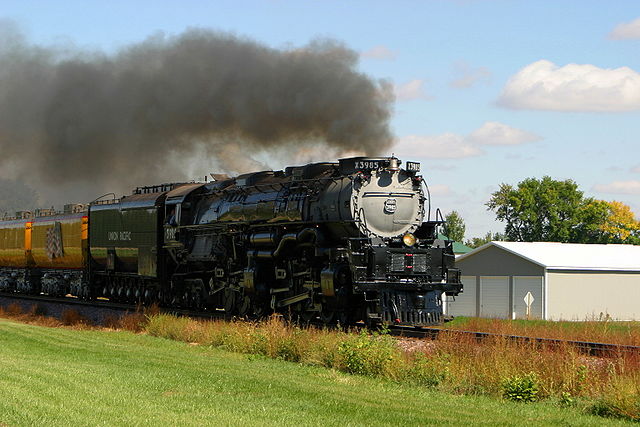 Source: wikimedia.org
With a 14-wheel build and the capacity to carry 25,000 gallons of water, the Union Pacific Challenger easily topped a million pounds in weight. The Challengers were originally designed for speedy freight service, but expanded their repertoire to occasionally include passenger transportation. Only two Union Pacific Challengers remain intact today, one of which is the impressive Union Pacific 3985.
Did You Know?
The American Locomotive Company (ALCO), which manufactured the Challenger, prided itself on incorporating cutting-edge technologies alongside its reliable, high-quality manufacturing
PRR S1
Weight: 537 short tons
Manufacturer: Altoona Works
Horsepower: 7,200
Year Built: 1939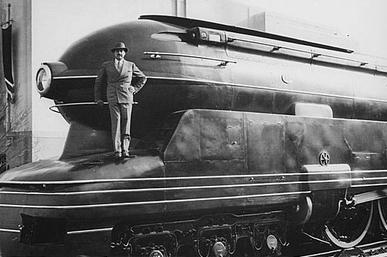 Source: wikimedia.org
The experimental PRR S1 was completely unique in its construction and was aptly nicknamed "The Big Engine". The sleek, Art Deco -style outer shell of the PRR S1 was designed by French-American industrial designer Raymond Loewy, whom you can see standing with his masterpiece in the photo. At over 140 feet in length, this hefty machine was the largest passenger locomotive ever built.
Did You Know?
The PRR S1 featured a rigid frame and was the only duplex locomotive built with a 6-4-4-6 wheel arrangement.
Erie Class P-1
Weight: 585 short tons
Manufacturer: Baldwin Locomotive Works
Horsepower: Unknown
Year Built: 1914


  Source: wikimedia.org
This steam locomotive was built with a 2-8-8-8-2 wheel arrangement. This means that the locomotive had two sets of 2 wheels at the front and back, known as leading wheels and trailing wheels, along with three sets of 8 driving wheels in between.
Did You Know?
The Erie Railroad originally connected New York City with Lake Erie, and its construction was stalled several times as a result of financial troubles and slow, expensive labor.
XA Triplex
Weight: 586 short tons
Manufacturer: Baldwin
Horsepower: Unknown
Year Built: 1916


  Source: wikimedia.org
Where duplex locomotives have two sets of drivers running them from within, triplex locomotives have three sets of drivers and a completely different internal design as a result. Only one experimental XA Triplex was made for the Virginian Railway, and it's unclear whether the railway actually wound up purchasing the locomotive from Baldwin. The Triplex certainly carried its share of design flaws, and was not reproduced as a result.
Did You Know?
The XA Triplex and other, similar 2-8-8-8-2 locomotives were considered to be failed experiments since many of them struggled to reach their already-low max speed of 10 MPH.
Allegheny
Weight: 600 short tons
Manufacturer: Lima Locomotive Works
Horsepower: 7,500
Year Built: 1941


  Source: wikimedia.org
This articulated locomotive was one of two 2-6-6-6 locomotives that claimed the joint title of most powerful reciprocating steam locomotives to ever have been built. This stunning level of power was necessary for this locomotive class to complete its job climbing the Allegheny Mountains' steep grades.
Did You Know?
The Allegheny steam locomotives were built nearly exclusively for the Chesapeake & Ohio Railway, except for a few purchased by the Virginian Railway.
Big Boy
Weight: 604 short tons
Manufacturer: ALCO
Horsepower: 6,290
Year Built: 1941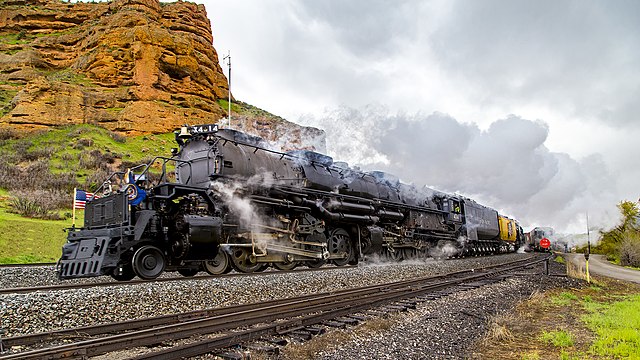 Source: wikimedia.org
Meet the Union Pacific Big Boy, a steam locomotive built to handle extremely heavy freight through the treacherous grades of the Wasatch Mountains. Today only eight Big Boys remain, mostly on display–except for the impressive restoration that you can see in the photo. Union Pacific's project to rebuild the Big Boy was so ambitious that it was likened to resurrecting a T-Rex!
Did You Know?
Since the resurrection of the Union Pacific Big Boy, it has reclaimed its title as the largest fully-operational steam locomotive in the world.
Yellowstone
Weight: 624 short tons
Manufacturer: Baldwin Locomotive Works
Horsepower: 6,250
Year Built: 1928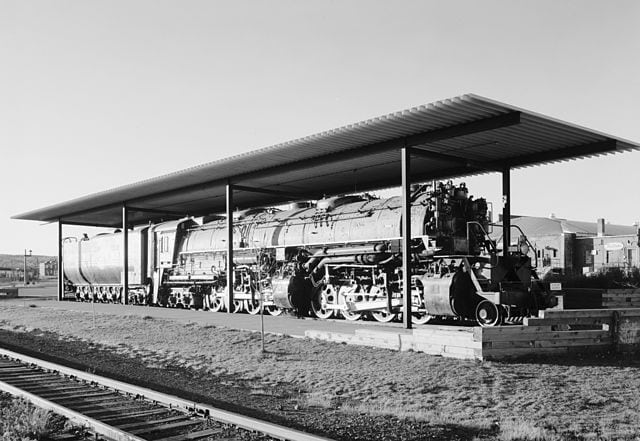 Source: wikimedia.org
The Yellowstone was the largest steam locomotive ever built. While the Big Boy might claim the title of largest operating steam locomotive, the Yellowstone tops it in terms of weight. Relatively few Yellowstone locomotives were manufactured: only 72 in total, which were divided into five different classes. The Yellowstone also had an unusually short lifespan, often being retired after just 10 years of active use.
Did You Know?
The name "Yellowstone" was coined by the Northern Pacific Railway, the first owner of one of these powerful locomotives, in reference to their railway lines that ran past Yellowstone National Park.