"Big law" is the current popular phrase used to describe the huge law firms where many young lawyers want to be. They sometimes handle the most exciting cases, but the draw is that they usually reward their partners with the most lucrative payouts and pay associates the highest salaries. The big firms handle a wide variety of practice areas and serve big businesses and high-end clients.
The average size of a law firm is about 330 lawyers. These top 10 bottom out at nearly 2,000 attorneys. 36% of the attorneys at the 350 largest are women and 17% of women are partners. 16% of the attorneys are ethnic or racial minorities.
Morgan Lewis & Bockius
Main office location: Philadelphia, PA
Attorneys: 1,943
Major practice areas: General practice, corporate
Founded: 1873


Source: Tim1965 [CC BY-SA 3.0] from Wikimedia Commons
Morgan Lewis was founded by Civil War veteran Charles Morgan and Francis Lewis. Ten years later, the firm added Morris Bockius, a Penn law graduate. Bockius became a partner in the firm a few years after joining, and in 1908 the firm officially adopted its current name. In 2014, Morgan Lewis accepted over 200 attorneys as partners as they left their old firm.
The firm represents several major corporations, 75% of the Fortune 100 companies and 300 of the Fortune 500.
Did You Know?
Morgan Lewis has represented several political figures including the current US President Donald J. Trump. One of the firm's attorneys appeared at a press conference to defend Trump against accusations and ended up being parodied on the TV show "Saturday Night Live."
Greenberg Traurig
Main office location: Miami, FL
Attorneys: 1,944
Major practice areas: corporate, lobbying
Founded: 1967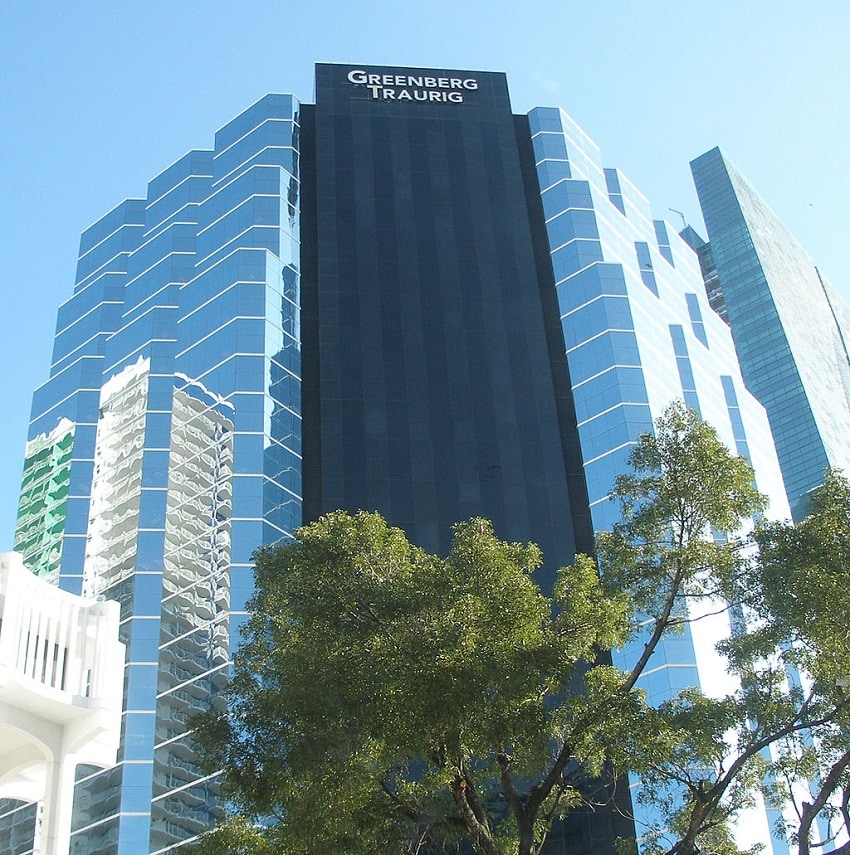 Source: CoolCeasar [CC BY-SA 3.0] via Wikimedia Commons
The firm began in 1967 as the three original partners, Mel Greenberg, Larry Hoffman and the late Robert Traurig, brought their experience in corporate, real estate and corporate law. In 1991, the firm opened a New York City office and continued their nationwide expansion throughout the decade.
Both the New York and Miami offices are the largest offices in their respective cities. The firm's land use attorney Traurig is considered to be an instrumental in the growth of Miami as a major US city.
Did You Know?
One of the firm's former members was the infamous lobbyist Jack Abramoff who was convicted on corruption charges for some work he did during his employment at the firm. Abramoff was the basis for the film Casino Jack.
Kirkland Ellis LLP
Main office location: Chicago, IL
Attorneys: 1,997
Major practice areas: Litigation, corporate, Intellectual Property
Founded: 1909


Source: Public Domain
Kirkland Ellis became the world's most profitable law firm in 2017. The firm's partners pull in over $4 million a year in profits. When weighed against the number of attorneys in the firm, the revenue is $1,585,000 per lawyer.
Stuart Shepard and Roger McCormick began the partnership that would become Kirkland Ellis. McCormick brought in Weyland Kirkland to represent him, the grandson of the founder of the Chicago Tribune, in several defamation lawsuits. Kirkland brought in his partner Howard Ellis, who represented several Chicago-based corporations.
Did You Know?
While the lawyers at the firm are mostly Democrats, many prominent Republicans worked there, including Supreme Court Justice Brett Kavanaugh and members of President Donald Trump's administration.
White & Case
Main office location: New York City
Attorneys: 2,039
Major practice areas: general practice
Founded: 1909


Source: Public Domain
White & Case, founded Justin White and George Case for $250 each in 1901 is now producing nearly $2 billion in revenue per year. One of the firm's first clients was investment banker J.P. Morgan. He hired the firm to work with his many companies, which set the firm on its path. The firm obtained work with overseas clients and foreign governments in the early 20th century, allowing the firm to establish lucrative relationships, and continued to work with foreign governments through the 1980s and 90s.
Did You Know?
Former New York City mayor Rudy Giuliani was a partner at White & Case until running for mayor for the first time in 1990. Giuliani was also with another firm on this list, Greenberg Traurig.
Latham & Watkins LLP
Main office location: no main office
Attorneys: 2,436
Major practice areas: general practice
Founded: 1934


Source: Public Domain
Latham & Watkins is second only to Kirkland Ellis regarding annual revenue, earning well over $3 billion in total receipts in 2017. Dana Latham and Paul Watkins founded the firm in Los Angeles focusing on their specialties, tax and employment law.
The firm is unique in that it has no main office. It relies on a series of committees to make decisions. Associates are given a say on some of these decisions and have their own committees, whereas most firms have a more top-down structure based on partnership and seniority.
Did You Know?
The firms list of famous business clients includes Lucasfilm, Yahoo! and MGM.
Jones Day
Main office location: Washington, DC
Attorneys: 2,513
Major practice areas: Full service
Founded: 1893


Source: By AgnosticPreachersKid [CC BY-SA 4.0] via Wikimedia Commons
Jones Day was known as Blandin & Rice when it was founded in Cleveland, OH in 1893. After a series of additions to the firm – and losses, one founder William Rice was murdered – the firm became Tolles, Hogset and Ginn. The firm merged with another firm in 1939, becoming Jones, Day, Cockley & Reavis. This iteration of the firm opened an office in Washington, DC. Since then, the firm has become international with offices from London to Hong Kong.
Did You Know?
Former NBC host Megyn Kelly, former White House lawyer Don McGann and the late Justice Antonin Scalia all worked at Jones Day.
Hogan Lovells
Main office location: Washington, DC and London, England
Attorneys: 2,685
Major practice areas: General practice
Founded: 1899, 1904


Source: Public Domain
The firm is the product of a merger between two venerable law firms founded near the same time but an ocean apart. Hogan and Hartson was founded in 1904 by Frank Hogan. Lovells was a solo practitioner in London in 1899 who formed a partnership with other barristers. In 2011, the two firms merged. Hogan and Hartson was at the time of the merger the oldest firm in the District of Columbia.
Both firms have had a strong international presence with offices all over the globe. Lovells had established a foothold in China and had offices in the Middle East.
The firm does significant corporate law work, advising companies on IPOs and mergers. It is the fifth largest lobbying firm in the United States. The firm ranks 9th among US firms in revenue.
Did You Know?
Several Hogan Lovells attorneys are working a pro bono case, suing the Trump administration over its immigration asylum policy.
Norton, Rose & Fullbright
Main office location: London, England
Attorneys: 3,339
Major practice areas: General practice
Founded: 1794


Source: Christine Matthews [CC BY-SA 2.0] via geography.org.uk
The international firm began with a sole practitioner in London whose associates brought in Sir Phillip Rose as part of the practice. By the 1960s, Norton Rose merged with a firm that specialized in shipping and maritime law, benefitting from the growth of international trade.
Fullbright & Jaworski was founded by R.C. Fullbright in 1919. The Houston firm represented clients in the energy, transportation and shipping sectors. The named partner Leon Jaworski investigated Nazi war crimes and was the Assistant Attorney General to John F. Kennedy, prosecuting Civil Rights cases. Later, he was a Watergate prosecutor.
The two firms merged in 2013.
Did You Know?
The firm is a corporate partner of the McLaren Formula 1 team.
DLA Piper
Main office location: London, England
Attorneys: 3,609
Major practice areas: General practice
Founded: 2004


Source: [CC0] Public Domain
Thomas Townsend Dibb became a partner at an established Yorkshire, England law firm that eventually became Dibb Luton Alsop, DLA. Piper Rudnick was a firm born out of a merger between two American firms in 1999. At the time, it was the largest merger of law firms in US history.
DLA and Piper Rudnick agreed to a merger in 2004. At the time, Piper Rudnick was merging with several other firms around the US. The newly minted DLA Piper began opening offices worldwide.
The firm was fourth in the United States in revenue in 2017, taking in $2,634,094,000. That amount yields $730,000 per attorney in the firm.
Did You Know?
DLA Piper is one of the "Biglaw" firms working to reunite families separated by current US immigration policy.
Baker McKenzie
Main office location: Chicago
Attorneys: 4,719
Major practice areas: corporate
Founded: 1949


Source: By Eliotreb [CC BY-SA 4.0] via Wikipedia Commons
Baker McKenzie is the largest law firm in America regarding number of attorneys employed. It is the 3rd largest in revenue, bringing in $2.9 billion. The firm has 13,000 total employees.
Co-founder Russell Baker opened his own firm in 1925. Later, he partnered with John McKenzie in 1949. Baker had been providing legal services to Chicago's Mexican-American community. Given his familiarity with Latin culture, a lawyer in Venezuela approached Baker regarding opening a joint firm in that country. Baker's son opened a Baker & McKenzie office there.
Today, the firm continues its focus on working with multinational corporations. It works with tech companies like Symantec and Microsoft on tax matters.
Did You Know?
The movie Philadelphia, the Oscar-winning AIDS drama starring Tom Hanks, is based in part on a case involving a former Baker McKenzie associate.