During a time when tangible entertainment has given way to the blossoming digital age, children and adults alike are pining for something real. The kinds of things that can delight our senses and bring a smile to our face without the need for an internet connection or a smartphone. For those of us who remember what it was like collecting rare Beanie Babies and gathering a small army of cuteness, know how much it meant to show off the collections of our adorable critters. Trading them with like-minded friends was a social event and a favorite past-time.
If you have held onto that childlike adoration for these kinds of critters then you'll be pleased to hear about Squishmallows. They're known as the classic stuffed animal updated for a more modern aesthetic.
They come in all shapes and sizes. From clip-on to cuddle buddy, they're all equally as adorable. So, if you like to go big or go home, then cozy up and enjoy because we're going to be taking a look at the biggest Squishmallows on the market today.
Chelsea
Size: 11-inches
Animal: Cheetah
Squad: Valentine
Collector #: 506

Source: Squishmallowsquad.fandom.com
You've never seen a feline quite as cute as this one. Chelsea the Cheetah is a blue Squishmallow with a trademark peachy pink polka-dot flare from the Valentine squad. Other than her 11-inch model, she also comes in a very portable 7-inch and 8-inch model for those that are always on the go but don't want to be without their furry friend.
She's known for her quick wit and never-ending endurance but has no problem kicking back and enjoying a movie night with her loved ones. Spend a weekend with her and you'll know she's earned her nickname, "Chill Chelsea."
Did you know?
Chelsea the Cheetah was released in September 2020 but we can just call that her squishdate. A couple of other members of her Valentine squad include Pandora, Felicia, Silvia, and Atlas. She's made of soft spandex and polyester stuffing that feels like memory foam. Perfect for endless hours of snuggles and fun.
Edmund
Size: 12-inches
Animal: Pterodactyl
Squad: Prehistoric
Collector #: 681

Source: Squishmallowsquad.fandom.com
Pterodactyls never came this cute until Edmund the Pterodactyl soared onto the scene. This boy can get as big as 16-inches! That shouldn't be too surprising considering he is one of the most fearsome avian predators the Jurassic period has ever seen. Edmund, however, only has room for love and cuddles. Part of the summer and prehistoric squad, he's known for being a showman, shredding down the mountain and cruising on his snowboard.
Edmund's squishdate was November 2020 and this big bird hasn't been contained since. With his beige snout, interesting dye pattern, and small but powerful wings, this one is just too cute to resist.
Did you know?
Edmund stands as the lone member of his prehistoric squad. With his growing popularity with dinosaur enthusiasts, he'll be making room for more Jurassic and Cretaceous creatures to join his team. Be ready because along with the cuddles, they're bringing some sharp teeth and big roars!
Fifi
Size: 13-inches
Animal: Red Fox
Squad: Heroes
Collector #: N/A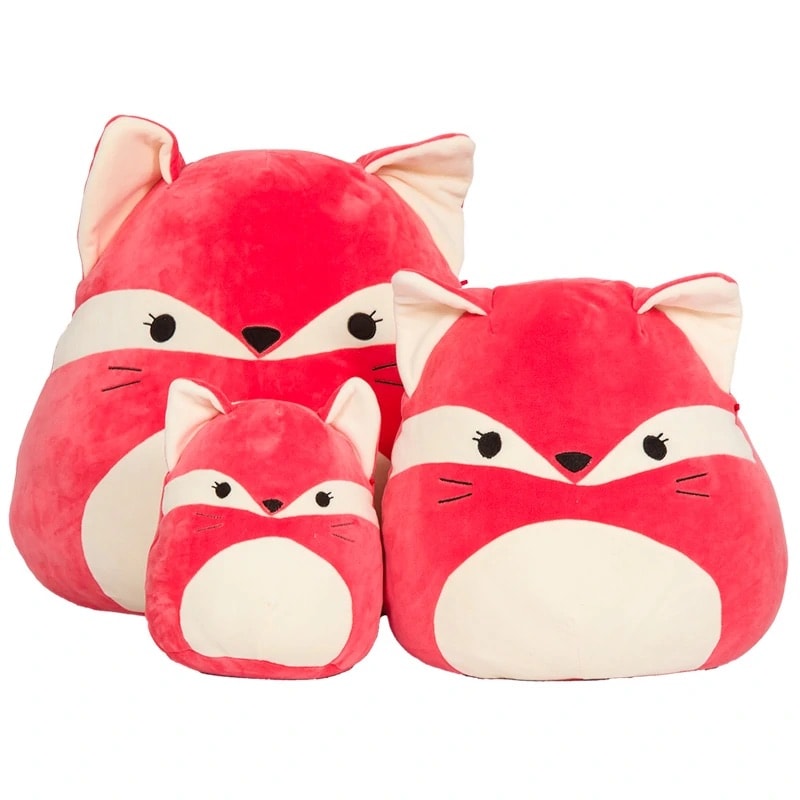 Source: Squishmallowsquad.fandom.com
Fifi the Fox lives up to her name. This spunky, vivacious ball of energy comes alive in the face of adventure. She's a world traveler and seasoned explorer. From the arctic to the mountains, she loves to stay on the go and enrich her cultural horizons. A yogi in training, she channels her energy through the mentally and physically liberating art form. Pretty soon she'll have her yoga certificate!
For anyone who needs spiritual healing along with their daily snuggles, this is the girl for you.
Did you know?
Fifi is a coral red fox with triangular ears and nose. She's got a portly white belly and two whiskers on each cheek. She even has an alter-ego, hero variation! Since she loves to travel, she comes in more portable sizes down to 2-inches.
Mickey
Size: 14-inches
Animal: Mouse
Squad: Disney
Collector #: N/A

Source: Squishmallowsquad.fandom.com
We all recognize this face. Mickey belongs to none other than the famous Disney squad. The Disney x Squishmallow collaboration released in 2020 must be the most ambitious crossover we've seen since our favorite superheroes suited up in Marvel's Avengers: Endgame. Mickey comes in his familiar red suit and black ears with a cute button nose and little beady eyes.
For Disney fans and enthusiasts, this is a must-have in a collectors arsenal. Take him to Disneyworld and you might get a shout-out from the Mighty Mouse himself.
Did you know?
If you're rolling with the Disney squad then you know you're never alone. Well, neither is Mickey. He's joined by familiar favorites like Minnie, Winnie the Pooh, Stitch, Nemo, Dumbo, and even Buzz Lightyear! If you can get your hands on some of these classic characters from the silver screen, you are a true Squishmallow fanatic.
Tracey
Size: 16-inches
Animal: Zebra
Squad: Wildlife
Collector #: 191

Source: Squishmallowsquad.fandom.com
One look at this girl, and you know she can only be one thing – a car racing, monster truck driving hopeful. She goes by the name Tracey the Zebra! This rough and tumble zebra is perfect for anyone with a wild side. Tracey took the stereotypes of what a girl is supposed to be and flipped them on its head.
She belongs to the Adventure, Wildlife, and Zoo squads and was born on September 17, 2019. She wants a monster truck-themed party and she won't let us forget it.
Did you know?
Tracey is joined by a few other adrenaline junkies, including Freddie, Cookie, Babs, and Tina. Don't let their names or cute faces fool you. These are rough riders and as tough as they come.
Piaxa
Size: 20-inches
Animal: Martian
Squad: Space
Collector #: N/A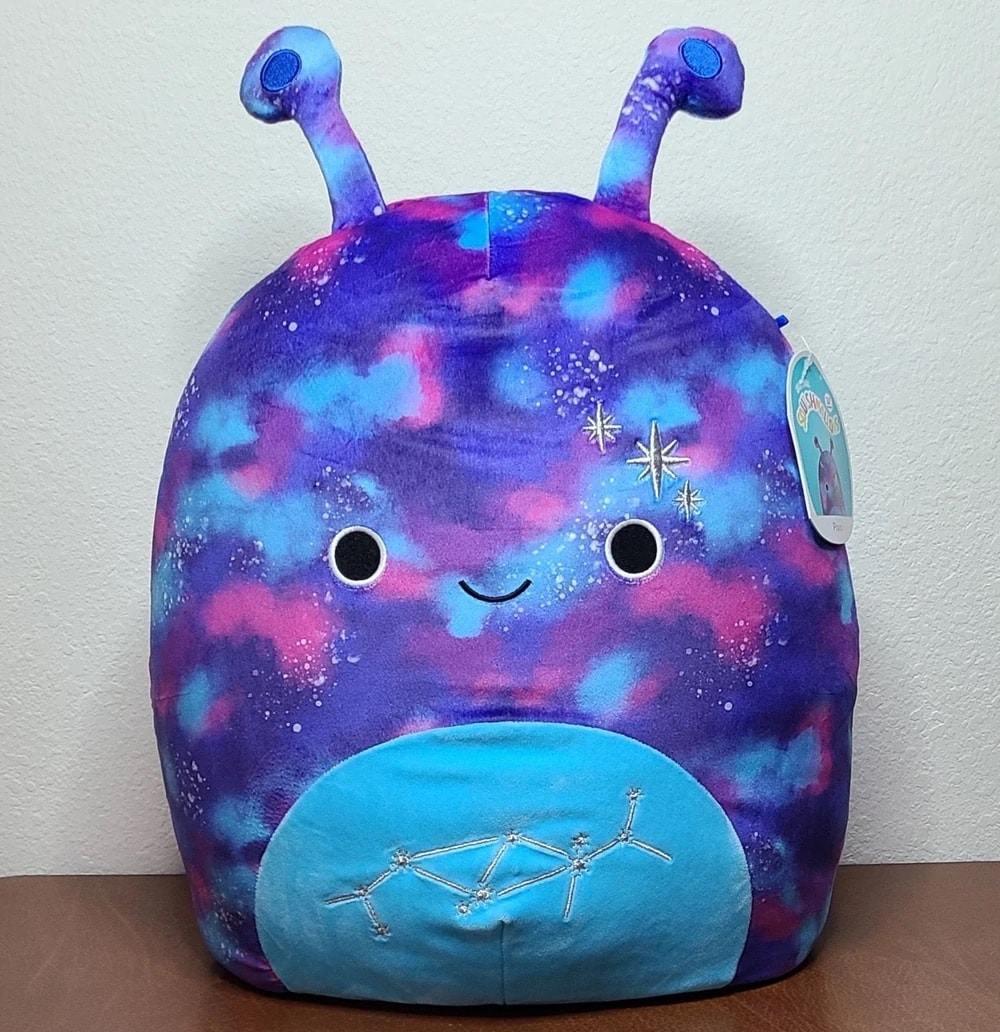 Source: Squishmallowsquad.fandom.com
This smiley-faced Martian is otherworldly and Piaxa has no problems showing it with her colors painted by the cosmos themselves. The antennas might give it away too. Hailing from a distant star, she's curious to learn and study us earthly beings. To do that, she reads mysteries, adventure books, comics, and other things we humans consider entertainment.
Her blue belly has a constellation on it. Could it be a constellation native to her home planet? We're not sure, but one thing we do know is that Piaxa is a must-have for any extra-terrestrial, space-loving, star gazing astronomer!
Did you know?
Piaxa also comes in an Alien Invader Pack that's currently exclusive to Walgreens and on Squishmallows.com.
Carmelita
Size: 20-inches
Animal: Snack
Squad: Food
Collector #: 683

Source: Squishmallowsquad.fandom.com
Carmelita the S'more is too adorable for her own good. She's so cute you might feel like you could just eat her up! She's a lover of manga and enjoys creating black and white illustrations that talk about her life at school, friends, and adventures with a fellow friend and Food squad member, Cinnamon.
Those round, pink cheeks, eyelashes, and chocolate hair make her a delectable must-have and a great choice for anyone with a love for sweets.
Did you know?
Carmelita the S'more isn't complete without her equally tasty friends in the Food squad, like Malcolm the Mushroom, Austin the Avocado, and Maui the Pineapple.
Leonard
Size: 24-inches
Animal: Lion
Squad: Bright, Zoo, Valentine
Collector #: 351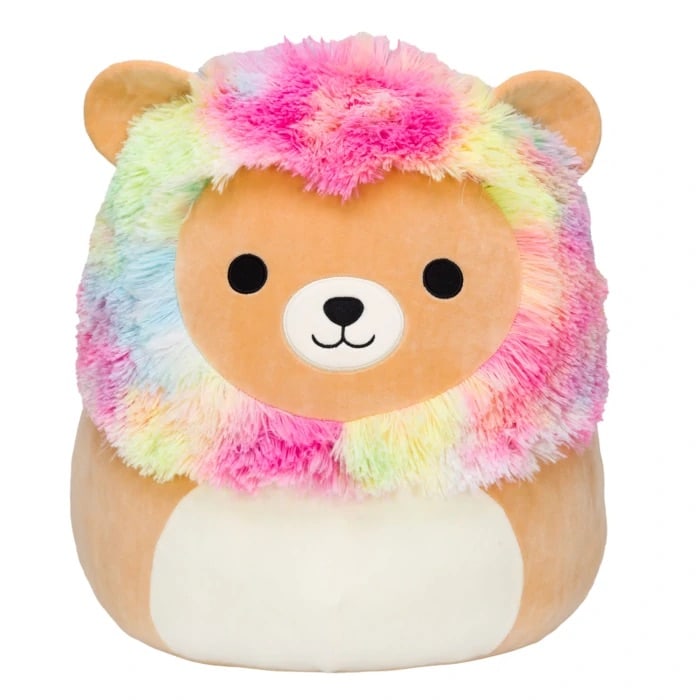 Source: Squishmallowsquad.fandom.com
Leonard the Lion is the biggest Squishmallow from the toy brand, Kellytoy Inc.
Leonard the Lion rightfully takes his place as the biggest and baddest in the Squishmallow animal kingdom. He may not appear too menacing with that rainbow hair and charming face but make no mistake – he isn't. Leonard is just a gentle giant and maybe the first lion we've ever seen who's also a proud vegetarian.
He enjoys eating lentils, lasagna, and learning how to code. He has no time for animalistic pursuits like hunting other Squishmallows when he has to get ready to join the workforce.
Did you know?
Leonard is a friend to all just like how a Lion King should be. You can find him in the Bright, Zoo, and Valentine squad weaving in and out of social groups like he's the most popular kid on the playground. He's so charming and personable that he even goes by the nickname, "Valentine Leonard."