The NFL is unquestionably the most physically demanding professional sport we have in America. Every time you step out onto the field, you leave something behind, no matter what. A price is always paid with your body when you have two, 230+ pound men barreling towards each other with the intent to do damage. Careers and livelihoods are on the line based on how each player performs.
To make it in the league, you need to have a blend of wits, strength, natural physical ability, and a willingness to embrace the more primal aspects of our human nature. That's why every advantage one can bring with them to the field is vital and may end up being the thing that saves you from grave bodily harm.
Today, we're going to take a look at one of the often overlooked, but very helpful, physical attributes some NFL athletes have, which is height, and we'll find out who the tallest player to have played in the NFL is.
Stone Forsythe
Age: 23
Height: 6'8
Weight: 307 lbs
Team: Seattle Seahawks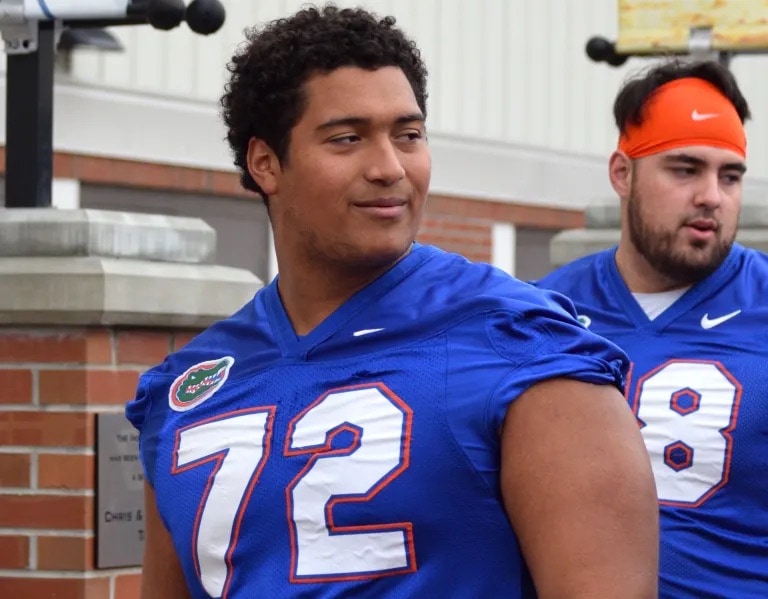 Source: florida.rivals.com
With a name fit for an NFL offensive tackle, Stone Forsythe is just that. He stands at 6'8, 307 pounds at just 23 years old. He is currently the offensive tackle for the Seattle Seahawks.
Forsythe comes from a bloodline of football pedigree after his father, Ray, also played college football at Kent State and UCF. He went on to play for the Cincinnati Bengals, Amsterdam Admirals, and the Orlando Predators.
Did you know?
Stone was drafted in the 6th round to the Seahawks and signed a four-year deal that equates to $3.6 million with a signing bonus of 166K. Not too bad for a Florida native!
Jonathan Ogden
Age: 47
Height: 6'9
Weight: 345 lbs
Team: Baltimore Ravens

Source: commons.wikimedia.org
Jonathan Ogden bleeds Baltimore Ravens purple through and through. Spending his entire career in the city of Baltimore, Ogden stood at a fearsome 6'9, weighing 345 lbs in his playing days as an offensive tackle. Originally an offensive tackle for the UCLA Bruins, he was a unanimous All-American.
That certainly helped his case when he was drafted 4th overall in the 1996 NFL Draft. He and the Ravens immediately made history before he even stepped foot on the field because that draft pick was the first-ever draft selection for the team.
Did you know?
February 2, 2013, marks the day Ogden was voted in the Pro Football Hall of Fame. He holds the distinction of being the first inductee to spend his entire career with one team. He is a Super Bowl champion (XXXV) and an 11x Pro Bowl selection.
Ed Jones
Age: 70
Height: 6'9
Weight: 271 lbs
Team: Dallas Cowboys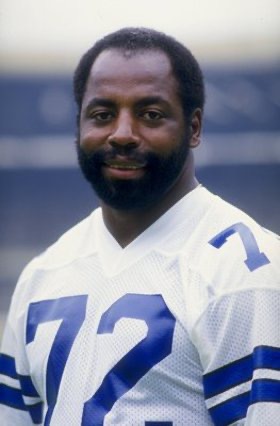 Source: looktothestars.org
Ed Jones went affectionately by the nickname, Ed "Too Tall" Jones. Standing at 6'9 and 271 pounds during his career, he went 15 seasons strong for the Dallas Cowboys as a defensive end.
Some of his honors include a 3x Pro Bowl selection, First-Team All-Pro, All-American, and most importantly, immortalized as a champion in Super Bowl XII.
Did you know?
Ed Jones took a brief hiatus from football to pursue a career in boxing. As a former Golden Glove fighter, he fought six professional fights as a heavyweight, of course. His record was a perfect 6-0 with five knockouts. He credits his first exit from football to pursue fighting as the best career decision he ever made because the training he went through as a fighter helped him become a better football player upon his return.
Alejandro Villanueva
Age: 33
Height: 6'9
Weight: 320 lbs
Team: Baltimore Ravens

Source: commons.wikimedia.org
Alejandro Villanueva is a 6'9, 320-pound current defensive tackle for the Baltimore Ravens. Before playing professional football, he was an avid rugby player in Spain. After moving to Belgium, he was noticed for his athletic talent and was recruited to play American football.
Athletic gifts run in the family, as his brother, Iñaki Villanueva, is a professional rugby player. The carryover from rugby to football translates very well, and Alejandro took full advantage and continues a career in the NFL as of 2021.
Did you know?
Villanueva was in the military, serving with the Army Rangers, earning himself a Bronze Star. After three tours in Afghanistan, he spent some time as an NFL journeyman in 2014 until finally finding his footing in Baltimore, and will hopefully remain a mainstay for the city.
Demar Dotson
Age: 36
Height: 6'9
Weight: 315 lbs
Team: Tampa Bay Buccaneers

Source: commons.wikimedia.org
Demar Dotson is a current free agent. At his height and frame, it shouldn't be too long before he finds a new place to call home. He is a 6'9, 315-pound offensive tackle who played for Southern Mississippi.
One thing Dotson can hang his hat on is his incredible durability. He has played a total of 138 games and started in 114 of those.
Did you know?
Dotson's journey was no easy feat and he earned every position he held. Competing with others like Jeremy Trueblood, Gabe Carimi, and Anthony Collins, he fought tooth and nail to get his starting job as right tackle for the Tampa Bay Buccaneers.
Dan Skipper
Age: 27
Height: 6'10
Weight: 320 lbs
Team: Detroit Lions

Source: commons.wikimedia.org
Dan Skipper is a 27-year-old, 320-pound, offensive tackle, and current NFL free agent. In high school, he earned 5A all-state recognition in his senior year, poising himself for a great college career ahead. After helping bring his team, Raison Valley, to the state semifinals, Skipper fielded several scholarship offers, ultimately choosing the tried and true, battle-tested university with championship DNA, the University of Arkansas. In his freshman year at college, he hit the ground running, playing in all 12 of the Razorbacks' games while starting eight of those. As a freshman, it's almost unheard of. In that season, he blocked three field goal attempts, showcasing pro-quality agility and speed.
Did you know?
ESPN named Dan All-SEC as a junior and repeated by receiving the honor again in his senior year. He went undrafted in the 2017 NFL draft due to a suspected blood condition discovered in prospect evaluations. In 2017, after trying out for the Cowboys, he earned himself a roster spot.
Morris Stroud
Age: 70
Height: 6'10
Weight: 255 lbs
Team: Kansas City Chiefs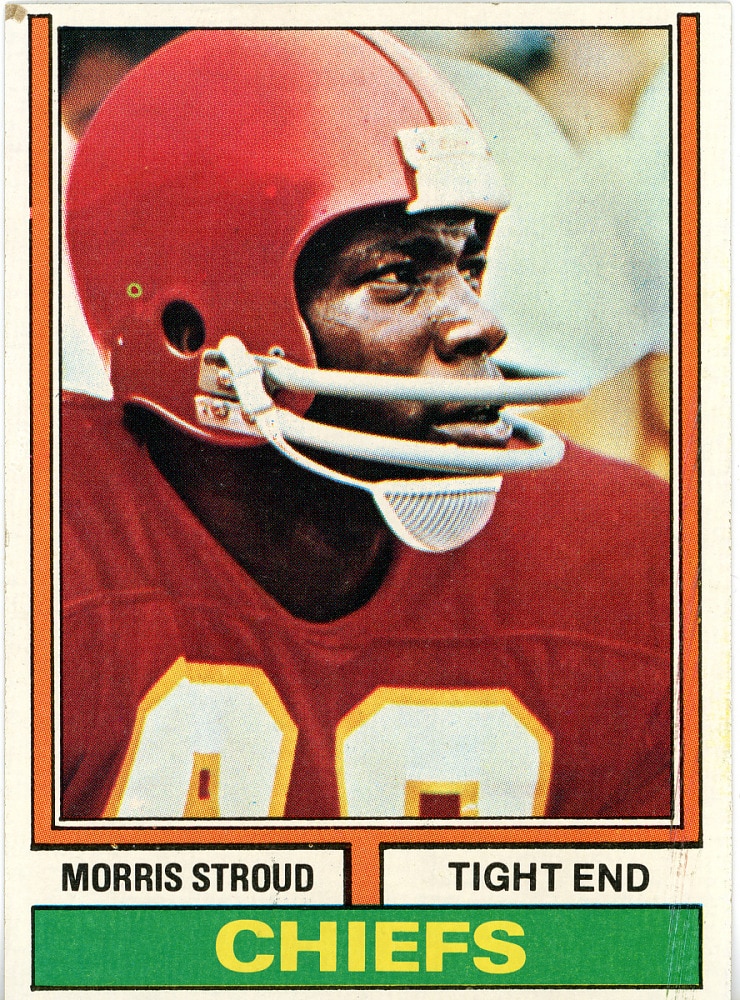 Source: americanhistory.si.edu
Morris Stroud was a 6'10, 255-pound tight end for the Chiefs from 1969 to 1974. At 6'10, Stroud is the tallest athlete to play tight end in the NFL. Between 1970 and 1974, he caught 54 passes, seven TD's, while averaging just over 18 yards per reception.
However, that wasn't what garnered the attention of fans and coaches. It was his exceptional performance as a special teams player. Morris had a great feel for timing, which turned him into a great field goal blocker.
Did you know?
Stroud used his vertical gifts and applied them to the basketball court at Clark Atlanta University as the school's center and power forward. When he went drafted, he had very little experience in football, and it took the Chiefs head coach, Hank Stram, to select him in the third round of the 1969 draft as a tight end.
Richard Sligh
Age: 64
Height: 7'2
Weight: 440 lbs
Team: Oakland Raiders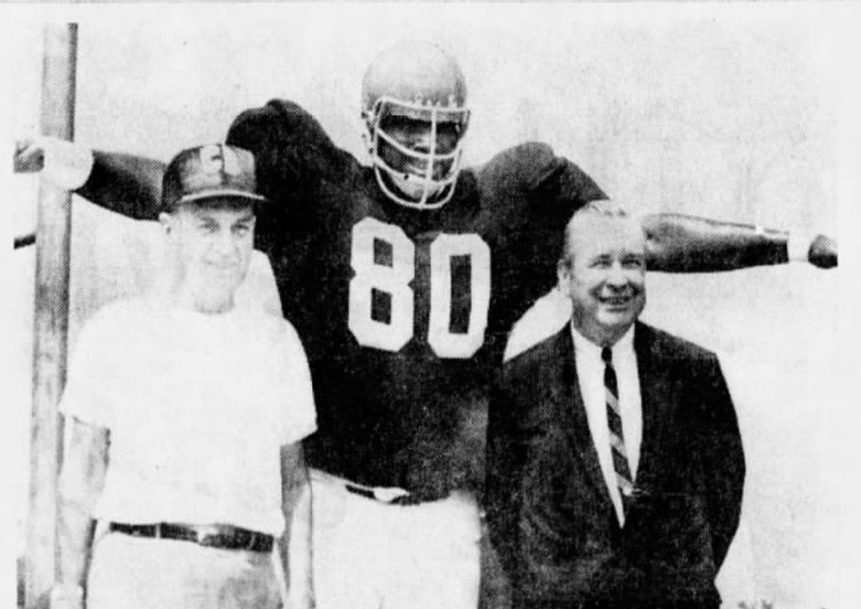 Source: thatonesportsshow.com
Richard Sligh is the tallest NFL player to have ever played!
Richard Sligh was a 7'2, 440-pound, defensive tackle who went in the 10th round of the 1967 NFL draft as the 253rd pick. It just goes to show you height can only get you so far. Though he made it to the league, he only played a total of eight games and served more as a spectacle than as a valuable piece to a championship puzzle.
Sligh was just a reserve for the Oakland Raiders in Super Bowl II, ultimately falling to the Green Bay Packers.
as a special teams player. Morris had a great feel for timing, which turned him into a great field goal blocker.
Did you know?
In 1968, the Cincinnati Bengals were added as part of the NFL expansion in the AFL allocation. Richard was waived before the beginning of the season.