Africa is the second largest continent in the world. While most of the continent is still untamed and uninhabited, there are still a lot of metropolises in Africa that are worth visiting. In addition, many amazing African cities might be worth your time if you want to explore their worth. There are also lots of excellent opportunities to expand your career as well.
If you want to get the most out of your visit to Africa, you should consider checking out the most populated cities in the nation instead.
This time, we're talking about the eight most populated cities in Africa in hopes you might want to check out one of these places in the future.
Johannesburg
Population (2021): 6,065,354
Area Size: 1,644.98 km2 (635.13 sq mi)
Density: 3,400/km2 (8,900/sq mi)
Country: South Africa

Source: commons.wikimedia.org
The land in which Johannesburg stands used to be a farm where a large gold deposit was found. Within 10 years after the amazing discovery in 1886, the small population grew to 100,000 inhabitants.
Over a century later, Johannesburg is now considered an alpha global city because of its advancements and contribution to South Africa.
Johannesburg contributes significantly to the GPD of South Africa, contributing at least 10% annually. It's the most out of any city in South Africa. The city relies heavily on various industries, including IT, real estate, transport, etc. Therefore, this advanced and continuously growing city has many opportunities.
Did You Know
Johannesburg got its name because many people involved with the city's establishment were named "Johannes."
---
Khartoum
Population (2021): 6,160,327
Area Size: 1,010 km2 (390 sq mi)
Density: 5,800/km2 (15,000/sq mi)
Country: Sudan

Source: commons.wikimedia.org
Khartoum stands as the capital city of Sudan. Founded in 1821 as part of Ottoman Egypt, the city has a long and complicated history caused by power conflicts and political unrest.
Despite these challenges, Sudan has significantly improved and is now home to thousands of African citizens.
Khartoum is now positioned as an economic and trade center in Northern Africa. Its rail lines, airports, business, and commerce are easily managed in Khartoum. The people in Khartoum are apt and competitive as well. That's all thanks to the city's numerous educational institutions like the University of Khartoum and the Sudan University of Science and Technology.
Did You Know
The city is the meeting point of the Blue Nile and White Nile Rivers. Additionally, it's also the start of the Nile River.
---
Dar Es Salaam
Population (2021): 7,404,689
Area Size: 1,493 km2 (576 sq mi)
Density: 4,300/km2 (11,000/sq mi)
Country: Tanzania

Source: commons.wikimedia.org
Also called Dar, Dar es Salaam is the largest city in East Africa, the capital of Tanzania, and the nation's financial center. Due to its advancements in various industries, Dar is poised as one of the fastest-growing cities in the world right now. It's come a long way since its foundation in 1865.
Dar started as a town when Majid bin Said, the first Sultan of Zanzibar, founded it. The city is mainly known for its arts, fashion, film, media, and television industries, which is the primary source in Tanzania. So if you're looking for a city in Tanzania rich in culture, opportunities, and history, Dar is it.
Did You Know
Dar Es Salaam's culture and architecture feature influences from African, Arab, and Indian forces.
---
Luanda
Population (2021): 8,952,496
Area Size: 116 km2 (45 sq mi)
Density: 4,400/km2 (12,000/sq mi)
Country: Angola

Source: commons.wikimedia.org
Angola is the capital city of Luanda, and it's also the country's most populous country. It's also one of the oldest colonial cities in Africa, as it was founded in 1576.
It has had a troubled history as well. At one point, Luanda served as the center for slave trading. That's long in the past now.
The city has moved towards better ventures. Their most vital industries are agriculture, beverage production, textile and cement, and car assembly. It's one of the most expensive cities in the world for expatriates, but locals in the area live an extraordinary life there.
Did You Know
One of the most expensive restaurants in the city is Lookal. A meal in this restaurant costs a whopping $300!
---
Giza
Population (2021): 9,200,000
Area Size: 1,579.75 km2 (609.94 sq mi)
Density: 5,800/km2 (15,000/sq mi)
Country: Egypt

Source: commons.wikimedia.org
Aside from being the fourth most populous city in Africa, Giza is also known for its unique historical sites and rich culture. Giza is famous for many attractions, including the Great Sphinx, the Great Pyramid of Giza, and temples.
Giza gets thousands of visitors annually and continues to attract more and more each time as a tourist destination.
Giza's rich culture has to do with the fact that the city is close to Memphis, the capital of the ancient pharaonic Old Kingdom. Aside from tourism, Giza's main economic drivers include movies, real estate, manufacturing, and more. If you want to live there, Giza has many luxury apartments alongside the Nile River, offering a fantastic view.
Did You Know
Over 14 million people visit Giza before the pandemic hit. The majority of them visit the pyramids of Giza!
---
Cairo
Population (2021): 10,025,657
Area Size: 2,734 km2 (1,056 sq mi)
Density: 8,011/km2 (20,750 sq mi)
Country: Egypt

Source: commons.wikimedia.org
Being in one of the most historical nations in the world, it shouldn't be surprising that Cairo is rich in history and culture. Cairo is currently Egypt's center for political and cultural life. The city is even called the "city of a thousand minarets," thanks to its respect and care for Islami architecture.
Cairo has one of the oldest and largest cinemas and music industries in the Arab world. Additionally, it also has the second-oldest institution for higher learning, which is Al-Azhar University. You'll have a lot of places to visit in Cairo, being that it's Egypt's biggest attraction aside from its pyramids and ancient tombs.
Did You Know
Cairo only has two seasons — four months of winter and eight months of summer.
---
Lagos
Population (2021): 15,387,639
Area Size: 1,171.28 km2 (452.23 sq mi)
Density: 6,871/km2 (17,800 sq mi)
Country: Nigeria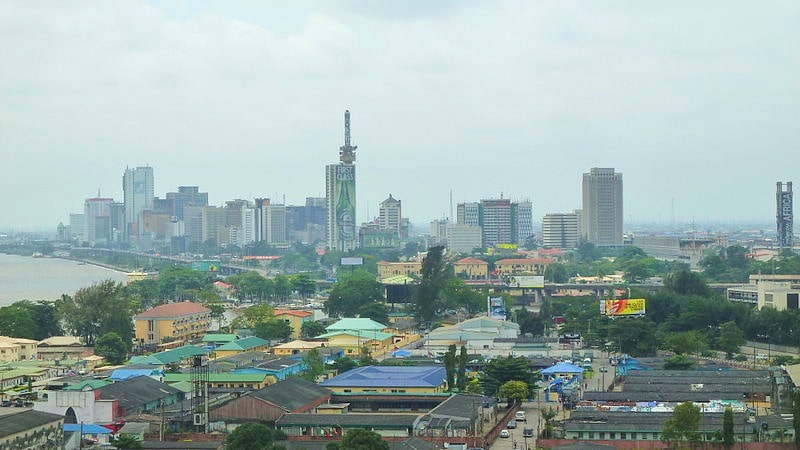 Source: commons.wikimedia.org
Lagos started as a home for the Awori – a subgroup from the Yoruba of West Africa. Later, the Benin Empire incorporated Lagos as a port city for its collection of islands.
Lagos stands strong as one of Nigeria's biggest and most progressive cities. It has become the nation's center of commerce, culture, and more.
The city is slowly but surely growing. It has now poised itself as Nigeria's IT and BPO services center. The industries have provided numerous jobs for local people. Aside from that, Lagos also features a strong tourism industry, which gets thousands of visitors annually.
Did You Know
Before 1760, Lagos was known as Who. When Portuguese traders arrived and named it Lagos, which means "lake" in their language.
---
Kinshasa
Population (2021): 17,071,000
Area Size: 9,965 km2 (3,848 sq mi)
Density: 1,462/km2 (3,790/sq mi)
Country: Democratic Republic of Congo

Source: commons.wikimedia.org
Kinshasa is the largest city in Africa by population. It's also the largest city in the Democratic Republic of the Congo, where it's also the capital. It used to be a strong fishing and trading economy during the early years of Africa. In modern times, however, Kinshasa has become one of the fastest-rising megacities.
Many don't know that Kinshasa is also the world's largest Francophone urban area. This means that French is the primary language of the government, media, commerce, public services, and education. As a megacity, Kinshasa's skyline is thriving with skyscrapers, and its streets are also bustling with busy people.
Besides its bustling economy, Kinshasa is well-loved for its rich culture and arts scene.
Did You Know
Kinshasa is beside Brazzaville – the capital of the Republic of the Congo. The two cities are the largest pair of neighboring capital cities, only beaten by Vatican City and Rome.
---
Related Reading:
10 Largest Countries In Africa
14 Oldest African Countries
8 Countries With The Youngest Population
10 Largest Cities In North America By Population