Animal ranches dominate American agriculture. These massive facilities produce and breed cattle for meat and dairy production over thousands of acres.
Spanish immigrants brought cattle to the US in the 1700s, establishing enormous ranches. Early ranches were modest and focused on feeding people. Ranches expanded as cattle demand increased.
Large ranches are present in most US states, although western states have the most. These states have plenty of open terrain and good cattle-raising weather. The Great Plains have hundreds of thousands of acres of ranches.
Running a huge ranch takes time, money, and effort. Ranch owners must manage daily activities and handle numerous rules and procedures. Large ranches face drought, wildfires, and disease outbreaks.
These American ranches produce a lot of meat, which boosts the economy. Large ranches also employ many rural communities and are part of the American West's culture.
Large ranches are vital to American agriculture. They boost the economy and are part of the American West's culture. Despite hurdles, these ranches adapt to business and public demands. Continue reading about the 7 largest ranches in the US.
Waggoner Ranch
Total Area: 535,000 acres
Location: Vernon, Texas
Approximate Number of Animals: 14,000
Year Built: 1850s

Source: Wikimedia
The Waggoner Ranch, located in North Texas, spreads over six counties and has 535,000 acres. It's one of the largest and best-known ranches in the United States.
The ranch was established in the 1850s by Dan Waggoner, a pioneering cattleman from Illinois. The ranch that Waggoner established grew to become one of the most successful and politically powerful in all of Texas.
Despite its historic and cultural significance, it has struggled in recent years. A group of businessmen led by Dan Friedkin purchased the ranch from rich entrepreneur Stan Kroenke in 2015.
The present owners have invested in the future of the ranch by repairing and maintaining its historic structures and features.
The Waggoner Ranch is still an important part of the history and culture of North Texas. For those interested in Western civilization, its natural beauty and long history make it an absolute must-see.
Did You Know?
Cattle ranching, oil and gas exploration, hunting, and fishing have all taken place on the Waggoner Ranch. The ranch attracts hunters and nature lovers who see the abundant wildlife, including deer, quail, ducks, and geese.
---
Vermejo Park Ranch
Total Area: 560,000 acres
Location: New Mexico and Colorado
Approximate Number of Animals: About 14,000
Year Built: 1902

Source: Wikimedia
Northeastern New Mexico and southern Colorado are the home to the 550,000-acre nature reserve and guest ranch known as Vermejo Park Ranch. Ted Turner's premium resort firm, Ted Turner Reserves, also does conservation studies and restores ecosystems.
This reserve has everything from the 5,867-foot-high Great Plains to the 12,931-foot-high peak of the Sangre de Cristo Mountains. Significant amounts of coalbed methane (a kind of natural gas) are generated by the property.
There was a time when Vermejo Park belonged to the Maxwell Land Grant. In 1902, William H. Bartlett (1850-1918) of Chicago, Illinois, purchased 205,000 acres of Vermejo Park from the Maxwell Land Grant Company.
In Vermejo Park, several Mexicans were forced out when Bartlett evicted them. He enlisted the aid of Chicago architect and personal friend Joseph Lyman Silsbee to construct three massive mansions and a power plant.
Did You Know?
Elk were reintroduced to the area, and he constructed and filled numerous lakes with trout.
---
Briscoe Ranch
Total Area: 660,000 acres
Location: Uvalde, Texas
Approximate Number of Animals: Data Deficient
Year Built: 1852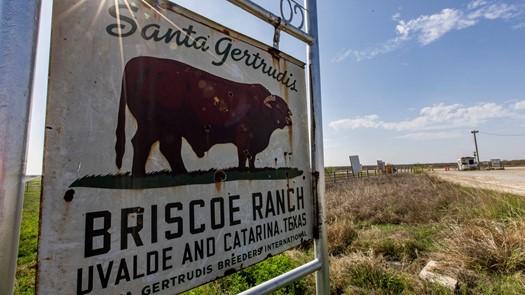 Source: Dallas Morning News
Briscoe Ranch in the Texas Hill Country is a historic and beautiful property that showcases the state's rich culture. The 10,000-acre ranch is home to white-tailed deer, wild turkey, and many bird species.
Richard King, a rancher and businessman who helped build Texas' cattle industry founded the ranch in 1852. King named the ranch after his friend and business partner, Andrew Briscoe, and together built one of the state's biggest and most profitable cattle enterprises.
It is a historic and picturesque property in the Texas Hill Country that allows visitors to appreciate the area's natural beauty and learn about the state's rich cultural legacy. The ranch offers hunting, fishing, bird viewing, nature photography, and tranquil rural nights for everyone.
Did You Know?
Briscoe Ranch features rustic cottages, a historic ranch house, and a bunkhouse. These accommodations are ideal for individuals who want to stay on the ranch and enjoy the Texas Hill Country.
---
Babbitt Ranches
Total Area: 750,000 acres
Location: Arizona
Approximate Number of Animals: 8,000
Year Built: 1886

Source: Babbitt Ranches
The Babbitt Ranches have been in operation in northern Arizona for many decades. Historically, the ranch has been used for cattle grazing, farming, and conservation efforts. The Babbitts have a long history of dedication to their property and neighborhood.
They have implemented eco-friendly practices to ensure the ranch's continued success for future generations. Babbitt Ranches is still going strong because of its holistic management. This kind of ranching strikes a balance between the needs of the land, the animals, and the ranchers.
Babbitt Ranches have been responsible for the sustainable raising of cattle, sheep, and goats while also protecting the local ecosystems. The Babbitts are dedicated to preserving the ranch's native flora and fauna for future generations, including the elk, deer, and pronghorn antelope.
The Babbitts hold their family history and strong ties to the land and community in the highest regard. Efforts are made to ensure the ranch's continued beauty and success for future generations.
Did You Know?
In addition to ranching and conservation, Babbitt Ranches provides community service. Vacationers flock to the ranch for the rodeos, weddings, and educational tours.
---
Diamond A
Total Area: 725,000 acres
Location: Seligman, Arizona
Approximate Number of Animals: 31,500
Year Built: 1987

Source: Cowboy Lifestyle Network
Diamond A Ranch is a private ranch located in Arizona. Since the early 1900s, the ranch has been breeding cattle and horses. Horse lovers go to the Diamond A Ranch because it has a lot to offer riders of all levels.
The place is open all year, but fall and spring are the best times to go because the weather is nice. It also needs riders to have helmets and other safety gear, so bring yours. Lastly, Diamond A Ranch is family-friendly, so riders of all ages and skill levels can enjoy the trails together.
Diamond A Ranch is a must-see for people who like to be in nature in Arizona. Every rider will find something they like at the ranch. Explore the trails, meet new people, and have experiences that will stay with you.
Did You Know?
It has horse riding and other things to do with horses. Some examples are horseback riding, trail rides, and equine therapy. At the ranch, there are rodeos, barrel races, and team penning all year long.
---
King Ranch
Total Area: 825,000 acres
Location: Kingsville, Texas
Approximate Number of Animals: 35,000
Year Built: 1852

Source: Wikimedia
South Texas's historic 825,000-acre King Ranch is one of the largest ranches in the US. People raise cattle and grow cotton, grain, and other goods in Kenedy County, Texas.
In 1853, Captain Richard King, who ran a steamboat, built the ranch. After building the ranch, King did well in the business of grazing cattle. His ranch headquarters and home are now used by the King Ranch Museum.
The Santa Gertrudis, Laureles, and Norias sections are now all part of the ranch. The ranch has cows, horses, and animals from far away. The King Ranch does more than just farm. To take care of its natural resources, the ranch has wildlife management and wetland restoration projects.
Texas' history has been changed by the King Ranch. People can look around the ranch and find out about its history. Texas's history, culture, and natural beauty are all shown at the King Ranch. It makes money and is part of the history of the state.
Did You Know?
Richard King's sense of adventure matched his ability to see new business opportunities. He kept improving the ranch by building railroads, packinghouses, and ice plants and changing the Corpus Christi harbor.
---
Singleton Ranch
Total Area: 1,000,000 acres
Location: Santa Fe, New Mexico
Approximate Number of Animals: Data Deficient
Year Built: 1986

Source: Singleton Ranch
The Singleton Ranch is the largest ranch in the U.S. Dr. Henry Singleton bought the San Cristobal Ranch outside Santa Fe, New Mexico, in 1986, founding the Singleton Ranches. He desired a ranch that retained New Mexico's 400-year-old ranching history and excellent cows and horses.
New Mexico and California land grants have yielded nearly 1,000,000 acres of ranch country. Singleton Ranches is in the top five US operations in land and livestock numbers. Singleton Ranches is centered on its farm family.
Ranching consumes these families year-round. Ranch cowboys' wives, children, and neighbors labor in spring and autumn. Everyone helps with livestock, branding, and supper. These families value simplicity and are proud of their lifestyle.
Did You Know?
Dr. Singleton died in 1999, but his five children ran the ranches as he wanted. Caroline, Singleton's wife of 57 years, worked in ranching until her 2007 death.
---
RELATED READINGS
8 Largest Cattle Ranches In The Us
10 Largest Zoos in the United States
9 Largest Horse Breeds in the World
5 Largest Chicken Breeds in the World
8 Most Expensive Cows in the World
8 Oldest Oak Trees Ever Found