For countless centuries, statues have served as a way for people to commemorate important events and honor monumental figures. In every corner of the world, these structures allow the legacies of past generations to live on. Statues are often used as landmarks and points of reference as well.
While many statues stand larger than life, you might be wondering just how tall the largest of them can get. Today, we'll be taking a look at the 10 largest statues in the world by height, and learning some fun facts about what each one represents.
Rodina-Mat' Zovyot! (The Motherland Calls)
Height: 279 ft
Location: Russia
Year Built: 1967
Figure Depicted: Mother Russia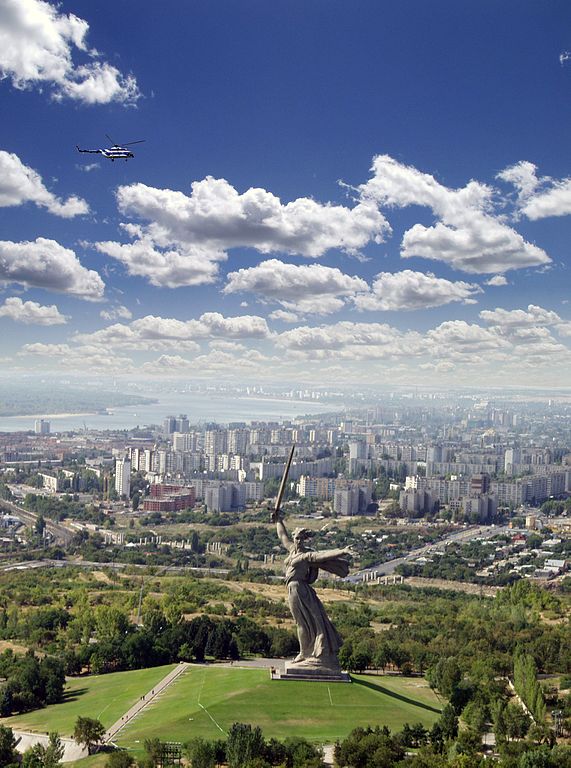 Source: wikimedia.org
This graceful-yet-powerful monument stands with her sword raised to the sky in memory of the Battle of Stalingrad and the Soviet victory during World War II. Also known as "Mamayev," this statue is included in the Seven Wonders of Russia. It was the largest statue in the world in 1967 when it was built. Although it's since been surpassed by other monuments, it remains one of the largest statues of a woman worldwide.
Did You Know?
"The Motherland Calls" is actually part of an entire monument-ensemble known as "Heroes of the Battle of Stalingrad".
Dai Kannon of Kita no Miyako park
Height: 298 ft
Location: Japan
Year Built: 1989
Figure Depicted: Kannon (Guanyin) – Byakue Kannon


Source: wikimedia.org
Also known as the Hokkaido Kannon or the Byakue Kannon, Dai Kannon was the tallest statue in the world when it was first established, holding that record until the year 1991. This statue isn't just remarkable from the outside, either–the statue contains over 20 floors and an elevator within! Shrines and places of worship are located on several of these floors, offering visitors the chance to stop and show their appreciation.
Did You Know?
Construction of the Hokkaido Kannon lasted from 1975 to 1989.
Great Buddha of Thailand
Height: 302 ft
Location: Thailand
Year Built: 2008
Figure Depicted: Buddha (Gautama)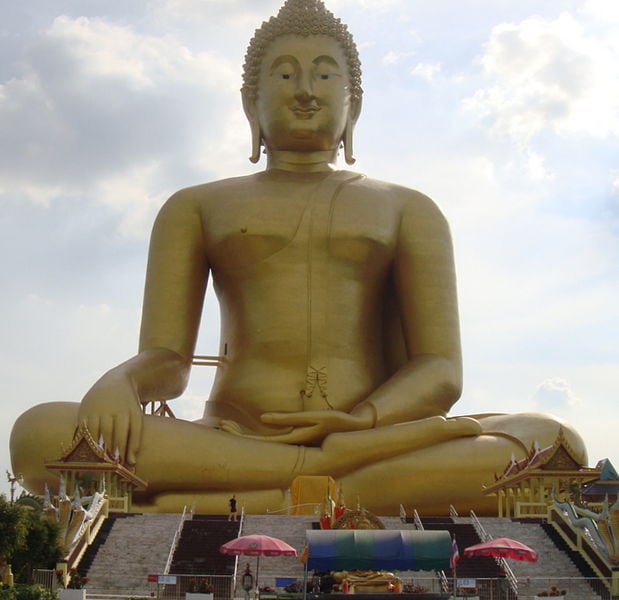 Source: wikimedia.org
This magnificent Buddha statue is formally called "Phra Buddha Maha Nawamin" and "Mahaminh Sakayamunee Visejchaicharn." However, it's simply referred to as "The Big Buddha of Thailand" by those who find the local names to be too much of a mouthful. This awe-inspiring monument is finished with golden paint and casts a chilling shadow over the surrounding garden's depictions of the Buddhist Hell.
Did You Know?
This statue is located in the Ang Thong province, the name of which translates to "golden bowl," in reference to its lucrative rice fields.
Qianshou Qianyan Guanyin of Weishan (Guishan Guanyin of the Thousand Hands and Eyes)
Height: 325 ft
Location: China
Year Built: 2009
Figure Depicted: Guanyin


Source: wikimedia.org
This gorgeous statue depicts Avalokitesvara, also known as Guanyin, the Buddhist bodhisattva associated with compassion. The statue was built by the Ningshan County Government with added financial assistance from local religious organizations and businesses.
Did You Know?
According to Buddhist Legend, Guanyin sought to rescue all of humanity from reincarnation, but became overwhelmed by the task until her head was split into eleven pieces–each of which formed a new head.
Sendai Daikannon
Height: 330 ft
Location: Japan
Year Built: 1991
Figure Depicted: Nyoirin Kannon (Avalokitesvara)


Source: wikimedia.org
An alternative depiction of Avalokitesvara, the Bodhisattva of Mercy and Compassion, this pristine white monument towers above Izumi ward in the center of Sendai City. The Kannon is actually revered as a genderless figure, and is often depicted as a feminine goddess sitting or standing on a lotus, the symbol of purity.
Did You Know?
This beautiful statue of Kannon contains an elevator that connects 12 floors inside. Visitors can travel to the top for a breathtaking view of the city and the Pacific Ocean.
Ushiku Daibutsu
Height: 330 ft
Location: Japan
Year Built: 1993
Figure Depicted: Buddha (Amitābha)


Source: wikimedia.org
Found within the Ibaraki prefecture, this impressive bronze-plated monument contains a cauldron of incense and four floors with observation decks and windows. The statue is surrounded by beautiful gardens and a pond full of fish, which add to the carefully-cultivated air of serenity and peace.
Did You Know?
The figure depicted by the statue is often referred to as the "Buddha of Infinite Light," and is known for his long list of good deeds spanning across many lifetimes.
Birth of the New World
Height: 362 ft
Location: Puerto Rico
Year Built: 2016
Figure Depicted: Christopher Columbus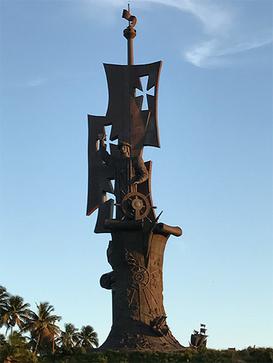 Source: wikimedia.org
The Birth of the New World is the largest attraction in Puerto Rico and the tallest in North America, even dwarfing the world-famous Statue of Liberty. This statue was crafted by Russian sculptor Zurab Tsereteli to overlook an area that is intended for the upcoming adventure complex TerraVista Park.
Did You Know?
This colossal statue weighs 6,500 tons and is built from 2,500 pieces of bronze, steel, and copper.
Laykyun Sekkya
Height: 380 ft
Location: Myanmar
Year Built: 2008
Figure Depicted: Buddha (Gautama)


Source: wikimedia.org
Located in Khatakan Taung, this astounding, gilded statue is far more than an enchanting attraction that attracts tourists in troves. The Laykyun Sekkya Standing Buddha statue is sacred to Buddhist locals, who revere it as a site of worship. Surrounding the statue are countless Sitting Buddhas, bodhi trees, and intricate gardens.
Did You Know?
The Laykyun Sekkya contains 27 floors and is located close to Mandalay, which is considered to be the Buddhist center of the country.
Spring Temple Buddha
Height: 420 ft
Location: China
Year Built: 2008
Figure Depicted: Buddha (Vairocana)


Source: wikimedia.org
Said to be one of the major landmarks of China, the Spring Temple Buddha rests atop a 66-foot-tall pedestal that is shaped like a lotus and contains a monastery within. Formerly listed in the Guinness Book of World Records for its height, the Spring Temple Buddha sits at the top of over 1,000 stairs.
Did You Know?
The construction of the Spring Temple Buddha required over hundred kg of gold, 3300 tons of copper alloy, and 1,500 tons of steel.
Statue of Unity
Height: 597 ft
Location: India
Year Built: 2018
Figure Depicted: Vallabhbhai Patel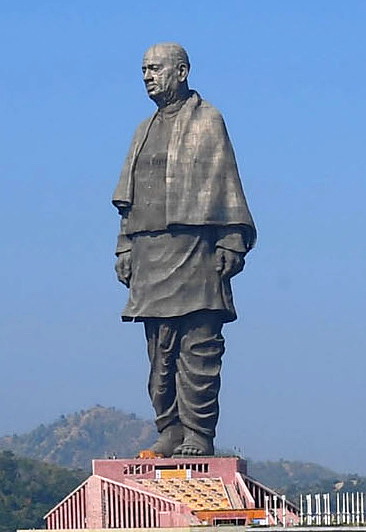 Source: wikimedia.org
The Statue of Unity is the largest statue in the world by height. This staggering, impressive landmark is twice the height of the Statue of Liberty, and required a workforce of 3,000 people to build. The depicted figure, Sardar Vallabhbhai Patel, is honored for his work in uniting the 562 princely states of India to form the single Union of India–and all without the use of armed conflict.
Did You Know?
The statue is built with three layers: reinforced cement concrete, steel, and bronze.