The timeless beauty of gold has captivated mankind for as long as we can remember. Its surface doesn't tarnish or dull with the ages, making it a symbol of wealth and stability that has been sought after for centuries.
Just how big can gold nuggets get? While some of the largest gold nuggets ever found were promptly melted down to be used as a resource, the largest still-existing gold nuggets are now carefully preserved and put on display as curiosities. Let's learn a little bit about the 5 largest gold nuggets in the world that still exist today.
Ironstone's "Crown Jewel"
Weight: 44 troy pounds
Discovered By: Sonora Mining Corporation
Year Discovered: 1992
Location of Discovery: California, USA


Source: wikipedia.org
Originally unearthed at the Sonora Mining Corporation Mine in Jamestown, this mass of gold and quartz was later found to be the largest piece of crystalline gold. Hydrofluoric acid was used to separate the quartz from the actual gold material in order to get a more accurate measurement. The remaining gold was found to be 98% pure.
Did You Know?
The miners who first saw the Ironstone's Crown Jewel originally thought that they'd stumbled upon a piece of scrap metal! This beautiful gold nugget is now on display at a heritage museum in Ironstone Vineyards in California, along with other items related to the Gold Rush.
Normandy Nugget
Weight: 819 troy ounces
Discovered By: Unknown
Year Discovered: 1995
Location of Discovery: Australia


Source: wikimedia.org
Now on display at the Perth Mint, the Normandy Nugget was previously regarded as the largest gold nugget discovered. This beautiful gold nugget was uncovered in a dry creek bed in a mining area in Kalgoorie, Western Australia. It is currently owned by Normandy Mining, and is on a long-term loan for display in the Perth Mint museum.
Did You Know?
The purity of the Normandy Nugget lies between 80% and 90%. This purity level places the nugget's melt value at well over a million dollars!
Hand of Faith
Weight: 875 troy ounces
Discovered By: Kevin Hillier
Year Discovered: 1980
Location of Discovery: Victoria, Australia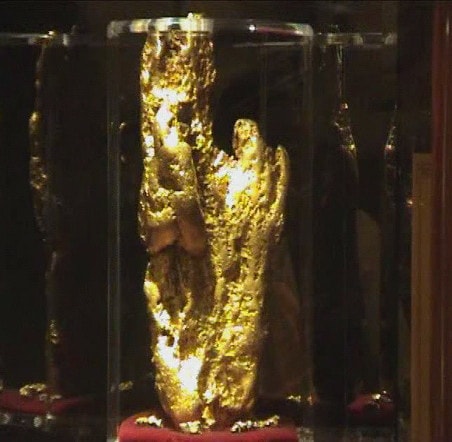 Source: wikimedia.org
Many people mistake the famous Hand of Faith as a relic of the American Gold Rush, but it was actually discovered in the small Australian town of Wedderburn. Kevin Hillier experienced the lucky stroke of a lifetime and uncovered this stunning find with his metal detector. The massive Hand of Faith was waiting to be found only six inches beneath the ground!
Did You Know?
The Hand of Faith was sold to The Golden Nugget in Las Vegas for over a million dollars, where it is still questionably advertised as the largest gold nugget in the world.
The Great Triangle
Weight: 1059 troy ounces
Discovered By: Unknown
Year Discovered: 1842
Location of Discovery: Russia


Source: fishki.net
A prominent exhibit in Russia's Diamond Fund display along with various other prime specimens of precious stones and metals, the Great Triangle gold nugget was once thought to be the largest in the world. It was found on the banks of the River Miass in an unusually rich gold field in the Russian Urals mountains. The Great Triangle gold nugget is named for its distinctive shape, and was unearthed from a depth of around 11.5 feet.
Did You Know?
The Great Triangle was put on display through the Gokhran Fund, and is the official property of the Russian State.
Pepita Canaã
Weight: 1682 troy ounces
Discovered By: Júlio de Deus Filho
Year Discovered: 1983
Location of Discovery: Brazil


Source: bcb.gov.br
Pepita Canaã is the largest gold nugget in the world today. This astounding chunk of gold is currently displayed in the "Gold Room" in the Museu de Valores do Banco Central in Brazil. It was purchased by the Banco Central do Brazil just one year after discovery. This impressive gold nugget was found by a miner in the Serra Pelada, or "Naked Mountains" gold mining region of the Brazilian state Pará.
Did You Know?
The glorious Pepita Canaã is actually said to have been even bigger when it was first discovered, but regrettably broke into several pieces while being unearthed.