NBA players consist of some of the tallest human beings among us. Usually, their height is the very first thing we associate them with. In a league where practically everyone stands at or above 6 feet 4 inches as the prerequisite to even be considered for a professional career, it's easy to take for granted how truly larger than life they seem. A giant standing amongst other fellow giants becomes average. Well, that couldn't be further from reality!
In any sport, you have the genetic outliers that separate themselves from the competition. Well, the NBA is no exception. That's why when we do come across these real-life titans of the game, we find it's worth bringing them to the front and center and recognizing them for not just their statistical contributions to the game, but for the conversations and awe-inspiring physical gifts they possess that motivate us to reach a little further, jump a little higher, and hope that if we eat enough of our green vegetables, maybe we too can one day do a windmill-360 dunk in front of thousands of adoring fans.
Pavel Podkolzin
Country: Russia
Height: 7'5
Team: National Dallas Mavericks
Active: 2004-2006

Source: rankred.com
Pavel Podkolzin was a 305-pound, 7'5 Russian-born NBA player active from 2004-2006. His NBA career was short-lived, leaving nothing to write home about other than the intimidating stature he brought with him. His size alone earned him the 21st pick in round 1 of the 2004 draft as coaches were hopeful that with some development from the coaching staff, he could be molded into a serviceable presence in the paint.
Pavel struggled, putting up lackluster numbers in two Summer League games. He was waived by the Dallas Mavericks after just six games spanning two seasons in August 2006.
Did you know?
Podkolzin had more success in Europe as a member of the junior Russian team in the 2000 European Cadets Championship where they took home the silver medal.
Chuck Nevitt
Country: United States
Height: 7'5
Team: Rockets, Lakers, Pistons, Bulls, Spurs
Active: 1982-1993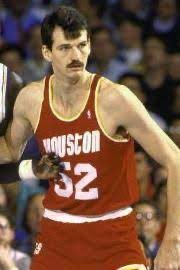 Source: famousfix.com
Chuck Nevitt was a 217-pound, 7'5 American center, and NBA journeyman. Selected in the third round as the 63rd overall pick in the 1982 draft by the Houston Rockets, his place in the draft was also a foreshadow of how his career would go. Plagued by injury and quite frankly, lack of skill to remain in the league, Nevitt played just 155 games at just 5.3 minutes per game. For the math-inclined, that equals 18 complete NBA games.
Chuck does hold the distinction of tallest player to ever win an NBA championship. As a member of the 1985, Magic Johnson-led Showtime Lakers, he found himself in the right place at the right time.
Did you know?
Nevitt played 90 games in four seasons for North Carolina State University. He averaged 3.0 points and 2.4 rebounds per game.
Yao Ming
Country: China
Height: 7'6
Team: Houston Rockets
Active: 2002-2011

Source: commons.wikimedia.org
For basketball fans and non-fans alike, Yao Ming is still a household name and an NBA legend despite his short career. A 7'6, 310-pound hero to fans across the globe, he was regarded as a one-of-a-kind talent who tragically exited the league too soon due to injury. For most big men, it's difficult to last long when they have to carry that cumbersome frame up and down the court for 48 minutes.
Yao Ming is maybe the first athlete to pioneer the game to a Chinese audience and if you follow basketball now, you know the story. Chinese fans account for a substantial portion of watchers and a lot of that is traced back to Yao Ming, his impact on the game, and the intense adoration by fans. Ming is a Hall of Fame player, 8x All-Star, and played alongside Tracy McGrady as part of that electrifying one-two punch that was must-see television.
Did you know?
Yao Ming engages in several important philanthropic ventures including, but not limited to, serving as a Global Ambassador and member on the board for the Special Olympics, advocating for the conservation of the rare northern white rhinoceros, and the CEO of the Yao Ming Foundation.
Shawn Bradley
Country: U.S/Germany
Height: 7'6
Team: 76ers, Nets, Mavericks
Active: 1993-2005

Source: commons.wikimedia.org
Shawn Bradley was a 275-pound, 7'6, German-born Goliath. He was the 2nd pick in the first round of the 1993 draft, selected by the Philadelphia 76ers. With a pick as high as that, so come the high expectations. His career statistics include 8.1 points per game, 6.3 rebounds per game, and 2.5 blocks per game, putting his size to good use. Those statistics could be called average for a 2nd overall pick, but Bradley was the 1997 block leader and an NBA All-Rookie Second Team in 1994.
He and Mavericks legend, Dirk Nowitzki, competed together on the German national basketball team but finished in fourth place in EuroBasket 2001.
Did you know?
Bradley suffered a traumatic spinal cord injury after being struck from behind by a motorist while on his bicycle that left him paralyzed. Despite the accident, Bradley stays involved in many philanthropic endeavors.
Slavko Vraneš
Country: Montenegro
Height: 7'6
Team: Portland Trail Blazers
Active: 2004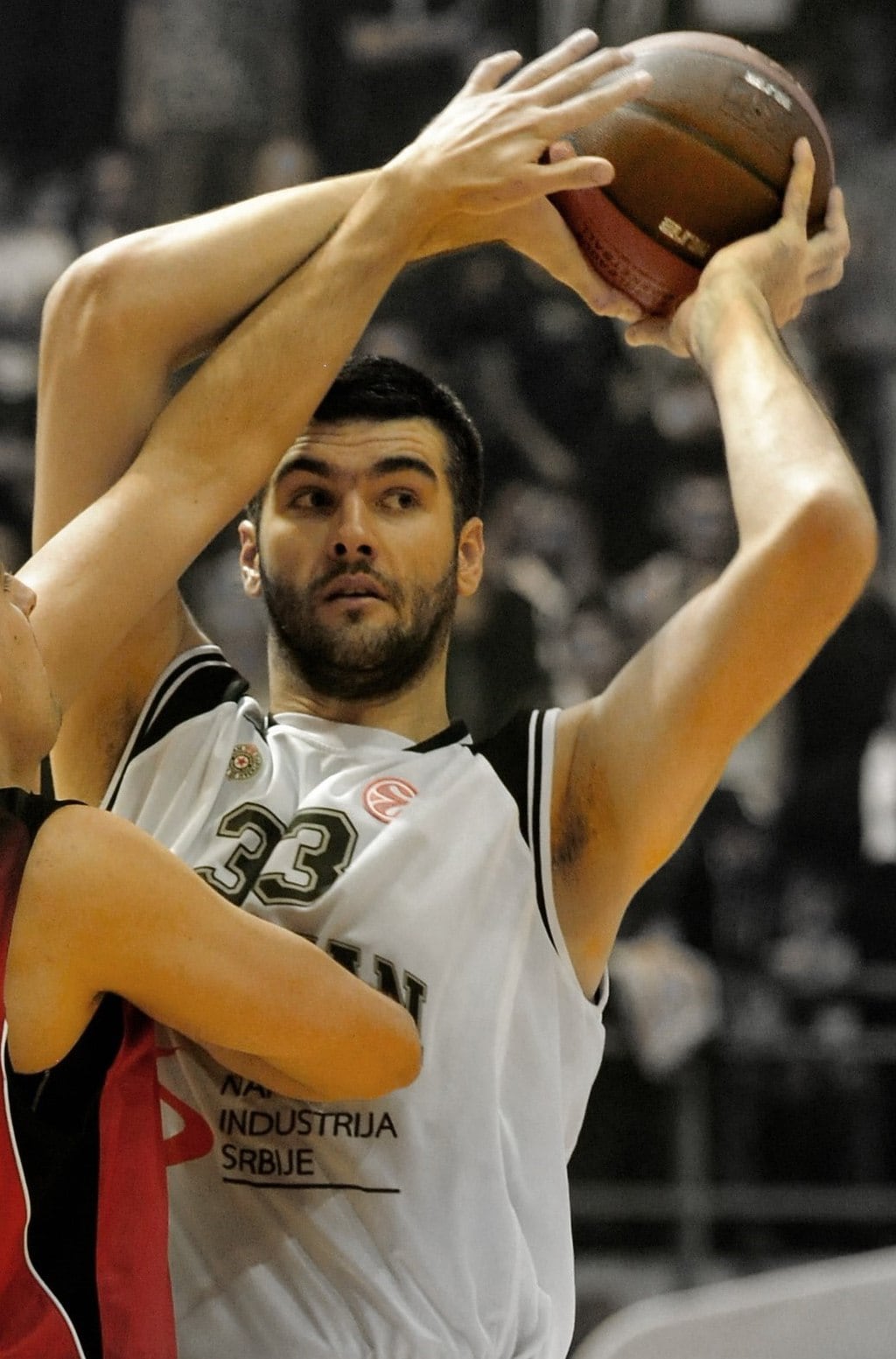 Source: commons.wikimedia.org
Slavko had a career that you would miss if you decided to blink. He played just one game in January 2004 against the Minnesota Timberwolves. He never had a chance to get a rhythm and get into the flow of the game when he entered, considering he only played for three minutes, and his play showed for it.
The 302-pound big man went 0 for 1 on shot attempts and logged a personal foul as the icing on the cake.
Did you know?
Slavko signed with Metalac Valjevo in 2017. Interestingly, during his NBA career, Slavko was listed at 7'5 by the NBA but has grown a whole inch since then. Do you think that extra inch may poise him for a comeback?
Tacko Fall
Country: Senegal
Height: 7'6
Team: Celtics, Cavaliers
Active: 2019-Present

Source: commons.wikimedia.org
If you've been following basketball over the last five years, you'll know that Tacko Fall has become something of an internet meme well before his professional career at the University of Central Florida.
The 7'6, 302-pound, un-drafted center is a fan favorite in the league. He doesn't get much playing time, but when he does step foot on the hardwood he provides meaningful minutes as a rim protector and rebounder.
Did you know?
Tacko Fall is a devout Muslim. His jersey number that he had with the Boston Celtics, 99, was a reference to the 99 names of Allah. He'll surely have a successful career off the court as well. Fall scored in the 95th percentile on his SAT exam and was a computer science major at UCF.
Manute Bol
Country: Sudan
Height: 7'7
Team: Bullets, Warriors, 76ers, Heat
Active: 1985-1994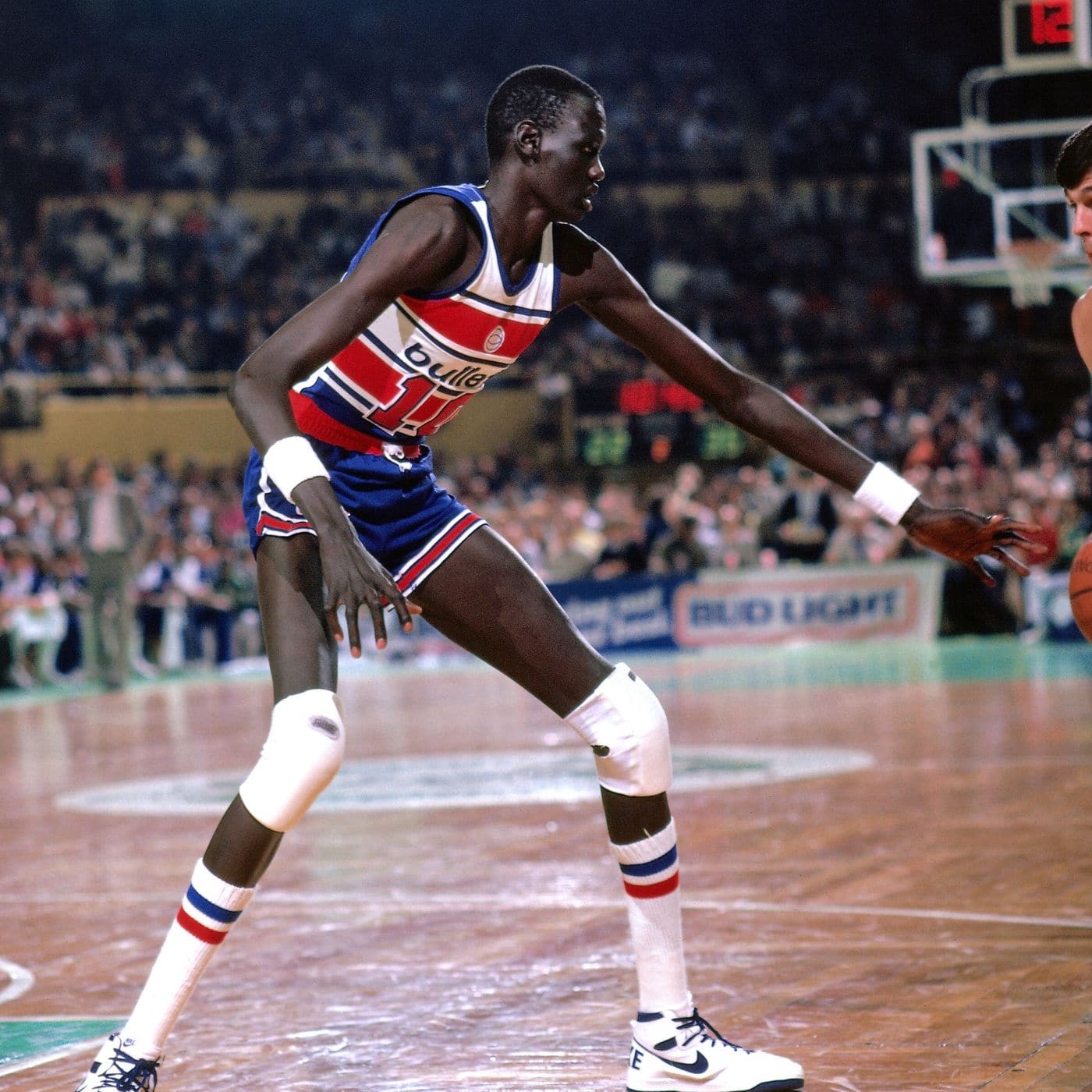 Source: dukebasketballreport.com
Manute Bol weighed just 200 pounds at 7'7. Even with that knowledge, it's hard to make sense of such a skinny frame. He was picked 31st overall in the second round of the 1985 NBA draft by the Washington Bullets.
As of 2021, he remains the only player in league history to have more blocked shots than points scored with 2,086 blocked.
Did you know?
Manute Bol has a son, Bol Bol, standing at 7'2 and following in his father's footsteps. He plays power forward for the Denver Nuggets, and thus far has been better than advertised when he went as the 44th pick in the second round of the draft. The trajectory of his career looks to be promising especially considering he's more mobile than his father was at his age.
Gheorghe Muresan
Country: Romania/United States
Height: 7'7
Team: Bullets, Nets
Active: 1993-2000

Source: romaniajournal.ro
Gheorghe Muresan is the tallest athlete to ever play in the NBA!
Standing at 7'7 and 315 pounds, Muresan slightly edges out Manute Bol in this battle between titans. He was selected in round two as the 30th overall pick to the Washington Bullets. A few memorable accolades of his include the 1996 NBA Most Improved Player and 2x NBA Field Goal Percentage Leader in 96' and 97'.
He totaled 3.020 points, 1,957 rebounds, and 455 blocked shots in his career.
Did you know?
Gheorghe suffers from a pituitary gland disorder called acromegaly, which doctors claim was the sole contributor to his almost surreal growth. His sons, George and Victor, both played basketball for the Georgetown University Hoyas.