When we think of skyscraper buildings that seem like they can stand eye-level to Mt. Everest, it's easy to point to buildings like the Burj Khalifa in downtown Dubai, which stands at 2,722' feet to tip or the Shanghai Tower, a close second at 2,073' feet.
Though the buildings in America don't quite live up to some of the achievements we'd find across the globe that feel like they belong more in a video game than in reality, we have some impressive structures in cities and states that leave tourists and locals with a sense of awe-inspired wonder. The tallest building we have in America is the One World Trade Center which stands proud as the new symbol of perseverance and strength at 1,776' feet.
But there's a city in Colorado that may not have buildings that reach those same heights of New York and Dubai, but they are just as impressive, and are marvels of human engineering.
555 17th Street
Year: 1978
Height: 507 ft.
Floors: 40
State: Colorado

Source: commons.wikimedia.org
The 555 17th Street building, established in 1978, was formerly known as the Anaconda Tower and the Qwest Tower. As far as the Denver engineering of the 1970s goes, this was the tallest building constructed for the time.
Since its inception, the skyscraper has been upgraded with several environmentally conscious features, which include electric ballast lightning technology and a 600-ton heat exchanger. Because of its green, progressive features, the building was designated a "Labeled Building" by Energy Star and the United States Environmental Protection Agency. That's a good look for an already environmentally forward city!
Did you know?
The property managers are Cushman and Wakefield, the same company that owns the Grand Hyatt.
707 17th Street
Year: 1981
Height: 522 ft.
Floors: 42
State: Colorado

Source: commons.wikimedia.org
707 17th Street building, formerly known as MCI Plaza and Arco Tower, was established in 1981 and stands at 522 ft. Today, it goes by the name, Jacobs Building, and sports 42 floors currently.
MCI Plaza was in control of this behemoth until 2005 when they filed for bankruptcy just three years earlier. Verizon Communications filled the void of ownership and took over on February 14, 2005. The design of the building is unique with the structure bulging out and becoming wider on the 21st floor which is known as a "setfront." This sets itself apart from its peer in Denver, which showcase the more common "setback" design.
Did you know?
The face of the building is composed of black glass which is in step with the more modern, international-style known as "black box" architecture.
1999 Broadway
Year: 1985
Height: 545 ft.
Floors: 43
State: Colorado

Source: commons.wikimedia.org
The 1999 Broadway building stands at 545 ft. It is a 46-story, beautifully constructed office building designed by Curtis W. Fentress of Fentress Architects. Its peculiar, triangle shape with a scoop in the side was born out of the desire to keep the historical Holy Ghost Catholic Church, which the building is built around, at the base of the building.
Fentress knew not to interfere with karma by building a modern landmark on ancient and holy ground! It also contains 680,227 square feet in total and is joined by Welton Street, 19th Street, 20th Street, California Street, and Broadway.
Did you know?
1999 Broadway is home to some VIP tenants and is a staple in commercial office buildings.
1144 Fifteenth
Year: 2018
Height: 640 ft.
Floors: 42
State: Colorado

Source: commons.wikimedia.org
The 1144 Fifteenth building tops out at 617 ft. with 42 floors to boot. At the time of its completion in 2018, 1144 Fifteenth was the tallest office building built in Denver in over 30 years.
The architecture for this building was outsourced to an international group called, Picard Chilton, and it sports floor-to-ceiling windows that take advantage of the beautiful Colorado views of the mountain and cityscapes. Because of the ambitious design decisions, natural light is the primary source of light throughout the entire structure!
Did you know?
The origins of the office tower took place as far back as 20 years ago and had a struggle to get from the page to concrete because of the ever-changing real estate market taking place in Denver. Interests in the project would pick up sporadically and then be dropped again. Rinse and repeat until its eventual opening in 2018.
Four Seasons Hotel & Residences
Year: 2010
Height: 640 ft.
Floors: 45
State: Colorado

Source: commons.wikimedia.org
There are many Four Seasons Hotel & Residences' but this one stands proud above the rest as Denver's fourth-largest skyscraper. It stands at 640 ft., 45 stories, with 24 residential floors on top of 21 floors designated for hotel guests.
Altogether, it is comprised of 766,487 sq ft. of floor space and came at the eye-popping cost of $350 million. In other words, that makes it the most expensive privately owned building that's been built in Denver. One could say it's well worth it though as it's more like a YMCA than just a living space. It incorporates pools, a fitness center, and other vital residential and hotel guest amenities.
Did you know?
There are 239 total rooms, 21 suites, and 101 residential units. The interior design came from Carney Logan Burke Architects and HKS.
Wells Fargo Center
Year: 1983
Height: 698 ft.
Floors: 52
State: Colorado

Source: commons.wikimedia.org
The Wells Fargo Center, otherwise known as "The Cash Register," is a 709 ft., 53-floor skyscraper developed in 1983. It got its flattering nickname because of the way the upper floors curve together and resemble the shape of an old-school cash register. Between you and I, given the name of the building is after a bank, it seems a little too convenient for it to be just a harmless coincidence. Maybe there was a little subliminal marketing afoot during its inception!
The building was designed by Phillip Johnson with the intention of becoming a downtown area in Texas before it found its home in Denver. The building is so big that it even has its own zip code: 80274.
Did you know?
A three-year renovation of the lobby went underway in 2016 as part of an effort to bring the skyscraper into the modern age and blend it into the areas surrounding it that were a little more reflective of the times. With that in mind, ESI Design developed an 8-story digital art installation in the glass atrium accented by new furniture and lighting.
1801 California
Year: 1983
Height: 709 ft.
Floors: 53
State: Colorado

Source: commons.wikimedia.org
The 1801 California is Hollywood not just in its name but also in its grand scale. Standing at 709 feet with 53 floors, this structure, developed in 1983, was the tallest building in all of Colorado until the next one that we'll read about on the list claimed its title. The roof is home to an antenna mast that adds another 29 feet of verticality to this looming giant, topping it off at 738 feet.
The lobby of 1801 California offers LA-caliber dining as well with an Ink Coffee placed in the lobby, an 1801 Eatery, and the Guard and Grace Steakhouse.
Did you know?
1801 California was once the host of the brightest high-rise signs in the world. The light blue colored signs were at the time in 2000 visible from over 70 miles away, which means it practically doubled as a lighthouse. After a few complaints from the locals, the Qwest was removed and replaced with darker blue ones, which were less invasive and reduced energy costs drastically.
Republic Plaza
Year: 1984
Height: 714 ft.
Floors: 56
State: Colorado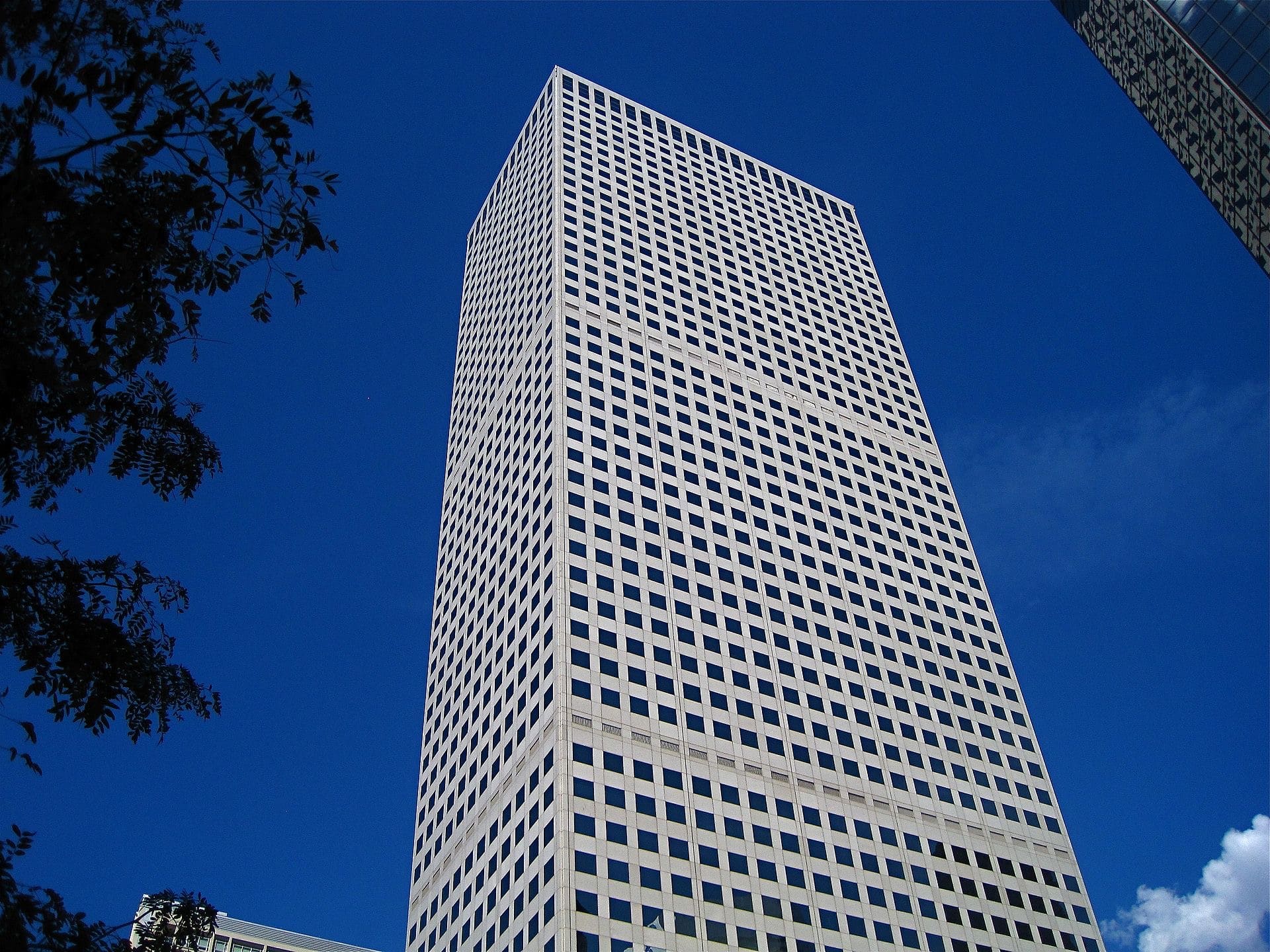 Source: commons.wikimedia.org
The Republic Plaza is the tallest building in Denver, Colorado!
The Republic Plaza stands at 714 ft. with 56 floors within. Developed in 1984, it holds the distinction of the tallest building since its birth.
It's comprised of 1,200,000 square feet occupied by office space, retail shops spanning three levels, restaurants, and other service businesses. It's also a bit of an art gallery as the lobby features an "Art in Public Places" event every quarter that champions Colorado and regional artists.
Did you know?
This skyscraper makes the perfect home to the American Lung Association in Colorado's Anthem Fight for Air Climb. The event is simple and promotes the importance of lung health by testing the participants' endurance in a 56-story stair climb to the top of the building.