UFC fighters are the closest thing we have to modern-day gladiators. Every time a fighter steps into the octagon, the modern-day coliseum, they confront their mortality and the blood and sweat that's left behind them proves it. Two fighters have a very specific and singular goal, and that is to put their opponent on the canvas and have them remain there. With no one to rely on but the referee, fighters at the elite level have to use every advantage given to them whether it's genetically or through rigorous training.
That's why when we see fighters who possess an attribute such as height often succeed. It gives them the critical advantage of reach to replace what they might lack in muscle due to their long frame. A fighter that combines height and muscle is a genetic lottery winner. You throw dedication into the mix and now you have a triple-threat.
So, join me while we take a look at some of the tallest fighters to ever step into the eight-sided coliseum we like to call the UFC octagon.
Paul Varelans
Age: 51
Height: 6'8
Weight: 300 lbs
Active: 1995-1998

Source: mmamania.com
Paul "The Polar Bear" Varelans was a 6'8 unit with an appropriate nickname. Weighing upwards of 300 lbs, Varelans began his career as a boxer and football player before joining UFC in 1995. In his debut at UFC 6, he made it to the semifinal round of the tournament before losing to an equally intimidating fighter nicknamed, David Lee "Tank" Abbott.
In his UFC career, Valerans appeared in UFC 6 as a tournament semifinalist, UFC 7 finalist, and UFC 8 semifinalist. He played a pivotal role in the infant stages of the UFC as a fan favorite and was responsible for bringing many new viewers to the sport.
Did you know?
In December 2021, Varelans tragically passed away after contracting Covid-19 and being put on a mechanical ventilator. He passed on January 16 in Atlanta, Georgia.
Tim Sylvia
Age: 45
Height: 6'8
Weight: 265 lbs
Active: 2001-2012

Source: commons.wikimedia.org
Tim Sylvia was a 265 pound, 6'8 fighter, two-time heavyweight champion with an 80-inch reach to make him even more terrifying. His debut came in 2001 fighting for the IFC. He collected 13 straight wins with 10 coming by way of knockout.
In 2002, Sylvia signed with UFC. His championship victory came at UFC 41 when he defeated Ricco Rodriguez, becoming the UFC heavyweight champion for the first time. When UCF 44 came around, he defended his title with a victory against Gan McGee.
Did you know?
Sylvia's record is very impressive. Of 42 matches, he has 31 wins and just 10 losses, and 22 of those victories came by knockout. It's no surprise he was infamous for his tremendous power.
Emmanuel Yarborough
Age: 51
Height: 6'8
Weight: 704 lbs
Active: 1994

Source: prowrestling.fandom.com
You can take one look at Yarborough and know he had a body that would be more suited towards sumo wrestling. Well, if that's what you were thinking, then you'd be pleased to know he did compete in amateur sumo in 1992 where he won silver medals in the Sumo World Championships in 1992, 1994, and a bronze in 1993.
The 700+ lb, 6'8 American native became a mixed martial artist for the UFC and took part in UFC 3 where he represented the art of sumo. His entire record consists of one win and two losses.
Did you know?
Starting at the non-assuming weight of just 282 lbs, Yarborough ballooned to 704 lbs which made him the heaviest living athlete according to the Guinness World Records. Unfortunately, even after dropping down to 500 lbs post-career, he passed in 2015 due to a heart attack.
Dan Christison
Age: 49
Height: 6'8
Weight: 265
Active: 2001-2010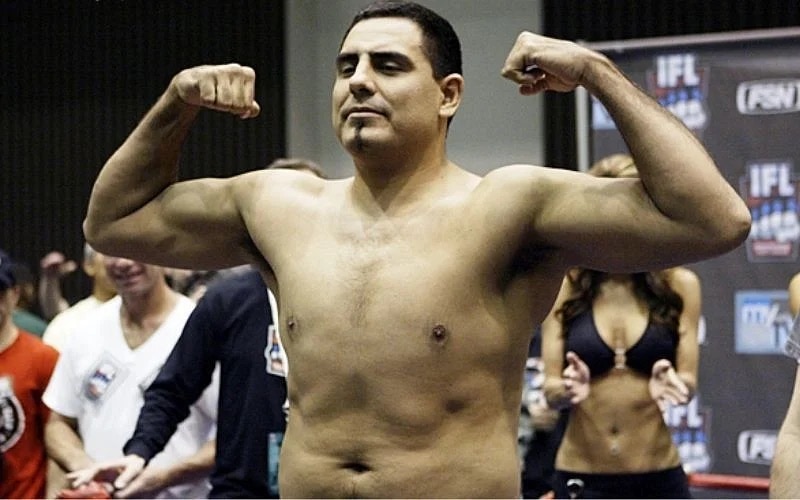 Source: sportskeeda.com
Daniel "The Sandman" Christison was a 6'8, 265 lb mixed martial artist. Along with fighting in the UFC, he fought in the WEC and IFL. Accounting for all the leagues he fought in, he was in 27 professional bouts and walked away victorious 20 times.
Before becoming the well-rounded mixed martial artist that fans saw in the UFC, he studied Chinese martial arts before transitioning into Brazilian jiu-jitsu.
Did you know?
The Sandman went 0-6 in any fight that made its way to decision. All his victories came from 8 knockouts and 12 submissions.
Wes Sims
Age: 42
Height: 6'10
Weight: 260 lbs
Active: 2001-2013

Source: tapology.com
Wes Sims was a 6'10, 260 lb mixed martial artist. Before that he played a little basketball at Amanda-Clearcreek High School. He was good enough to play for Mount St. Joseph University but dropped out after just one semester to pursue a career in wrestling.
His professional record was extensive but middle-of-the-road in success. Out of his 42 fights, which is impressive in itself, he notched just 24 wins. He had 13 knockouts and nine submissions.
Did you know?
During his early career in wrestling, he was taken under the wing of the legendary UFC fighter, Mark Coleman, who was mostly responsible for steering him into the direction of mixed martial arts. Mark stated his height would be\ a huge advantage against opponents. With the record he touted, it's hard to tell whether it was the right decision. Regardless, he became a household name in the legacy of the UFC.
Gan McGee
Age: 44
Height: 6'10
Weight: 260 lbs
Active: 1999-2009

Source: sherdog.com
Gan McGee was a 6'10, 260 lbs martial artist who fought for PRIDE, UFC, WEC, and the XFC. Born to be a fighter, McGee shined as a wrestler for Ukiah High School and carried his success to the University of Iowa and California Polytechnic State University.
In MMA, he took on 18 opponents and conquered 13 of them. 11 of those came by knockout as well. In September of 2003, McGee had a chance to become the UFC Heavyweight Champion in UFC 44 but lost in a first-round TKO to fellow big man, Tim Sylvia.
Did you know?
McGee has been rekindling his passion for the fight game and is poising himself for a comeback that he hopes will net him a second chance at the Heavyweight Belt but with a different result this time!
Semmy Schilt
Age: 48
Height: 6'11
Weight: 256 lbs
Active: 1996-2013

Source: commons.wikimedia.org
Semmy Schilt is a Dutch-born martial artist standing at 6'11 and weighing 256 lbs. He also goes by the name, "Hightower." Mixed martial arts runs in the family since both of his parents were practitioners in a martial art called Kyokushin kaikan. Schilt began training with his family as early as eight years old. At 12, he switched to an offshoot of the martial art called Ashihara kaikan and ranked black belt just six years later.
Before UFC, he fought in the K-1 World Grand Prix Championship and is the only fighter in K-1 history to win it three times in a row. As a kickboxer, he's one of the most decorated athletes of all time, winning five tournaments, and is considered one of the division's all-time greats. His record will do the talking with 50 total fights and 43 wins. 20 came by way of knockout.
Did you know?
Because of a heart condition discovered by his medical team, he was instructed to retire, and smartly, he did so immediately. It's a shame such a decorated career was cut short, but Schilt has left a legacy that will forever be remembered and near impossible to match.
Stefan Struve
Age: 33
Height: 7'0
Weight: 265 lbs
Active: 2005-2021

Source: commons.wikimedia.org
Stefan Struve is the tallest UFC fighter of all time coming in a height of 7ft!
This Netherlands-born 7'0, 265 lbs skyscraper was originally a football player at 14 years old. It wasn't until his brother showed him the inside of a martial arts facility that Struve decided it was what he wanted to do with his life.
In the UFC, he lost his first bout but ultimately bounced back to have a decent career. He was in 42 fights and recorded 29 wins under his belt. He never earned any championship belts.
Did you know?
Struve retired in 2021 due to the discovery of an enlarged heart and bicuspid aortic valve which seems to be all too common in men who are as big in stature as he is. Stefan and his wife live comfortably with their son, Tobi.