Like most sports games, there's a huge amount of variance between the length of a good tennis match. If one player pulls some great moves or gets a lucky break, then a match might be resolved quickly. However, if both sides are more evenly matched, things can run on for quite some time!
So, just how long have the lengthiest Wimbledon matches in London gotten? Today we'll be taking a look at 9 of the longest matches in Wimbledon history and ranking them according to how much time they took. We'll also learn some interesting background information about the players!
Julia Görges vs. Katarina Srebotnik
Length: 03:41 hours
Wimbledon Edition: 119th
Year: 2008
Victor: Julia Görges

  Source: wikimedia.org
German tennis player Julia Görges began her professional sports career in 2005, reaching the worldwide ranking of top 100 in just three short years. This Wimbledon match was actually Julia's first Grand Slam main-draw match victory, and she began playing in matches through the Women's Tennis Association (WTA) more often during the following year. Her opponent, Katarina Srebotnik, has had a rich career as well, soldiering on in spite of injury and often winning numerous titles per year.
Did you know? 
Julia won her first WTA title in 2010 after beginning the season with the ASB Classic.
Chanda Rubin vs. Patricia Hy-Boulais
Length: 03:45 hours
Wimbledon Edition: 109th
Year: 1995
Victor: Chanda Rubin

  Source: wikimedia.org
Chanda Rubin, who made it into the sports Hall of Fame in 2013, had a long career filled with accomplishments before she retired. Despite sustaining a series of injuries, she ranked as high as the number 6 best tennis player worldwide. The third set of this match against Patricia alone lasted for two hours and four minutes, and both exhausted players just wanted to be done!
Did you know? 
By the time this match was nearing its end, Chanda said she wasn't even sure she cared about winning anymore and just wanted to get inside with some air conditioning!
Rainer Schüttler vs. Arnaud Clément
Length: 05:12 hours
Wimbledon Edition: 122nd
Year: 2008
Victor: Rainer Schüttler

  Source: wikimedia.org
Rainer Schüttler began playing tennis at the young age or nine, eventually attaining a rank as high as number 5 in the professional tennis world! His opponent in this match, Arnaud Clément, achieved a ranking of number 10. Rainer also became the first German tennis player since Boris Becker to have made it to the fourth round in all Grand Slams.
Did you know? 
Rainer's victory in this match resulted in him playing against Rafael Nadal in the semifinals.
Pancho Gonzales vs. Charlie Pasarell
Length: 05:12 hours
Wimbledon Edition: 83rd
Year: 1969
Victor: Pancho Gonzales

  Source: wikimedia.org
One of the most interesting details about this match is that Pancho Gonzales was notably older than his younger and seemingly much stronger opponent, Charlie Pasarell. However, despite the crowds thinking that Charlie was sure to win, Pancho continued to push himself back from the brink of defeat time and time again until he finally won. Charlie Pasarell also reportedly seemed to be fading throughout the match and pulled less confident moves later in the game.
Did you know? 
Pancho Gonzales was arguably one of the most famous professional tennis players of the 1950s and won 14 different major singles titles!
Novak Djokovic vs. Rafael Nadal
Length: 05:16 hours
Wimbledon Edition: 132nd
Year: 2018
Victor: Novak Djokovic

  Source: lastwordontennis.com
One of two epic matches to take place in 2018, this face-off between Novak Djokovic and Rafael Nadal turned out to be a monumental victory for Novak, who had only returned to the playing court that January. He'd sustained an elbow injury for 18 long months before finally announcing halfway through 2017 that he was taking the rest of the season off to heal! His opponent, Rafael Nadal, has won 19 Grand Slam singles titles, which is the second most in the history of male players.
Did you know? 
Novak Djokovic won 31 different titles in the Masters 1000 series!
Greg Holmes vs. Todd Witsken
Length: 05:28 hours
Wimbledon Edition: 103rd
Year: 1989
Victor: Greg Holmes

  Source: avac.us
This match was so long that it stretched across three days because of interruptions such as nightfall and bad weather! In a difficult turn of events, Greg Holmes was scheduled to play against much more well-rested opponent Amos Mansdorf a mere two days after this grueling match and lost. All in all, the match's fifth set included 26 games.
Did you know? 
It's difficult to know for certain whether this match was the longest in history at the time, since records weren't well-kept in the past, but John Parsons stated: "It's certainly the longest in the Open era that began in 1968."
Marin Čilić vs. Sam Querrey
Length: 05:31 hours
Wimbledon Edition: 126th
Year: 2012
Victor: Marin Čilić

  Source: ibtimes.co.uk
Marin Cilic was visibly relieved to have emerged victorious at last when the end of this lengthy match finally came. He spoke well of his opponent, saying that Sam Querrey had served well that day. Marin acknowledged that the next match he played wouldn't be the same since he was so tired from this one, but said that he felt prepared for it nonetheless.
Did you know? 
Marin's opponent, Sam Querrey, is known in the professional tennis world for his strong, powerful serves.
Kevin Anderson vs. John Isner
Length: 06:36 hours
Wimbledon Edition: 132nd
Year: 2018
Victor: Kevin Anderson

  Source: dnaindia.com
Another thrilling match during the 2018 season, this competition's final round alone lasted for two hours and 50 minutes! Kevin Anderson and John Isner share a long-enduring friendship, so there was no gloating or showy victory celebration when the match concluded. Instead, Kevin gave John a big hug and they both seemed relieved that the match was done!
Did you know? 
John Isner had developed a blister on his foot during the rigorous match, but said that it didn't really bother him much until he came down after the game.
John Isner vs. Nicolas Mahut
Length: 11:05 hours
Wimbledon Edition: 124th
Year: 2010
Victor: John Isner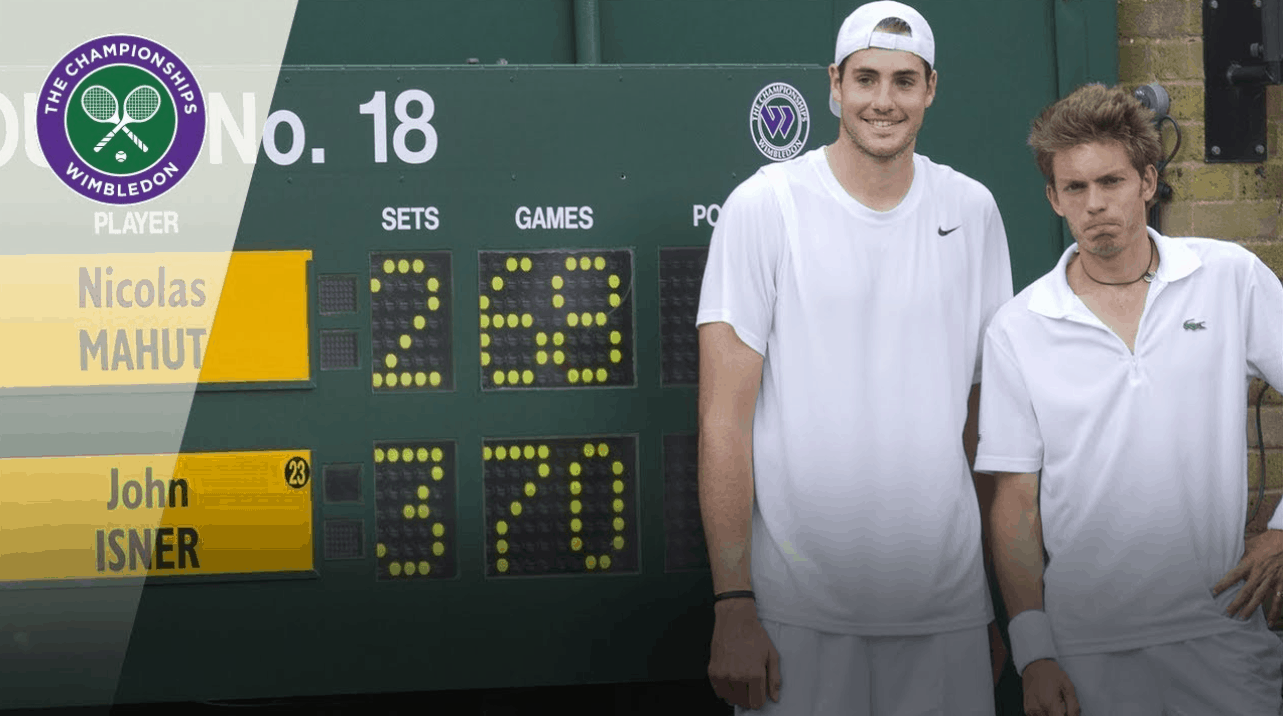 Source: youtube.com
The 2010 Wimbledon match between John Isner vs. Nicolas Mahut was the longest Wimbledon match in the history of professional tennis. It was also one of the most iconic games, containing several exciting plays and nearly doubling the time of the second-longest match between Anderson and Isner! While John Isner was excited by his victory, his French opponent Nicolas took his loss very hard, sitting for a long time with his head in his hands. However, the two exhausted players wound up striking up a friendship after the match that might not have sparked otherwise.
Did you know? 
Many fans, despite the historic nature of this record-breaking match, were unable to keep themselves interested in the game for its full duration.