Effective, well-constructed infrastructure can completely transform an area by making it easier for local culture and trade to thrive. Roads vary in length depending on a region's needs, and some can reach incredible sizes in order to cover vast distances. They can also take an impressive amount of time to build!
So, just how long can the lengthiest roads around the globe get? Today we'll be looking at the 10 longest highways in the world and ranking them according to how many kilometers long each one is. We'll also learn a little bit about each road and where it leads!
I-80
Length: 4,666 km (2,899 miles)
Location: USA
First Construction Year: 1956
Route: California to New Jersey

  Source: wikimedia.org
This interstate highway begins in San Francisco, but the original plans were in place for it to go even further west through Golden Gate Park to the Ocean Beach area. Its ending point is actually somewhat murky, and it is unclear whether the highway ends at I-95 or the Hudson River. While I-80 was constructed as one of the very components of the United States interstate system, the final segment wasn't completed until 1986.
Did you know? 
I-80 is the second-longest highway in the United States.
I-90
Length: 4,861 km (3,020 miles)
Location: USA
First Construction Year: 1956
Route: Washington to Massachusetts

  Source: wikimedia.org
I-90, the longest interstate highway in the United States, was also the second most costly highway to build after I-95. This east-west transcontinental freeway goes through 13 different states and passes through plenty of major cities, stopping by a few quirky local landmarks as well! For example, the little town of Wallace, Idaho boasts the last I-90 stop light in the Rocky Mountains.
Did you know? 
The entire stretch of I-90 that goes between Seattle and the Wisconsin-Illinois border is toll-free.
US Route 6
Length: 5,148 km (3,198 miles)
Location: USA
First Construction Year: 1922
Route: California to Massachusetts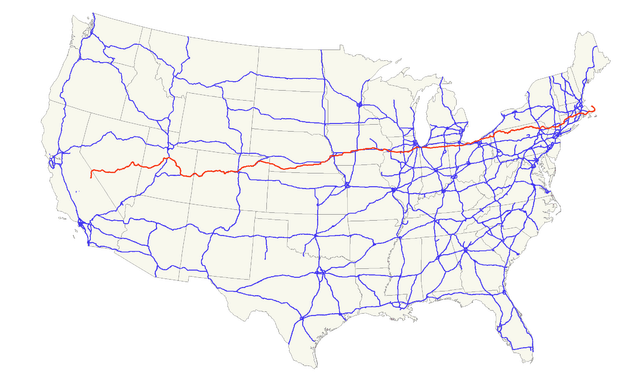 Source: wikimedia.org
This highway is also called the Grand Army of the Republic Highway in honor of the American Civil War veterans association. The route has been changed many times throughout its history, and it was the longest highway in the country during its longest time going unaltered from 1936 to 1964. US Route 6 is among the longest routes in the nation, but it used to be far less impressive than it is now, going from "nowhere to nowhere."
Did you know? 
The end of US Route 6 was heavily debated in the past, but is now clearly identified at its west end with a plaque.
US Route 20
Length: 5,415 km (3,364 miles)
Location: USA
First Construction Year: 1926
Route: Oregon to Massachusetts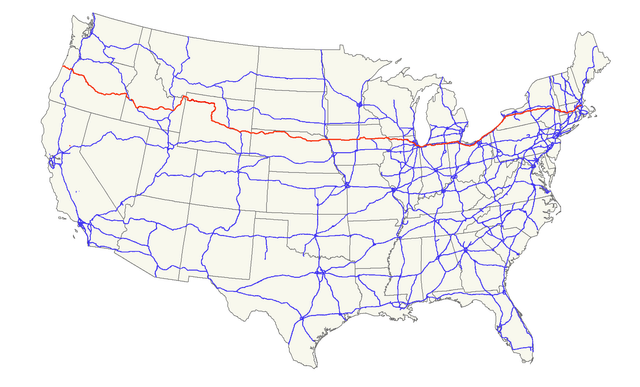 Source: wikimedia.org
Stretching all the way from the Pacific Northwest to New England, US Route 20 is the longest highway route in the United States! This highway route runs more or less parallel to I-90, and its terminal in Newport, Oregon intersects with US 101 less than a mile away from the coast. The "0" in its name is actually there to denote that the route runs coast to coast!
Did you know? 
US-20 passes by a number of breathtaking natural features and landmarks, including Salt Creek Falls in Oregon and Yellowstone National Park.
China National Highway 318
Length: 5,476 km (3,402 miles)
Location: China
First Construction Year: 1950
Route: Shanghai to Zhangmu

  Source: wikimedia.org
The longest highway in China to date used to be the China National Highway 010, which was 5,700 km long! However, that highway was discontinued and broken up into different routes beginning in 2010. The longest highway in China is now China National Highway 318! This highway ends in the Tibet Autonomous Region, making stops at most major cities along the way.
Did you know? 
The stretch of China National Highway 318 between Lhasa and Zhangmu is nicknamed "Friendship Highway."
Golden Quadrilateral Highway Network
Length: 5,846 km (3,632 miles)
Location: India
First Construction Year: 2001
Route: India's four major cities

  Source: wikimedia.org
The Golden Quadrilateral Highway Network serves to connect India's primary cultural, agricultural, and industrial areas to one another and to India's major cities. Plans for its construction began in 1999 and the building process was launched in 2001, continuing on until 2012. The project was handled by the National Highways Development Project and was said to be very ambitious!
Did you know? 
The primary goal behind the construction of the Golden Quadrilateral was to give an added boost to agricultural distribution and trade.
Trans-Canada Highway
Length: 7,821 km (4,859 miles)
Location: Canada
First Construction Year: 1950
Route: All Canadian provinces

  Source: wikimedia.org
The Trans-Canada Highway Act of 1949 approved the construction of this road, which goes through all 10 Canadian provinces. The Trans-Canadian Highway was opened in 1962, but wasn't actually completed until 1971! The main route branches off into two sections in several areas, and in each case both routes are still considered to be part of the Trans-Canada Highway.
Did you know? 
The highest spot on this highway, the Kicking Horse Pass, has an elevation of 1643 m.
Trans-Siberian Highway
Length: 11,000 km (6,835 miles)
Location: Russia
First Construction Year: 1800s
Route: St. Petersburg to Vladivostok

  Source: wikimedia.org
Despite often being overshadowed by the Trans-Siberian Railway, the Trans-Siberian Highway also covers tons of distance! The stretch of highway between St. Petersburg and Irkutsk actually predates the railroad era and is featured in an 1876 Jules Verne novel. The highway system is constructed from a mix of concrete and asphalt, but certain areas are in very bad repair. Amur Highway was one of the worst stretches until it was completely redone in 2010.
Did you know? 
One of the Trans-Siberian Highway's roads juts through Kazakhstan. 
Highway 1
Length: 14,500 km (9,009 miles)
Location: Australia
First Construction Year: 1955
Route: Australian territories

  Source: wikimedia.org
Highway 1 is the only highway in Australia to meander through all Australian states, in addition to the Northern Territory as well. Part of Highway 1 even goes through Tasmania, too! This highway was created during the initial stages of the National Route Numbering system, and many other highways serve as its tributaries. Highway 1 also goes through most capital cities and major attractions in Australia.
Did you know? 
Travelers who wish to drive the entirety of Highway 1 are urged to consider the weather while they plan, since it can get hot enough in Australia to damage vehicles!
Pan-American Highway
Length: 48,000 km (29,825 miles)
Location: USA
First Construction Year: 1923
Route: North through South America

  Source: wikimedia.org
The Pan-American Highway is the longest highway in the world. It is listed in the Guinness Book of World Records as the longest "motorable road" worldwide! This astounding road runs all the way from Prudhoe Bay in Alaska to Ushuaia in Argentina! The United States helped to finance the sections of the road that went through many of the Central American countries, but Mexico paid for its section of the highway on its own.
Did you know? 
The Pan-American Highway runs through 14 different countries in total.