Cargo ships are one of the oldest and most reliable ways of transporting goods from one location to the next, and play a huge part in resource availability and economic success. Aside from serving as important hubs that keep the nation moving smoothly, plenty of ports in the United States have a rich, interesting history.
Today, let's learn about the 10 largest sea ports in the United States! We'll be ranking these ports according to their combined inbound and outbound TEUs, or "Twenty-foot Equivalent Unit" volume, which is used to measure cargo carrying capacity.
Port of Oakland
TEUs: 1,070,642
Percentage of Total: 3.70%
Year Opened: 1927
Nearby Landmark: Chappell Hayes Observation Tower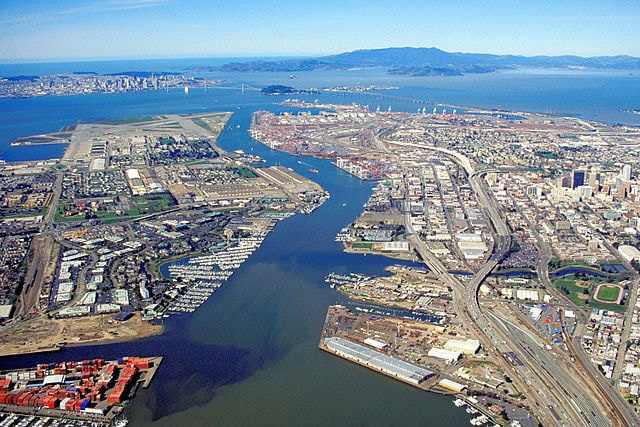 Source: wikimedia.org
Located in the San Francisco Bay in California, the Port of Oakland was the first major American Pacific port to build terminals for container ships. This port remains focused on international container shipments to this day, but is also becoming more versatile. Plans were set in motion during early 2019 to build a Major League baseball stadium right by the port.
Did You Know?
The port of Oakland is considered to be a major U.S. gateway for American exports–especially agricultural exports.
Port of Charleston
TEUs: 1,210,214
Percentage of Total: 4.20%
Year Opened: 1682
Nearby Landmark: Joe Riley Waterfront Park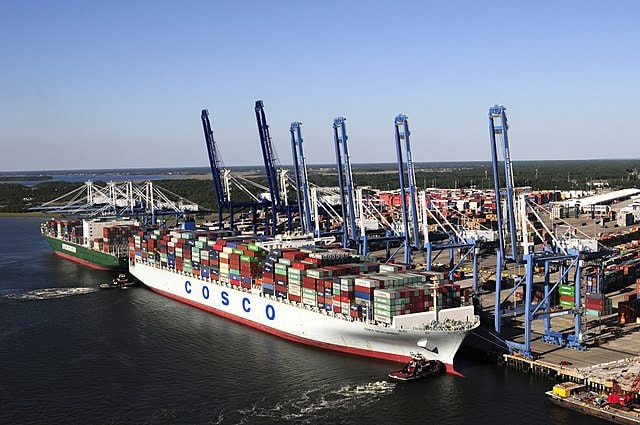 Source: wikimedia.org
This Charleston sea port is located in the largest and oldest city in the entire state of South Carolina! This historic city offers visitors ample opportunity to learn about local history and view beautiful, old-fashioned architecture–and those who are especially fascinated with maritime history can take a cruise to learn more.
Did You Know?
One in every eleven jobs in South Carolina is attributed to the SC Ports Authority, which operates facilities in Dillon, Georgetown, and Greer alongside Charleston.
Port of Tacoma
TEUs: 1,217,316
Percentage of Total: 4.20%
Year Opened: 1921
Nearby Landmark: Port of Tacoma Observation Tower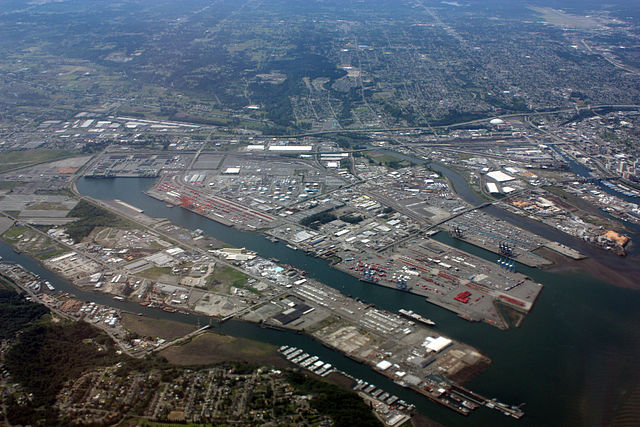 Source: wikimedia.org
The Port of Tacoma utilizes its deep water terminals to accommodate larger cargo ships than many other ports can handle, and successfully keeps port congestion low while maintaining shipping efficiency. Many of the American exports that pass through the Port of Tacoma are agricultural in nature, while imports include vehicles, toys, and electronic equipment.
Did You Know?
The Port of Seattle and Port of Tacoma come together to make up the Northwest Seaport Alliance, which handles international trade throughout the Pacific Rim.
Port of Norfolk
TEUs: 1,312,476
Percentage of Total: 4.50%
Year Opened: 1705
Nearby Landmark: Elizabeth and Lafayette Rivers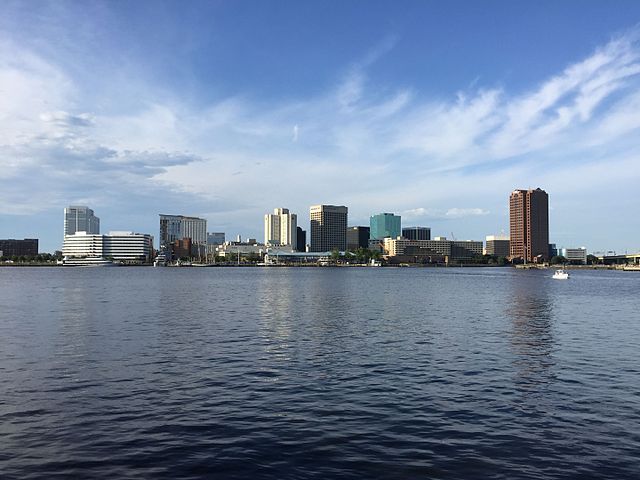 Source: wikimedia.org
The largest terminal operated by the Virginia Port Authority, the Port of Norfolk is divided into three sections: the South Terminal, the North Terminal, and the Central Rail Yard. Along with operating the Port of Norfolk, the Virginia Port Authority also manages ports in Portsmouth and Newport News.
Did You Know?
The name "Port Norfolk" was made to combine elements of both of the "twin cities by the sea," and was chosen as the winner of a local naming contest advertised through the newspaper.
Port of Seattle
TEUs: 1,567,803
Percentage of Total: 5.40%
Year Opened: 1911
Nearby Landmark: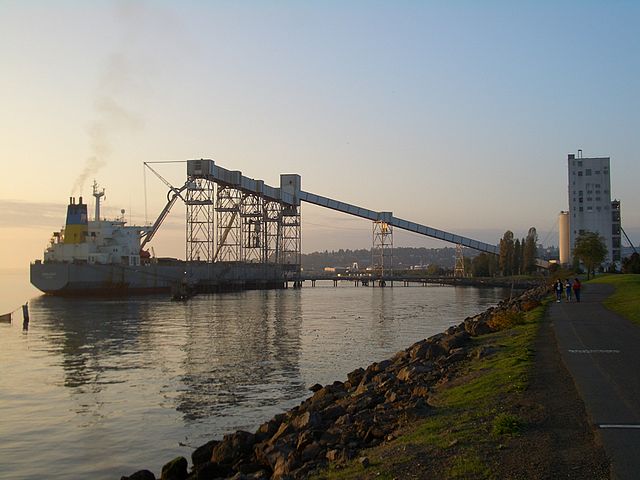 Source: wikimedia.org
For those who want to board a ship to take an Alaskan cruise, the Port of Seattle is the place to be! In addition to serving as a huge cruise ship terminal, this port also serves as a home port for fishing ships and trawlers.
Did You Know?
Terminal 86 at the Port of Seattle is a state-of-the-art, fully automated grain facility that efficiently moves grain from transport vehicles to silos, and finally to the transport ships that arrive to carry it to its destination.
Port of Houston
TEUs: 1,811,737
Percentage of Total: 6.30%
Year Opened: 1914
Nearby Landmark: George Bush Intercontinental Airport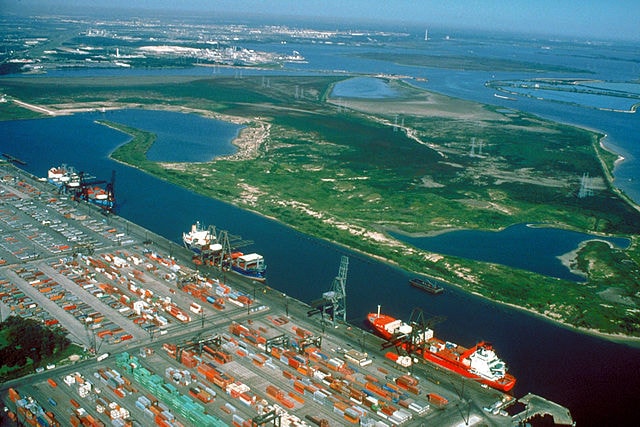 Source: wikimedia.org
The Houston region is said to be the number one region for American exports, and is home to the largest petrochemical manufacturing complex in the Americas. The Port of Houston was once compact enough for its facilities to be contained with the Houston city limits, but it's experienced so much growth that it now extends to the surrounding communities as well.
Did You Know?
Some of the main exports that pass through the Houston port are petroleum, plastics, oils, and mineral products, while major imports include wood, fertilizers, and iron and steel.
Port of Savannah
TEUs: 2,223,628
Percentage of Total: 7.70%
Year Opened: 1945
Nearby Landmark: Old Fort Jackson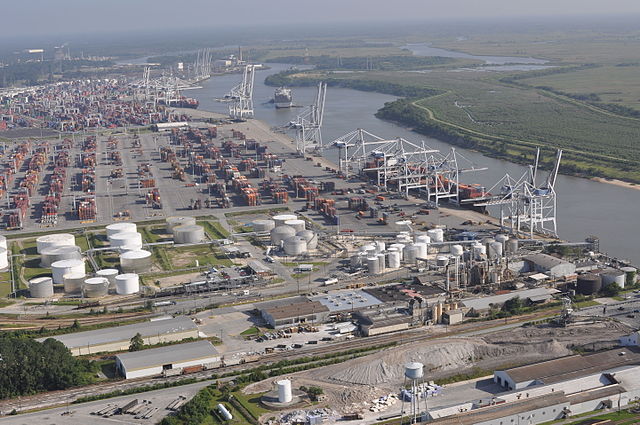 Source: wikimedia.org
The main competitor of the Port of Charleston in South Carolina and the Port of Jacksonville in Florida, the Port of Savannah is the largest single-terminal container facility of its type in North America. This port is made up of two main terminals, Ocean Terminal and Garden City Terminal–both of which are deep water facilities.
Did You Know?
While the terminals of the Port of Savannah are equipped to accommodate smaller Navy vessels, the vast majority of its traffic is made up of cargo ships.
Port of Newark and New York
TEUs: 4,196,372
Percentage of Total: 14.50%
Year Opened: 1921
Nearby Landmark: Statue of Liberty National Monument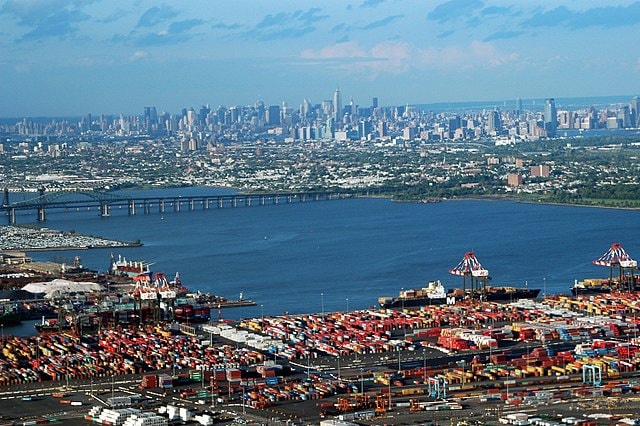 Source: wikimedia.org
Also known as the Port of New York and New Jersey, this sea port is the largest on the East Coast of the United States. This port is also said to be one of the largest natural harbors in the world, and sits with the New York Bight at its entrance.
Did You Know?
The ExpressRail facility that shoots off from the GCT Bayonne terminal in New Jersey provides a direct connection to the midwest, dramatically increasing the efficiency of cargo transportation once it's unloaded from the ships.
Port of Long Beach
TEUs: 4,364,771
Percentage of Total: 15.10%
Year Opened: 1911
Nearby Landmark: Shoreline Village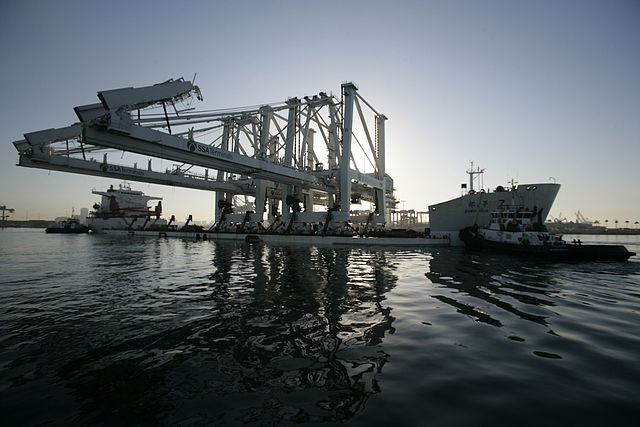 Source: wikimedia.org
Also known as the Harbor Department of the City of Long Beach, this bustling sea port is fully equipped to handle the largest cargo ships. Additionally, this port operates with a focus on environmental awareness, sustainability, and safety. The Port of Long Beach offers six container terminals, and the cargo volumes of early 2019 broke a record that stood for 13 years.
Did You Know?
Orient Overseas International Ltd. plans to sell its Long Beach Container Terminal for $1.78 billion.
Port of Los Angeles
TEUs: 5,039,363
Percentage of Total: 17.40%
Year Opened: 1907
Nearby Landmark: Cabrillo Tide Pools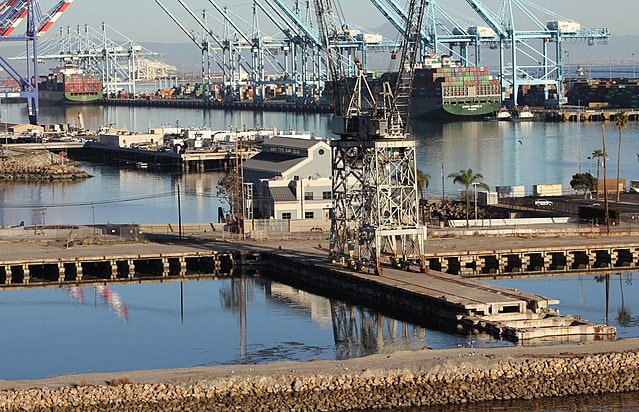 Source: wikimedia.org
The port of Los Angeles, California is the largest port in the United States by overall TEUs. This port joins with the Port of Long Beach in a massive port complex that has built Los Angeles into the largest business investment area in the United States and a colossal hub of international trade.
Did You Know?
Each year over an extended Labor Day weekend, "LA Fleet Week" is held in order to celebrate America's Sea Services, allowing guests to take tours of active duty ships.