Aircraft carriers fill pivotal roles in military development, increasing the reach of military aircraft and serving as an indicator of how formidable a nation's military is as a whole. Alongside fulfilling their duties as warships during times of conflict, many aircraft carriers also routinely patrol the waters, deter pirates, and provide humanitarian aid.
As you might imagine, any ocean vessels large enough to transport military aircraft are bound to reach some truly impressive sizes! Today we'll be looking at the 10 largest aircraft carriers in the world and ranking them according to the length of each vessel.
Chakri Naruebet
Length: 182.6 m
Speed: 25.5 knots
 Unit Cost: $336 million
 Country: Thailand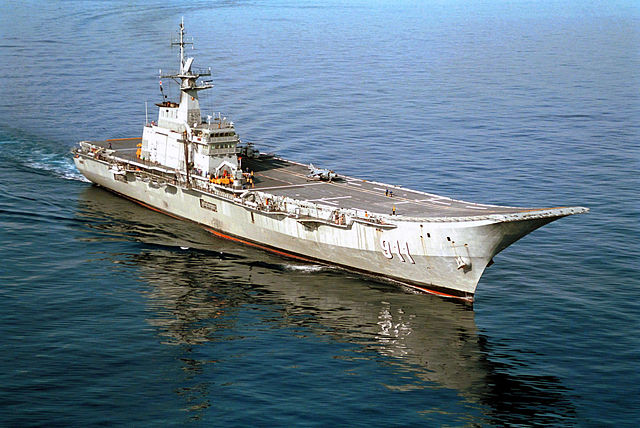 Source: wikimedia.org
The HTMS Chakri Naruebet, Thailand's largest aircraft carrier, actually has no aircraft of its own! The Chakri Naruebet was intended to serve as a symbol of the country's growing military power when it was commissioned in 1997, but the Asian financial crisis hit Thailand soon afterward and stalled the process. As a result, this large aircraft carrier
Did You Know?
The once ambitious design of the Chakri Naruebet features an aircraft ski-jump.
Cavour
Length: 244 m
Speed: 29 knots
 Unit Cost: $2 billion
 Country: Italy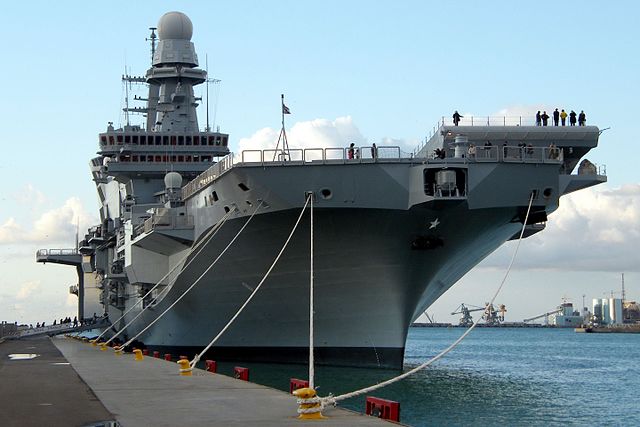 Source: wikimedia.org
Capable of carrying up to 24 battle tanks alongside transporting military aircraft and hundreds of marines, the Italian Cavour aircraft carrier is the flagship of the Italian Navy and the largest in its fleet. The Cavour's ability to carry other vehicles along with aircraft makes it highly versatile as far as aircraft carriers go, and enable it to serve in both military and civil missions.
Did You Know?
The Cavour was dispatched to Haiti in 2010 to offer aid as part of Operation White Crane.
Charles de Gaulle
Length: 261.5 m
Speed: 27 knots
 Unit Cost: $4.03 billion
 Country: France

  Source: wikimedia.org
The Charles de Gaulle is France's tenth aircraft carrier, as well as the first French aircraft carrier to run on nuclear power. This carrier can operate a fleet of up to 40 military aircraft, and is considered to be a powerful military threat. A number of modifications had to be made to the structure once construction got underway, including greater radiation protection than originally planned.
Did You Know?
The construction of the Charles de Gaulle ran significantly over budget and suffered four separate delays.
Sao Paulo
Length: 265 m
Speed: 32 knots
 Unit Cost: $30 million
 Country: Brazil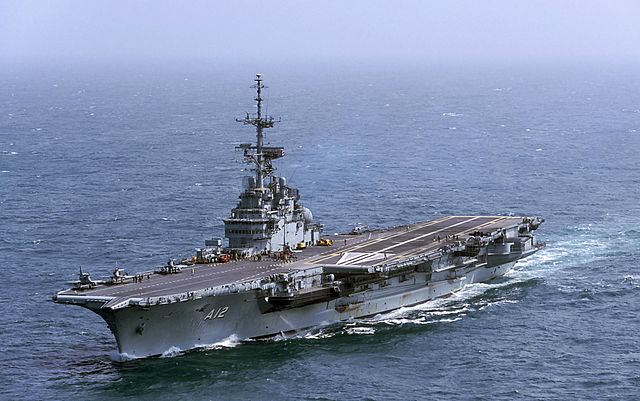 Source: wikimedia.org
The Sao Paulo was originally commissioned by the French Navy in 1963, serving under the name "Foch" until it was transferred to the Brazilian Navy in 2000 to serve as its only aircraft carrier. While Brazil had originally planned to retrofit this vessel to last many more years, it's now set to retire instead due to excessive costs. This decision leaves the United States as the only remaining operator of aircraft carriers in the Western Hemisphere.
Did You Know?
Brazil is the only country in Latin America to have operated an aircraft carrier, making the Sao Paulo especially significant.
Queen Elizabeth class
Length: 280 m
Speed: 25 knots
 Unit Cost: $10.4 billion
 Country: United Kingdom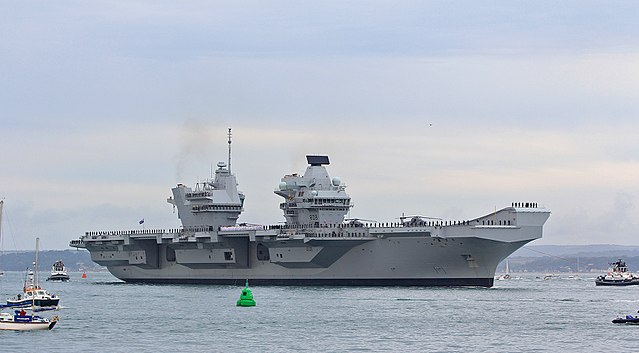 Source: wikimedia.org
95% of Great Britain's economic activity relies on ocean travel, making it absolutely imperative for its waters to stay well-protected. The impressive Queen Elizabeth aircraft carrier class serves as a solid demonstration of the UK's military power, with each massive vessel providing a four-acre mobile military base on the water.
Did You Know?
The HMS Queen Elizabeth, the lead ship of the Queen Elizabeth class of aircraft carriers, is capable of carrying as many as 72 aircraft.
INS Vikramaditya
Length: 283.5 m
Speed: +30 knots
 Unit Cost: $2.35 billion
 Country: India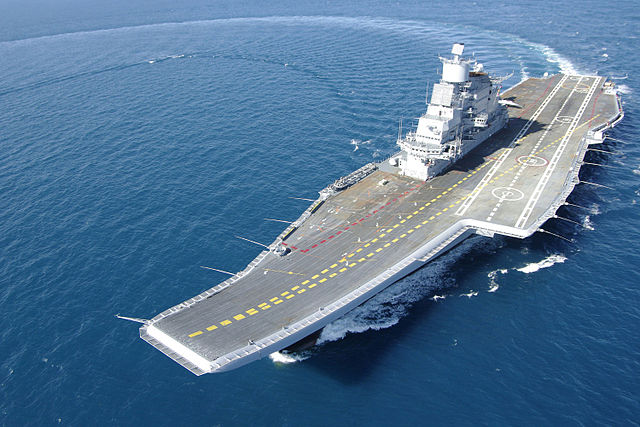 Source: wikimedia.org
The INS Vikramaditya was formerly operated by the USSR until it joined the Indian Navy in the year 2013. This impressive warship features 2,500 compartments, many of which were totally rebuilt after its acquisition from the Russian Navy along with 234 new sections of the hull. All in all, this awe-inspiring aircraft carrier weighs 45,400 tons!
Did You Know?
The name Vikramaditya is Sanskrit for "Brave as the Sun" or "having valor like the sun".
Liaoning
Length: 304.5 m
Speed: 32 knots
 Unit Cost: $9 billion
 Country: China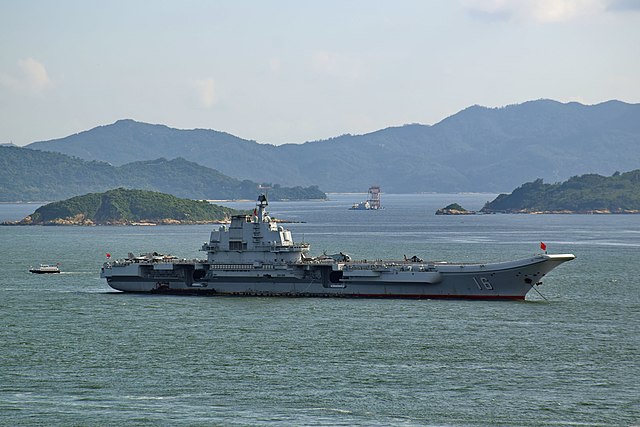 Source: wikimedia.org
This Type 001 aircraft carrier is the first to be commissioned by the People's Liberation Army Navy Surface Force and is classified as a training ship in order to allow some leeway for experimentation. The Liaoning served well as China's introduction to aircraft carrier operation, providing the knowledge necessary to move forward with the development of the Type 001A.
Did You Know?
The Liaoning was originally built for the Soviet Navy and went by the name Riga, and later, the Varyag.
Admiral Kuznetsov
Length: 305 m
Speed: 29 knots
 Unit Cost: $5.5 billion
 Country: Russia

  Source: wikimedia.org
The Admiral Kuznetsov is a heavy aircraft carrier that features ski-jumps that allow for much more versatile applications than its predecessors in the Kiev class. The Admiral Kuznetsov was the only ship of its class already completely commissioned at the fall of the USSR, with its sister ship the Varyag being sold to China following a period of inactivity.
Did You Know?
The Admiral Kuznetsov's dry-dock sank in 2018, causing significant damage and leaving the Kremlin to wrestle with the decision of whether it was financially wiser to continue refurbishments or decommission the ship entirely.
Nimitz Class
Length: 332.8 m
Speed: 31.5 knots
 Unit Cost: $1.0 billion
 Country: United States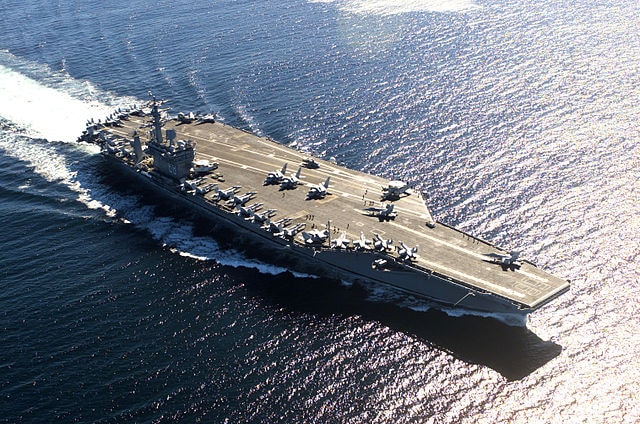 Source: wikimedia.org
Featuring an incredible 47,000 tons of structural steel each, the Nimitz class of US aircraft carriers serve as a demonstration of power and a deterrent to any would-be attackers by greatly expanding the reach of the US Air Force. These ten formidable aircraft carriers run on nuclear power, with each ship featuring two reactors on board.
Did You Know?
The Nimitz class aircraft carriers are built to function for 50 years and go 20 whole years without needing to be refueled!
Gerald R. Ford Class
Length: 337 m
Speed: 30 knots
 Unit Cost: $12.998 billion
 Country: United States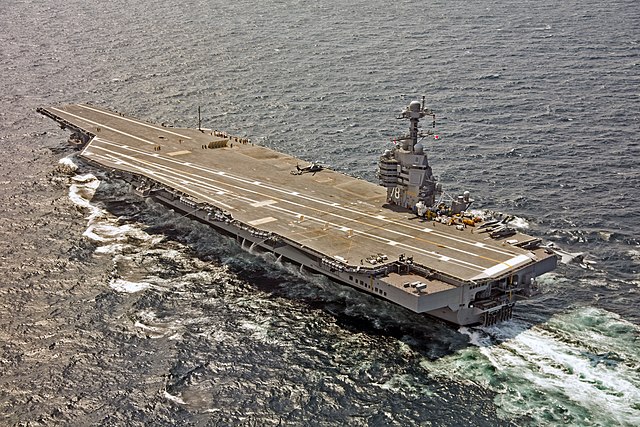 Source: wikimedia.org
The Gerald R. Ford class aircraft carrier is the largest aircraft carrier in the world by length. While the Nimitz class firmly held its reputation as the largest in the world for a number of years, it was outdone in 2017 when the Ford class entered service. These massive aircraft carriers are also the most expensive warships ever commissioned by the US Navy.
Did You Know?
The Ford class of aircraft carriers is intended to eventually replace the Nimitz class, introducing a number of more advanced features such as an Electromagnetic Aircraft Launch System.