The United States has a solid reputation for upholding the right to bear arms, resulting in a thriving gun industry. While many people still prefer to walk into a physical store and hold a firearm in their hands before buying, plenty of others are happy to opt for the convenience of buying online instead.
So, just what kind of variety can you expect to find in online gun stores? Today we'll be taking a look at 8 of the largest online gun stores in the United States and ranking them according to the number of different firearms they sell. We'll also learn some cool facts about each one's operations!
AIM Surplus
Number of Guns for Sale: 284
Highlight Brands: AIM, Wolf, Century Arms
Other Commodities Sold: Magazines and Ammo, Gun Parts, Lasers
Year Established: 1997


  Source: wikimedia.org
AIM Surplus is known for having high grade, if somewhat expensive, supplemental gear such as ammo and parts alongside its firearms. For extreme enthusiasts, the $10 "Hand Pick" option will get a shipping staff member to inspect 5 copies of the product and pick the best one to ship out.
Potential buyers can also check out the online store's blog for demonstration videos featuring just about any product imaginable.
Did you know? 
AIM Surplus also sells Curio & Relic (C&R) firearms, which either hold historic significance or are more than 50 years old.
Guns.com
Number of Guns for Sale: 1,554‬‬
Highlight Brands: Glock, Taurus, Winchester
Other Commodities Sold: Will buy and resell used guns
Year Established: 2011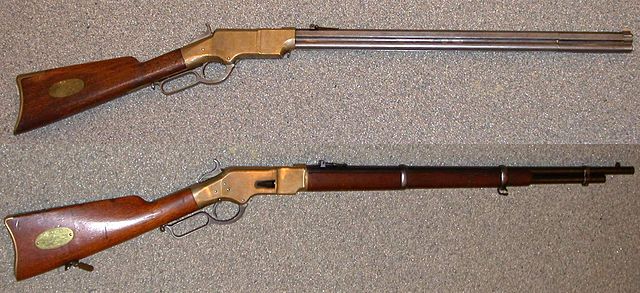 Source: wikimedia.org
This online store is as simplistic and straightforward as its name would suggest, offering guns and guns alone. After processing a customer's order, Guns.com finds the most conveniently located brick-and-mortar store and runs its credentials to make sure that it has a Federal Firearms License, or FFL before shipping.
Guns.com recently offered pre-ordering options for the Truth, a gun that enthusiasts claimed to be the embodiment of pro-gun ideals and survivalism.
Did you know? 
All firearms sold through Guns.com come with a safety lock for family protection.
Rainier Arms
Number of Guns for Sale: 2,456
Highlight Brands: Aimpoint, Benelli, Dark Hour Defense
Other Commodities Sold: Scopes, Trail Cameras, Night Vision Equipment
Year Established: 2005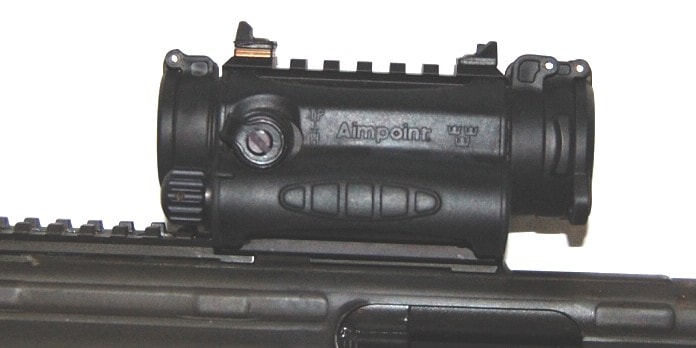 Source: wikimedia.org
Rainier Arms' online store provides tons of accessories alongside its firearms, such as sights, mounts, and even night vision goggles, cameras, and scopes. This store also states that it readily provides expert advice for its customers, maintaining an advisory team that includes military personnel and law enforcement.
The online store also provides a series of informational videos that feature first looks and product demonstrations.
Did you know? 
Rainier Arms alludes to its focus on quality with the slogan: "If we won't use it, we won't sell it."
Brownells
Number of Guns for Sale: 3,500
Highlight Brands: Colt, Browning, Ithaca
Other Commodities Sold: Gun Parts, Accessories, Survival Gear
Year Established: 1939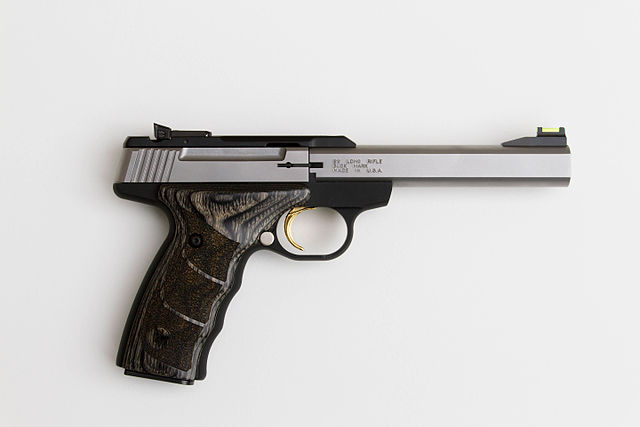 Source: wikimedia.org
Brownells offers a retail location in Iowa with a massive warehouse in addition to its online store. This store is often willing to buy used firearms or trade with customers, and first opened its online shop in order to make the process more customer-friendly.
Brownells aims to be a one-stop shop, selling not only the firearms themselves but a plethora of accessories and parts that enable customers to customize their purchases as well.
Did you know? 
The Brownells retail location is 7,000 square feet.
Palmetto State Armory
Number of Guns for Sale: 5,637
Highlight Brands: Remington, Beretta
Other Commodities Sold: Airguns, Targets, Gun Cases
Year Established: 2008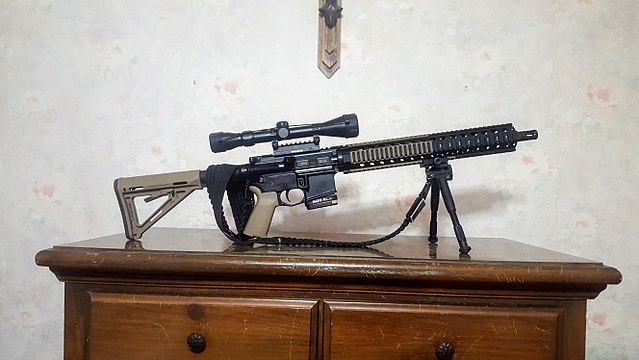 Source: wikimedia.org
The Palmetto State Armory was founded by Iraq War veteran Jamin McCallum. It quickly grew from a small online ammo store that he ran out of his garage into a full firearms manufacturer with a whole network of brick-and-mortar stores. Despite its many storefronts located throughout South Carolina, the Palmetto State Armory still maintains a powerful online presence as well.
The online store is specifically meant to fill the gap that McCallum saw when he first got started, which ignored newcomers and casual gun enthusiasts. The site offers a wealth of information, including buyer's guides for first-timers.
Did you know? 
This store gets its name from South Carolina's nickname: The Palmetto State.
Impact Guns
Number of Guns for Sale: 6,690‬‬
Highlight Brands: Apex Tactical, Dickinson Arms, Kalashnikov
Other Commodities Sold: Outdoor Gear, Electronics, Books
Year Established: 1997


  Source: wikimedia.org
Impact Guns was founded by three people with a passion for shooting who wanted to give others access to the latest and best in firearms and related gear. They also claim to have pioneered the concept of a lifetime guarantee that comes with the purchase of a new gun, placing high importance upon the reliability and reputation of their firearms.
In addition to its online store, Impact Guns has three brick-and-mortar retail locations in Utah and Idaho.
Did you know? 
Impact Guns boasts an extremely impressive variety of brands in its inventory.
Sportsman's Warehouse
Number of Guns for Sale: 8,000
Highlight Brands: Christensen Arms, Savage Arms, Glock
Other Commodities Sold: Fishing and Camping Gear, Clothing
Year Established: 1986

  Source: wikimedia.org
Founded by Bill Hayes, Sportsman's Warehouse has spent decades building its reputation as a well-rounded and widely accessible source for all kinds of outdoor and recreational gear. The company's mission statement declares that its goal is to accommodate everyone from first-time hunters to long-time outdoor enthusiasts.
In addition to providing customers with access to a wide variety of merchandise including just about every gun and camping accessory you can imagine, Sportsman's Warehouse also provides information. Customers can attend any number of casual classes, seminars, and informational presentations in order to get more information concerning the equipment at hand.
Did you know? 
Sportsman's Warehouse was trademarked "America's Premier Outfitter" in 2005, and the nickname has stuck since then.
Armslist Firearms Marketplace
Number of Guns for Sale: 45,000
Highlight Brands: Any, including Ruger and Smith & Wesson
Other Commodities Sold: Accessories, Archery Equipment
Year Established: 2007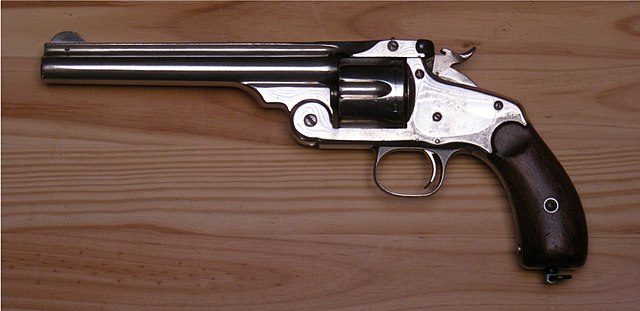 Source: wikimedia.org
Armslist Firearms Marketplace is the largest online gun store in the United States by the number of different guns sold. As the name would suggest, Armslist was founded by Jon Gibbon & Brian Mancini out of frustration with craigslist's unwelcoming attitude towards firearms sales.
In the spirit of unrestricted access to firearm sales, Armslist doesn't require anyone to create an account in order to make purchases through their platform. Additionally, no background check is required to make purchases, which leads many people to feel uncertain about the online exchange's security.
Did you know? 
While there was recently some uncertainty about whether or not Armslist was liable for illegal gun sales conducted through its online platform, the website was determined not to be liable or responsible for users' actions.