Sports fans are often known for their enthusiasm and loyalty, so it's no surprise that tons of them flock to watch their home teams compete! As a result, American sports stadiums usually need to provide a whole lot of seats in order to accommodate all the fans who want to attend the games.
So, just how many seats can the largest sports stadiums in the United States contain? Today, we'll be looking at the 10 largest sports stadiums in the USA and ranking them according to seating capacity. As chance would have it, all the top 10 largest stadiums in the USA are football stadiums, but plenty of other sporting events have been held there as well.
Cotton Bowl
Fan Capacity: 92,100
Location: Dallas, Texas
Year Opened: 1930
Tenants: Red River Rivalry, State Fair Classic, and First Responder Bowl

  Source: wikimedia.org
This stadium is strongly associated with college football and was the home of the Cotton Bowl Classic for many years. Many different football teams have called this stadium their home throughout the years, including the SMU Mustangs, the Dallas Cowboys, and the Dallas Texans. In fact, the Dallas Cowboys played their first game there in 1960! The 1994 FIFA World Cup also used the Cotton Bowl as one of its venues.
Did you know? 
This stadium was nicknamed "The House That Doak Built" because of all the fans drawn in by Doak Walker.
Sanford Stadium
Fan Capacity: 95,723
Location: Athens, Georgia
Year Opened: 1929
Tenants: Georgia Bulldogs

  Source: wikimedia.org
Officially known as the Dooley Field at Sanford Stadium, this stadium has been renovated several times in the past, with each alteration being carefully planned out to fit in with the familiar, established look. After all, the Sanford Stadium is famous for its bold hedges and striking appearance! The addition that was installed in 1994 cost $6 million and added 30 luxury suites.
Did you know? 
The Sanford Stadium's fanfare has earned it a reputation for being the "best, loudest, and most intimidating atmosphere" in college football.
Darrell K Royal-Texas Memorial Stadium
Fan Capacity: 100,119
Location: Austin, Texas
Year Opened: 1924
Tenants: Texas Longhorns

  Source: wikimedia.org
When this stadium was first opened in 1924, it was known as War Memorial Stadium, and it cycled through a few other names as well before sticking with its current name. It has also undergone a number of improvements in the past, including a $149.9 million renovation that included a huge, new scoreboard. The new board debuted during the 2006 football season, replacing the two scoreboards that previously stood at either end of the stadium.
Did you know? 
The new scoreboard was met with mixed feedback, with many fans enjoying the improved view and others complaining that it encouraged more intrusive advertising.
Bryant-Denny Stadium
Fan Capacity: 101,821
Location: Tuscaloosa, Arizona
Year Opened: 1929
Tenants: Alabama Crimson Tide

  Source: wikimedia.org
This stadium was first opened as Denny Stadium in honor of George H. Denny, who was the president of the University of Alabama, and the name was later expanded to include head coach Paul Bryant as well. The Bryant-Denny Stadium was built to replace Denny Field, and the original vision for the stadium featured 66,000 seats. However, during the first installment, a seating capacity of only 12,000 was managed.
Did you know? 
The expansion that was completed mere days before the 2006 opener cost $47 million to finish!
Tiger Stadium
Fan Capacity: 102,321
Location: Baton Rouge, Louisiana
Year Opened: 1924
Tenants: LSU Tigers

  Source: wikimedia.org
Tiger Stadium is also known as "Death Valley" because of its deafening acoustics and intimidating atmosphere as experienced by visiting teams. On the flip side, Tiger Stadium has a reputation for having one of the best-ever game day atmospheres for home players and fans. The original Tiger Stadium only seated around 24,000 fans, and six major expansions have taken place to bring that capacity up to the impressive numbers of today.
Did you know? 
This stadium was originally named Bennett Park, and its first game took place in April of 1896.
Neyland Stadium
Fan Capacity: 102,455
Location: Knoxville, Tennessee
Year Opened: 1921
Tenants: Tennessee Volunteers

  Source: wikimedia.org
Neyland Stadium is named after Robert Neyland, who served three times as head coach of the University of Tennessee football team. The stadium has undergone a whopping 16 expansions, and at one time, the capacity climbed to 104,079 seats. The seating capacity was actually reduced during the following years, but Neyland Stadium remains the second largest stadium in the Southeastern Conference!
Did you know? 
Robert Neyland learned during his last birthday that the stadium was set to be named in his honor.
Kyle Field
Fan Capacity: 102,733
Location: College Station, Texas
Year Opened: 1927
Tenants: Texas A&M Aggies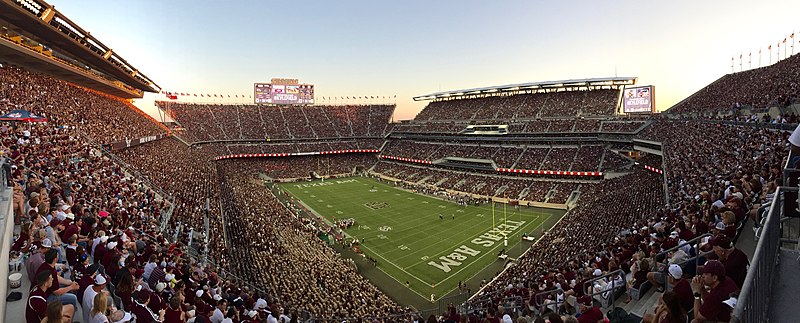 Source: wikimedia.org
Texas A&M was originally founded as a military school, and its roots in formality and respect are still present today. All fans stand to show solidarity when a player is injured, and fans often refer to themselves as the "12th man" to demonstrate that they're there to support the 11 players on the field. Kyle Field is the largest stadium in the Southeastern Conference and its largest attendance ever was 110,633.
Did you know? 
The Texas Aggies' mascot, Reveille, is a character role filled by actual dogs who are laid to rest at the special cemetery established just for them at the north end of Kyle Field when they pass away.
Ohio Stadium
Fan Capacity: 102,780
Location: Columbus, Ohio
Year Opened: 1922
Tenants: Ohio State Buckeyes

  Source: wikimedia.org
Ohio Stadium had a seating capacity for 66,210 fans when it opened as a replacement for Ohio Field in 1922, and has been known by other names such as Horseshoe Field and the House That Harley Built. The stadium is located right by the Olentangy River and has welcomed more than 36 million fans since its opening. It was one of the very first stadiums to be built from concrete, and many people worried that it wouldn't hold up.
Did you know? 
The first game played in Ohio Stadium was between Ohio State and Ohio Wesleyan.
Beaver Stadium
Fan Capacity: 106,572
Location: State College, Pennsylvania
Year Opened: 1960
Tenants: Penn State Nittany Lions

  Source: wikimedia.org
Beaver Stadium is named after James A. Beaver, who was the governor of Pennsylvania from 1887-1891. Alongside the aforementioned Tiger Stadium, Beaver Stadium is known for being a particularly difficult playing environment for opposing collegiate teams' players. Record attendance peaked at 110,889 in September of 2018 when Penn State lost to Ohio State.
Did you know? 
The first of many expansions in the Beaver Stadium was executed in 1969, when the fan capacity was increased by 2,000 seats.
Michigan Stadium
Fan Capacity: 107,601
Location: Ann Arbor, Michigan
Year Opened: 1927
Tenants: Michigan Wolverines

  Source: wikimedia.org
Michigan Stadium is the largest sports stadium in the United States by fan seating capacity. It is also aptly nicknamed "The Big House," and it has come a long way from its original seating capacity of merely 72,000 fans. Michigan Stadium has been the home of the Michigan Wolverines since it opened in 1927, offering far more space than Ferry Field where Michigan previously played. The Big House was modeled after the Yale Bowl.
Did you know? 
The Michigan Wolverines used to have live wolverines named Bennie and Biff for their mascots, but head coach Fielding Yost became concerned about their increasing aggression and retired them.