Prisons are used to detain people who are awaiting trial, as well as to keep already-convicted criminals contained. The United States harbors a very high percentage of the global prison population, and as a result, the inmate populations of each individual prison can get surprisingly high.
So, just how many people can today's prisons hold? Today we'll be looking at 9 of the largest prisons in the world and ranking them according to their average inmate populations. We'll also learn a little bit about their history and see what makes each one unique.
Dallas County Jail
Inmate Population: 4,893
Year Founded: 1966
Nearby Landmark: Dealy Plaza
Location: Texas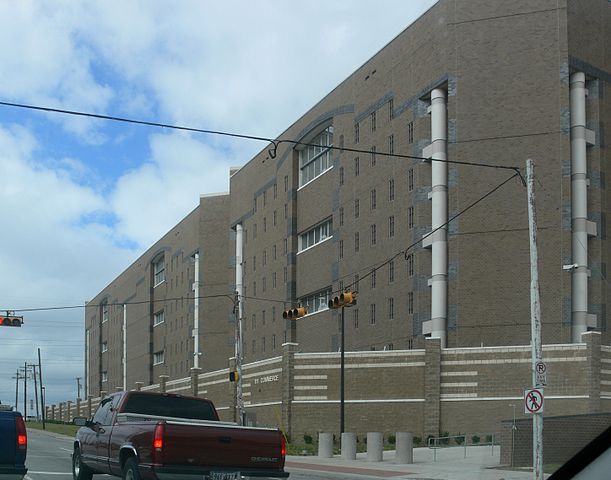 Source: wikimedia.org
The main complex of the Dallas County Jail is the Lew Sterrett Justice Center, which includes the North Tower and West Tower Detention Facilities along with the Suzanne Lee Kays Detention Facility. The inmate population of this prison used to hover at around 6,000 but, fortunately, it recently reached an all-time low.
Did You Know?
The decrease in the inmate population was certainly welcome, since each prisoner costs approximately $70 every day to care for.
Orange County Jail
Inmate Population: 6,000
Year Founded: 1889
Nearby Landmark: Newport Beach
Location: California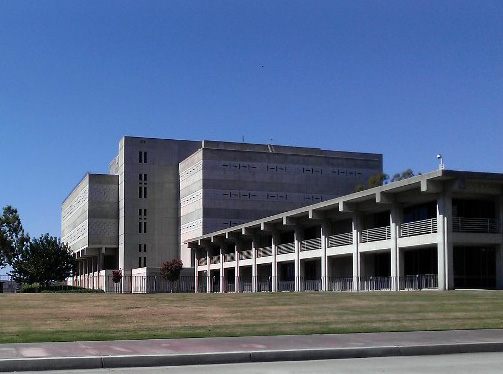 Source: wikimedia.org
As is the case with many well-established prisons, the Orange County Jail system includes a handful of separate facilities in order to keep things organized and efficient. The facilities of the Orange County Jail are the Central Men's Jail and Women's Jail, the Intake Release Center, the Theo Lacy Facility, and the James A. Musick Facility.
Did You Know?
This prison provides its inmates with a variety of commodities, including indoor and outdoor recreation, educational and vocational programs, and religious services
Cook County Jail
Inmate Population: 6,072
Year Founded: 1831
Nearby Landmark: Chicago City Hall
Location: Illinois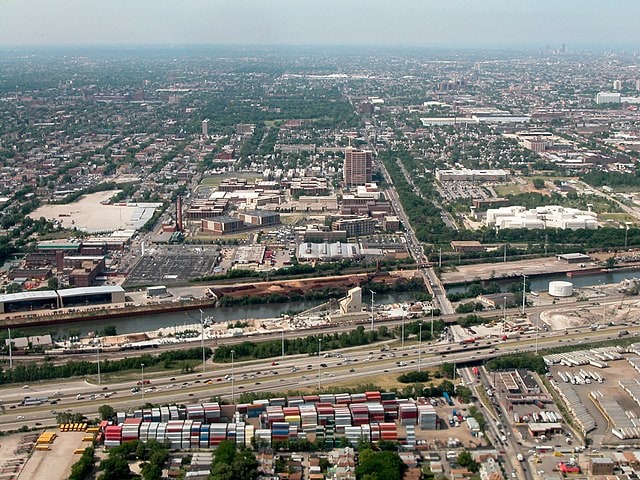 Source: wikimedia.org
Otherwise known as the Cook County Department of Corrections, this prison is the largest single-site jail in the United States, employing around 3,900 law enforcement officials in its single location. This prison is also one of the largest mental health care providers in the nation. Fortunately, the inmate population dropped by several thousand in under five years.
Did You Know?
The Cook County Jail was one of three Illinois sites that used to execute death row inmates using an electric chair. The last instance of this practice was in 1962.
Metro West Detention Center
Inmate Population: 7,050
Year Founded: 1987
Nearby Landmark: South Florida Reception Center
Location: Florida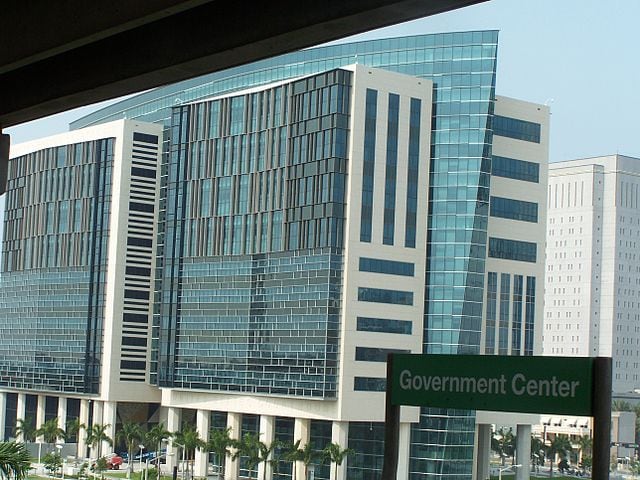 Source: wikimedia.org
The Miami-Dade Corrections & Rehabilitation Department employs around 2,906 people to keep everything in working order, keep a watchful eye on the inmates, and enforce the strict visitation rules. This prison originally began as a 400-bed temporary facility made up entirely of modular trailers, and more permanent buildings were established on the same site later on.
Did You Know?
Volunteer Lucy Collins has put on a series of Peace Education Programs for the inmates of Miami-Dade's prisons, including those of the Metro West Detention Center.
Curran-Fromhold Correctional Facility
Inmate Population: 8,811
Year Founded: 1995
Nearby Landmark: House of Corrections
Location: Pennsylvania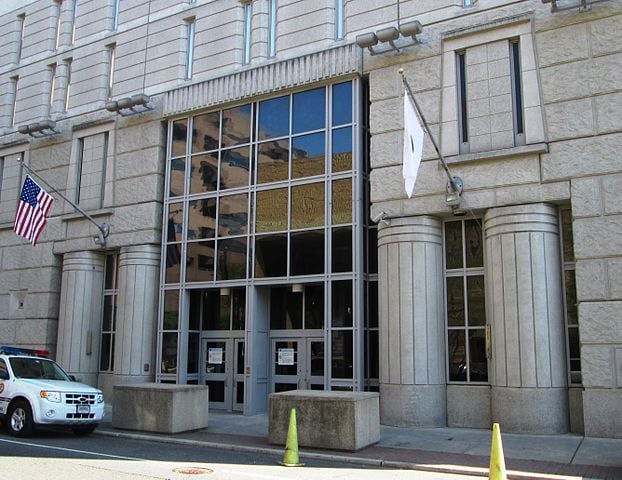 Source: wikimedia.org
This prison is named in honor and remembrance of Warden Patrick N. Curran and Deputy Warden Robert F. Fromhold, who were murdered at Holmesburg Prison in 1973. Pope Francis visited this prison in 2015 in order to give a speech delivering a message of hope and encouragement for inmates to redirect their course towards a better future.
Did You Know?
The nearby Philadelphia House of Corrections, the oldest prison in the city, is set to be closed down by the year 2020 in hopes of continuing to reduce the prison population.
Maricopa County Jail
Inmate Population: 9,265
Year Founded: 1871
Nearby Landmark: Maricopa County Courthouse
Location: Arizona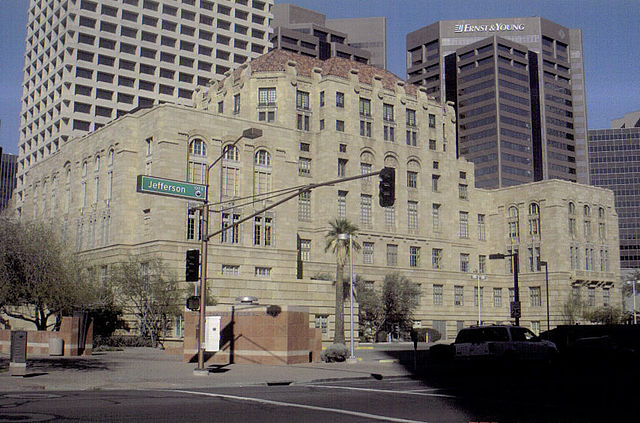 Source: wikimedia.org
The Maricopa County Jail System located in Phoenix, Arizona is made up of a number of different facilities. Each one groups inmates according to a set of classifications related to security, addiction status, and mental health. Around 8,000 Maricopa County inmates went on a hunger strike in 2017, complaining about the blandness of the food–however, regulations state that prison food cannot be seasoned with anything that might violate religious practices.
Did You Know?
In 2017, Joe Arpaio's iconic tent city jail facility, where inmates lived in tents entirely outdoors and were required to wear pink underwear, was shut down.
Harris County Jail
Inmate Population: 10,000
Year Founded: The late 1920's
Nearby Landmark: Ben A. Reid Community Corrections Center
Location: Texas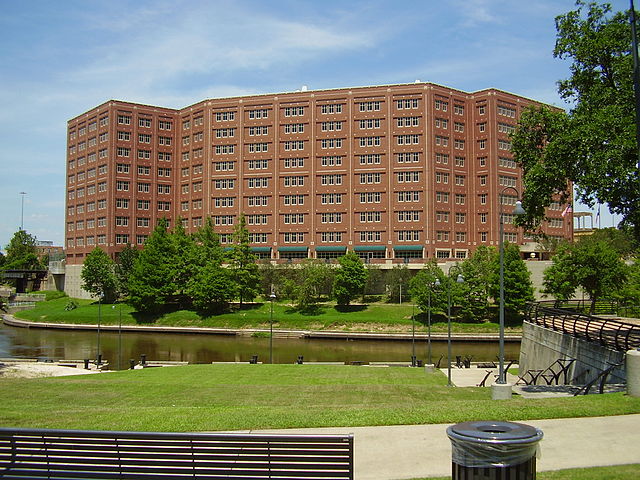 Source: wikimedia.org
This prison is located within the same complex as the Joe Kegans State Jail, and is notorious for being rough on inmates' health–especially those who require timely care for conditions such as diabetes. The Harris County Jail is also the largest mental health care facility in all of Texas, with around one-fourth of its inmates suffering from mental health problems.
Did You Know?
In June of 2019, the Harris County Jail saw a mumps outbreak that required the isolation of 14 symptomatic people and quarantine of around 300 more inmates.
Rikers Island
Inmate Population: 13,849
Year Founded: 1932
Nearby Landmark: LaGuardia Airport
Location: New York


  Source: wikimedia.org
Rikers Island is New York City's main jail complex and has a long history of extreme violence within its walls. Despite spending hundreds of millions of dollars on better surveillance equipment and training in an effort to reduce instances of violence and brutality, the city will likely be doing away with Rikers Island within the next decade.
Did You Know?
In order to expand the grounds to accommodate such a large prison facility, landfill barges dumped their garbage on Rikers Island–even after the prison was up and running.
Los Angeles County Jail
Inmate Population: 19,836
Year Founded: 1850
Nearby Landmark: University of Southern California
Location: California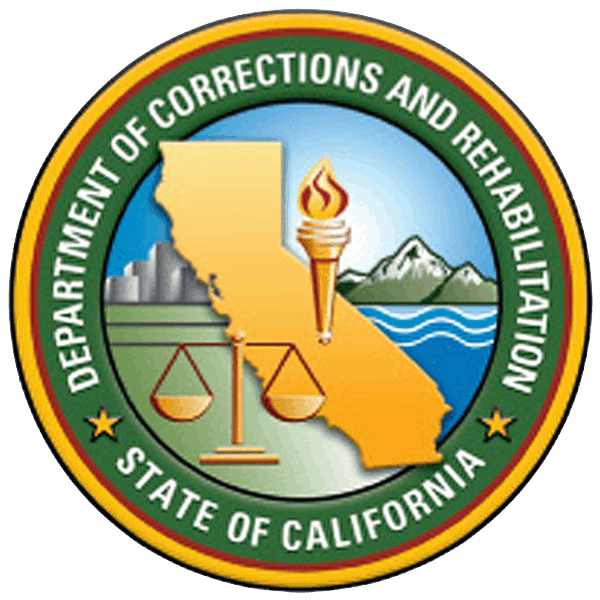 Source: wikimedia.org
The Los Angeles County prison is the largest prison system in the United States by the number of inmates. The Los Angeles County Sheriff's Department spends a staggering budget of $798 million on its prison system–and yet it still has a chronic overcrowding problem. This prison has also been through abuse scandals and is notorious for having demonstrated a "force first" mindset.
Did You Know?
The amount of land covered by the Los Angeles County Prison is almost twice the size of Delaware.