Air fryers, a healthier alternative to deep-frying, have grown in popularity. Hot air circulates to crisp food without oil. For families and regular entertainers, larger air fryers can hold more food. They can cook birds, fries, and wings. Cooking numerous meals at once saves time and works with a greater capacity.
Consider your kitchen space before buying a big air fryer. You'll need room to store these enormous appliances. Consider your family's size and cooking style. Large air fryers need temperature regulation. A timer helps you prevent over or undercooking.
The air fryer basket or tray is another factor. Not all baskets are detachable for cleaning. Non-stick baskets and trays prevent food from sticking and make cleanup simpler.
A huge air fryer is a healthy alternative to deep-frying. With temperature control and a timer, you can cook more food at once and get the crispiness you want. Choose a brand with excellent customer service and a non-stick basket or tray. Check out the 8 largest air fryers.
Philips Premium Airfryer XXL
Manufacturer: Philips
Capacity: 7 quarts
Retail Price: USD 595
Features: SmartSensing, Rapid AirFlow, Smart Chef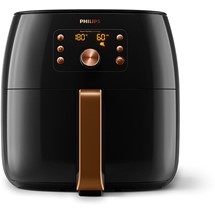 Source: Harvey Norman
The Philips Smart Digital Airfryer XXL is designed for those concerned about their health but won't make any concessions. It enables you to obtain the greatest flavor from your favorite fried foods while reducing the fat consumed.
The air fryer's Smart Sensing technology allows it to make automated adjustments to the length of cooking time and the temperature settings, depending on the food you are preparing.
The Smart Sensing Airfryer XXL has several Smart Chef programs, allowing it to readily adapt to the preparation of a wide variety of foods, such as a salmon fillet, frozen fries, or an entire chicken.
Did You Know?
With its Rapid Airflow technology and its ability to generate rapid heat, the Philips Premium Twin TurboStar Smart Sensing Airfryer XXL makes it possible to quickly prepare a wide variety of foods without requiring them to be preheated.
---
NUWAVE Brio 6-in-1 Air Fryer Oven Combo
Manufacturer: NuWave
Capacity: 8 quarts
Retail Price: USD 595
Features: SmartSensing, Rapid AirFlow, Smart Chef

Source: NuWave
The NuWave Brio air fryer, which has a capacity of 8 quarts, uses a combination of hot air, high-speed air circulation, and a frying chamber specifically engineered to heat food uniformly on all sides at the same time.
Unlike other air fryers, the Brio only creates heat from the top of the unit, leaving the food on the bottom of the device cold and uncooked.
The air fryer already has 100 different pre-set cooking functions programmed into the device. These functions guarantee that your preferred dishes are made with the assistance of our skilled and experienced culinary experts.
Did You Know?
The included air circulation riser and the reversible cooking rack have a non-stick coating, which helps reduce the amount of scrubbing required.
---
Instant Vortex Pro Air Fryer
Manufacturer: Instant Home
Capacity: 10 quarts
Retail Price: USD 159.99
Features: EvenCrisp Rotisserie, Non-stick Drip Pan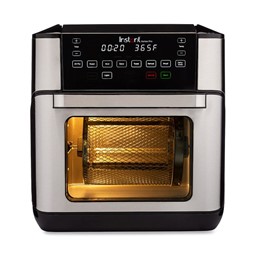 Source: Instant Home
The Instant Vortex Pro is the fully featured countertop appliance to make delectable main courses, snacks, and sides with less oil and no mess with the Instant Vortex Pro.
You will always enjoy a flawless golden-all-over finish with this oven since it combines the greatest qualities of a traditional oven with one-step air frying, an all-in-one bakery, and hands-free rotisserie capabilities.
Whether you're baking cookies, frying delicate meals like fish, or preparing filled items like jalapeño poppers or cheese-stuffed chicken, you may use the non-stick drip pan as a flat cooking tray instead of a traditional baking sheet.
Did You Know?
EvenCrisp technology is included in the Instant Vortex Pro, allowing straightforward rotisserie-style cooking that yields mouthwatering results.
---
Ultrean Air Fryer oven, 12.5 Quart Air Fryer Toaster Oven
Manufacturer: Ultrean
Capacity: 12.5 quarts
Retail Price: USD 99.99
Features: Easy Control LCD Buttons and Knob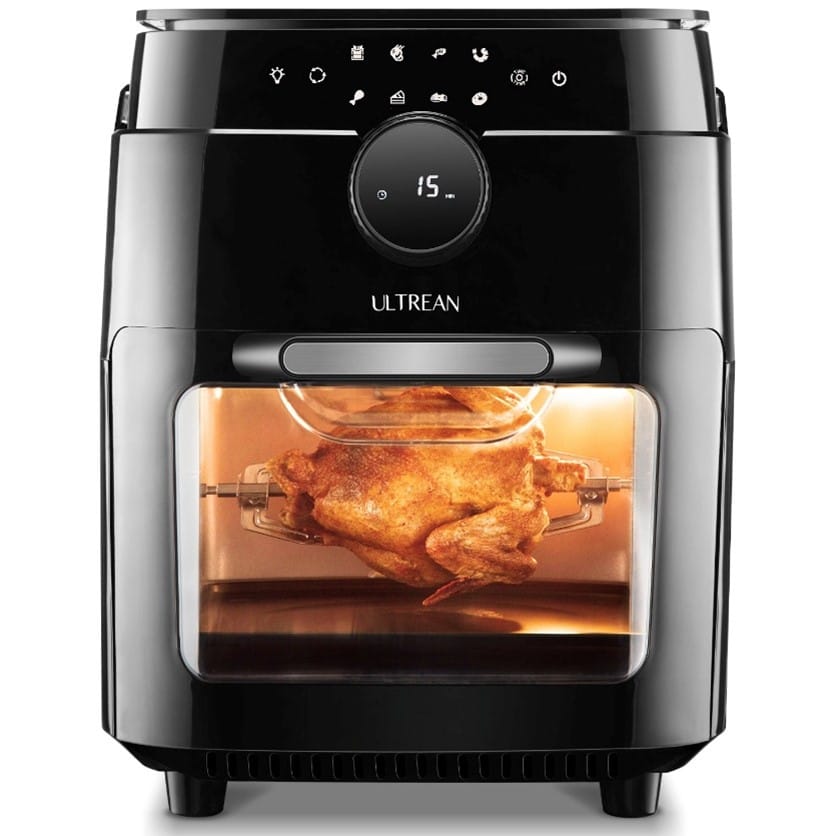 Source: Ultrean
The Ultrean Air Fryer Oven is a multipurpose kitchen gadget with a big 12.5-quart capability ideal for cooking for massive households or organizing dinner parties.
This air fryer oven has several culinary capabilities, including air frying, roasting, drying, and more, letting you easily prepare a wide range of dishes and snacks.
Did You Know?
The oven also has a digital LCD panel that displays heating time, temperature, and other settings, making it easy to use. It also boasts a nonstick interior and comes with a variety of attachments.
---
GoWISE USA GW44801 Deluxe 12.7-Quarts
Manufacturer: GoWise
Capacity: 12.7 quarts
Retail Price: USD 239.99
Features: Built-in Rotisserie, Display with 15 Presets

Source: GoWise
The GoWISE USA GW44801 Deluxe 12.7-Quarts is a flexible and large air fryer that can help you quickly and effortlessly prepare various foods. With its enormous 12.7-quart volume, you can easily prepare enough food to satisfy your friends and loved ones.
It has a touchscreen display, and eight cooking presets, which include chicken and barbecue, making it simple to prepare your favorite foods.
This air fryer also comes with a rotisserie tong, rod, and dripping pan, enabling you to prepare a wide range of dishes and try out new cuisines.
The GW44801 Deluxe is a dependable and effective air fryer that can assist you in cooking great dishes fast and easily.
Did You Know?
The fast air technology cooks your food consistently and rapidly, allowing it a time-saving and nutritious cooking alternative.
---
CROWNFUL 19 Quart Air Fryer Toaster Oven
Manufacturer: CROWNFUL
Capacity: 19 quarts
Retail Price: USD 149.99
Features: Circulating Hot Air, Little to No Oil Required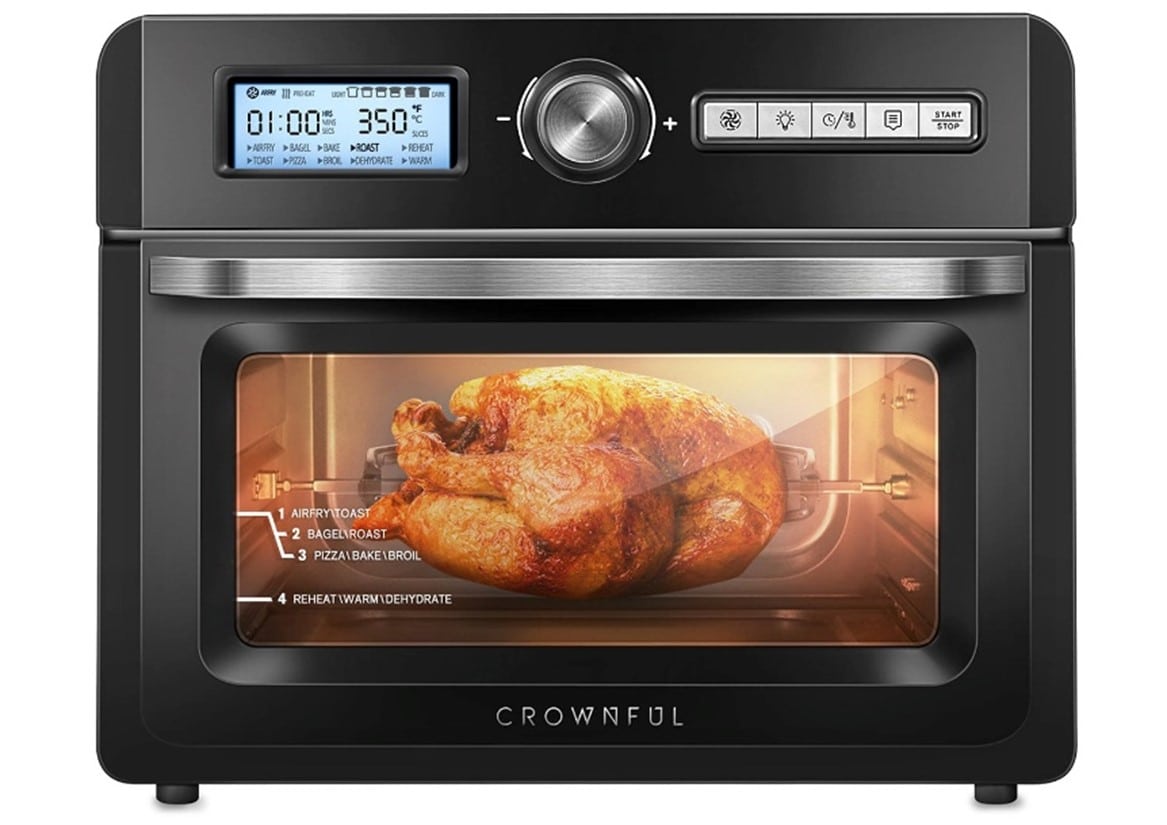 Source: CROWNFUL
Your new go-to gadget for frying, baking, roasting, toasting, grilling, dehydrating, reheating, and more is the Crownful Multifunctional Air Fryer Oven. With this All-in-One cooking equipment, the cooking process has never been simpler, quicker, and handier than it is now.
Because of its huge capacity of 19 quarts (18 Liters), you won't have to worry about not having enough room to prepare meals for the whole family, even if you want to cook a full chicken. It is ideal for cooking large quantities of food, even enough to entertain guests.
Did You Know?
This air fryer toaster oven utilizes cutting-edge technology that cooks food by circulating hot air 360 degrees around the dish. You may get a texture similar to that achieved by the more conventional method of deep frying using very little to no oil.
---
Kalorik MAXX® Digital Air Fryer Oven
Manufacturer: Kalorik
Capacity: 26 quarts
Retail Price: USD 229.99
Features: Up to 500 degrees Fahrenheit, Glass French Doors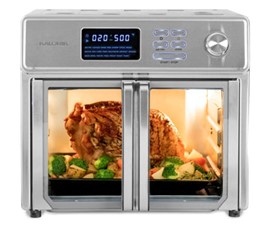 Source: Kalorik
To generate precisely caramelized meats, vegetables, and other foods, the MAXX can reach temperatures as high as 500 degrees Fahrenheit, higher than any other available oven.
The scorching and leaking on oven doors are avoided by having glass French doors with single-hand operation. Functions such as baking, toasting, roasting, grilling, rotisserie cooking, braising, searing, drying, and broiling provide you with complete adaptability.
You can get the same crispy texture and rich taste of fried food while decreasing fat and calories by up to 75%.
Did You Know?
The Turbo MAXX® Technology creates a super-hot air flow that swiftly cooks favorite dishes to perfection, fries with very little oil or none, and restores leftovers' crisp texture and fresh flavor.
---
NUWAVE Bravo Air Fryer Oven
Manufacturer: NuWave
Capacity: 30 quarts
Retail Price: USD 179.99
Features: Temperature Monitoring, Non-stick grill. Precise adjustments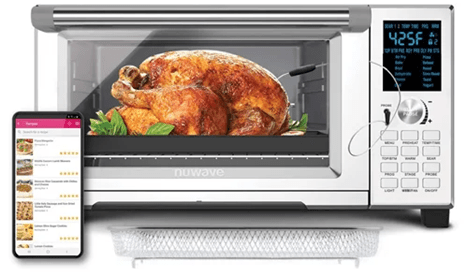 Source: NUWAVE
The NUWAVE Bravo Air Fryer Oven is the largest air fryer in terms of capacity. The Bravo air fryer toaster oven will continuously monitor the temperature of your food and will automatically stop the cooking process once the food has achieved the appropriate internal temperature.
In addition, it has a carryover cooking mode, preventing the meat or fish from being overdone while resting. You will never allow your meals to get undercooked or overcooked ever again.
The thick plate of the super non-stick grill and griddle is great for absorbing and maintaining heat, which results in outstanding grill markings and a general searing effect. The grill's preheating process is simplified by its auto-preheat feature.
Did You Know?
Adjustable in exact 5°F increments, the temperatures for cooking may range from 50 to 500 degrees Fahrenheit. The countertop Bravo toaster oven features a total of 4 distinct rack configurations and can be configured to include 12 different predetermined cooking modes.
---
RELATED READINGS
8 Most Expensive Stoves in the World
10 Largest 4k TV In The World
7 Most Expensive Air Fryers You Can Buy
8 Rarest CorningWare Patterns Ever Created
10 Most Interesting and Rarest Pyrex Patterns Ever