When it comes to technology and tools, the construction industry has gone a very long way in recent decades. The crane is one of the most essential pieces of equipment when it comes to the construction of massive buildings.
These enormous robots can easily move incredibly large items and position them exactly where they are required. A diverse selection of cranes is available, each with a set of skills and characteristics that are exclusive to itself.
While some are more compact and suited for confined quarters, others are created specifically for expansive open areas. Many of the world's biggest cranes are installed on enormous barges or platforms to maintain their immense weight.
Despite their size, these cranes are intended to lift in confined locations and difficult situations. Many include sensors, cameras, and automated controls to protect the crane operator and nearby personnel.
The world's biggest cranes are incredible feats of engineering and technology that help build the world's largest and most complicated buildings. These cranes are the pinnacle of heavy lifting equipment. Without further ado, here are the 8 largest cranes in the world.
Manitowoc 31000
Maximum Height: 209 meters
Lifting Capability: 2300 metric tons
Engine Power: 600 horsepower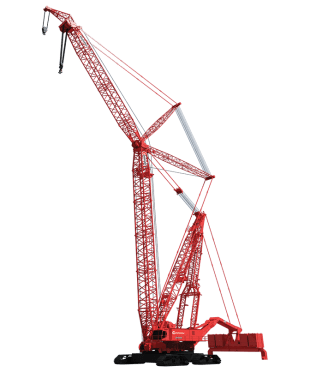 Source: Manitowoc
The Manitowoc 31000 crawler crane is the ideal choice for jobs requiring significant weight lifting. It boasts an outstanding maximum lift capacity of 2300 tons, a maximum length of 361 feet for the main boom, and a maximum length of 138 feet for the jib. Because of its tiny form, it is simple to transfer to any location, even those that are difficult to access.
It is driven by Cummins QSX15 diesel engines, each with six cylinders, and can produce up to 600 horsepower (447 kW). It has a large fuel tank can hold 600 gallons of petrol (2271 liters).
Did You Know?
The Manitowoc 31000 has many more amazing qualities than those already mentioned. In addition, it has a fully enclosed and insulated operator cab outfitted with the following amenities: a fire extinguisher, AM/FM radio with a CD player, and aluminum storage cabinets.
---
ALE AL.SK350
Maximum Height: 220 meters
Lifting Capability: 5000 metric tons
Engine Power: Data Deficient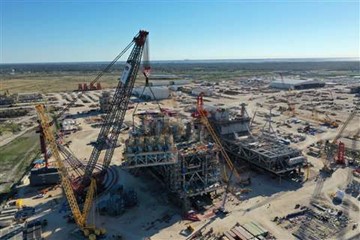 Source: ACT
ALE has said that they would begin construction of the 5,000-ton capacity AL.SK350 super heavy lifter in the year 2012. It will be constructed by adding additional structural parts to their current AL.SK190, which has a capacity of 4,300 tons.
The largest configuration of the gigantic crane has been prepared for a load test of 5,000 tons in September 2016, which will take place.
The firm, situated in the United Kingdom, has indicated that it will be the largest land-based crane in the world. They say its load moment will be 77% larger than its closest competitor's.
Did You Know?
Strand jacks are used for the primary hoisting, and there is also a 2,000-ton winch for use with lesser weights. In addition to the main boom, which will be 141.2 meters long, there will also be a permanent jib that is 120 meters in length.
---
Liebherr LR 11000
Maximum Height: 222 meters
Lifting Capability: 1000 metric tons
Engine Power: 680 horsepower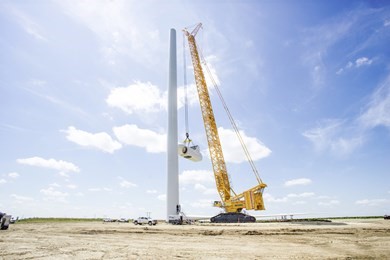 Source: Liebherr
Liebherr, a renowned German-Swiss multinational company specializing in heavy machinery production, is known for making a crawler crane known as the LR 11000. It is propelled by an 8-cylinder diesel engine that Liebherr manufactured.
This engine is capable of producing up to 680 horsepower. The LR 11000's many boom configurations allow it to do various tasks. It doesn't matter whether you're in the port handling business, the industrial building industry, the infrastructure business, or the wind power business; the LR 11000 will fit right in.
The layout of the crane makes it ideal for use in confined spaces, such as those found in refineries. The smaller, lighter pieces of the lattice may, as is typical for our cranes, be slid into the bigger sections, which results in savings of both money and space.
Did You Know?
It has been constructed to guarantee that it can be transported at a reasonable cost; the crane has been designed for a transport width of 3.5 meters (11.5 feet) and a transport height of 3.2 meters (10 feet) (10.5 ft).
---
Terex/Demag CC 8800-1 TWIN
Maximum Height: 234 meters
Lifting Capability: 2903 metric tons
Engine Power: 640 horsepower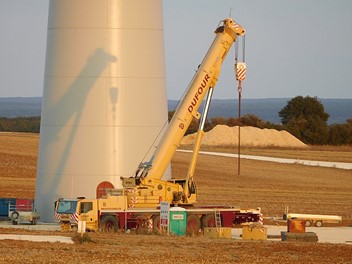 Source: Wikimedia
The maximum load for the Terex/ Demag CC 8800 – 1 TWIN, a crawler crane, is 3500 U.S. tons. This sailboat has a maximum boom length of 383 feet and a maximum jib length of 118 feet.
When the CC 8800-1 Twin's additional boom and other distinguishing characteristics are used, the 8800-1's strength is increased by 270%. It comes standard with a 135-ton counterweight in 12 modular sections.
Terex provides up to 78 additional ten-ton plates, allowing for greater lifts. There is also a hydraulically driven and steered carrier available for the counterweights. In addition, the Terex crew provides stronger boom and jib heads for more demanding tasks.
Did You Know?
A diesel OM 502 LA is powering the crane. The engine also meets the standards set by Tier III. A total of four hydraulic motors drive the crawlers. These motors get power from planetary gear reduction units that are completely enclosed and run in an oil bath.
---
Terex/Demag CC 8800-1
Maximum Height: 240 meters
Lifting Capability: 1,452 metric tons
Engine Power: 530 horsepower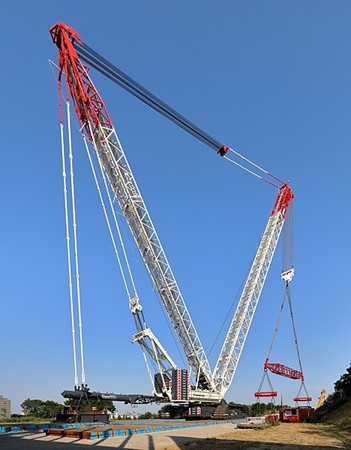 Source: Wikimedia
Crawler crane Terex-Demag CC 8800-1 can lift 1,452 tons. The main boom in seven variants may be 275.6 feet to 511.8 feet long. 393.7-foot maximum jib length.
The CC 8800-1's carriage and superstructure must be strong to support the crane's tremendous weight. High-strength fine-grain structural steel makes the carrier's vehicle body, cross axles, and side frames bending and torsion-resistant.
Heat-treated high-strength cast steel makes the crawler pads. Each crawler has fifteen wheels with hardened surfaces.
Two hydraulic motors drive the crawlers via oil-bath closed planetary gear sets with spring-loaded, hydraulically released holding brakes. Each crawler has independent infinite variable control and counter rotation.
Did You Know?
Torsion-resistant high-strength fine-grain structural steel frames the superstructure. Longitudinal beams support three rope drums and the boom hoist. Split superstructures are portable.
---
Mammoet PTC 200 DS
Maximum Height: 246 meters
Lifting Capability: 5,000 metric tons
Engine Power: Data Deficient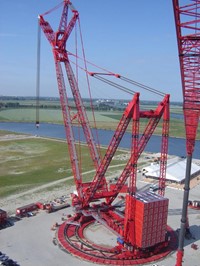 Source: Mammoet
Although it is the only crane on the list manufactured by the Dutch manufacturer, the Mammoet PTC 200 DS is notable for being the first "ring crane" on the list. A ring crane is a specific kind of enormous construction crane that has a jib that can swivel.
Ring cranes are extremely uncommon. There are just a few of them now in operation, and each one is managed by a company specializing in heavy lifting.
They may be sent wherever in the world, according to requirements. The Mammoet PTC 200 DS is a true monster with a maximum lifting capacity of 5000 tons.
Did You Know?
Instead of having a single, more central spindle, its slew pivot is shaped like a ring. Even when transporting high weights, the component that swivels above may still swivel because of its large base.
---
Liebherr LR 13000
Maximum Height: 248 meters
Lifting Capability: 3,000 metric tons
Engine Power: 1,360 horsepower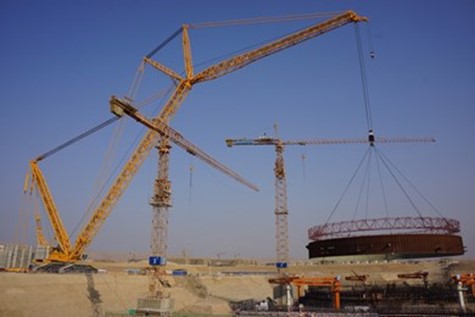 Source: Liebherr
The LR 13000 may not be the largest, but it is one of the world's most powerful conventional crawler cranes. The construction of power plants is one of its primary applications in many fields.
To do this, constant lifting of very heavy components is required. These regulations must also be followed in refineries, where it is necessary to construct industrial columns of 100 meters (328 feet) in length and weighing 1500 metric tons (3,307,000 pounds).
Did You Know?
Despite its enormous size, this colossal crane can be moved globally at a reasonable cost because of its maximum weight of just 70 tons (154,400 pounds). The only crawler crane in this class capable of operating without derrick ballast is the LR 13000.
---
Sarens SGC 250
Maximum Height: 250 meters
Lifting Capability: 5,000 metric tons
Engine Power: 5.040 horsepower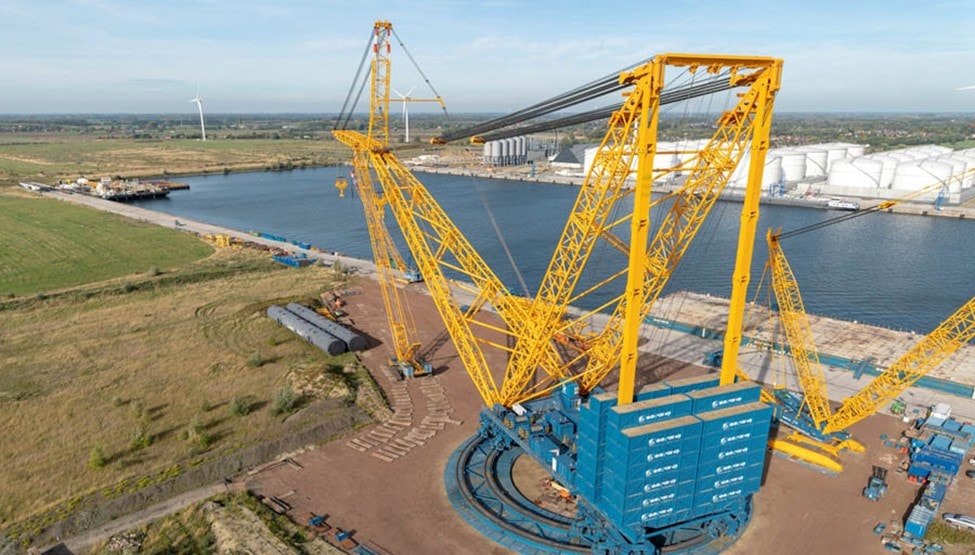 Source: Sarens
The SGC-250 crane is the largest crane in the world. This particular crane has a maximum load moment of 250.000 metric tonnes, which enables it to lift an incredible 5.000 tonnes. Even at a broader radius of 100 meters, it can still lift an incredible 2,000 tonnes.
On November 9, 2018, in the Port of Ghent in Belgium, a special launch ceremony was held in which the new crane was shown to the public for the first time.
The enormous SGC-250 crane was designed and developed in-house by Sarens, much like all of the other SGCs in the company's fleet. After that, construction work in Europe was finished by experts and qualified manufacturers, with Sarens as the project's supervisor.
Did You Know?
The crew of the Sarens provided visitors with a demonstration of the crane's slewing and lifting capabilities, giving them a unique chance to see this powerful crane in operation.
---
RELATED READINGS
10 Longest Bridges in the World
10 Largest Construction Companies in the World
10 Largest Engineering Firms In The World
10 Longest Suspension Bridges in the World
9 Oldest Buildings in the World.