The private yacht is considered one of the most luxurious ways to travel. It's commonly used by celebrities and others who can afford it, but with a private yacht in their possession comes an amount of responsibility.
You're not just paying for an overnight trip on the most expensive watercraft in the world – you're taking care of something that requires a ton of maintenance. Private yachts are not new; they have been around for as long as the oceans have been rafted together.
Private yachts can be over 100 feet long, and they range from a luxurious home on the water to a family-friendly yacht carrying up to 140 passengers. The world of luxury yachts is full of magnificent boats meant to give owners the best in leisure and flair.
While many of these boats are owned by wealthy individuals or businesses, private individuals possess some of the largest and most stunning boats.
So please t back, relax, and let's set sail on a tour of the largest private yachts in the world.
OK
Total Length: 146 meters
Gross Weight: 11296 tons
Year Built: 1982
Country of Origin: Japan
Builder: Oshima Shipbuilding

Source: Super Yacht Times
The OK yacht has emerged from a repair at Karmarine in Turkey, 40 years after its original launch by Japan's Oshima Shipbuilding. The boat's initial duty as a yacht transporter has been boosted with a stronger hull.
The platform may be lowered by pumping ballast into tanks beneath the aft deck. There's also a 40-ton crane for placing various toys, which may range from cars to a seaplane. According to sources, this area may also be used as a tennis court.
Did You Know
The exterior has been updated with a new matte-black paint job, gold-tinted glass at the bow, stern, and sides, and a field of grass on the submersible aft deck, a concept from the owner to brighten the view from the guest rooms.
---
Prince Abdulaziz
Total Length: 147.1 meters
Gross Weight: 8233 tons
Year Built: 1984
Country of Origin: Denmark
Builder: Helsingor Vaerft

Source: Wikimedia
The Danish shipyard Helsingor Vaerft delivered the 5,200-tonne Prince Abdulaziz to her first owner, Saudi King Fahd, in 1984. She has since continued to serve the Saudi royal family and is next to the king's court in Jeddah.
Prince Abdulaziz was built to a design by Maierform at a reported cost of $184 million. Her interior design, by the late David Hicks, combines antique and modern elements. One noticeable feature is the vast lobby, which is supposed to be inspired by the Titanic.
Did You Know
She has a hospital, a mosque, and a movie theater. The super yacht can seat up to 64 people and is operated by a 65-person crew.
---
A+
Total Length: 147.25 meters
Gross Weight: 12500 tons
Year Built: 2012
Country of Origin: Germany
Builder: Lurssen

Source: Wikimedia
The Tim Heywood-designed A+, formerly known as Topaz, was introduced by Lürssen in 2012 and includes Heywood's signature lighted on her superstructure.
Despite flying the Cayman flag, her owner is a member of the UAE aristocracy, reputedly Sheikh Mansour bin Zayed al-Nahyan, who also owns the Manchester City football club in the United Kingdom.
The 147.25-meter superyacht has already been leased twice by Hollywood star Leonardo DiCaprio, and Terence Disdale has designed her interiors — but not much more is known about this superyacht since many of her aspects are still cloaked in mystery.
---
El Mahrousa
Total Length: 150.57 meters
Gross Weight: 4560 tons
Year Built: 1865
Country of Origin: United Kingdom
Builder: Samuda

Source: Wikimedia
The Samuda Brothers shipyard was responsible for the first delivery of the El Mahrousa in 1865.
After holding the record for the longest yacht in the world for more than a century, she was ultimately dethroned in the 1980s by the delivery of Prince Abdulaziz, the world's longest yacht at the time.
Khedive Ismail, the Ottoman administrator of Egypt at the time, commissioned her construction so that he could host visiting guests.
She participated in the festivities surrounding the inauguration of the Suez Canal in 1869, during which she served as a receptionist for various dignitaries in attendance. She received an additional 5.2 meters of lengthening in 1905 after removing her paddle wheels in 1872, which added up to 12.1 meters.
Did You Know?
In 1992, a significant amount of work was done to ensure that she would be seaworthy enough to make the journey to Italy for the Christopher Columbus Fleet Review.
---
Al Said
Total Length: 155 meters
Gross Weight: 15850 tons
Year Built: 2008
Country of Origin: Germany
Builder: Lurssen

Source: Wikimedia
The Oman Royal Yacht Squadron's flagship ship, the Al Said, has a remarkable length of 155 meters and is an astounding sight.
She travels the seas flying the flag of Oman and calls Muttrah Harbour in Muscat, designed by Espen Aino, her home port. Traditional ocean liners inspired her exterior design.
This yacht can reach a peak speed of 25 knots and has a capacity for 150 crew members. Huge gathering rooms and sleeping quarters for up to 65 guests can be found throughout her paneled interiors, which were designed in a conventional manner by Jonathan Quinn Barnett.
Did You Know?
The onboard concert hall is her crowning achievement; it has enough space for a full orchestra of fifty musicians. However, she also features a movie theater and a helipad among her six decks.
---
Dilbar
Total Length: 156 meters
Gross Weight: 15917 tons
Year Built: 2016
Country of Origin: Germany
Builder: Lurssen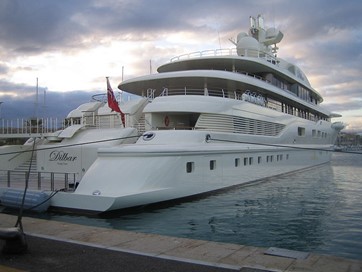 Source: Wikimedia
Lürssen constructed the Dilbar out of steel and aluminum according to Espen Ino's design. Alisher Usmanov, a millionaire from Uzbekistan, delivered her in the Mediterranean in 2016, and she now belongs to him.
She took the place of Usmanov's earlier yacht with the same name, which has since been rechristened as Ona. In most cases, she may occasionally be seen sailing about the southern region of France, the northern region of Spain, and even Cyprus.
Did You Know?
The 30,000-kilowatt electric diesel power plant and the 180-cubic-meter swimming pool on board this SOLAS-class superyacht set new records for their respective categories.
---
Blue
Total Length: 158 meters
Gross Weight: 14785 tons
Year Built: 2022
Country of Origin: Germany
Builder: Lurssen

Source: Lurssen
The Lürssen yacht Blue has a greater gross weight than any of the top three largest yachts. The primary helipad may be found on the foredeck, while a secondary, smaller one can be found on the rear deck.
Other external features include a covered swimming pool located on the main deck aft, a bathing platform located at the stern, and twin balconies located on each side of the owner's stateroom located ahead.
The intention was to create a stark contrast between the inside and outside of Blue by designing the interior to be ageless and abundant in "feminine beauty."
Did You Know?
Blue's exhaust treatment system is state-of-the-art, allowing it to lower noise, vibration, and nitrogen oxide levels. The vessel also has cutting-edge membrane technology, which enables the vessel's treated wastewater to meet the standards for use as drinking water.
---
Dubai
Total Length: 162 meters
Gross Weight: 12488 tons
Year Built: 2006
Country of Origin: United Arab Emirates
Builder: Platinum

Source: Wikimedia
Sheik Mohammed bin Rashid al-Maktoum has a royal boat called Dubai, which is appropriately named after the emirate. The hotel's suites, designed by Nakheel Interiors, have open balconies and include an owner's suite, five VIP suites, and six guest suites.
The total capacity of the accommodation is twenty-four persons. In addition, an atrium that is 21.3 meters wide, a swimming pool, a grilling area, a theater, a disco, a landing platform that can accommodate a Blackhawk helicopter, a gymnasium, and storage space for the yacht's submarine, and an extensive collection of water toys are among the special features.
Did You Know?
In October of 2006, she was awarded full certification from Lloyd's Register of Shipping, and since then, she has participated in several journeys. As a result, she can reach speeds up to 25 knots at her utmost potential.
---
Eclipse
Total Length: 162.5 meters
Gross Weight: 13500 tons
Year Built: 2010
Country of Origin: Germany
Builder: Blohm & Voss

Source: Wikimedia
In December of 2010, Eclipse finally sailed away from the Blohm & Voss yard after being meticulously designed, developed, and built over five years. But, unfortunately, she only held the title of the biggest superyacht in the world for three years.
Blue Ocean Yacht Management operates Eclipse. It features a diesel-electric propulsion system with generators powering rotating Azipod drives, dramatic exterior styling, and a stunning interior design by London-based Terence Disdale Design.
Did You Know?
Her deck sections include a swimming pool that is 16 meters long and can be converted into a dance floor; her interior is home to hundreds of one-of-a-kind finishes that were produced just for this project.
---
Azzam
Total Length: 180.61 meters
Gross Weight: 13136 tones
Year Built: 2013
Country of Origin: Germany
Builder: Lurssen

Source: Wikimedia
With the delivery of Azzam in October 2013, Lürssen established itself as the world's largest private yacht builder. The initial plan called for her to be 145 meters in length, but while she was being optimized, her length increased to 180 meters.
Other jaw-dropping aspects of Azzam's outstanding design include her whopping 13,136 gross tons and accommodations for as many as 80 crew members and up to 36 guests.
The yacht can reach speeds of over 31.5 mph thanks to her cutting-edge water-jet propulsion system, which consists of two fixed jets and two directional jets. This gives the boat an impressive top speed in relation to her size.
Did You Know?
The main saloon is almost 522 square meters and was created by Christophe Leoni. It is decorated casually, reminiscent of the French Empire, and has finished made of mother of pearl. There is a fitness center, a swimming pool, and a "golf training room" on board.
---
RELATED READINGS
10 Largest Yachts in the World
10 Largest Ships in the World
10 Most Expensive Sailboats in the World
12 Oldest Boats in the World
8 Most Expensive Yachts Ever Sold