College and university fraternities unite like-minded students worldwide. These organizations are noted for their brotherhood, service, and generosity. Greek letters identify fraternities and their traditions. Some fraternities are large and influential.
World's major fraternities have enormous memberships and networks. These groups are prevalent at colleges and universities and typically have international branches.
These fraternities are very competitive and only admit the finest and brightest. Several members of these fraternities excel in their areas academically. Some organizations also provide a lot. They volunteer for healthcare, education, environmental protection, and disaster relief.
These fraternities aim to promote brotherhood, personal development, academic success, and community service. They have a long history and are vital to college and university life worldwide.
The world's biggest fraternities demonstrate the power of brotherhood and community. These groups have changed the lives of its members and the communities they serve, and they will continue to be important parts of college and university life. With these, here are the 8 largest fraternities in the world.
Beta Theta Pi
Membership: 219,000
Number of Chapters: 144
Headquarters: Oxford, Ohio
Location Established: Miami University
Year Established: 1839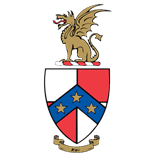 Source: Wikipedia
One of North America's oldest and biggest fraternities is Beta Theta Pi. Beta Theta Pi has a long history of leadership and service and has 144 chapters operating in the United States and Canada.
Eight unsatisfied Miami University fraternity members created the fraternity. They desired a fraternity with education, leadership, and morality. Beta Theta Pi, the first fraternity west of the Allegheny Mountains, still follows its fundamental beliefs.
Beta Theta Pi has endured several hardships. It faced hazing, alcohol abuse, and sexual assault like many fraternities. Beta Theta Pi has recently adopted rules and procedures to promote safety, respect, and responsibility among its members.
Beta Theta Pi continues to thrive despite these hurdles. Its members and communities value its leadership, service, and brotherhood.
Did You Know?
The Beta Theta Pi Men of Principle Scholarship program is famous. This program awards scholarships to undergraduate members who uphold the fraternity's basic ideals of academic success, morality, and leadership. Beta Theta Pi brothers have received approximately $2 million in Men of Principle Scholarships since 1999.
---
Sigma Nu
Membership: 230,000
Number of Chapters: 279
Headquarters: Lexington, Virginia
Location Established: Virginia Military Institute
Year Established: 1869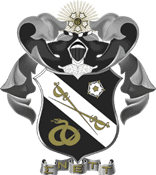 Source: Wikipedia
Sigma Nu was formed at Virginia Military Institute in Lexington, Virginia, on January 1, 1869. Three VMI cadets disillusioned by fraternity hazing formed it. Three cadets, James Frank Hopkins, Greenfield Quarles, and James McIlvaine Riley, wanted to create an honor, love, and truth fraternity.
Sigma Nu has a strong tradition of leadership, service, and excellence, and its members have made important contributions to their communities, professions, and countries.
Sigma Nu encourages academic achievement. Scholarships and academic resources are available to fraternity members. Sigma Nu stresses leadership development and provides many leadership training programs to assist its members become effective community and professional leaders.
Sigma Nu values diversity and inclusivity. The fraternity promotes inclusion and has a strict anti-hazing policy. Sigma Nu promotes diversity and inclusion in all of its activities and ensures that its members appreciate and tolerate everyone, regardless of color, gender, sexual orientation, or other traits.
Did You Know?
Sigma Nu's credo is "to trust in the life of love, to walk in the route of honor, to serve in the light of truth." Its members are driven by strong ideals and principles to improve their communities and the globe.
---
Tau Kappa Epsilon
Membership: 296,000
Number of Chapters: 222
Headquarters: Indianapolis, Indiana
Location Established: Illinois Wesleyan University
Year Established: 1899

Source: Wikimedia
Tau Kappa Epsilon was created at Illinois Wesleyan University on January 10, 1899. The fraternity has approximately 222 chapters in the US and Canada with a storied history.
The founders felt their fraternity would be different from current fraternities, which they considered as unduly focused on social exclusivity and snobbery. They envisioned TKE as a fraternity based on love, compassion, and regard.
TKE's philanthropy, especially with St. Jude Children's Research Hospital, is well recognized. The hospital's biggest college partner, TKE, has raised almost $5 million. TKE also helps the Alzheimer's Association, Ronald McDonald House, and American Cancer Society.
Ronald Reagan, Joe Biden, and Terry Bradshaw are among TKE's prominent graduates. TKE alumni include entrepreneurs, legislators, and industry leaders.
Did You Know?
TKE's Educational Fund was founded in 1951. The charity has provided over $6 million in scholarships to eligible TKE students. The foundation also trains TKE members to become community leaders.
---
Pi Kappa Alpha
Membership: 300,000
Number of Chapters: 225
Headquarters: Memphis, Tennessee
Location Established: University of Virginia
Year Established: 1868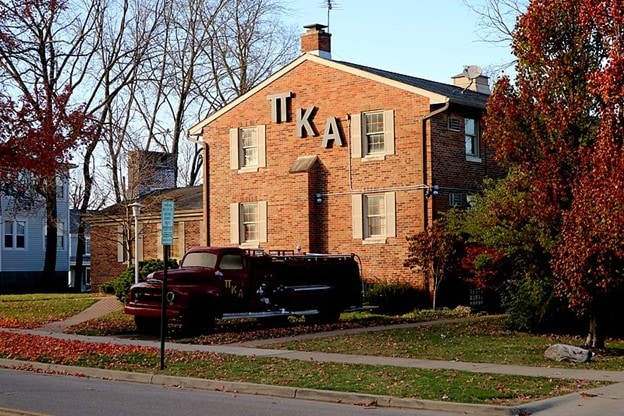 Source: Wikimedia
On March 1, 1868, the University of Virginia created Pi Kappa Alpha (Pike), a social fraternity. With 220 active chapters and 300,000 initiated members make it one of North America's biggest fraternities.
Civil War events shaped Pi Kappa Alpha's formation. Six University of Virginia students planned to form a fraternity to unite North and South college men. They wanted a fraternity focused on academics, leadership, and integrity that would help its members develop personally and professionally.
Pi Kappa Alpha has maintained these beliefs and evolved with the decades. The fraternity emphasizes academic success and encourages members to participate in extracurriculars and community service.
Did You Know?
Phi Kappa Alpha also volunteers. The fraternity donates to children's and family groups. The fraternity supports the Boys and Girls Clubs of America and the Muscular Dystrophy Association, and chapters are encouraged to hold their own philanthropy activities.
---
Lambda Chi Alpha
Membership: 300,000
Number of Chapters: 322
Headquarters: Carmel, Indiana
Location Established: Boston University
Year Established: 1909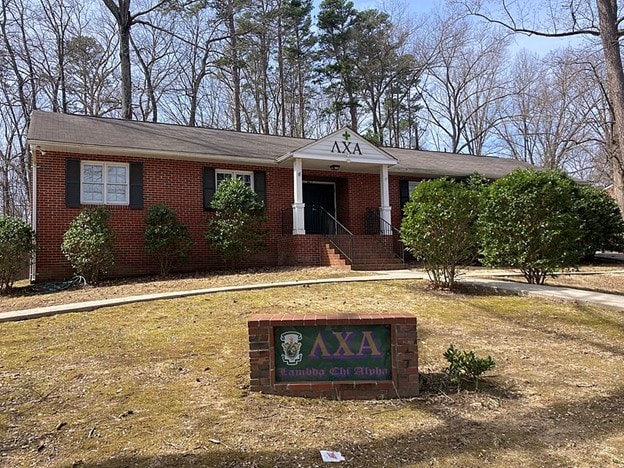 Source: Wikimedia
Boston University formed Lambda Chi Alpha on November 2, 1909. The fraternity promoted leadership, scholarship, and brotherhood. Around 300 chapters make Lambda Chi Alpha one of the biggest fraternities in the world.
"Vir Quisque Vir"—"Every Man a Man"—is the fraternity's motto. This slogan emphasizes the fraternity's goal of developing strong, moral leaders who improve their communities. Lambda Chi Alpha helps its members reach their potential.
Lambda Chi Alpha emphasizes service and generosity. The fraternity works with Feeding America, the North American Food Drive, and the National Bone Marrow Registry. Lambda Chi Alpha chapters across help these organizations and others in their areas via service initiatives and fundraising.
Lambda Chi Alpha emphasizes fraternity, leadership, scholarship, and service. Fraternity members are expected to create close ties and help one other in all areas of life. Lambda Chi Alpha's social and recreational events assist members make lasting relationships and have a well-rounded collegiate experience.
Did You Know?
Lambda Chi Alpha helps its members succeed in all facets of life. Lambda Chi Alpha helps its members become moral, effective leaders who improve their communities through leadership, scholarship, service, and fraternity.
---
Sigma Phi Epsilon
Membership: 325,252
Number of Chapters: 221
Headquarters: Richmond, Virginia
Location Established: Richmond College
Year Established: 1901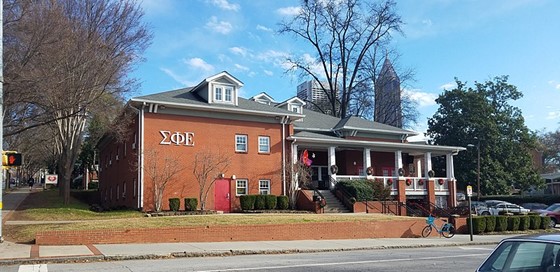 Source: Wikimedia
Sigma Phi Epsilon (SigEp) is one of the biggest and oldest US fraternities. Sigma Phi Epsilon, founded at Richmond College (now the University of Richmond) in 1901, has 221 active chapters and 325,000 members nationwide.
SigEp provides several leadership development opportunities. Everyone may vote for the fraternity's executive board. The Ruck Leadership Institute and Tragos Quest to Greece provide leadership and personal development training for SigEp members.
Lastly, SigEp prioritizes career preparedness. For job preparation, the fraternity provides networking, professional courses, and mentoring. SigEp graduates excel in business, politics, entertainment, and sports.
Did You Know?
SigEp's Balanced Man Program emphasizes personal wellbeing. Intramural sports, outdoor leisure, and community involvement help fraternity members prioritize their physical, mental, and emotional wellness. SigEp provides psychotherapy and mental health awareness programs.
---
Sigma Alpha Epsilon
Membership: 348,500
Number of Chapters: 317
Headquarters: Evanston, Illinois
Location Established: University of Alabama
Year Established: 1856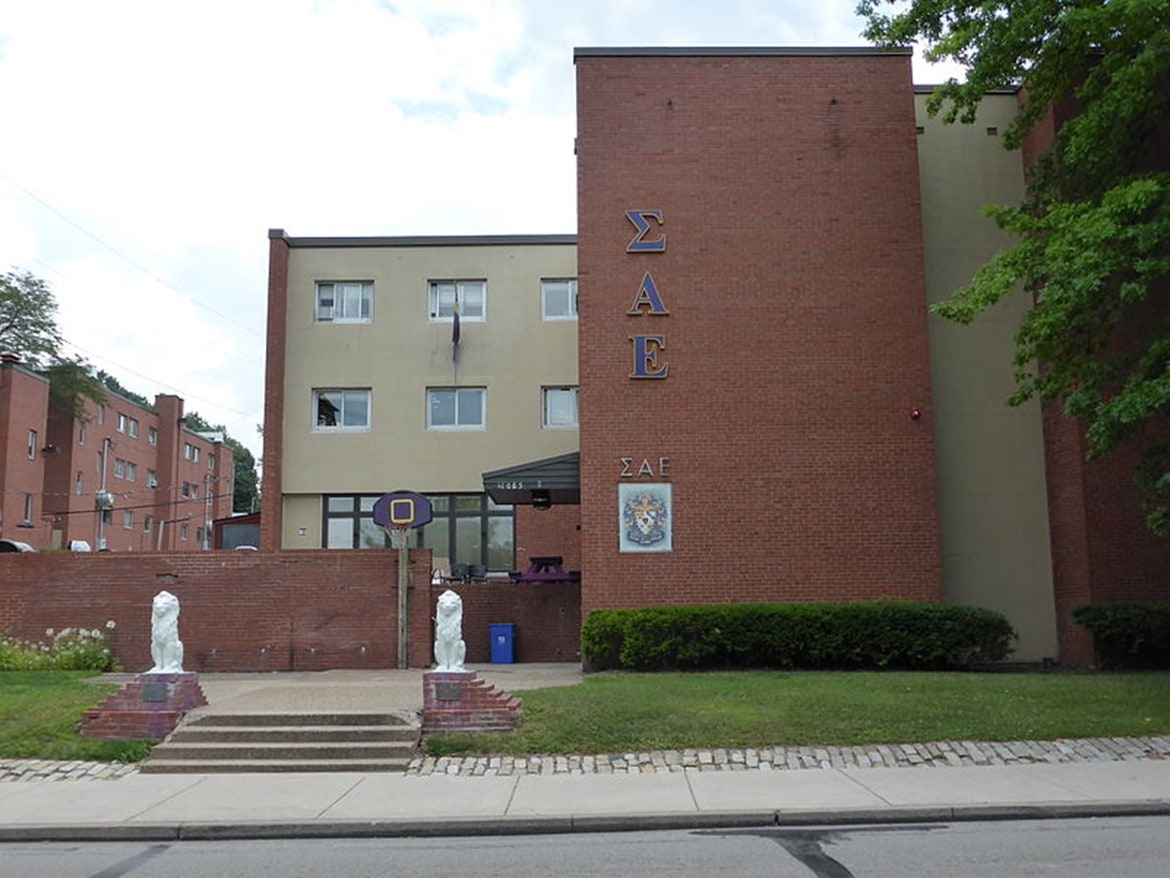 Source: Wikimedia
The University of Alabama in Tuscaloosa formed Sigma Alpha Epsilon (SAE) on March 9, 1856. SAE, one of the biggest US fraternities, has over 348,000 initiated members.
SAE, like many fraternities, has been criticized and disputed. Hazing and sexual assault have occurred in SAE chapters across in recent years. In response, the fraternity created a hazing task force and implemented new sexual assault procedures.
The North-American Interfraternity Conference (NIC) includes 58 national and international men's fraternities, including SAE. Fraternities debate Greek community concerns and exchange risk management, recruiting, and other best practices at the NIC.
Sigma Alpha Epsilon has a strong tradition of encouraging brotherhood, academic achievement, and charity. Despite recent criticism and controversy, fraternity members remain dedicated to preserving its beliefs and improving their communities.
Did You Know?
William McKinley, the 25th US president, and Pulitzer Prize-winning novelist John O'Hara were SAE members. The fraternity has worked with Children's Miracle Network Hospitals and other charities.
---
Sigma Chi
Membership: 350,000
Number of Chapters: 394
Headquarters: Evanston, Illinois
Location Established: Miami University
Year Established: 1855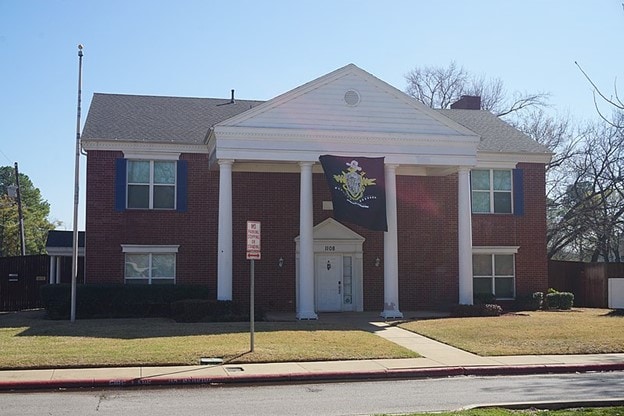 Source: Wikimedia
Sigma Chi is the largest fraternity in the world. It is a huge and venerable fraternity in the United States and Canada. Sigma Chi was established in 1855 at Miami University in Oxford, Ohio, and it has since grown to include over 390 active chapters and 350,000 initiated members throughout the United States and Canada.
Sigma Chi continues to promote these beliefs via its many activities and programs that assist its members grow into well-rounded community leaders.
Overall, Sigma Chi has a distinguished history of advancing the highest standards of academic achievement, leadership, and service. Because to its members' unwavering loyalty and the high standards it sets, the fraternity is stronger than ever.
Did You Know?
Seven men with the united goal of fostering everlasting brotherhood, leadership, and personal growth established the fraternity we know today.
RELATED READINGS
10 Largest College Campuses in the United States
7 Largest Universities in the World
10 Largest Party Schools in the United States
10 Largest University Endowments in the World