People who have been forced to escape their homes as a result of war, persecution, or natural catastrophes are known as refugees. Large refugee camps are temporary communities constructed to give refugees housing and aid.
International organizations such as the United Nations High Commissioner for Refugees (UNHCR) are the ones in charge of running these refugee camps. The purpose of these camps is to supply refugees with essentials such as food, water, and medical attention.
Living in massive refugee camps may be difficult for those forced to flee their homes. The sheer number of individuals living in these camps has caused many of them to become overcrowded, and they lack the necessary infrastructure and resources to sustain those people.
Large refugee camps can give a feeling of community and support to refugees who have lost their homes and are attempting to rebuild their lives despite the obstacles that they provide.
Although life in a refugee camp may be difficult, these camps serve a fundamental purpose in assisting refugees in re-establishing their lives and making plans for the future.
Please look at the eight largest refugee camps in the world based on their population size.
Za'atari
Population: 76,000
Location: Mafrac, Jordan
Main Occupants: Syrians
Year Established: 2012

Source: Wikimedia
Thousands of Syrians were forced to quit their country and seek safety in Jordan when the civil war in Syria broke out ten years ago.
The Za'atari Refugee Camp was established in 2012 as a reaction to the massive inflow of migrants from Syria and has since grown to become the biggest refugee camp for Syrians anywhere in the world.
The camp is home to almost 76,000 displaced people at present. Throughout its existence, the camp has achieved significant progress toward its mission of providing education and opportunity for refugees to earn a living.
The lengthy conflict in Syria has taken its toll on many refugees, leaving them with little resources and often none at all. However, they can have a better future thanks to work permits and education.
Did You Know?
More than 18,000 youth members in the Za'atari community are now engaged in educational programs, while 13,000 adults in the community have valid work permits.
---
Ifo
Population: 84,089
Location: Garissa, Kenya
Main Occupants: Somalians
Year Established: 1992

Source: Wikimedia
Ifo houses refugees from over ten nations, most of whom are from Somalia. As a result, Ifo is overcrowded, much like many other camps on this list.
Most home plots are just 12 meters by 15 meters, and all nine of the camp's sectors have reached or beyond their allotted capacity.
Even more unfortunate is that half of the camp is situated in a region prone to flooding.
Did You Know?
In 2011, an addition to the camp that was given the eponymous name Ifo II was built to alleviate the situation of overpopulation there.
---
Dagahaley
Population: 87,223
Location: Garrisa, Kenya
Main Occupants: Somalians
Year Established: 1992

Source: Wikimedia
The Dagahaley Refugee Camp is located inside the Dadaab complex and is the third biggest refugee camp in the world. Its population is close to 90,000. The camp was hastily built in the early 1990s to react to the Somali Civil War.
A larger-than-expected number of families were forced to seek sanctuary in Dagahaley in 2011 due to increased violent crime concurrently with severe droughts and hunger.
Did You Know?
Overpopulation has occurred, and those living in the camp have begun to flow into a land outside the camp's formal bounds. This has resulted in conflict between people living in the camp and Kenyan natives.
---
Hagadera
Population: 105,998
Location: Garrisa, Kenya
Main Occupants: Somalians
Year Established: 1992

Source: Wikimedia
Over 100,000 Somali refugees call Hagadera home; more than 95% are originally from Somalia. Since its inception a quarter of a century ago, Hagadera has grown into a full-fledged city with a robust economy supported by an active central market.
The camp is very crowded, and many of its inmates have constructed unofficial housing communities outside the camp.
Did You Know?
Officials in Dadaab's refugee camps have started moving residents to the city's newest camp, Kambioos, to reduce the number of people living in overcrowded conditions.
---
Nyarugusu
Population: 150,000
Location: Kigoma, Tanzania
Main Occupants: Congolese
Year Established: 1996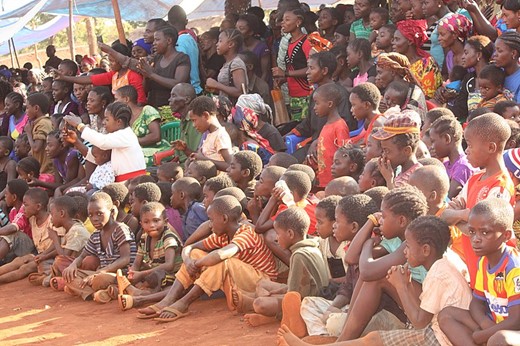 Source: Wikimedia
With a population of over 150,000 people, the Nyarugusu Refugee Camp is one of the biggest refugee camps established. The United Nations High Commissioner for Refugees (UNHCR) and the government of Tanzania established the camp in 1996.
Approximately 150,000 evacuees from Congo fled civil strife in the eastern portion of the Democratic Republic of the Congo (DRC) and traversed the boundary into Tanzania.
Did You Know?
Approximately 150 kilometers to the east of Lake Tanganyika, it may be found in the western province of Kigoma in Tanzania.
---
Kakuma
Population: 184,550
Location: Kakuma, Kenya
Main Occupants: South Sudanese, Somalians
Year Established: 1992

Source: Wikimedia
The Kakuma refugee camp is located in the northwest corner of Kenya and holds more people than any other camp.
The United Nations High Commissioner for Refugees (UNHCR) and the Kenyan Department of Refugee Affairs work together to run the camp, which opened in 1992.
Kakuma is home to around 55,000 Somali and 100,000 South Sudanese refugees. Most of these people were forced to flee their countries of origin because of civil conflict. However, the camp is also home to refugees from roughly 20 other nations.
The situation in Kakuma is very dire due to the decline in donor assistance over the last several years. As a result, the camp's resources and facilities are being stretched to their limits, and the people living there have few possibilities for education and valuable work.
The overpopulation in the camp has increased the development of infectious illnesses, leading to widespread malnutrition, particularly among the camp's youngest inhabitants.
Despite all of these difficulties, many inhabitants have a positive outlook on their futures.
Did You Know?
Students in Kakuma consistently achieve better results than the national averages for Kenya, which is a testimonial to their tenacity and devotion in the face of significant challenges. The students' aspirational goals drive this achievement.
---
Bidi Bidi
Population: 270,000
Location: Uganda
Main Occupants: South Sudanese
Year Established: 2016

Source: Wikimedia
The Bidi Bidi refugee camp is located in the northern part of Uganda. It is home to approximately 270,000 refugees, making it one of the largest camps of its kind in the world.
It was built in 2016 to provide shelter for refugees fleeing the civil conflict in South Sudan. Since then, it has become a temporary home for many people who have faced unthinkable suffering and loss.
The refugees who have found shelter at Bidi Bidi come from many different places and have endured a great deal of hardship on their trips to the camp. Many people have been separated from their loved ones during the journey and arrived at the camp with nothing except their clothing.
Did You Know?
Many people have trekked for days or even weeks to get to the refugee camp because they were forced to flee their homes because of persecution, violence, or poverty in their native countries.
---
Kutapalong
Population: 800,000
Location: Cox's Bazar Bangladesh
Main Occupants: Rohingya refugees
Year Established: 1992

Source: Wikimedia
The Cox's Bazar District of Bangladesh is home to the sprawling Kutapalong Refugee Camp, the world's largest refugee camp. Over 800,000 Rohingya people who were forced to flee persecution and violence in Myanmar have made it their home there.
In 1992, the camp was built to provide shelter for Rohingya refugees who had fled to Bangladesh to escape persecution in Myanmar. A few thousand people lived there when it was only a temporary outpost camp.
But since an increasing number of Rohingya people have sought refuge in Bangladesh throughout the years, the camp has expanded dramatically.
The occupants of the Kutapalong refugee camp are subjected to a challenging way of life. There are too many people living in the camp, and the structures they have constructed for themselves are too tiny and too congested. In addition, the lack of access to clean water and adequate sanitation has increased the incidence of infectious illnesses, including cholera and diarrhea.
Did You Know?
Despite these difficulties, the people living in the Kutapalong refugee camp have shown an impressive amount of resiliency and drive. A significant number of people have formed various committees and committees to contribute to the management of the camp and to support those in need.
---
RELATED READINGS
10 Largest Nonprofits in the World
8 Largest Tank Battles In History
10 Largest Countries in Africa
10 Largest Genocides in the World
9 Most Expensive Foundations