Construction, manufacturing, energy generation, and technology all depend on mining for raw minerals. Few global corporations mine a variety of minerals and metals.
These corporations employ hundreds and spend considerably in technology and equipment to extract minerals effectively and responsibly. Their distant operations in deserts, mountains, and seas demand a lot of knowledge and resources.
Multinational mining companies dominate the global market. They mine coal, iron ore, copper, gold, silver, nickel, and diamonds.
They produce millions of tons of minerals annually. These minerals are treated, refined, and exported for usage.
Mining also affects the environment and local inhabitants. Large-scale mining may harm ecosystems, water resources, and local inhabitants. Mining firms have environmental and social responsibility strategies to reduce these consequences and connect with local people.
Complex operations demand skill and resources to operate sustainably. To stay at the top of the mining business, these firms must adapt and innovate. With that, let's take a look at the largest mining companies in the world.
Fortescue Metals Group
Market Capitalization in billions of USD: 45.03
Headquarters: Perth, Western Australia
Number of Employees: 11,000
Year Established: 2003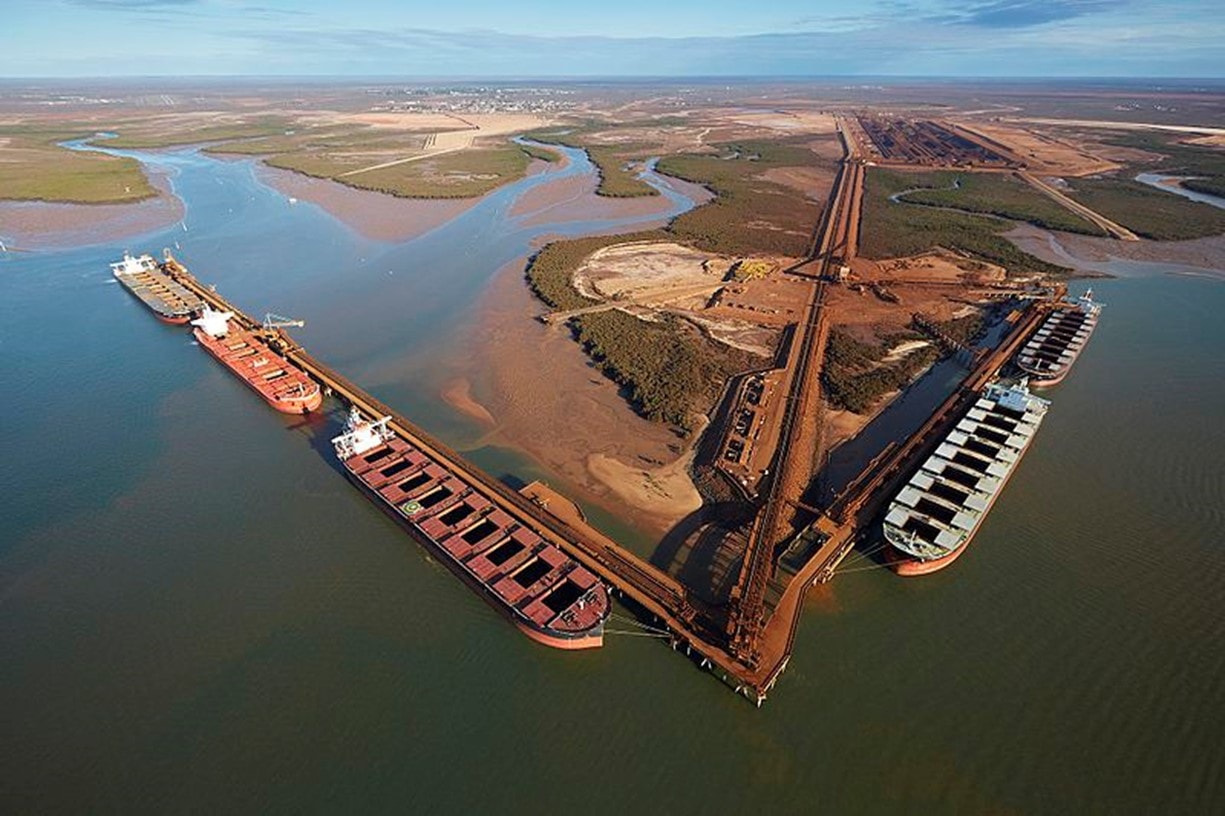 Source: Wikimedia
Fortescue Metals Group (FMG) is an Australian mining company that specializes in the exploration, production, and sale of iron ore. The eighth-largest mining corporation in the world was founded in 2003.
FMG's mining infrastructure and activities are in Western Australia's Pilbara area. Christmas Creek and Cloudbreak mines comprise the Chichester Hub, the company's major business. FMG operates Firetail and Kings mines at the Solomon Hub.
Iron ore has helped the firm simplify and become cost-effective. FMG has invested considerably in mining infrastructure and logistics for efficiency. The firm has been one of the world's lowest-cost iron ore producers since this investment.
Did You Know?
Investors recognize FMG's performance. In recent years, the company's stock price has increased due to solid financial performance. FMG earned $4.7 billion after taxes in 2020, up from $2.5 billion in 2019. A 10% dividend yield makes the company's dividend payment ratio favorable.
---
Anglo American
Market Capitalization in billions of USD: 45.58
Headquarters: London, England, UK
Number of Employees: 95,000
Year Established: 1917


Source: Wikimedia
Anglo American is a worldwide mining giant with a century-long history. The seventh-largest mining company in the world, it was founded in South Africa in 1917.
Anglo American mines platinum, diamonds, copper, nickel, iron ore, and coal. The firm works throughout the whole mining value chain, from exploration and development through to production and marketing.
Anglo American prioritizes sustainability, innovation, and technology. Automation and digital technology are used by the corporation to enhance its mining operations.
The company's FutureSmart Mining program develops innovative solutions for sustainable and responsible mining. The initiative intends to harness cutting-edge technology, such as artificial intelligence and data analytics, to optimize mining operations, decrease environmental impact, and increase safety.
Did You Know?
Anglo American is a Dow Jones Sustainability Index member and an Ethisphere Institute World's Most Ethical Company.
---
Southern Copper Corporation
Market Capitalization in billions of USD: 57.91
Headquarters: Mexico City, Mexico
Number of Employees: 12,000
Year Established: 1952


Source: Wikimedia
Southern Copper Corporation (SCC) is the sixth biggest mining business and a top copper producer. Phoenix, Arizona, is the company's headquarters. SCC runs mines and metallurgical facilities in Peru and Mexico, which produce copper, molybdenum, zinc, and silver.
Toquepala and Cuajone are the company's southern Peruvian mines. The world's biggest open-pit copper mines generate 1.1 million tons of copper yearly. The Mexican La Caridad mine produces copper, molybdenum, zinc, and silver for the firm.
Southern Copper Corporation prioritizes sustainable mining. The firm is dedicated to decreasing its environmental effect and enhancing the quality of life in communities surrounding its mining activities. SCC has modernized its facilities to decrease waste, pollutants, and water use.
Did You Know?
Southern Copper Company also develops its communities. Education, health, and infrastructure projects are part of the company's social responsibility program. SCCO's activities have created employment, raised living standards, and boosted local economies.
---
Freeport-McMoran
Market Capitalization in billions of USD: 58
Headquarters: Phoenix, Arizona, U.S.
Number of Employees: 24,700
Year Established: 1912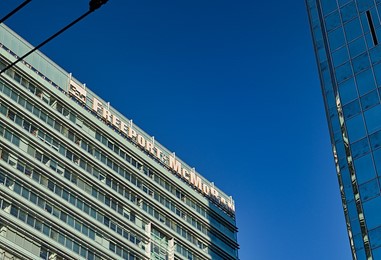 Source: Wikimedia
The fifth-largest mining corporation is Freeport-McMoRan. Founded in 1912, it operates mines in North and South America, Indonesia, and Africa from its Phoenix, Arizona headquarters. Freeport-McMoRan dominates the mining business with a $50 billion market worth.
Copper, gold, and molybdenum are its main products. The Grasberg mine in Indonesia is the world's largest gold mine and second-largest copper mine. The business also has large mining activities in North and South America, notably the Morenci mine in Arizona and the Cerro Verde mine in Peru.
Did You Know?
Freeport-McMoRan is well-positioned to profit from rising metal demand. The corporation can fulfill demand for copper and other metals as renewable energy and electric cars grow. It invests in technology and research to boost efficiency and sustainability.
---
Glencore
Market Capitalization in billions of USD: 72.8
Headquarters: Baar, Switzerland
Number of Employees: 135,000
Year Established: 1974


Source: Wikimedia
Glencore, a global mining and commodities trading company, has a long and complicated history. Currently, Glencore is the fourth biggest mining business in the world, with operations in over 50 countries and a staff of more than 160,000 people.
Marc Rich, a Phillip Brothers commodities trader, started Glencore in 1974 as Marc Rich & Co. AG. The commodities trading corporation expanded into mining, oil refining, and other industries.
Glencore has thrived by adapting to shifting market circumstances. The organization can swiftly adapt to commodity price and demand fluctuations due to its flexible business strategy. This has helped Glencore to weather multiple economic downturns throughout the years, and to remain a key participant in the mining and commodities trading sectors.
Did You Know?
Glencore mines copper, cobalt, zinc, nickel, and coal. The corporation also has large holdings in oil and gas, agriculture, and other commodities. In addition, Glencore is one of the largest traders of commodities in the world, buying and selling everything from metals and minerals to oil and gas.
---
Vale
Market Capitalization in billions of USD: 75.29
Headquarters: Rio de Janeiro, Brazil
Number of Employees: 213,413
Year Established: 1942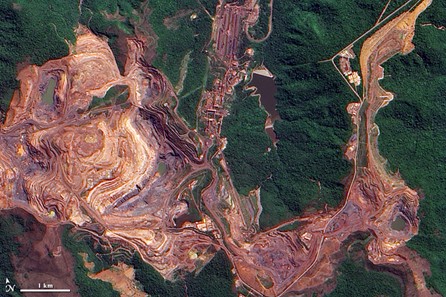 Source: Wikimedia
Vale, established in 1942, is the third-largest mining business in the world. Vale, based in Rio de Janeiro, is a leader in iron ore, nickel, copper, and other metals and minerals production.
Vale operates in 30 countries, including Brazil, Canada, Australia, Indonesia, and Mozambique. The corporation employs 77,000 workers and contractors.
Vale is a big producer of nickel, a critical element in stainless steel manufacture. The corporation mines and processes nickel and cobalt ore in Canada, Indonesia, and New Caledonia.
Did You Know?
Vale mines iron ore in Minas Gerais, Brazil. The world's biggest iron ore deposit provides high-quality steel-making iron ore. Vale exports iron ore internationally from its Maranhão port
---
Rio Tinto
Market Capitalization in billions of USD: 119.24
Headquarters: London, United Kingdom
Number of Employees: 45,000
Year Established: 1873

Source: Wikimedia
Rio Tinto is the world's second largest mining corporation. Since 1873, the firm has become a worldwide mining powerhouse.
Rio Tinto produces aluminum, copper, diamonds, coal, uranium, and iron ore in 35 countries on six continents. The firm supplies industries worldwide with its high-quality, low-cost manufacture of these goods.
The firm remains a major mining company despite this issue. Innovation, sustainability, and cost-efficiency have kept the firm competitive in a tough industry. Rio Tinto can fulfill rising commodity demand and remain a global mining leader.
Did You Know?
Innovation and technology helped the firm succeed. Rio Tinto leads in leveraging automation and robots to boost productivity and save costs. The company's autonomous vehicles and drills reduce accidents and boost production.
---
BHP
Market Capitalization in billions of USD: 158.95
Headquarters: Melbourne, Victoria, Australia
Number of Employees: 80,000
Year Established: 1885

Source: Wikimedia
BHP is the largest mining company in the world. The corporation operates in over 90 countries, including Australia, the US, Chile, Peru, and Brazil, with a market valuation of over $158 billion.
The Broken Hill Proprietary Corporation, a New South Wales silver, lead, and zinc mine, was created in 1885. The firm now mines coal, iron ore, copper, nickel, oil, and gas. BHP mines and processes minerals and commodities for building, manufacturing, and energy generation.
BHP has a long history of ethical and sustainable mining. The UN Sustainable Development Goals guide the company's sustainability efforts (SDGs). BHP has connected its business strategy with the SDGs, focusing on greenhouse gas emissions, water conservation, and community development.
BHP also operates in oil and gas. Oil and gas assets are in the US, Australia, and Trinidad & Tobago. BHP produces conventional and unconventional oil and gas and explores and develops.
Did You Know?
The world's biggest copper mine, Escondida in Chile, is BHP's flagship project. The 30-year-old mine produces about 1.2 million tons of copper each year. BHP's Pilbara iron ore mines in Western Australia are among the world's biggest.
RELATED READINGS
5 Largest Gold Nuggets in the World (That Still Exist)
10 Largest Oil Companies in the World
10 Largest Engineering Firms In The World
9 Largest Biotech Companies In The World