Some of the world's biggest and most populated cities are located in Asia. These metropolitan hubs are distinguished by their various cultures, busy streets, and extensive history.
One of the oldest and biggest cities in Asia has a history that dates back thousands of years. It is an important economic center and a famous tourist destination, famed for its historic temples, vibrant marketplaces, and delectable food.
Several Asian cities are contemporary metropolis with skyscrapers, efficient public transit, and lively nightlife. In addition, some of the world's biggest and most prominent corporations are headquartered there.
Some Asian metropolises are a melting pot of civilizations, with a population of various races and nations. They serve as essential transportation centers with bustling airports and ports. In addition, these cities have various cultural attractions, including museums, galleries, and theaters.
Despite their differences, these cities have one thing in common: they are all economic and cultural powerhouses in Asia. Here are the 9 largest cities that can be located in the Asian continent.
Manila
Total Population: 13,484,462
Total Area: 239.22 square miles
Total Population Density: 56,368 per square mile
Region & Country: National Capital Region, Philippines
Year Established: 1571

Source: Pixabay
Manila, the Philippines' capital, is Asia's ninth-biggest metropolis. On Luzon's eastern coast, Manila has nearly 12 million inhabitants with a diverse culture, religion, and language.
The National Museum of the Philippines and the Metropolitan Museum in Manila display the Philippines' rich cultural legacy. In addition, the University of the Philippines and De La Salle University noted for their academic programs and research facilities, are situated in the city.
The city's beaches, landmarks, and nightlife attract tourists and locals. The world's oldest Chinatown has lively marketplaces, street cuisine, and colorful street art, while Malate has late-night nightclubs and clubs.
Manila is a bustling, multicultural city with a rich past. Tourists and ex-pats who wish to experience the Philippines' unique combination of eastern and western cultures love it.
Did You Know?
Miguel López de Legazpi built the city in the 16th century. It was the Philippine capital under Spanish colonial rule and the focus of the independence struggle.
---
Tokyo
Total Population: 13,988,129
Total Area: 847.14 square mile
Total Population Density: 16,480 per square mile
Region & Country: Kanto, Japan
Year Established: 1457 as Edo, 1868 as Tokyo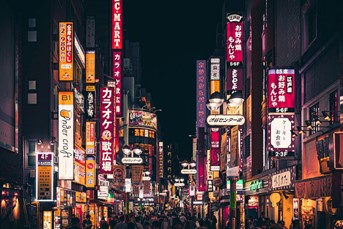 Tokyo is Asia's eighth-largest city. The city, on Honshu's eastern shore, is a bustling metropolis with historical traditions, contemporary technology, and global influences.
Tokyo's old-new mix is unique. The city has skyscrapers, neon-lit avenues, and centuries-old temples and shrines. Tokyo never sleeps, with karaoke bars, arcade games, traditional teahouses, and trendy clubs.
Tokyo offers contrasts and variety for everyone. Tokyo is a must-see for its history, culture, and contemporary amenities.
Did You Know?
Tokyo is a foodie's paradise with several cuisines and eating experiences. Michelin-starred sushi restaurants, traditional Japanese ramen shops, foreign cuisine, and street food booths please all tastes. Numerous food markets throughout the city provide local cuisine and fresh vegetables.
---
Dhaka
Total Population: 14,543,124
Total Area: 834.432 square miles
Total Population Density: 17,428 per square mile
Region & Country: Dhaka, Bangladesh
Year Established: 1608

Source: Wikimedia
Bangladesh's biggest city, Dhaka, is Asia's seventh most populous. Dhaka, on the Buriganga River, is a dynamic city with a rich past.
One of the world's densest cities, it boasts over 21 million inhabitants. Dhaka has a rich history and a vibrant arts and cultural scene despite overpopulation and pollution.
Dhaka is vibrant despite its numerous problems. Dhaka's busy marketplaces, rich history, and burgeoning arts and cultural scene provide something for everyone. Dhaka offers something for everyone—history, culture, or city life.
Did You Know?
The Bangladeshi national mosque, Baitul Mukarram, is an important Dhaka attraction. Islamic residents pray at this large mosque, which can hold over 40,000 people.
---
Istanbul
Total Population: 14,657,000
Total Area: 2,063.03 square miles
Total Population Density: 7106 per square mile
Region & Country: Mamara, Turkey
Year Established: 657 BC as Byzantium

Source: Pexels
Istanbul is Turkey's biggest city and Asia's sixth. It is a cultural, economic, and political hub on the Bosphorus Strait. Its long history includes many empires and civilizations.
With a strong economy and port, Istanbul is a commercial and commerce center. Moreover, it attracts visitors and ex-pats due to its numerous multinational firms.
Istanbul has modernized in recent years. Many entrepreneurs and tech firms have moved to the city, making it a tech hotspot. However, Istanbul has maintained its cultural history and beauty despite rapid modernization. The city changes but keeps faithful to its origins.
Istanbul offers something for everyone: history, gastronomy, and commerce. It's one of Asia's most visited cities since it has everything.
Did You Know?
Istanbul's European-Asian location is unique. This has made the city a melting pot of cultures. In addition, business and commerce are advantageous since it is a gateway to the Middle East and Asia.
---
Karachi
Total Population: 14,916,456
Total Area: 1,460 square miles
Total Population Density: 10,000 per square mile
Region & Country: Sindh, Pakistan
Year Established: 1729

Source: Pixabay
Karachi is Asia's fifth-largest metropolis and Sindh's capital. Its varied population of nearly 21 million people lives in the country's financial and industrial core on the Arabian Sea.
Since the Indus Valley Civilization, the city has had a rich history. It was taken by the Arabs in the 8th century and became a British Empire port. Pakistan's capital since 1947.
Karachi has struggled recently despite its economic and cultural prominence. Crime, pollution, and overcrowding. Karachi's administration and residents are attempting to fix these issues and improve the city.
Technology and innovation have grown throughout the city. It has several tech startups and is trying to lead digital innovation.
Karachi has a vibrant past and a promising future. Its culture, trade, and innovation help Pakistan's economy and culture.
Did You Know?
Karachi is a prosperous city with a rich culture and economy. It has active bazaars, street cuisine, and different neighborhoods.
---
Delhi
Total Population: 16,787,941
Total Area: 573 square miles
Total Population Density: 29,298 per square mile
Region & Country: India
Year Established: 1214

Source: Wikimedia
Delhi, India's capital, is Asia's fourth-largest metropolis, with nearly 21 million residents. Delhi, a busy northern city, is rich in history and culture.
It also has a lively cuisine scene. The city's street cuisine is wonderful, from spicy chaats to sweet jalebis.
It has numerous important institutions, notably the University of Delhi and the Indian Institute of Technology, making it a research and education center. Young entrepreneurs launch tech, healthcare, and other startups in the city.
Did You Know?
It was the capital of various empires throughout history. People from throughout the globe live, work, and study in Delhi today.
---
Mumbai
Total Population: 20,667,656
Total Area: 1,681.5 square miles
Total Population Density: 12,291 square miles
Region & Country: India
Year Established: 1507

Source: Wikimedia
India's Maharashtra state capital, Mumbai, is Asia's third biggest metropolis. Mumbai is India's west coast city, with over 20 million residents. Its lively nightlife, busy markets, and famous buildings reflect its rich history, culture, and diversity.
Many of India's biggest banks are in Mumbai, the financial hub. The city houses several of India's biggest film studios and television networks. Mumbai's many galleries, theaters, and museums showcase the city's rich cultural legacy.
Mumbai is vibrant and diverse. This vibrant town is full of surprises, from its famous monuments and busy marketplaces to its rich history and cultural traditions.
Did You Know?
Mumbai is rich in culture and heritage despite its modernism and cosmopolitanism. The city has various Hindu temples, notably the Shree Siddhivinayak Temple, devoted to Ganesha.
---
Beijing
Total Population: 21,516,000
Total Area: 6,336.1 square miles
Total Population Density: 3395 per square mile
Region & Country: China
Year Established: 1045 BC

Source: Pixabay
Beijing, Asia's second-biggest metropolis, has about 21 million residents. Beijing, in northern China, has a rich 3,000-year history. The political, economic, and cultural heart of contemporary China was the capital of the Qing and Ming dynasties.
The Ming and Qing monarchs lived in the Forbidden City, one of Beijing's most famous buildings. The Forbidden City is a UNESCO World Heritage site with stunning architecture, gardens, and meticulous features. The imperial throne chamber, Emperor's bedroom, and museums and galleries are open to visitors.
Did You Know?
Beijing is a cosmopolitan metropolis with a vibrant arts and entertainment scene. The city has several parks, gardens, world-class museums, theaters, and performance venues. It also has wonderful local and foreign cuisine.
---
Shanghai
Total Population: 24,256,800
Total Area: 5,761.7 square miles
Total Population Density: 4210 per square mile
Region & Country: China
Year Established: 4000 BC

Source: Pexels
Shanghai is the largest city in Asia and a global financial center. It's a significant port and commercial hub on China's east coast. Shanghai is a multicultural city with about 24 million residents.
The early 1800s Qing Dynasty gave the city its rich history. Then, in the late 19th and early 20th centuries, Shanghai grew from a fishing town to a commercial hub. As a result, it is noted for its contemporary buildings, lively streets, breathtaking historical sites, and cultural attractions.
Shanghai is a lively and diverse metropolis. This dynamic city has something fresh and fascinating for everyone, whether you're into history, culture, or simply enjoying the environment. Thus, Asian tourists must visit it.
Did You Know?
Shanghai has world-class cuisine and nightlife as well as cultural attractions. The city has several restaurants and pubs providing Chinese and foreign cuisine.
---
RELATED READINGS
10 Largest Cities In North America By Population
8 Largest Cities in Africa by Population
8 Largest Cities In Australia By Population
10 Largest Cities In Italy By Population
10 Largest Cities In France By Population