Mississippi has a rich history and culture. Its major cities are commercial, industrial, and entertainment hubs. These cities are popular with visitors and inhabitants because they combine Southern charm with contemporary comforts.
The biggest Mississippi cities vary in population, economics, and geography. Some are on the Gulf Coast, others in the state's interior highlands. They vary from tiny communities with a few thousand citizens to enormous metropolises with hundreds of thousands.
Mississippi's main cities are centers of activity and opportunity, notwithstanding their disparities. They provide healthcare, manufacturing, education, and retail jobs. Museums, theaters, and festivals honor the state's history and customs.
These cities are known for their community. Despite their size, people describe them as close-knit and pleasant with a strong Southern hospitality. The local cuisine includes Southern favorites like fried chicken, barbeque, and catfish, as well as more foreign cuisines.
These cities also value education. Top universities and community colleges provide locals greater education and employment training. Businesses want talented and educated workers, which boosts city wealth.
Mississippi's major cities exemplify the state's combination of old and modern, tradition and innovation, hardship and prosperity. They blend history, culture, and development to create a dynamic environment. Here are the 8 largest cities in Mississippi.
Meridian
Population: 33,222
Population Density: 618 per square mile
Total Area: 53.74 square miles
Year Established: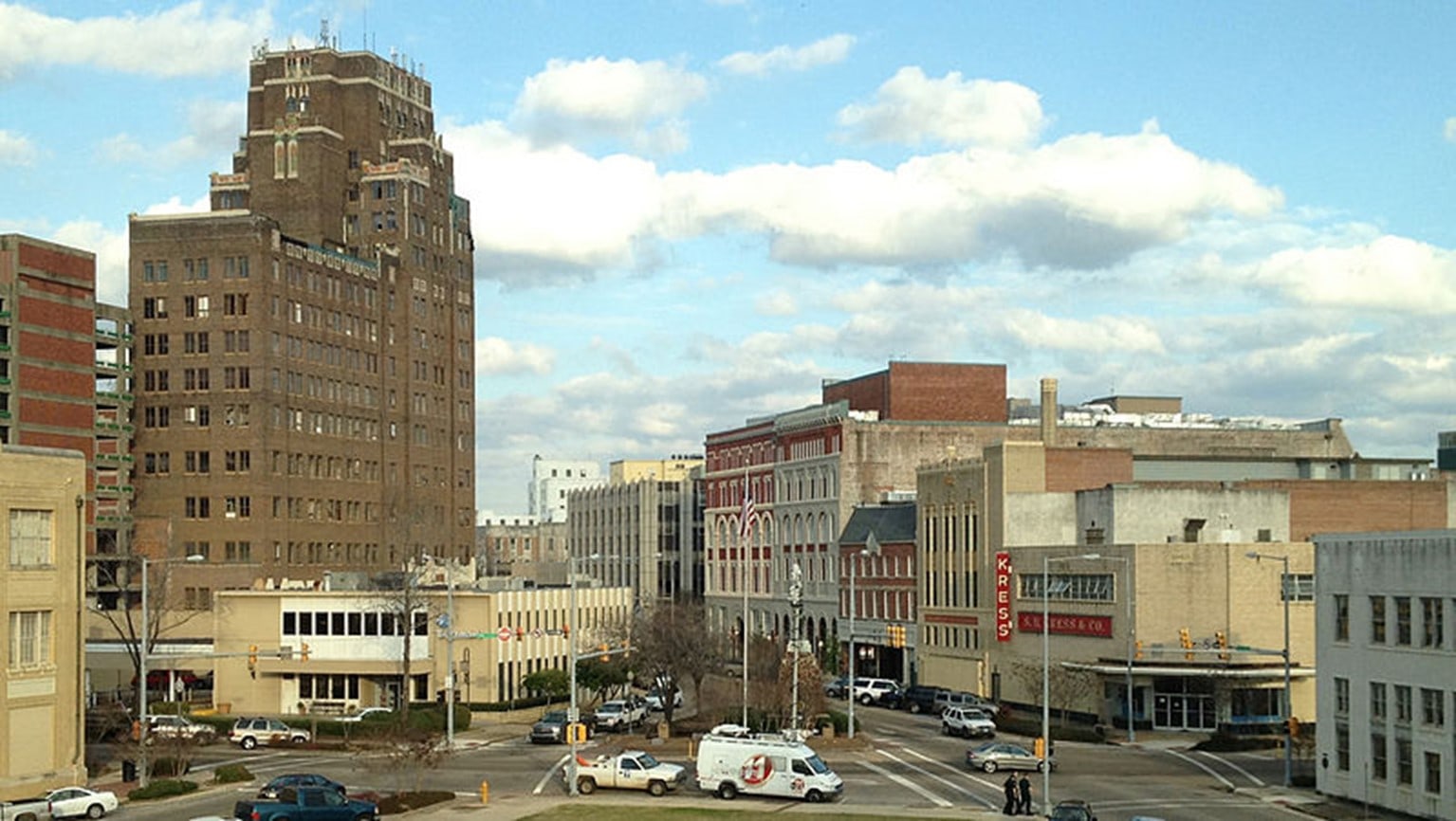 Source: Wikimedia
Meridian is a prosperous eastern city. Its rich history, cultural variety, and booming economy make it Mississippi's eighth-largest city with over 33,000 residents.
The city's early 19th-century town history is noteworthy. Being a Union and Rebel railway crossroads, the city was crucial during the Civil War. The Meridian Railroad Museum, Mississippi Industrial History Museum, and Meridian Museum of Art are all open to visitors.
Meridian Public School District, Lamar School, and Meridian Community College are excellent schools. Mississippi State University's Meridian Campus provides undergraduate and graduate programs in business, education, and engineering in Meridian.
Did You Know?
Meridian's music, cuisine, and customs reflect its varied population. The Riley Center produces concerts, plays, and other cultural events year-round. Meridian holds the Threefoot Festival, Mississippi Arts and Entertainment Experience, and Jimmie Rodgers Music Festival.
---
Tupelo
Population: 38,937
Population Density: 605 per square mile
Total Area: 64.38 square miles
Year Established:

Source: Wikimedia
Tupelo, Mississippi is in the northeastern part of the state. With about 38,000 people, it is the seventh largest city in Mississippi. People know about the city's long history, beautiful natural surroundings, and lively cultural scene.
Tupelo has a lot of Civil War history, as well as a link to Elvis Presley. During the war, both the Confederate and Union armies used the city as a major transportation hub. Today, people can visit the Tupelo National Battlefield, which was where a major battle happened in 1864.
There are also many beautiful natural places in the area of Tupelo. The city is in the foothills of the Appalachian Mountains, and the area around it is full of rolling hills, lush forests, and beautiful lakes.
Did You Know?
Elvis Presley was born in Tupelo, which is one of the most well-known facts about the city. On January 8, 1935, the rock and roll star was born in a small house in Tupelo. The Elvis Presley Birthplace and Museum is open to the public today.
---
Olive Branch
Population: 41,580
Population Density: 1,118 per square mile
Total Area: 37.21 square miles
Year Established:

Source: Wikimedia
Olive Branch, Mississippi is tiny yet hearty. Olive Branch, DeSoto County's sixth-largest community, lies 20 miles southeast of Memphis, Tennessee, and has 41,000 residents. It has a great quality of life, robust economy, and dynamic community.
Olive Branch has great quality of life. The city boasts strong schools, minimal crime, and plenty of parks and leisure. Residents enjoy the hike and camp experience in Holly Springs National Forest and play at Cherokee Valley Golf Course.
The city is very close-knit. The Olive Branch Old Towne Christmas Festival and City Park Easter Egg Hunt are yearly events. These activities unite inhabitants of all ages.
Did You Know?
Olive Branch, named after ancient olive branches symbolizing peace, was created in the early 1800s. The town expanded slowly, remaining rural until the 1960s. Olive Branch grew rapidly as Memphis expanded and Interstate 55 was built.
---
Hattiesburg
Population: 49,552
Population Density: 927 per square mile
Total Area: 53.43 square miles
Year Established:

Source: Wikimedia
Hattiesburg is a bustling city in southeast Mississippi. Hattiesburg, Mississippi's fifth-largest city, combines southern charm with contemporary comforts.
Civil engineer William H. Hardy created Hattiesburg in 1882 while constructing a railroad line. Hattie, Hardy's wife, was the city's namesake, and the railroad made it an economic hub. Camp Shelby, a massive military training facility near Hattiesburg, was vital during World War II.
A Hattiesburg must-see is the Black American Military History Museum. World War II Black American Camp Shelby soldiers' USO Clubhouse is now the museum. The museum displays relics and exhibits about Black American troops' wartime accomplishments.
T-Bones Records and Café sells handmade baked goods, coffee, and smoothies. The Depot Coffee Shop & Restaurant in an old railroad depot serves coffee and pastries.
Did You Know?
Hattiesburg is a vibrant city with multiple schools and institutions, including the University of Southern Mississippi and William Carey University. The Hattiesburg Arts Council, Symphony Orchestra, and Saenger Theater are cultural attractions.
---
Biloxi
Population: 51,069
Population Density: 1,188 per square mile
Total Area: 42.99 square miles
Year Established:

Source: Wikimedia
Beside the Gulf of Mexico, Biloxi, Mississippi is a gorgeous city. It is the fourth biggest city in Mississippi with a population of around 51,000 persons. Biloxi is a renowned tourist destination because to its rich history and culture, which attract visitors from all over the globe.
The French adventurer Pierre Le Moyne d'Iberville built the city of Biloxi in 1699. It was previously known as "Bilocci," after the local Native American tribe who occupied the region. The city has seen several transformations and witnessed both successes and tragedies throughout the years.
Biloxi's magnificent beaches are one of the city's major charms. The city has 26 miles of beaches with white sand along the Gulf of Mexico. In addition to swimming, sunbathing, and fishing, visitors may also engage in boating, kayaking, and paddleboarding.
Did You Know?
During the year, Biloxi hosts a number of festivals and events, such as the Mardi Gras celebration, the Biloxi Seafood Festival, and the Cruisin' the Coast vintage car show. These events provide a fun and exciting opportunity to explore the city's culture and customs and attract tourists from all over the globe.
---
Southaven
Population: 56,349
Population Density: 1,364 per square mile
Total Area: 41.33 square miles
Year Established:

Source: Wikimedia
Mississippi's Southaven is thriving. It is the third biggest city in the state and a key economic and cultural center with over 56,000 citizens.
Southaven has changed dramatically from its 1800s founding as a modest agricultural hamlet. The city is a retail, manufacturing, and logistical hub due to its position in Memphis. FedEx, Sherwin-Williams, and Williams-Sonoma operate in the neighborhood, creating employment and economic development.
The extensive public facilities of the city must be mentioned. The Snowden Grove Park and Amphitheater in Southaven has a state-of-the-art baseball complex, a fishing lake, and a large playground.
Did You Know?
Southaven offers several historical and artistic attractions. The DeSoto County Museum displays relics from the region's rich history, while the Southaven Veterans Memorial Park commemorates local war veterans.
---
Gulfport
Population: 74,465
Population Density: 1,339 per square mile
Total Area: 55.63 square miles
Year Established:

Source: Wikimedia
Gulfport is a Harrison County, Mississippi Gulf Coast city. Gulfport, the state's second-largest city, with 74,000 citizens. Beaches, landmarks, and a strong economy define the city.
Gulfport's history dates to the early 1800s. French and Spanish explorers drove the Biloxi people out. Incorporated in 1898, the city has become a Gulf Coast business center.
Gulfport's beaches attract tourists from throughout the globe. Gulfport Beach, Jones Park, and Long Beach are popular. The Island View Casino and USS Biloxi Museum are both nearby attractions.
Did You Know?
Gulfport has a diversified culture with southern warmth and beach beauty. The Gulfport Music Festival, Gulfport Seafood Festival, and Mississippi Gulf Coast Blues and Heritage Festival are among the city's annual cultural events. Art galleries, museums, and theaters showcase the city's rich history and culture.
---
Jackson
Population: 147,758
Population Density: 1,330 per square mile
Total Area: 111.09 square miles
Year Established:

Source: Wikimedia
Jackson is the largest city in Mississippi. With over 147,000 residents, the city offers a vibrant mix of Southern charm, history, and culture. Jackson, named for the seventh US president, was created in 1821. Nowadays, the city is a hub for African American history and culture.
History buffs should visit Eudora Welty Mansion and Garden. Jackson-born Pulitzer Prize-winning novelist Eudora Welty inhabited this lovely mansion. Visitors may explore Welty's residence as a museum.
Jackson's Southern cuisine will delight foodies. Fried chicken, catfish, and biscuits and gravy are must-tries. Brent's Drugs, a historic pharmacy-turned-diner, provides traditional Southern food in a pleasant, nostalgic environment.
Did You Know?
The Mississippi State Capitol, a stunning early 1900s building, is one of Jackson's most popular attractions. Mississippi history and politics are taught during Capitol tours.
RELATED READINGS
10 Largest Cities In North America By Population
10 Largest Cities In Ohio By Population
10 Largest Cities In Indiana By Population
10 Largest Cities In Illinois By Population