Vermont is a northeastern state. It has stunning scenery, especially the Appalachian Green Mountains. Small towns and villages in the state are close-knit.
The state has a long history of European colonization in North America. One of the original thirteen colonies, it was crucial to the American Revolution. Vermont was the first state to abolish slavery and enter the Union.
Vermont relies heavily on dairy farming. Craft brewers, artisanal food makers, and tiny manufacturers operate throughout the state. Many tourists visit Vermont to admire its nature and culture.
Vermont has a strong environmental ethic. The state promotes renewable energy, especially solar electricity, via many programs. In addition, hikers and skiers love Vermont's national forests and state parks.
Vermont is distinct and beautiful, with a strong community and dedication to sustainability. Live, work, and visit here. Even though the state is one of the smallest in the US by population, here are eight of the largest cities in Vermont.
Montpelier
Population: 8,118
Population Density: 807 per square mile
Total Area: 10.05 square miles
Year Established: 1787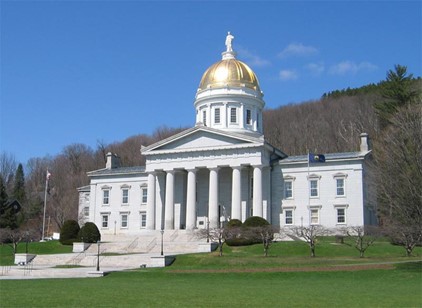 Source: Wikimedia
Vermont's capital and the eighth-largest city is Montpelier. It has a rich history and small-town charm in central Vermont. It has the distinction of being the "Least Populated State Capital in the United States."
Montpelier was founded in 1787. As many early inhabitants were French, it was called Montpellier. The city was previously a major wool producer. It has several colleges and universities nowadays.
Montpelier has several restaurants and cafés for every taste. Craft beer fans visit the city's various breweries. It is a friendly community with an amusing past, various cultural attractions, and plenty of outdoor leisure. All ages love it.
Did You Know?
Montpelier has various cultural attractions, including the Vermont History Museum, which covers pre-colonial through modern Vermont history. In addition, tours of Vermont's statehouse, situated in Montpelier, are available.
---
Winooski
Population: 8,143
Population Density: 5,679 per square mile
Total Area: 1.43 square miles
Year Established: 1770s

Source: Wikimedia
Chittenden County's Winooski is a tiny city. The sixth biggest city in the state, it has over 8,000 residents. The city lies in Vermont's Champlain Valley, near Burlington. The Green Mountains and Lake Champlain are its main attractions.
The late 18th-century French-Canadian settlement of Winooski has a rich history. The city was formerly called "Les Cedres," or "The Cedars," because of its many cedar trees. However, Winooski—Abenaki for "site of the wild onions"—was its new name.
Winooski has something for everyone. Its rich history, flourishing economic sector, and gorgeous natural surroundings make it a terrific destination to live, work, and play.
Did You Know?
Winooski's downtown is distinctive. Winooski Falls Way, the city's principal thoroughfare, circles downtown. This layout fosters community and foot traffic. In addition, new industries and housing projects have revitalized Winooski. As a result, young professionals and families are moving there.
---
Barre
Population: 8,379
Population Density: 2,123 per square mile
Total Area: 3.95 square miles
Year Established: 1895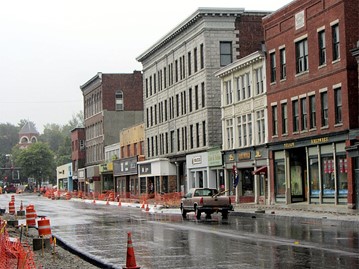 Source: Wikimedia
Barre, Vermont, located in Washington County. The sixth-largest city in the state has 8,379 people. Incorporated in 1895, Barre was established in 1790. Barre, Massachusetts, was named after British Parliament member Isaac Barré.
The Vermont Granite Museum protects Barre's granite legacy. The museum shows granite quarrying equipment and history. Barre includes several local eateries, retailers, and service companies in addition to its granite industry. Downtown features various businesses, cafés, and other companies.
Rolling hills and woods surround Barre, Vermont. The friendly and welcoming city is an excellent area to live, work, and raise a family. Barre may be the appropriate tiny city for you if you value community.
Did You Know?
Barre is noted for granite quarrying. Granite quarries employ many local populations. In addition, Barre, the "Granite Capital of the World," provides granite for construction projects nationally.
---
Bennington
Population: 8,739
Population Density: 1,809 per square mile
Total Area: 4.83 square miles
Year Established: 1749

Source: Wikimedia
South-Western Vermont is home to the prosperous city of Bennington. The state's fifth-largest city is home to 8,739 people.
You may find museums, theaters, and other cultural attractions throughout town. Tourists go to see the Bennington Conflict Monument, which was built to honor the Revolutionary War combat. The Bennington Museum is an excellent resource for learning about Americana, folk art, and the Revolutionary War.
Bennington also has several historical sites. The Bennington Recreation Path is a beautiful place to go hiking or cycling through the mountains. The Bennington Area Trail System is great for hiking, mountain biking, or cross-country skiing since it has approximately 100 miles of trails.
Everyone can find what they're looking for in Bennington.
Did You Know?
Bennington has a prominent arts community. The Bennington Center for the Arts hosts exhibits and events by local artists. In addition, the Southern Vermont Arts Center has a gallery, a studio, and a sculpture park, all of which bring in art enthusiasts.
---
Essex Junction
Population: 10,854
Population Density: 2,378 per square mile
Total Area: 4.57 square miles
Year Established: 1892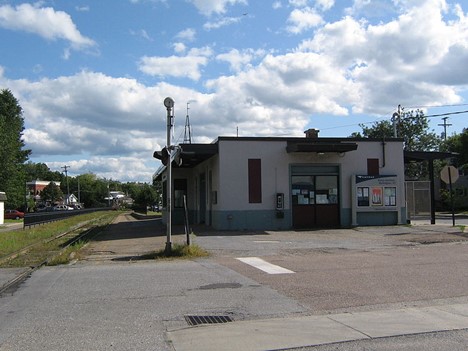 Source: Wikimedia
Essex Junction is a Vermont village. With 10,000 residents, it is the state's fourth-biggest city. The city is in Chittenden County, south of Burlington.
It is a nice, tiny town. Families like its good schools and secure surroundings. The city has many parks and recreational facilities, including the Essex Junction Recreation and Parks Department, which provides activities for all ages.
Essex Junction is excellent for living, working, and playing. Its small-town charm and welcoming neighborhood make it an attractive residence. This lovely Vermont village has something for everyone, residents, and visitors.
Did You Know?
Essex Junction's community goes beyond its businesses and activities. The autumn Essex Junction Craft Fair is one of several municipal events. Local artists and artisans present their wares at this event.
---
Rutland
Population: 15,669
Population Density: 2,077 per square mile
Total Area: 7.54 square miles
Year Established: 1892

Source: Wikimedia
Rutland, Vermont's third-largest city, has over 15,000 residents. Outdoor enthusiasts enjoy hiking, bicycling, and skiing in the Green Mountains.
Rutland's small-town charm and communal spirit complement its cultural attractions. The Vermont State Fair and Vermont Wine and Harvest Festival are among several local events.
Rutland is a friendly, historic city with many cultural and recreational activities. Rutland offers something for everyone, whether you like the outdoors, art, or small-town life.
Did You Know?
The Vermont Marble Museum, which chronicles local marble quarrying, is a Rutland attraction. The museum has a scale model of a marble quarry, ancient equipment, and a video on Vermont marble manufacture.
---
South Burlington
Population: 20,770
Population Density: 1,259 per square mile
Total Area: 10.49 square miles
Year Established: 1865

Source: Wikimedia
The state's second-largest city, South Burlington, has 20,000 residents. South Burlington's closeness to Vermont's major city and the University of Vermont is remarkable. Bridges link the cities over the Winooski River. South Burlington residents may readily reach Burlington's restaurants, coffee shops, theaters, and parks due to its closeness.
South Burlington's environmental emphasis has grown in recent years. For example, the city recycles and installs solar panels on buildings to lessen its carbon impact.
South Burlington School District has three elementary schools, a middle school, and a high school. The city is a lively, pleasant community with an excellent quality of life. Its sustainability, community, and closeness to Burlington make it a desirable area to live and work.
Did You Know?
South Burlington is noted for its community and facilities. The city organizes several festivals and events, including the South Burlington Farmers Market, Hometown Parade, and Holiday Craft Fair.
---
Burlington
Population: 45,209
Population Density: 4,387 per square mile
Total Area: 10.31 square miles
Year Established: 1783

Source: Pixabay
Burlington is the largest city in Vermont. It is situated on Lake Champlain's eastern coast in the northwest. Its scenic downtown, lakefront, and outdoor activities draw tourists to the city with over 45,000 people.
Burlington offers plenty of outdoor activities. The community provides swimming, boating, and fishing on Lake Champlain's eastern coast. Waterfront Park, which overlooks the lake and the Adirondack Mountains, is one of the numerous municipal parks.
History buffs can visit the Ethan Allen Homestead Museum. Ethan Allen, Vermont's founding father and Revolutionary War hero lived at the museum near Burlington. The museum displays Vermont and Ethan Allen relics.
Burlington has something for everyone. Burlington has much to do, from shopping and eating in Church Street Marketplace to hiking on Lake Champlain.
Did You Know?
Church Street Marketplace, a pedestrian-only retail and eating center in downtown Burlington, is a popular destination. The Marketplace has many unique local stores and eateries, making it a perfect area to spend a day exploring and sampling local delicacies.
---
RELATED READINGS
10 Largest Cities In North America By Population
10 Largest Cities In Ohio By Population
10 Largest Cities In Indiana By Population
10 Largest Cities In Illinois By Population
10 Largest Cities In Florida By Population