The state of Florida is well-known for its warm climate, stunning beaches, and wide variety of fauna. There are a lot of counties in the state, and each one has its own own personality and set of things to do.
Many of these counties are among the biggest in the United States, and they include enormous tracts of land, in addition to a diverse collection of populations and economic sectors.
The size and population of Florida's most populous counties make them stand out from the rest of the state. These are often the epicenters of the nation's economic life, with big urban areas and booming commercial districts.
These counties are well renowned for their strong feeling of community, despite the fact that they are quite large. The majority of them have thriving cultural scenes, complete with museums, theaters, and festivals that honor the history of the area.
The major counties in Florida each play a significant role in the development of the state's culture as well as its economy. They provide a myriad of options for inhabitants as well as tourists, ranging from urban comforts to natural marvels, and they do so in a comprehensive manner.
These counties, despite their size, have managed to maintain a strong feeling of community as well as pride in their indigenous history. Learn about the 8 largest counties in Florida by reading this article.
Lee County
Population: 803,443
Population Density: 1,025 per square mile
Total Area: 804 square miles
Year Established: 1887


Source: Wikimedia
Lee County is significant in southwest Florida. It's Florida's sixth most populous and biggest county. The state's fastest-growing county has over 800,000 residents. The county, named for Confederate leader Robert E. Lee, was founded in 1887.
Fort Myers is Lee County's business hub and county seat. Cape Coral, Bonita Springs, Estero, and Sanibel are additional municipalities in the county. The beaches, animals, and tourism in these cities are famous. Tourism drives the county's economy in Florida.
Lee County is a diverse, lively county. This gorgeous section of Florida has lots to offer nature, history, and art lovers. Lee County is a Sunshine State jewel with its gorgeous beaches, wildlife, and rich culture.
Did You Know?
Edison and Ford Winter Estates near Fort Myers is another Lee County destination. Edison and Ford owned the ancient estate. The estate has antique residences, gardens, and a museum about these two great innovators.
---
Pinellas County
Population: 971,875
Population Density: 3,547 per square mile
Total Area: 280 square miles
Year Established: 1912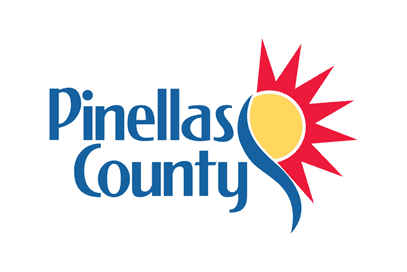 Source: Wikimedia
Pinellas County, Florida, is dynamic and diversified. It is the seventh biggest county in the state with over 970,000 residents with a rich history, spectacular natural beauty, and a vibrant economy.
Pinellas County, on Florida's west coast, borders Tampa Bay and the Gulf of Mexico. The county has 24 municipalities, including Clearwater, St. Petersburg, and Dunedin, each having its distinct charm.
The county has a strong economy and natural beauty. Tourism is the county's biggest sector, with millions of tourists enjoying its beaches, restaurants, and cultural sites. Healthcare, education, and technology are also important in the county, with Raymond James Financial and Jabil based there.
Did You Know?
The area attracts visitors and residents with 35 miles of white sandy beaches, notably Clearwater Beach. The county's environmental preserves and parks, including Weedon Island Preserve, Honeymoon Island State Park, and Caladesi Island State Park, allow visitors to experience the area's unique ecology and animals.
---
Duval County
Population: 1,034,957
Population Density: 1,356 per square mile
Total Area: 774 square miles
Year Established: 1822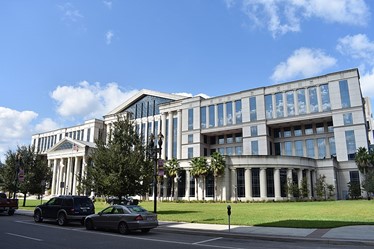 Source: Wikimedia
Duval County, in northeast Florida, is the sixth biggest county. Jacksonville is Florida's biggest city and the 13th most populated in the US. The county honors Florida's first territory governor, William Pope Duval.
It has a humid subtropical summer with frequent thunderstorms and moderate winters with occasional freezes. Healthcare, banking, logistics, and tourism drive Duval County's varied economy. Naval Air Station Jacksonville, Baptist Health System, and Duval County Public Schools are the main employers.
Duval County is dynamic and varied with a rich history and strong economy. Tourists and inhabitants love it for its cultural attractions, natural beauty, and variety of activities. Duval County is the biggest city in Florida and one of the fastest-growing metropolitan regions in the US.
Did You Know?
The county's 22-mile Atlantic Ocean beaches are famous. Jacksonville, Neptune, and Atlantic beaches provide swimming, surfing, and fishing. The county has numerous golf courses, notably the Players Championship-hosting TPC Sawgrass.
---
Orange County
Population: 1,515,093
Population Density: 1,678 per square mile
Total Area: 908 square miles
Year Established: 1889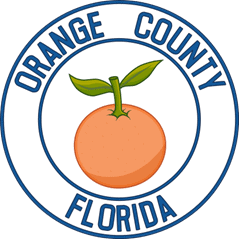 Source: Wikimedia
Orange County, in central Florida, is the fifth-largest county. Orange County attracts visitors and newcomers with its sunny weather, world-class amusement parks, and lively culture. Orange County, with 1.5 million residents, provides something for everyone.
The world-famous theme parks are one of Orange County's key attractions. Orange County attracts families and thrill-seekers with Walt Disney World, Universal Studios, and SeaWorld.
Orange County isn't simply theme parks and tourist sites. Restaurants, art galleries, and music venues abound throughout the county. Orange County has many attractions, from Winter Park's historic charm to downtown Orlando's contemporary stores and restaurants.
Orange County has great schools and an economy. Top-rated public and private schools, colleges, and universities are in the county. It attracts families seeking a top-notch education.
Did You Know?
Orange County's robust economy is a draw. Walt Disney World, Lockheed Martin, and Darden Restaurants are prominent employers in the county. Residents have several jobs, especially in tourism, technology, and healthcare.
---
Hillsborough County
Population: 1,528,924
Population Density: 1,499 per square mile
Total Area: 1,051 square miles
Year Established: 1834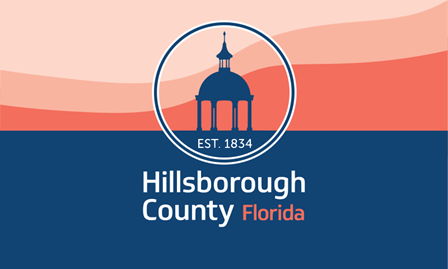 Source: Wikimedia
Hillsborough County is in western Florida. The most populated county in Tampa Bay, it is the fourth biggest county in the state and has about 1.5 million inhabitants. Tampa is the county seat and the third-largest city in Florida.
Wills Hill, the Lord of Hillsborough, was the British Secretary of State for the colonies during the American Revolution and named Hillsborough County in 1834. The county contains several historic monuments, including the National Historic Landmark Ybor City Historic District.
Hillsborough County has wonderful beaches and outdoor leisure. Alafia River State Park, Hillsborough River State Park, and Lettuce Lake Park are county parks and preserves. The Gulf of Mexico provides fishing, boating, and swimming.
Did You Know?
Hillsborough County's economy comprises healthcare, education, finance, and technology. Raymond James Financial, WellCare Health Plans, and USF are located in Tampa. Busch Gardens Tampa Bay, the Florida Aquarium, and the Museum of Science and Industry draw tourists to the county.
---
Palm Beach County
Population: 1,543,809
Population Density: 784 per square mile
Total Area: 2,034 square miles
Year Established: 1909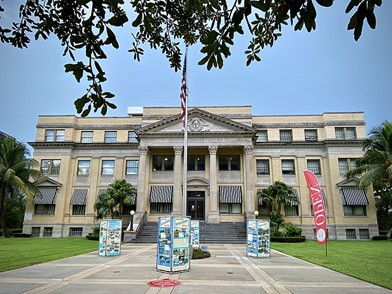 Source: Wikimedia
Florida's third-largest county, Palm Beach County, with roughly 1.5 million residents. Palm Beach County's beaches, luxurious resorts, and lively culture are famous on Florida's east coast. The county is distinctive and intriguing because of its diversified population.
Palm Beach County's beaches are popular. Around 45 miles of coastline provide plenty sand and surf. Palm Beach County beaches provide swimming, sunbathing, and watersports for everyone. Jupiter, Delray, and Palm Beach are prominent county beaches.
Palm Beach County isn't simply a rich man's playground. The county has seniors, families, and young professionals. Many museums, galleries, and performing arts institutions showcase the county's diversity.
Did You Know?
Palm Beach County also has plenty of outdoor activities. The county has beaches, golf courses, parks, natural preserves, and hiking trails. Birdwatching, kayaking, and other outdoor activities are popular in the northern Loxahatchee National Wildlife Refuge.
---
Broward County
Population: 2,003,268
Population Density: 1,660 per square mile
Total Area: 1,209 square miles
Year Established: 1915

Source: Wikimedia
Broward County, in southeastern Florida, is the second most populous county in the state and a famous vacation destination. Broward County is a melting pot of cultures, languages, and customs with over 2 million people.
Napoleon Bonaparte Broward, a previous Florida governor who helped drain the Everglades for development, gave the county his name. Nowadays, Broward County welcomes millions of tourists with its business, entertainment, and pleasure.
Fort Lauderdale, Deerfield, and Hollywood beaches are prominent in Broward County. These beaches provide swimming, sunbathing, surfing, snorkeling, and scuba diving, each with its own character.
Did You Know?
Broward County has a diverse nightlife including pubs, nightclubs, and restaurants. Las Olas Boulevard in Fort Lauderdale has several bars and restaurants, and the Seminole Hard Rock Hotel & Casino promotes live music and other events year-round.
---
Miami-Dade County
Population: 2,763,366
Population Density: 1,455 per square mile
Total Area: 1,946 square miles
Year Established: 1836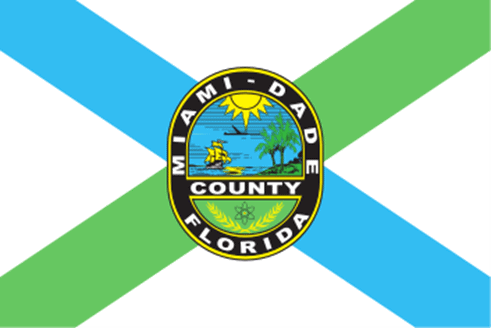 Source: Wikimedia
Miami-Dade County is the largest county in Florida. Miami-Dade has over 2.7 million residents and a varied mix of cultures, languages, and lifestyles.
Miami-Dade County's pleasant and sunny weather is a major draw. The tropical environment keeps winter temperatures over 60 degrees Fahrenheit. Sunbathing, swimming, and boating are perfect here.
The area has a strong food culture. Restaurants, cafés, and food trucks in the area provide Cuban, seafood, and farm-to-table food. Little Havana, South Beach, and Wynwood are prominent Miami-Dade County gastronomy attractions.
Did You Know?
Miami-Dade County has numerous notable institutions, including the University of Miami, Florida International University, and Miami Dade College. These schools provide degrees and research in business, healthcare, engineering, and the arts.
RELATED READINGS
8 Largest Counties in US by Population
10 Largest Cities In Ohio By Population
10 Largest Cities In Indiana By Population
10 Largest Cities In Illinois By Population